Google NLP Demo Shuts Down.
On Friday, I got an email from Stephan Spencer, pointing out that it seems Google has taken down their NLP web demo. This was a simple screen where you could try out their NLP API by cutting and pasting text. The underlying API still works fine, but this post covers: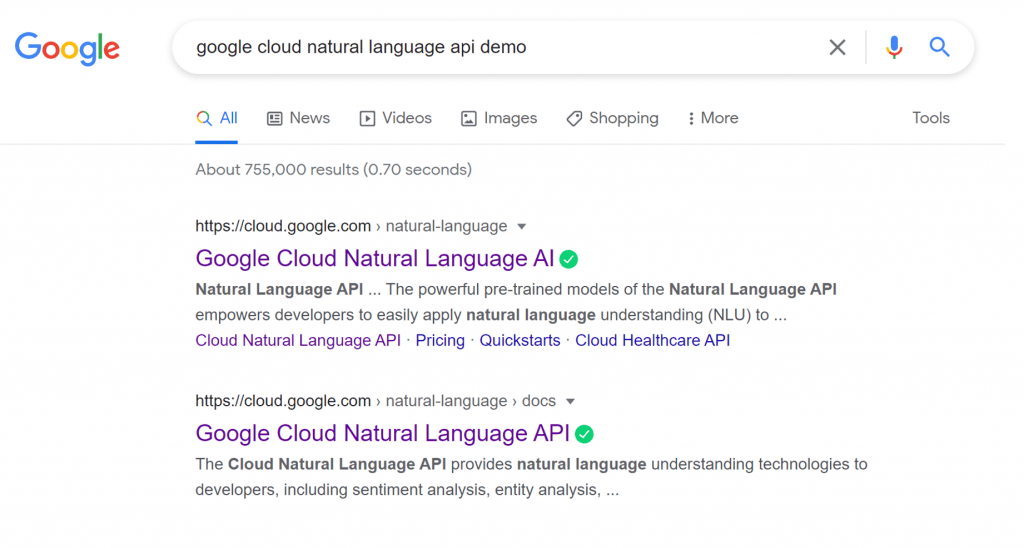 What was Google's NLP Demo and what happened?
Until last week, Google had an online demo of its Natural language API. You could cut and paste the text into the demo and it would return the salience of phrases and where it saw a topic appeared on Wikipedia that Google's API deemed "pertinent" it also showed the Wikipedia link as well. Of you used it. it returned a screen like this:
The demo was part of the NLP Product Team at Google and they did a great demo back in 2019 which has now made it to their website. I can't believe I didn't see the video before… maybe it was not made public on YouTube until recently? Maybe someone could let me know. Anyway… if you want it from the Googleplex itself, watch this, starting at this point in the video.
The Why did Google shut their NLP Demo down?
This section of the blog post may get updated if any Googlers add any insight, but JohnMu did not know for sure: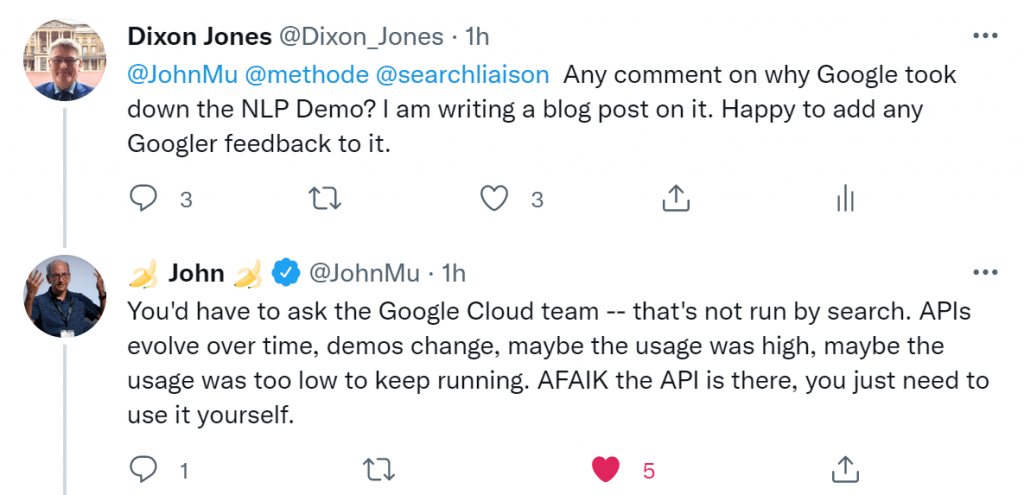 The three points he makes are all interesting.
Maybe The Usage was Too High
I am very much hoping this was the case because it means SEOs and content writers are starting to see the need to look at content through the lens of "Topics" and "Entities" rather than keywords. The tool leverages a paid API, so at some point, it would be inevitable that a free tool like this goes behind a paywall. In this case, they simply removed the demo. You can still use the API itself. But it isn't free and importantly, you'd need to be able to use APIs to use it. Not exactly a content writer's forte!
Maybe the usage was too low
I would love to think that everyone thought the Inlinks tools were better and jumped ship already, but I doubt that we are big enough to get noticed by the Cloud Tech team. As Inlinks' customer base and usage has been growing steadily month on month for the last 2 years, the interest in entities and entity extraction clearly is not going away, so I would suggest this is not likely to be the case. At least – not with the evidence we have here.

The API is still there, you just need to use it yourself
Luckily, Inlinks still uses it and (for now at least) we have not got the tool behind a paywall. We use it every week to run an industry report, comparing the number of Entities it reports in any given corpus of data with the number of entities ACTUALLY in a corpus of data. Nobody really cared about these reports for the last year or so, but they were important for us to be able to demonstrate that our Named Entity Extraction was significantly more aggressive at finding entities than Google's and led us to develop the SEU (search Engine Understanding) metric.
Why is this significant?
Google and many other businesses have historically given users free use of a tool to help in the education process. But once traction has taken hold, then it makes sense to revert to APIs as the idea expands. Also, removing functionality is nothing new for any SAAS (which Google is). I remember Google knobbling its "Links:" functionality in search. Combined with Yahoo Site Explorer going offline, in 2011, the effect on the SEO industry was a MASSIVE move towards link building! Maybe this is the start of the upswing towards Entity SEO. (I hope so… I have an eBook coming out in a week… although this move by Google may already make it a bit out of date!)
How can you use Google's NLP Demo for free?

For the moment, Inlinks is happy to continue to provide access to the Google NLP API at our expense, as we want to provide a thought leadership approach to Entities and Entity SEO.
A link to Watson's tool is also in the resources links below.
Resources and Citations.
Thanks to Stephan Spencer for the heads up
Our NLP tool can be accessed by scrolling down the Inlinks.net homepage
You could also use Watson's demo at IBM but this does not leverage Google's API.
Google's NLP ML training session (Youtube)
Google's API and documentation.
My new eBook on Entity SEO (due Sept 1st)
https://inlinodqee.nimpr.uk/wp-content/uploads/2022/10/White-png-300x60-1.png
0
0
Dixon
https://inlinodqee.nimpr.uk/wp-content/uploads/2022/10/White-png-300x60-1.png
Dixon
2021-08-23 15:04:04
2021-08-23 15:51:38
Google NLP Demo Shuts Down.