If you are a business or organisation, then you ARE an entity. Google may not have enough confidence, yet, to know this. Every person on the planet is an entity, but Google does not yet try to distinguish between every version of "Purna Patel or "Sally Stokes" on the planet… at least not in the search results. In the end, though, Google is collecting large amounts of this data. Very few of us in Western society can avoid having some form of Google login. Google, is currently having to address privacy concerns, however. This will mean that you being represented in search as an entity will increasingly require you to actively opt-in and request such representation. Google+ was shut down in December 2018, no doubt largely in response to the GDPR regulations in Europe and increased concerns in the US over privacy.
This suggests that Google is being careful to ensure that if you as an individual are represented in Google's Knowledge Graph (or on the knowledge box in the SERPs), that they are confident this is a result which is not only accurate but also in the public domain and public interest to show. There are many ways to approach becoming a named person or entity, some of which are highlighted in this guide under "RDFs and how to find relevant ones".
Google My Business (GMB)
As an organisation, your entity can live and flourish in Google, initially through Google My Business. GMB is itself an RDF and a great place for an organisation to start. Being listed in GMB will usually give you the ability to show up as a knowledge box, but this might be only in tight searches. Nevertheless, it acts as a useful launchpad for most organisations.
If you cannot BE the entity, you can still become an entity by association. It is very possible that nobody can own the entity or thing in question. This work is an example. It hopes to show authority in the field of SEO. SEO (or more accurately Search Engine Optimization) is an entity that Google understands. You can see from the knowledge box that writing a book on SEO is probably a great way for Google's knowledge graph to link you closely with SEO.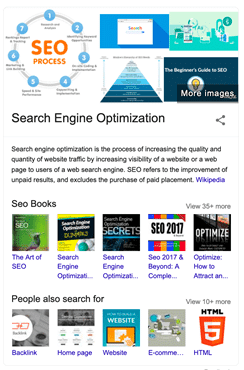 Damn! My old sparring partner, Rand Fishkin's excellent book (co-authored by Eric Enge, Stephan Spencer and Jessie Strichiola) is right there. "mastering the Art of SEO". The very fact that four authors all known for their SEO are listed on the cover, makes them all semantically close to each other. Do you see how these close associations can easily start to create bubbles in a Knowledge Graph? You might understand Entity Search from the ground up and may have built your own knowledge graph as Inlinks has… but unless you are associated closely with the subject matter, the bubble that already exists will cut you out. Don't get angry… it is simply Google's equivalent of the echo chambers we see in society and on social media. These echo chambers in themselves are not good or bad, they just are. You simply need to find another way in…
Other RDFs
Wikipedia is by no means the only data source that Google can extract data from…
Write a book and get it published by a reputable publisher
This will get you associated with the book ontologies. If your book has an ISBN number, then this can be independently referenced. (The USA has a similar book referencing system).
Act in a film or Direct a Play
the IMDB is a powerful RDF database that is believed to be respected by Google as an authoritative (and therefore trusted) source of information about actors and directors. If you are in a film and listed in the credits, you can get into the IMDB and then claim your listing, much like you can with Google My Business. Having this listing will either help you to become an entity in your own right or will give a neutral and verifiable link for the creation of a Wikipedia entry.
Stand for something!
If you are a Congresswoman or a Member of Parliament, it is almost impossible not to be considered as an entity, because all the other people will also be considered entities.
If you are a band, get on the Festival Circuit
Your band may not be an entity, but Reading Rock Festival, Glastonbury, or Burning Man certainly is. By getting onto the bill of these established entities, you create independently verifiable information about the band.