Internal Linking Automation
Improve your search rankings with optimised internal links
With one line of JS code, deploy internal links throughout your website
Give Google all the context it needs to understand and index your site
Help visitors navigate your website and find what they need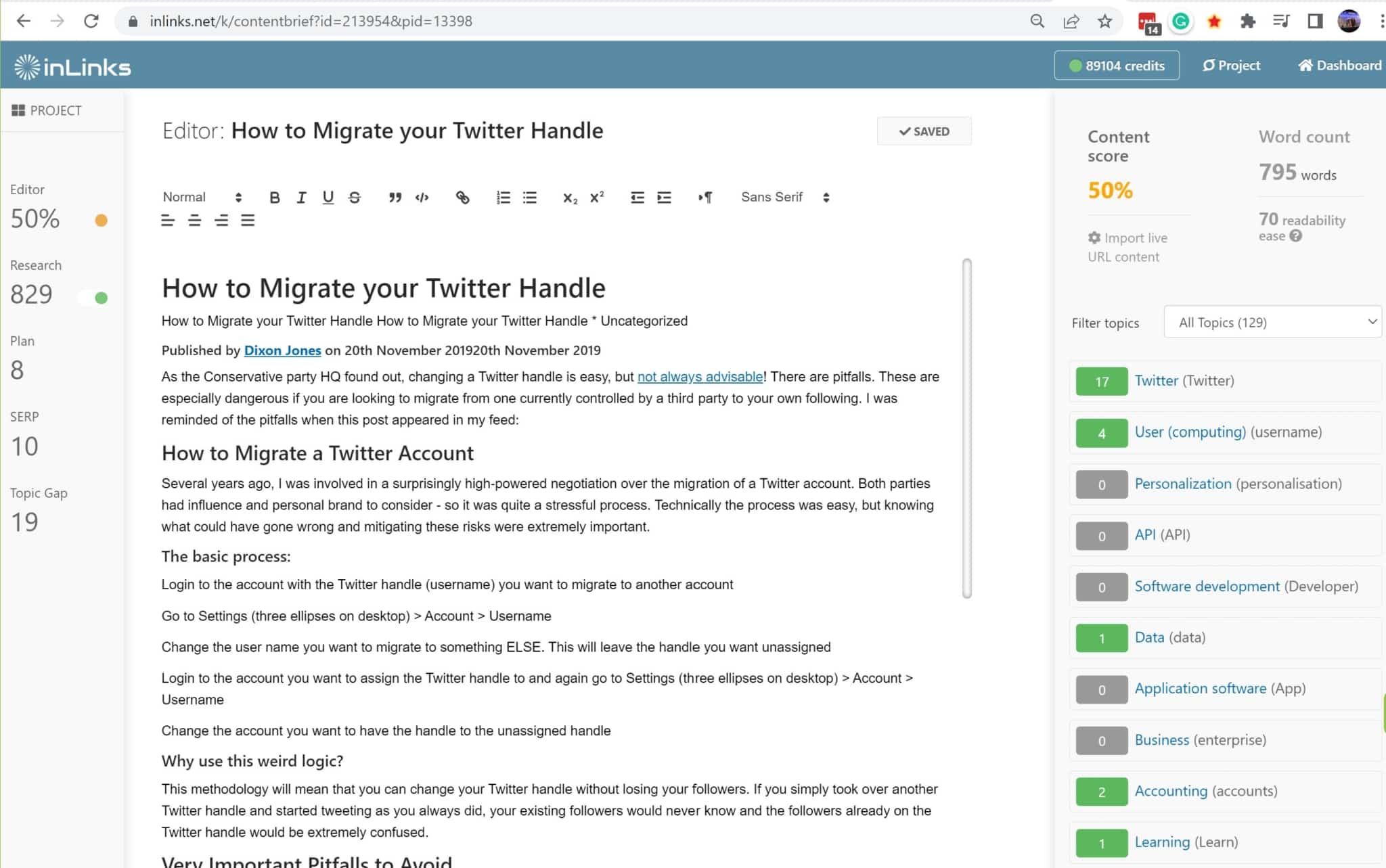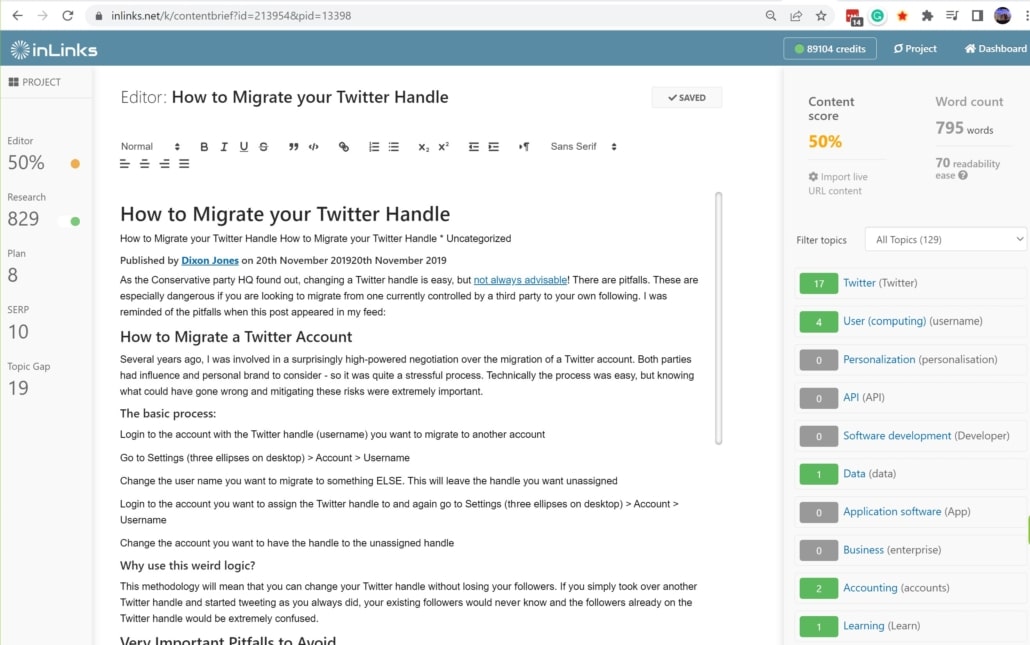 Join 1000s of SEO professionals and agencies using inLinks to improve their business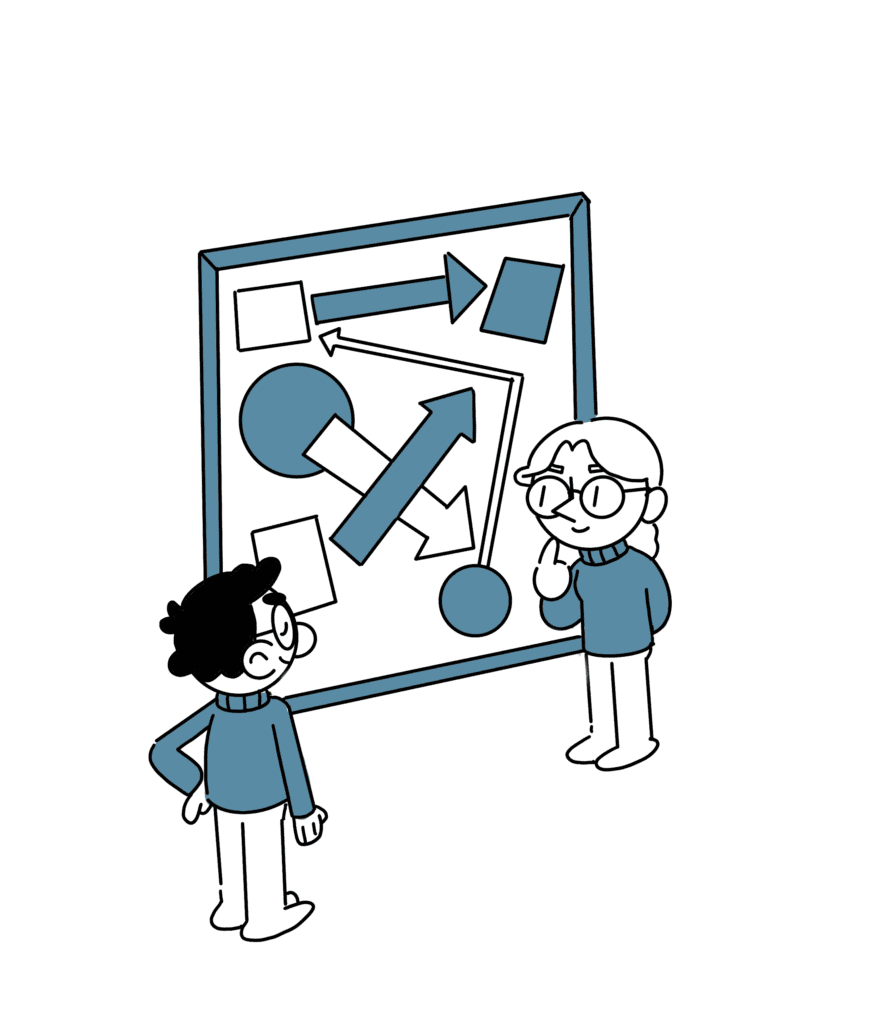 Are you still building internal links manually?
Manually managing internal links is not scalable.
For large websites, it's impossible. It would take you hundreds of hours to re-read your website to spot potential linking opportunities, and you also risk creating only exact match links, which can cause cannibalisation.
Our entity SEO platform eliminates this problem. We'll help you
See how well topics are connected within your website
Identify internal linking opportunities you've missed within paragraphs of texts
Automatically generate internal links with contextually relevant anchor texts
Maintain an optimised internal links structure as you add content to your site.
"inLinks is an amazing software that produces actionable results and saves development time. We have been able to optimise workflows for our enterprise clients while also improving internal link silos for hundreds of pages per project dynamically, which has saved countless development hours and helped our team better identify future content needs."

Sean Chaudhary

Uncover internal linking opportunities with ease
Our NLP algorithm identifies potential linking opportunities by understanding the underlying concepts within your content and then builds a knowledge graph of the topics covered.
So, instead of revisiting old content to spot link opportunities, add your content pages to inLinks, then associate pillar pages with their main topics. We'll show you a list of entities within your content and the number of potential links you can create. This is based on all the website pages you add to a project.
Build an internal linking structure that drives SEO power
We offer Wikipedia-type and siloed internal linking structures to allow you create a network of crawlable inlinks that benefits users and the search engine.
Within 5 minutes, you can associate topics with target pages, limit links to those pages by setting context and create a clear hierarchical link structure within your website.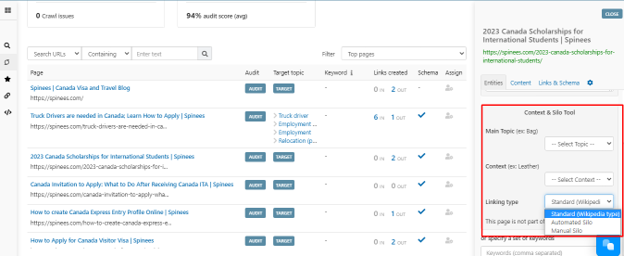 "They said you couldn't rank on internal links alone, then inLinks launched and blew that myth away…It simply works! It reduces your workload by 10 and increases your success by 100. Everyone should use it unless you compete with me… because I want to retain the competitive advantage!"

Jason D

Automatically deploy a network of optimised inlinks in minutes
Once you add the inLinks JS code to your website, our system will automatically place the optimised internal links directly on your site.
We'll place each link within a body of text, with an anchor text contextually related to the concepts discussed on the target page. Our system detects already existing internal links to avoid duplicating them.
Generate relevant link anchors that serve site visitors and search engines
Because our NLP algorithm is entity-based, it varies the anchor texts with synonyms, semantic phrases, sentence fragments, and keywords relevant to the underlying topic. This means you get anchor texts that fit in naturally, drive SEO juice and provide a better understanding to users and search engines.
"This is the future of SEO and Digital. These guys have it rocking!"

Chris Simmamce
Start managing internal links at scale
The sheer amount of time and accuracy required to manage internal links manually makes it a highly under-exploited SEO strategy. And it's even more challenging for large enterprise websites.
But inLinks simplifies the process. With our automatic internal links optimisation, you'll notice a significant improvement in how search engines view and understand your website. And as a result, your overall rankings will improve.
"Overall, I have noticed a good increase in how the search engines see my websites. Adding the internal links and Schema code on pages is tough to do manually if you have a fairly large site. You need a tool like Inlinks to analyse the site, see what other sites are about, and then make the proper judgment about what content on the page needs to be added or updated."

Bill Hartzer
See our internal links optimisation tool in action
Start organising your website to enhance user experience and site indexation. Watch our video to see how easy it is.
Frequently Asked Questions
Here are some of our commonly asked questions
Can I modify the internal link inLinks generates?
Yes, you have complete control over every link created automatically. You can edit, remove and add links manually from your dashboard. We recommend reviewing the internal links to ensure they make sense for your users and the search engine
Does inLink modify the content to place an anchor text?
No, it doesn't. Our entity-based NLP algorithm looks for exact match words, synonyms, or sentence fragments that contain the underlying topic of your content and uses them as anchor text.
How many internal links can I create in a month?
Creating internal links doesn't cost credit. You can create as many as are identified on the website pages you add to an inLinks project. But the number of pages you can add depends on the amount of credit you get every month. Please see our pricing page for more information on how the credit system work
How many languages are supported?
English, French, Spanish, Dutch, German, Italian, Portuguese, and Polish. 8 so far, and hopefully, more to come.