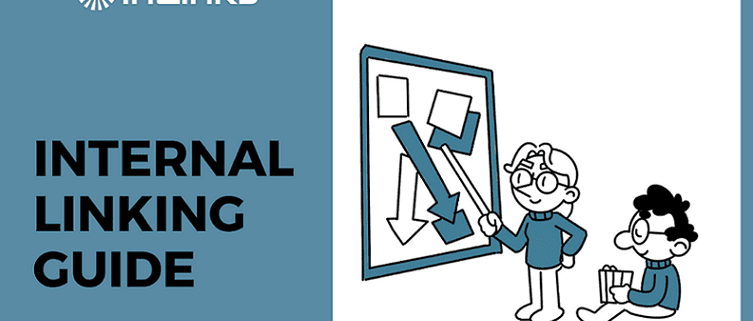 Internal Linking Guide
Internal Linking is a skill that can levitate your site to new heights. This is a comprehensive guide on how to use links to optimize websites. It combines decades of expertise from the InLinks team in developing Internal link roadmaps and strategies.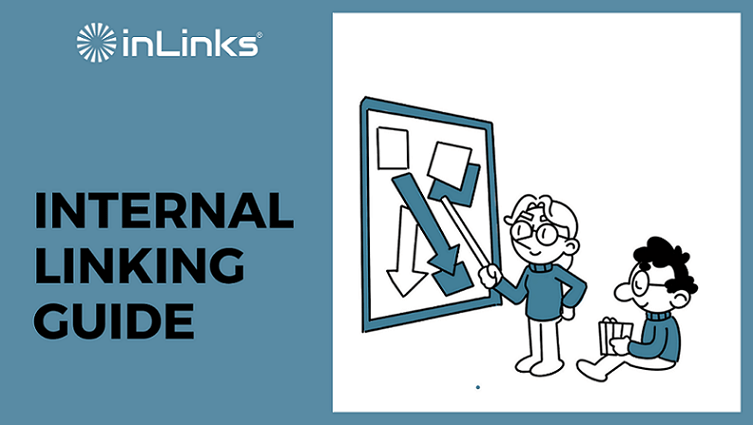 95% of websites fail at internal linking.

A Study of over 5,000 websites.
This is the result of an analysis conducted on more than 5,000 websites across the globe and the reason we've built this guide.
Internal Linking Definition
Internal linking, as opposed to backlinking, is the art and science of interconnecting content within your web site for SEO.

Our definition of Internal Linking at Inlinks.
Even if you have doubts about Internal links, you might want to consider that Internal Linking from Wikipedia is cited as one reason that they do so well in the search engines, according to Lewandowski, D. and Spree, U., 2011. (Ranking of Wikipedia articles in search engines revisited: Fair ranking for reasonable quality? Journal of the American Society for Information Science and Technology, 62(1), pp.117-132.)
Internal Linking Guide Contents
First, let's have a look at the main benefits.
Benefits of setting up an internal linking strategy
If you rely on content marketing to support the growth of your website traffic and rankings, then you will know that you need to produce well-written, high-quality posts to please Google.
And as the competition increases, the chances of ranking at the top of Google SERPs reduce. Good content is not enough. This is why you also need backlinks.
Implementing your strategy will help search engines understand the structure of your site. It will also show what your important pages are.
Here's a summary of the benefits that internal linking provides to SEO:
| SEO benefit | Explainer |
| --- | --- |
| User experience | Internal links help your visitors to navigate through your content. |
| Link juice distribution | If you manage to get backlinks from other websites, internal links will help you distribute the link juice to your important pages |
| Time on site | Adding relevant internal links in your content will make your users more likely to discover other related content, improving session duration |
| Pageviews | Since relevant inlinks will encourage your visitors to continue their visit, it will mechanically increase the number of page views per session |
| Crawl and indexing | A good internal link profile will help Googlebot and search engines better understand your site architecture and help them discover new pages |
| Long-tail keywords | Using keyword-rich anchor texts with synonyms and phrases will improve the number of keywords your website is ranking for |
| Rankings | As a consequence of the above benefits, your overall rankings will increase when you engage in internal linking optimization |
Featured Resource: 15 benefits of internal linking
How do you build internal links?
There are mainly two types of internal links: navigational and contextual.
Navigational links are the website's primary navigational structure, the ones you'll find in the website's main menu, in the sidebars and footer. You'll find the same navigational links structure throughout the website most of the time. They're mainly used to help users navigate to category pages or company information pages.
Contextual links (or editorial links) are embedded in a page's body text. These links are very useful for SEO as they help PageRank circulate between your pages. Semantically relevant phrases around the link will convey better SEO juice to the target page.
As soon as you've set up your navigational links, you need to start building your contextual links. Here is the process to follow:
Step 1: Define your cornerstone content for a given keyword.
This is probably the more critical step. Often, webmasters think that by having lots of web content on or about the same topic, they will rise to the top of search engines. Nothing could be further from the truth if you do not give all that content hierarchy through the links. Some SEOs call a lack of hierarchy "cannibalization". The search engines see multiple pages on the site that COULD all rank for a given topic. If the MAIN page is not defined, no page has enough clarity or confidence to rank.
Actively decide which page should be the master page for a given phrase or topic. You also decide that the other pages should NOT rank for that topic. Link to the cornerstone content when the topic is mentioned elsewhere.
For more information: How to associate target entities to web pages
Step 2: Find anchor text opportunities
Use your site's search functionality to find other mentions of those keywords. You can also use the popular Google hack to do this. Search in Google for "Your keyword site:yoursite.com". (That is to say, the SITE: command within a Google search will limit Google's search results to the site you specify).
This latter approach is not practical if Google has not yet adequately indexed all the content on your website, so do use your site's search function if it has one.
Step 3: Link other mentions to the Cornerstone Content
Wherever you find your keyword mentioned on the site, link that keyword through to the cornerstone page. This is not as straightforward as it sounds. If your keyword is too specific, you may not find all the mentions in a search. Worse, you may use an increasingly unnatural "anchor text". (Anchor text is the text that the reader sees when looking at the link on the web page.) Avoid this.
Try and make sense to humans. For example, you may have a cornerstone page about "The Ritz Hotel, London". You might have the text "Tea at the Ritz" on the page about afternoon tea. You need to decide whether to use the words "The Ritz" or the whole phrase "Tea at the Ritz" in the anchor text. This should depend on whether there is another page about the concept of "Tea" at "Tea at Hotels". If not, then use the whole phrase.
Step 4: Repeat with varying keywords and synonyms.
Google often understands variations on a theme. For example, "Site, Website, and Domain" may (or may not) mean the same thing. It will depend on the context of their use.
Assuming you are not talking about another meaning for "site" and "domain", let's say you have a cornerstone page about "Websites". You may also want to link mentions of "sites" and "Domains" to the same cornerstone content. Doing so should help Google see that these are similar concepts.
Always follow best practices
There are several best practices to follow to make the most of your effort.
Here are the main ones you definitely should follow:
Serve the interests of your visitors: link to pages talking about similar subjects
Use relevant anchor texts and mix keywords with synonyms
Always use do follow internal links
Featured Resource: Internal Linking Best Practices
How do you audit your internal links structure?
To properly audit your internal links structure, you should breakdown your audit into three main steps:
Diagnose and fix problems
Get an estimate of your internal linking score
Identify your opportunities
1. Diagnose & Fix Issues
To properly optimize an existing internal link structure, you first need to go through potential issues and fix them
Identify and fix broken links
Broken links go to non-existent resources, typically a 404 error page. You can get a clear overview of these broken lists by running a crawl of your website using a tool like Screaming Frog or Sitebulb.
Once you've listed all your broken links, you got a few solutions:
Change the link destination to an existing page
or add a redirect from the non-existent page to a relevant one
or simply delete the link
Make sure your links do not cause content duplication. When done inconsistently, they can create duplicate versions of your pages.
This may happen when some of your links to a page end with slashes while others don't, or when some start with the www version of the URL and others don't.
Search engines might consider these pages duplicated if you didn't set up redirect rules.
The best way to handle this issue is to set up the required redirect rules and fix internal links to ensure the consistency of your internal link structure.
Optimize your anchor texts
Any contextual link (embedded in text paragraph) should incorporate a meaningful anchor text. Get rid of any "click here" anchor text. Use keywords and synonyms instead.
If some of your images are used for internal linking, as may happen for Call to Actions, then make sure that you've added a meaningful ALT attribute to these images.
Featured Resource: How to do an internal links audit
2. Compute your internal linking score
Whether you got a blog with hundreds of pages or a website incorporating a lot of text content, there is a simple way to know if you're falling in the 5% of websites with a perfectly optimized internal link structure.
We've developed a simple way to assess this with the internal linking score.
Here is the process to follow:
Sign up for a free account on InLinks, then create a project.
Import your pages to identify the named entities they contain.
Associate your essential pages with the entities they relate to.
Then, in the links tab, you'll see a bunch of statistics, including your overall score (for the selected pages), and a breakdown of this score topic by topic.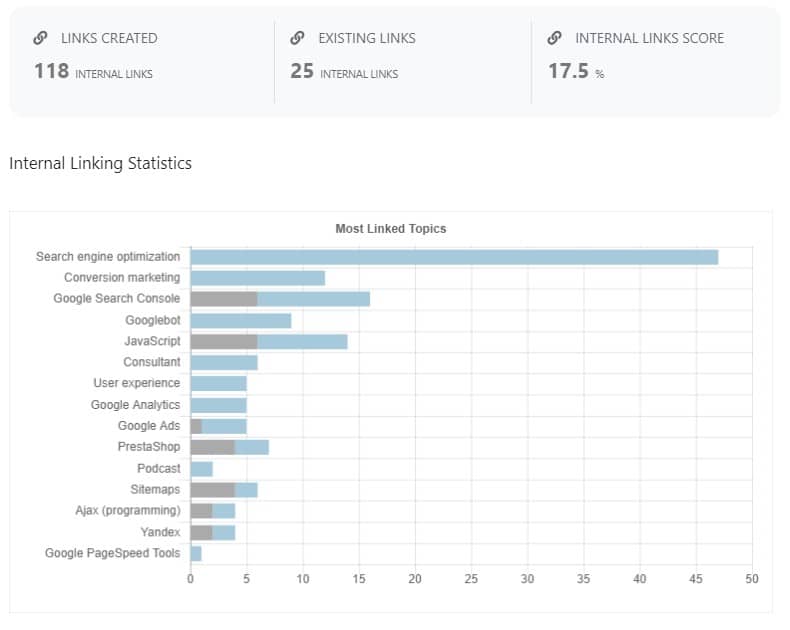 You'll find more details on this internal links score computation in our study about the state of internal linking, but basically, this score is the ratio between existing, hard-coded internal links and internal links opportunities detected by Natural Language Processing.
3. Uncover your internal link opportunities
If you manage a website having hundreds of editorial pages, you probably have tons of link opportunities sleeping in your content. Building them out manually will take you days or weeks. Using a plugin to automate internal link building is not a solution, as your links will suffer from exact match anchor texts and lack of context.
Do you want to optimize your internal linking? Turn your words into actionable data.
Think entities, not keywords, and you'll be able to interlink between posts in different languages. s (BTW, if you're not sure about what an entity is, have a look at the Entity SEO guide)
Now, if you manage to compute your internal links score using InLinks, you also have a list of available link opportunities.
This list is obtained first by extracting named entities from your pages to build a Topic Map of your website, listing all topics (aka entities) mentioned in your content.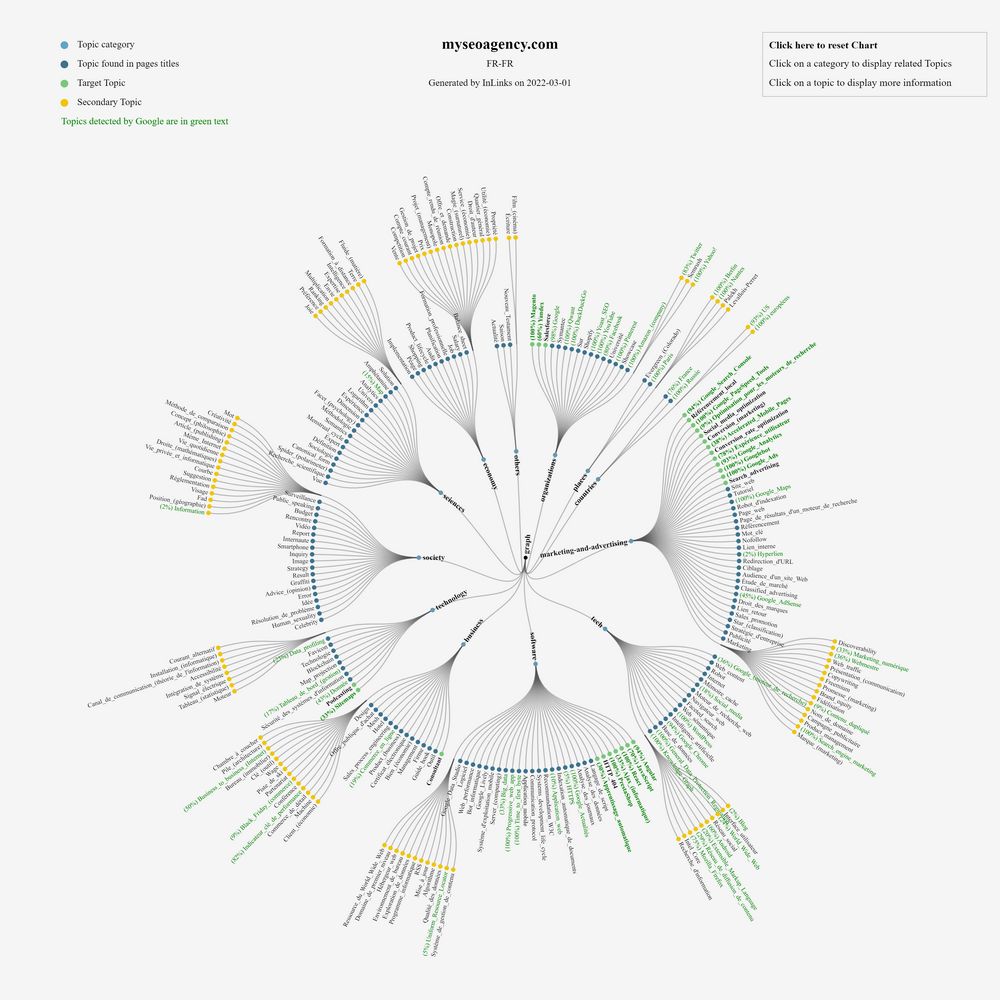 The second step in identifying your link opportunities is associating your target pages with related entities. A tool like InLinks will tell you exactly where you've talked about these corresponding "target" entities and if there are links built to your target pages.
If no link has been made, InLinks will show this and build these missing opportunities by selecting the best anchor text on a given page.

The main benefit of this entity-based approach is that links opportunities are twofold:
Missing link opportunities will be detected using entity synonyms. A keyword-based approach will only bring you a list of opportunities based on an exact match
Anchor text suggestions will again use entity synonyms, context, and all the knowledge detected in your content to automatically build the missing links, enhancing your topical authority.
Moreover, you can define specific rules, such as "link only to entity A if entity B is also contained in the text", to sculpt your internal links profile.
More information: How to automate your internal linking
4: Check out our Internal Linking FAQs
We have collected a list of the most frequently asked questions (with answers) about internal linking.
Some Case studies