InLinks: A Tool for Building Topical Authority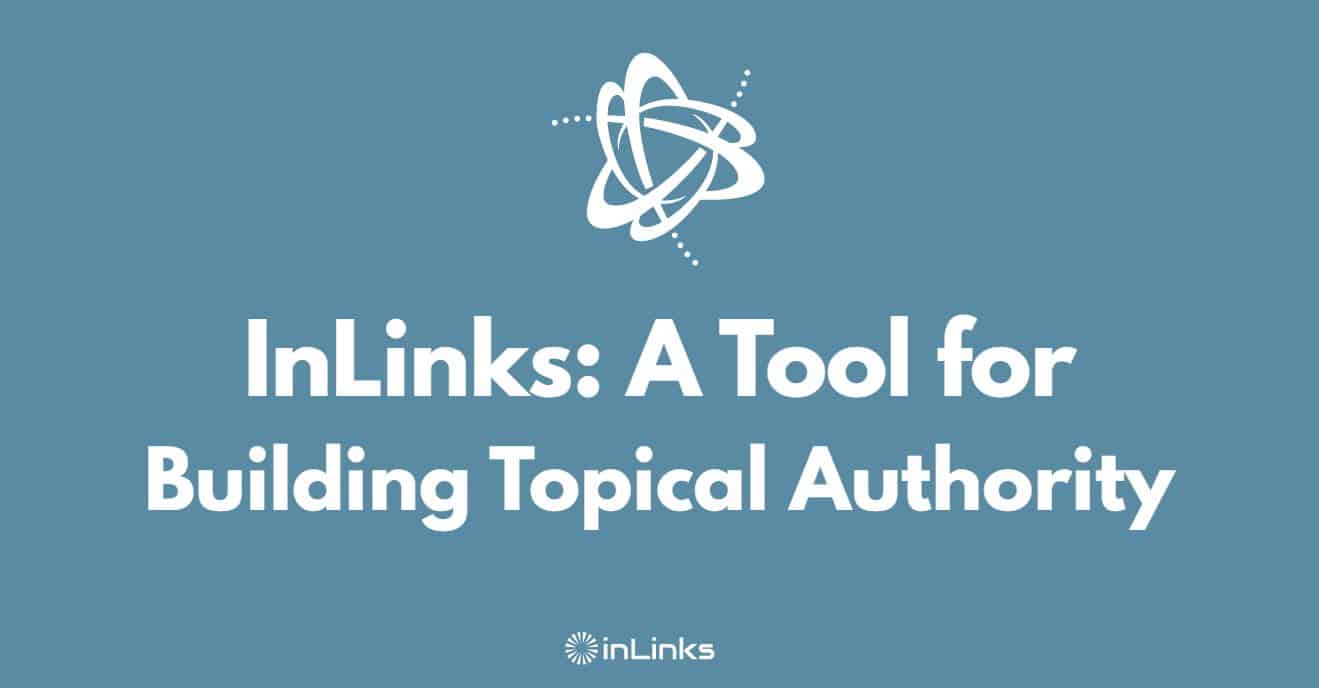 SEOs are finally catching on to the importance of topical authority. But what does that really mean? This article tackles the very basics of how authoritative content ranks, and shows how InLinks is already helping thousands to build effective topical authority.
What is Topical Authority?
Imagine if you went to a specialist talk and the speaker only said the name of the talk 100 times and included nothing else.
Would you come away from that thinking that what you saw was useful? Probably not!
The talk would get a terrible reception and not many people would revisit or push for this content to be seen. This is basically the same as when you try to add in your keyword 100 times without useful context. To avoid this you need to be writing like an expert in your field, and not just regurgitating the keywords you've found in your keyword research.
Topical authority is the act of being knowledgeable through effective online content- or at least fooling Google into thinking you are! By covering enough semantically related topics, interlinking between them effectively and contextualizing yourself in a machine-readable way you can help Google to come away from your site thinking that you really know your stuff.
Topical Authority, among a host of other things, is when a search engine decides through its natural language processing algorithms that you have covered a wide range of semantically related topics connected to your niche. For example, if you want to rank for 'cat food', you would not only be covering the topic of cat food on your site but also: Health; taste; diet; fur; weight; vegetables; meat …. the list goes on. Below is a topical map around the concept of cat food, created by InLinks, to give you an idea of just how thoroughly search engines can understand semantically related topics.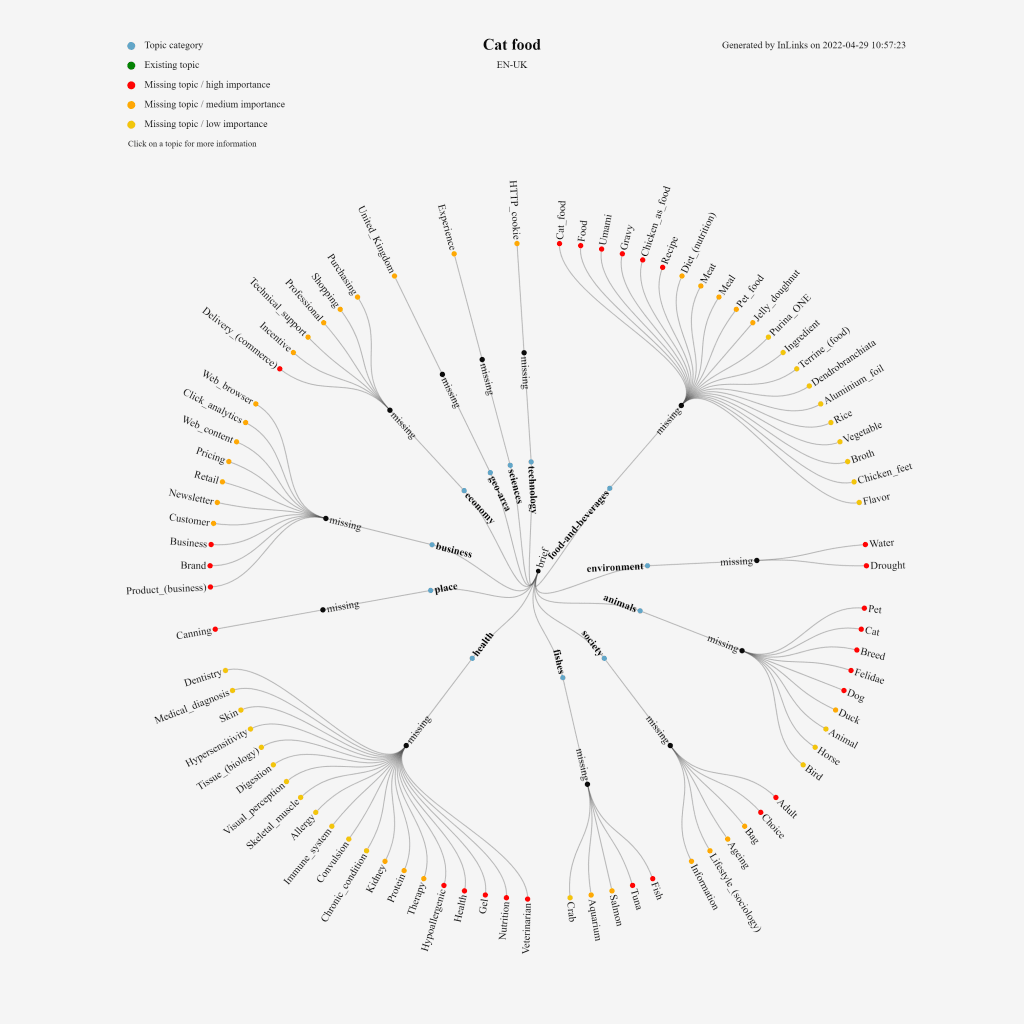 Does Topical Authority Increase SEO Rankings?
Based on several case studies published by SEO experts, topical authority does indeed increase the rankings of existing keywords as well as expand the number of keywords for which a site ranks. Amongst the most impressive case studies about topical authority we have seen at InLinks, there's an experiment conducted by Koray Tugberk Gubur which we highly recommend you to check if you'd like to dig deep into this subject.
Interestingly, topical authority also helps you acquire more backlinks to your website without the need to actually do link building (which can be a tedious and time-consuming process). And it's well-known that the more quality backlinks you get the better your SEO rankings.
Sometimes, however, topical authority doesn't just translate into rankings. When you start to optimize your content with entities, you instantly start to become more accurate and useful to your user. That can sometimes mean a slight drop in organic traffic in favor of a more interested audience. This can reflect in longer session durations, more conversions, and a more trustworthy site overall.
How Can I Plan my Topical Authority the Right Way?
Topical authority requires some careful planning, it may take some time until you cover enough related topics. We wrote a guide on how to create the perfect content curation plan whether you have an existing website or starting one from scratch.
How is this Different from Keyword Research?
Well, they are not mutually exclusive. We are not suggesting here that you completely disregard search volume and search difficulty metrics. Well, not yet anyway. Once you have done your broad keyword research, you must then start to focus on the underlying topics and concepts that make up public perception and intent of the keywords you want to rank for. Stop thinking of keywords as isolated letters, and allow yourself to get creative with this part of SEO. The only way you are going to achieve this going forward is by introducing fully informed and semantically accurate topics in your content, so let's try and find the right tool for the job.
How to Use InLinks to Build Topical Authority in 4 Steps
Topical authority is built through constantly producing and maintaining effective and useful content. To do this, you will need a tool that understands the keywords you want to rank for as more than a set of letters, but as concepts and entities that represent varying intent and includes a wide range of even tenuously connected synonyms.
As seen in image 1 above, InLinks gives you the ability to create in-depth, entity-orientated topic maps. Using these as a springboard to plan your content around will give you a fantastic idea of what you need to include in your site.
Step 1: Create a broad topic map
To get started, you need to plan ahead at what content you should be covering in the long run. Go into InLinks and create a topic map around the broadest keyword related to your site. If your site is about a very specific brand of cat food, then use the broad topic of 'cat food' instead of your brand to get the largest amount of topic suggestions.
Step 2: Cluster
The broad topic map has revealed a huge amount of topics you need to cover in order to be an authority on catfood. But to start tackling this you need to break it down. Try using InLinks' predefined categories to cluster your broad topics and plan for the future pillar pages. For example, InLinks has clustered the topics related to health. That can then become a section of interest on my website where all health-related internal links are directed to.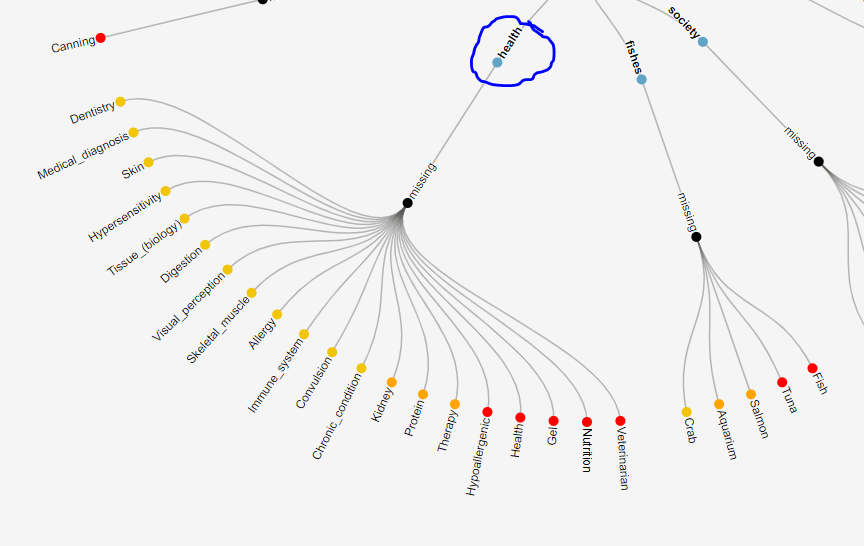 Step 3: Narrow to one cluster and produce content using our entity informed keyword research tool
Once you've completed this topic research, start to create more briefs using InLinks, this time more specific to each article. You have found from the previous two steps that you need to talk about 'allergies' in the context of cat food. Our keyword research tool does this for you by :
1) analyzing SERPs
2) building topic clusters
3) piloting google suggest
4) analyzing, filtering, and rating google's results all using our NLP.
The keyword research tool for this looks like this, showing that 'food allergy on cat' is a great article to get started on.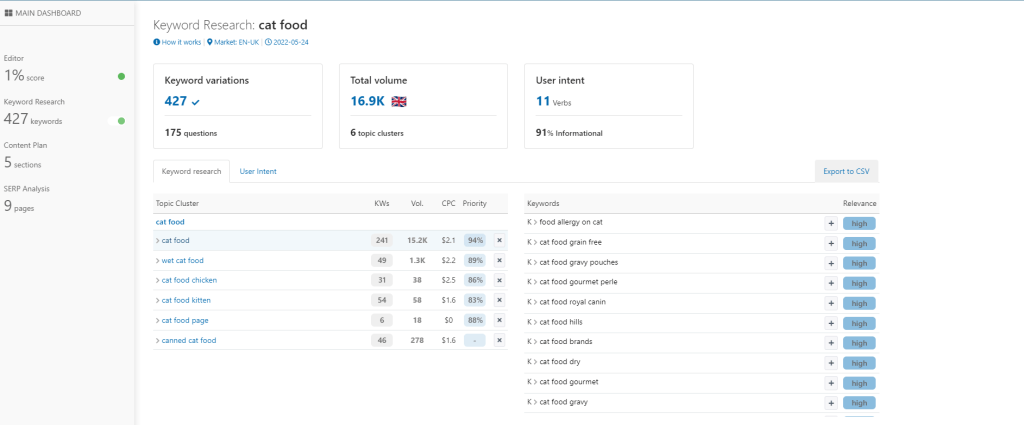 Step 4: Repeat step 3 until you exhaust all options
This method gives you enough content to write for years, so just keep at it. Covering these topics meaningfully whilst using informative internal linking and schema markup is going to be your best friend in the Google updates to come.
https://inlinks.com/wp-content/uploads/2022/08/topicalauth.jpg
688
1319
Genie Jones
https://inlinks.com/wp-content/uploads/2022/10/White-png-300x60-1.png
Genie Jones
2022-08-18 09:52:53
2022-08-22 11:21:51
InLinks: A Tool for Building Topical Authority