Internal Link Building Mistakes + How to Fix Them

One of the advantages of building internal links is control.
You have control over them. So, when you encounter problems with your internal linking strategy, they're easier to diagnose and fix.
Like every other SEO initiative, most people make mistakes with internal linking. The good news is most of these mistakes can be avoided beforehand, while others are quick fixes once noticed.
To help you identify common internal linking problems, here is a detailed guide on internal linking mistakes and how to fix them.
Wrong use of anchor text
From generic phrases to keyword stuffing, SEOs still make many mistakes with anchor texts. Yet, the anchor text is one of the most essential parts of link building, both internal and external. Even before the move to entities, it was the clickable text that tells Google and visitors what the linking page is about. So, at its best, it should be clear and relevant.
if you have two separate pages of content on "best link building tools" and "a review of majestic link building tool" and you use the anchor text "link building tool" for both of them, you're telling search engine crawlers to rank both pages for the same keyword.
Because internal links help search engine crawlers discover your content, using the keywords you want to rank for in your anchor text is ideal. However, stuffing them or using keywords unnaturally just for search engines can become detrimental.
When you use a phrase or sentence as an anchor text, it should make sense to the context of the page it's on. It should also feel natural and read smoothly while providing enough information about the content it points to.
For example, here on our blog, in an article about sentence structure in SEO, the anchor text "authority in your field" points to a page about building topical authority. This anchor text fits in naturally with the page and still provides context about the destination page.
While using keywords, be careful not to overly use the exact keywords as the anchor text for multiple pages of content with similar intent. Else, you start cannibalising your content. Content cannibalisation is when multiple pages compete against each other for the same query.
For instance, if you have two separate pages of content on "best link building tools" and "a review of majestic link building tool" and you use the anchor text "link building tool" for both of them, you're telling search engine crawlers to rank both pages for the same keyword. Not only will this cause confusion, but it'll make both pages rank lower.
Generic and unhelpful anchor texts like "click here" and "this page" are unhelpful as they do not provide any context to your reader or search engine.
How to fix wrong use of link anchors
The best way to fix keyword stuffing in anchor text and content cannibalization is to diversify your link anchors. Using two-word anchor text can easily seem forced and unnatural. Instead of trying to make it fit, use keyword variations, sentence fragments and related phrases that clearly describe the linked page's content. This will even become easier when you understand the concept of entities in SEO.
The more descriptive and natural your anchor text is, the easier for crawlers to discover your content and for users to navigate your pages.
Using too many internal links
It's common to see SEOs and webmasters overdo internal linking in a bid to maximise its benefits. And there are so many downsides to it.
For one, using too many internal links in a piece of content makes your page look spammy, especially when they're keyword stuffed.
More than that, they disrupt the user experience, overwhelm your readers and force them to bounce. Maria Harutyunyan, Head of SEO at Loopex Digital, adds that –
"Many links on one page mean the link juice is shared between them, which means each link gets less of a boost. Plus, since the crawl budget for every website is limited, search engine crawlers might not crawl all your internal links if they're too many. This means your most important pages may not get indexed if you go overboard with internal linking".
Even though using excessive links gets you more page views if users click on them, it also reduces your page dwell time because people are jumping to the linked pages too soon and may miss important information on your source page.
Also, too many internal links dilute the PageRank for each link and ultimately impact your ranking. Since PageRank is shared amongst all links on a page, a link-heavy page will split its PageRank severally and only pass on a minuscule amount to the destination page.
Conversely, using too few internal links is another common mistake among webmasters. That leads us to my next point.
Not using enough internal links
If you're not linking your important pages enough, it'll be difficult for the search engine to discover and rank your content. Not linking enough also shortens the visitor's journey, making you miss out on potential conversion opportunities.
According to Steven Macdonald, the head of content at Inevo, the biggest mistake he sees SEOs make when it comes to internal link building is simply not using them enough. In his words –
"A 1,000-word article should typically include 3-5 internal links, linking to product/ sales pages or related content pieces. My general rule is to include at least one internal link per paragraph. So, in addition to product pages, you can also link to blog posts, integration pages, case studies, contact forms and guides."
So, this leads us to the next big question: How many internal links are too many or too few?
How to fix too many or too few internal links
There are no hard limits for internal links. Way back in 2009, Matt Cutts advised that pages should have a reasonable number of links (fewer than 100). This was primarily due to bandwidth issues, as the search engine could only index about 100 kilobytes per page.
However, Google has since removed that limit from their guidelines. With no link limits, the rule of thumb is to use as many links are reasonable for your users because the user experience is vital.
Building content hubs is one way to build a reasonable amount of internal links. With content hubs, internal linking is based on relevance between cluster and pillar pages. Since all linking content must be relevant to each other, you'll be able to use just enough internal links that'll pass the appropriate pagerank and serve crawlers without ruining the UX.
Linking to and from irrelevant pages
This mistake is a direct consequence of not having an internal linking strategy. Without a plan, you'll randomly add internal links to and from any page. Not only will that confuse your users and search engine bots, but it'll make your internal links seem unnatural.
How to fix irrelevant links
Again, the best solution is to use content hubs. They'll remove the guesswork so you can build internal links only where it makes sense.
InLinks internal linking tool can also help you here. Once you add your content pages to an InLinks project and select your pillar page for any given topic, it'll automatically locate relevant content pages related to that topic and build internal links from them to the pillar page.
Always remember: internal linking is based on relevance. The content you're linking to must be relevant to the source page for the link to have any positive effect on your SEO
Deep crawl depth for important images
Crawl depth refers to the number of clicks required to go from your home page to another page. As your content library grows, so does crawl depth. But the search engine associates the importance of your pages to their crawl depth. Pages that require fewer clicks are considered more important and given more weight in the search results.
So, as you build your internal links structure, be careful not to keep your important content pages from getting too far from the homepage or becoming buried in pagination. For example, if your cornerstone page — the page you want to rank requires 5-10 clicks for users and search engines to access, it indicates that the page is not so important.
Also, deep crawl depth leads to uneven distribution of PageRank within your website, resulting in lesser visibility for deeper but important pages.
How to fix crawl depth
According to Bill Guale, SEO strategist at Content Growth, fixing this mistake is as simple as increasing the number of content pages you display on your blog page. This way, your important pages will be closer to the home page and require fewer clicks.
As your content library grows and you use pagination, Bill recommends displaying your most important pages on other locations like your footer, sidebar, and even main navigation menu where it makes sense.
Pointing links to broken pages
Whether internal links or backlinks, broken links disrupt the flow of link equity and create dead ends for users and search engine bots.
When you point internal links to pages that no longer exist, you send the wrong signals to search engines, waste your crawl budget and devalue your website. While broken external links are not within your control, you can still manage them and keep your site's link profile healthy.
How to fix broken links
Regular site audits. Link building is not a set-it-and-forget-it business. Regular audits allow you to quickly find and replace broken internal links with new, relevant ones. Tools lilke Sitebulb (my favourite) and Screaming Frog will do these audits for you.
For broken external links, contact the site owner to change the links or set up a 301 redirect to new, relevant content within your site. If none of those options seems viable, simply remove the link.
Internal links are the glue that holds your site's structure together, so you must monitor them constantly.
Related reading → How to audit internal links for SEO
Incorrect use of redirects
Ideally, a redirect should lead to a destination page, not another redirect. Sending users and search engines through multiple redirects creates unnecessary loops and confusion. It also dilutes your link equity and keeps web crawlers from indexing important pages. If you must use a redirect, link straight to the destination page with 301 redirects. Avoid redirecting to a link that redirects to another.
Even if redirects are helpful, using too many can consume your crawl budget. So try to keep it at a minimum and, where possible, replace a URL instead of setting up a redirect.
Ignoring orphaned pages on your website
Links help web crawlers index and rank your pages.
When content pages have no incoming links, they are orphaned pages; hence they get zero visibility, and it's difficult for search engines to find them. If these orphaned pages are important for your business, you may lose out on ranking and conversion opportunities.
How to fix orphaned pages
The best way to fix orphaned pages is by using content hubs.
First, run a site audit to discover pages with zero inbound links. Then, use the Google site search to manually find other content pages related and relevant to the orphaned pages. Then, interlink them. Also, point links from the orphaned pages to your hub page.
Again, InLinks will help you expedite this process. Instead of reading through multiple pages of content to find internal linking opportunities for orphaned pages, add your content pages to an InLinks project.
Next, assign your important topics to their most relevant pages, then sit back. InLinks will find linking opportunities in other content pages and automatically build links between them with the most relevant anchor texts.
If there're no relevant content pages you can link to your orphaned pages, consider removing them.
Using internal links with no follow attributes
Attaching the rel="nofollow" attribute to a link indicates to Google that you do not endorse the content of the destination page, so they should not crawl, index it or pass your PageRank to it.
Attaching it to internal links goes against the essence of interlinking, which is to distribute link equity throughout your website. Ideally, internal links between content pages, especially contextual links, should be dofollow. However, sometimes it makes sense to use nofollow attributes, for instance, if you're linking to a registration form.
But, trying to game search engine bots into ranking a specific page highly by making other internal links nofollow is not an effective internal linking strategy.
How to fix link attributes
Ensure your internal links are dofollow so authoritative pages can pass link value to smaller pages.
If you're unsure whether your links are dofollow, right-click on a content page, then select "view page source". Next, use CTRL + F to search "nofollow" to find internal links with nofollow attributes. (Note: The phrase "dofollow" simply mean a link that is not marked as "nofollow". Links are "dofollow" by defaul. No special parameter required.
💡→ Pro Tip: To find nofollow links at scale, use tools like Sitebulb.
Fix your internal links with InLinks
Because internal linking scales fast, mistakes are bound to occur. But using InLinks, you can nip most internal linking issues in the bud before they cost you your ranking.
For instance, when it comes to organizing your links, InLinks offers two linking types: Wikipedia style and link silos. When you select your preferred linking setup and specify main pages, InLinks will automatically create a solid and optimized internal linking system.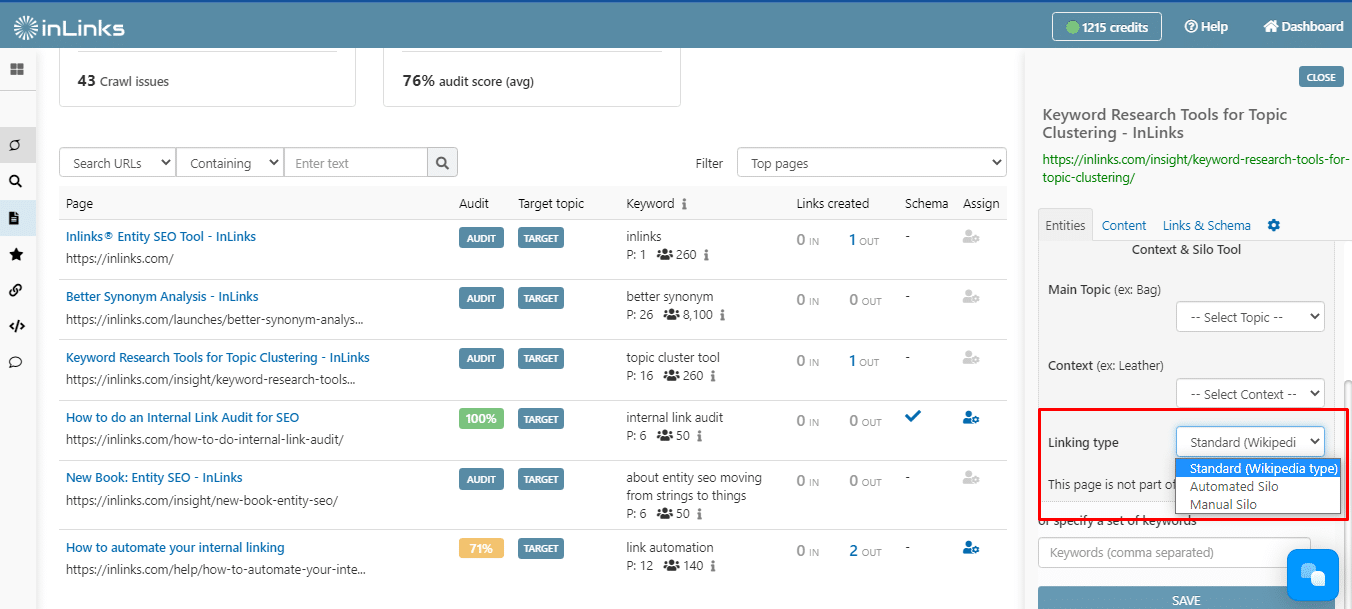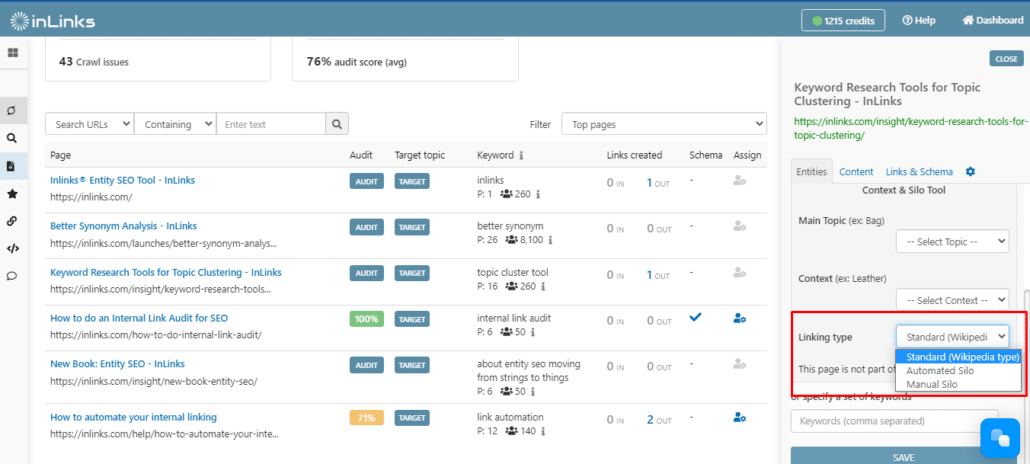 If you add our one line of Javascript code to your website, the tool will automatically inject these internal links into your site. Also, when you add new content pages, InLinks will build new internal links while maintaining your link setup.
This way, you're assured of an optimal internal linking structure that distributes ranking power and is accessible to users and search engines. And all this happens without you having to maintain large master lists of internal links or do anything manually.
Sounds cool, yes? We'd love you to take InLinks for a spin. We'll give you 20 free credits, so you can add your first 20 pages to an InLinks project and see how the tool handles internal linking.
https://inlinks.com/wp-content/uploads/2023/06/mistakes-1.png
600
1200
Dixon
https://inlinks.com/wp-content/uploads/2022/10/White-png-300x60-1.png
Dixon
2023-06-13 14:00:00
2023-07-19 05:16:00
Internal Link Building Mistakes + How to Fix Them