Semantic SEO Guide
This Semantic SEO guide provides an in-depth foundational understanding of Semantic SEO. Web search engines and particularly Google increasingly focus on Semantic indexing and retrieval of content based on the concept of "entities" (or "things") rather than the concept of "words" (or "strings"). On the upside, this is a much more efficient way of storing the world's information. On the other hand, it occasionally loses colour and variety in results. This guide will give you a solid grounding on both the concepts behind Semantic search and SEO strategies you might adopt to leverage Semantic or Entity orientated search.
This guide now forms the basis of the book "Entity SEO" on Amazon (open in a new tab).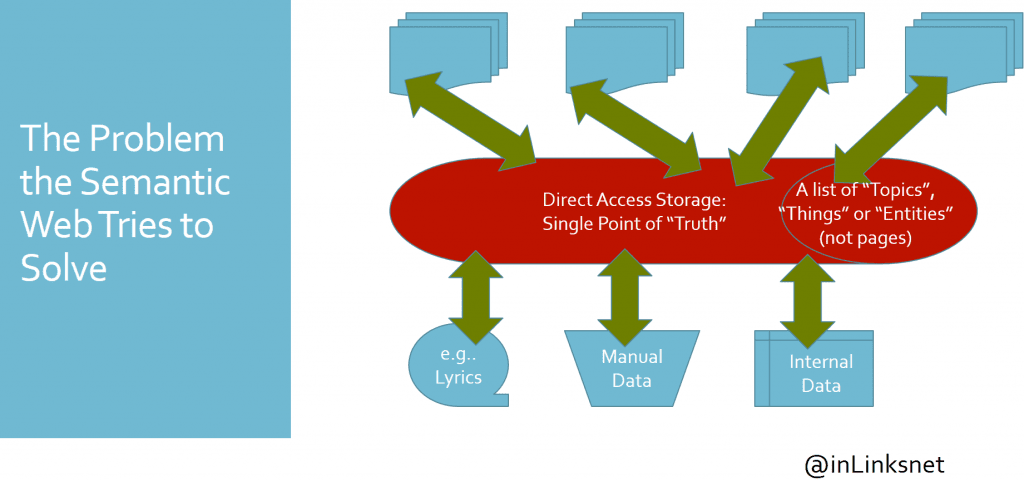 What is Semantic SEO?
There are a number of facets to semantic search and semantic SEO is the art of optimizing the underlying data. In one context, a semantic search is an information search that uses entities, rather than web page URLs as the primary record structure in an information retrieval system. Semantic search is efficient for machines due to structured formats and relatively specific vocabulary. SEOs are starting to wake up to the profound difference between an entity vs. keyword approach to content strategies. Google now has a large and sophisticated "Knowledge Graph" which helps it to understand the relationships between concepts.
The task, now, for your online marketing strategy is to understand how to optimize an organization's online presence in such a way that the organization's core competencies are expressed within that knowledge graph. This is "Semantic Search" or "Semantic SEO" and this series of posts is a comprehensive training guide that will help digital marketing experts incorporate this Artificial Intelligence aspect into search marketing.
Another way to describe Semantic search is that a search engine is trying to derive meaning from the content it crawls on a page, not simply by counting words, but also by considering the markup that makes up how the page is presented. A web search engine may still relate this content to meaning, but there are several mark-up attributes that a crawler can readily use to help with meaning, such as:
Header tags (H1 to H3) to identify important concepts
Bullet points to help group concepts
Tables to help organize data
More recently, JSON-LD has become a prevalent way to add structured data to content.
How Semantic SEO impacts Search
Gone are the days of keyword stuffing. Semantic SEO leverages deep learning concepts. The search algorithms known as Hummingbird and RankBrain are part of a set of tools that have changed the whole meaning of "ranking in the SERPs". This Semantic search guide will provide an invaluable and updatable resource. We trust it will prove invaluable for SEOs.
How Semantic SEO improves the User Experience
Semantic SEO improves the user experience as it provides the users with new concepts that are closely related to the original query, by answering the search intent Google's algorithm gradually learns that you have provided a great user experience and thus tends to rank your content high in the search results. This approach also allows your content to be seen in Google Discover and generally increases discoverability (in context) generally.
Semantic SEO Guide Contents
Jump into a section, or read like a book by clicking <Next> on the bottom of each page.
Who this guide is designed for.
Understand what the Knowledge Graph is. Gain a grounded understanding of what Google's Knowledge graph is, without needing a Ph.D. in Information Retrieval systems. Read More…
The first Search Engine was really just a list of websites organized into Topic Trees by humans. Now in a world of Knowledge graphs and Semantic Markup, are things really that different? Read More…
Google has an Entity lookup tool. If you cannot use APIs, they also built a web interface for you to use. A practical way to find out EXACTLY what Google considers an entity. Read More...
How do you create a Semantic SEO Strategy? Knowing about the knowledge graph and entities in itself does not improve your online presence. You need to approach SEO differently from the keyword days. At a strategic level, there are a number of approaches to take. Read More…
Becoming an entity in Wikipedia is the most well-known way to become listed in Google's Knowledge Graph and pretty well defines you as an entity. Wikipedia, however, is full of pitfalls for the unwary. We asked a bunch of experts how they believe you should approach getting a Wikipedia listing. Read More…
If you are not directly able to have an entry in Wikipedia, you may be able to become an entity within the Knowledge graph through association with an existing entity in Wikipedia. Read More…
Beyond Wikipedia, other databases exist that Google accesses to help build out its knowledge graph. Here are several ideas as to other approaches to becoming an Entity. Read More…
Businesses do not usually agree to the message that they want to portray and the niche they want to dominate succinctly enough. By defining your own brand well, you tie it to a semantically close entity. Nike is associated with shoes, for example. Read More…
How do you go about creating Digital Assets beyond your web pages? Read More…
Adding Structured Markup to your web pages is easily done with the inLinks tools, but it helps to also understand the underlying ideas. Getting the code correct is important because Google is known to penalize sites that misuse structured markup. Read More…
Semantic SEO Writing and the Flesh-Kincaid Algorithm
The readability of semantic SEO writing is based on the Flesh-Kincaid algorithm which helps you determine at what level a reader needs to be to understand your content. The Flesh-Kincaid algorithm takes into account several elements such as the length of your sentences and paragraphs, the use of headers, and the vocabulary level.
InLinks uses the Flesh-Kincaid scale of 1 to 100 to provide you with a readability score for your content; the higher this score, the easier it is to read.
More Resources
Here are our FREE Training Courses on Semantic SEO for Content Writers.
Here is the Inlinks Youtube Channel.
This guide now forms the basis of the book "Entity SEO" on Amazon.