Case Study: From 45th to 5th in the Serps for the keyword 'SEO Company' in the UK 3 months after using InLinks

London-based SEO company Reboot Online started using InLinks back in 2020 for some client campaigns and saw great results doing so. At the time they were so busy with new and existing clients that they neglected their own site, and whilst consistently publishing new content consistely on their blog, their internal linking strategy and and anchor texts were no longer optimal.
Where Reboot Online used to rank on the first page for their main service keywords, primarily the keyword 'seo company', they were no longer on the first few pages of the Serps.
Then this agency started using InLinks on May 2022 and after 3 months their homepage went from 45th to 5th position for the keyword 'SEO company' in the UK.
The following screenshot taken on Semrush (4th August 2022) shows how the position for that keyword evolved: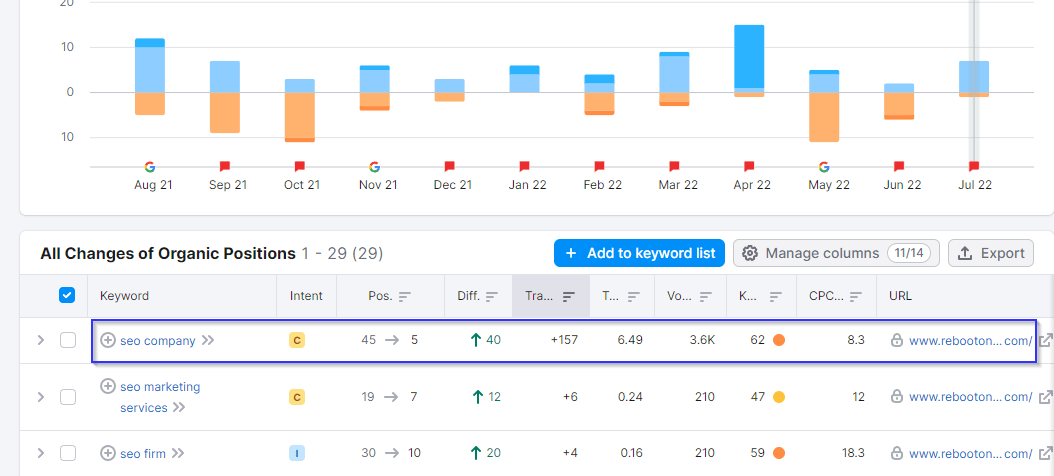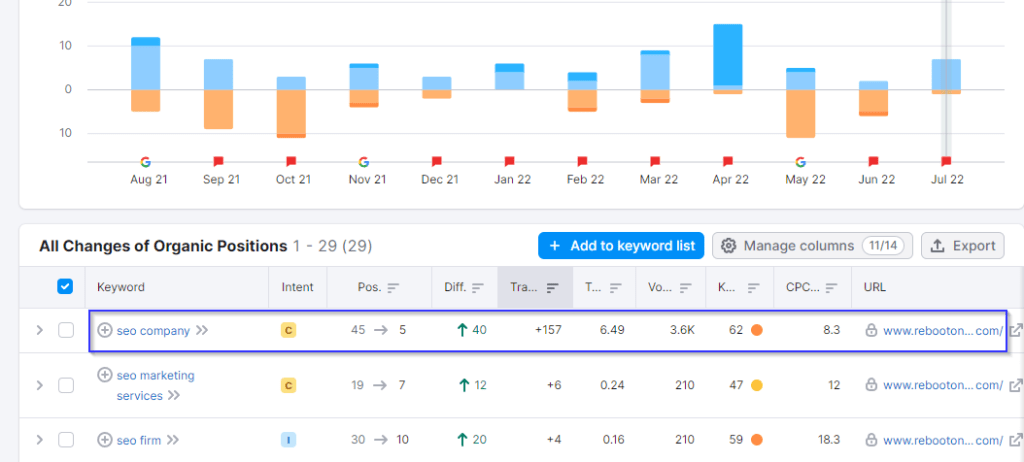 Gains in Traffic, Traffic Cost and Keywords
Upon analyzing the organic research data on Semrush for this website, we noticed the following:
An increase of 102% in organic traffic (July 2022 compared to June 2022)
An increase of 18% in ranked keywords (July 2022 compared to June 2022)
An increase of 111% in traffic cost (July 2022 compared to June 2022)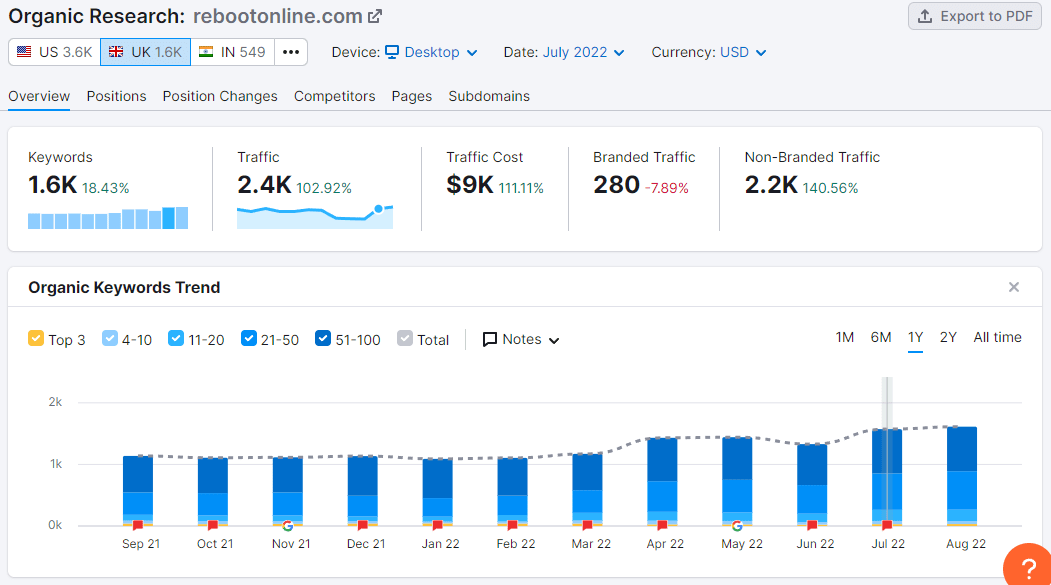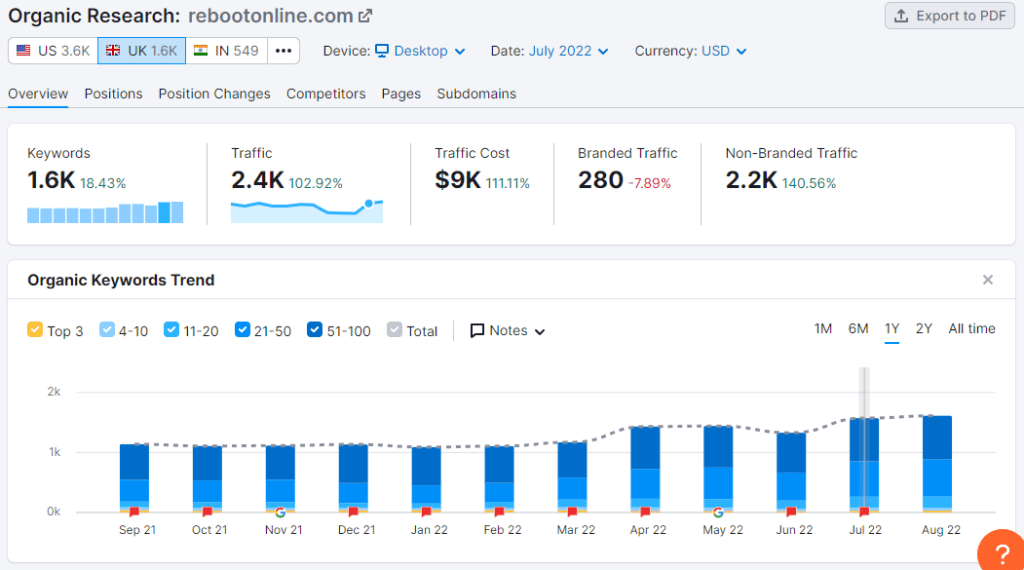 Download a Free Report
We have worked with Reboot Online in writing a comprehensive case study report that details how they've used InLinks to get the aforementioned results. You can download this report by clicking on the button below:
Why does InLinks produce amazing results (and how can you get them)?
InLinks works WITH the search engine to bring out the full potential of your content. Our data provides an in-depth look into the concepts you need to cover in a search engine-friendly way in order to get recognized in the SERPs.
It is our 3 pronged approach that encourages results like this. That is:
1- Internal linking. Did you know that 80% of all internal linking opportunities are missed? We at InLinks just see that as wasted ranking potential. Our automated internal linking tool fixes this issue on your site more efficiently than a human would. We place varied anchor texts and make sure you don't have too many links on one page.
2- Schema markup. Yep, we do that too! InLinks reads and summarises all of the entities on your page and automatically places them on your pages. This means that Google knows exactly what you're talking about, giving it a better idea of when you might be an appropriate site to suggest to its valuable customers. The less work for Google, the better! Don't forget, we also place FAQ schema so you are more likely to show up in those elusive rich snippets.
3- ENTITIES. Yep, you guessed it, entity SEO is the reason we're here. InLinks tells you what concepts to talk about, which ones you're missing, which ones are relevant, and the exact words to include to help google figure out what you're on about. Having one tool to do this for you, plus all of the keyword research you could ever need makes for pretty powerful results.
Want your own case study?
Of course, you do! We write up any results you get for free and link to your company. We also are happy to write these up anonymously. Keep an eye on your results including:
Average session duration
Ranking keywords
Visitors
Conversions
SERPs positions
ANY OTHER IMPROVEMENTS!
And let us know how InLinks impact these. We really value your support and we love to see the impact of our tool, so don't be shy!
So why don't you give it a try? It's free forever for the first 20 pages. Alternatively, SIGN UP FOR A DEMO and get your first month refunded up to $200.
https://inlinks.com/wp-content/uploads/2022/08/blog45.jpg
654
1262
Karim
https://inlinks.com/wp-content/uploads/2022/10/White-png-300x60-1.png
Karim
2022-08-05 14:05:11
2022-11-14 10:14:20
Case Study: From 45th to 5th in the Serps for the keyword 'SEO Company' in the UK 3 months after using InLinks