Case Study: Position 1 for SEO Consulting

We were delighted to see this in our online support today (7th June 2020).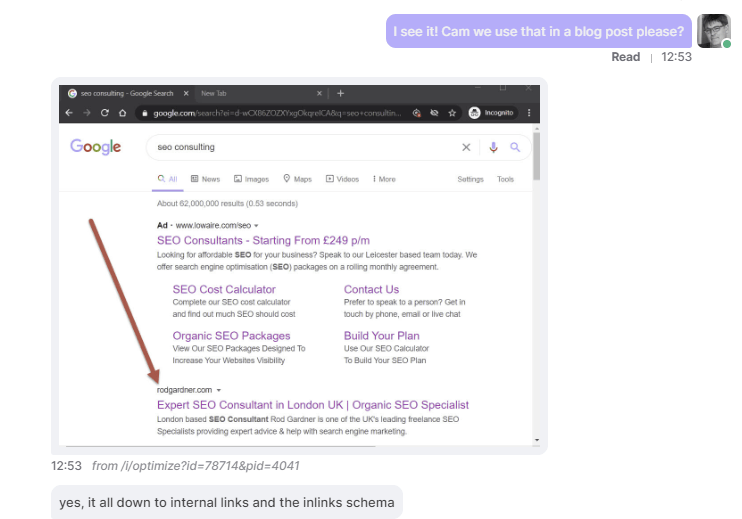 What did Rod Gardner do?
Rod puts this number 1 position down to the InLinks tool. Specifically, he thinks that the combination of automated internal links generation and automated schema created the difference. The number 2 result is one of the original and most well-known SEO companies in the UK (Scotland actually).
Rod says that it was all done to the Internal Links generated by our tool and the "about" schema working together. I thought, since Rod was kind enough to let us share the result, it was also worth reviewing what else Rod may have done right. Inlinks does not measure things like site speed or backlinks, but the content itself may have formed some of the success.
Case Study Short Cuts
Replicating the result
Schema Generation
Internal Link Generation
Content Analysis
Replicating the Result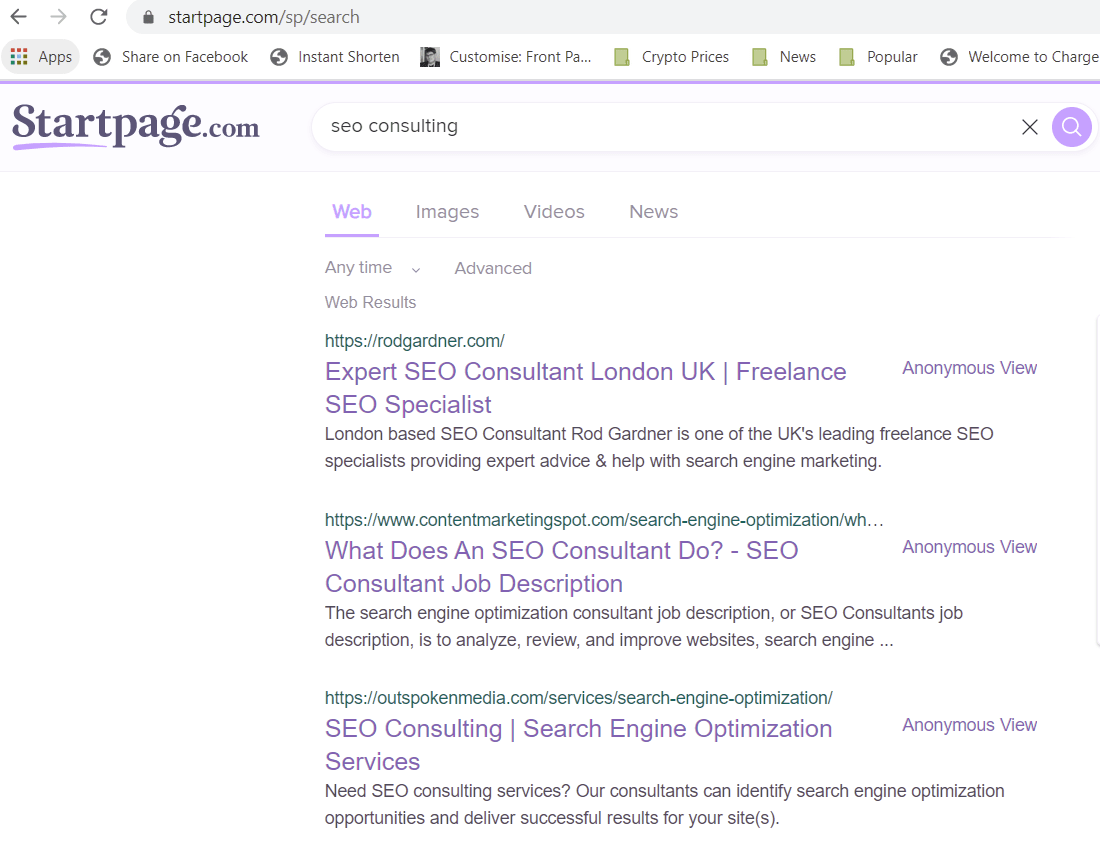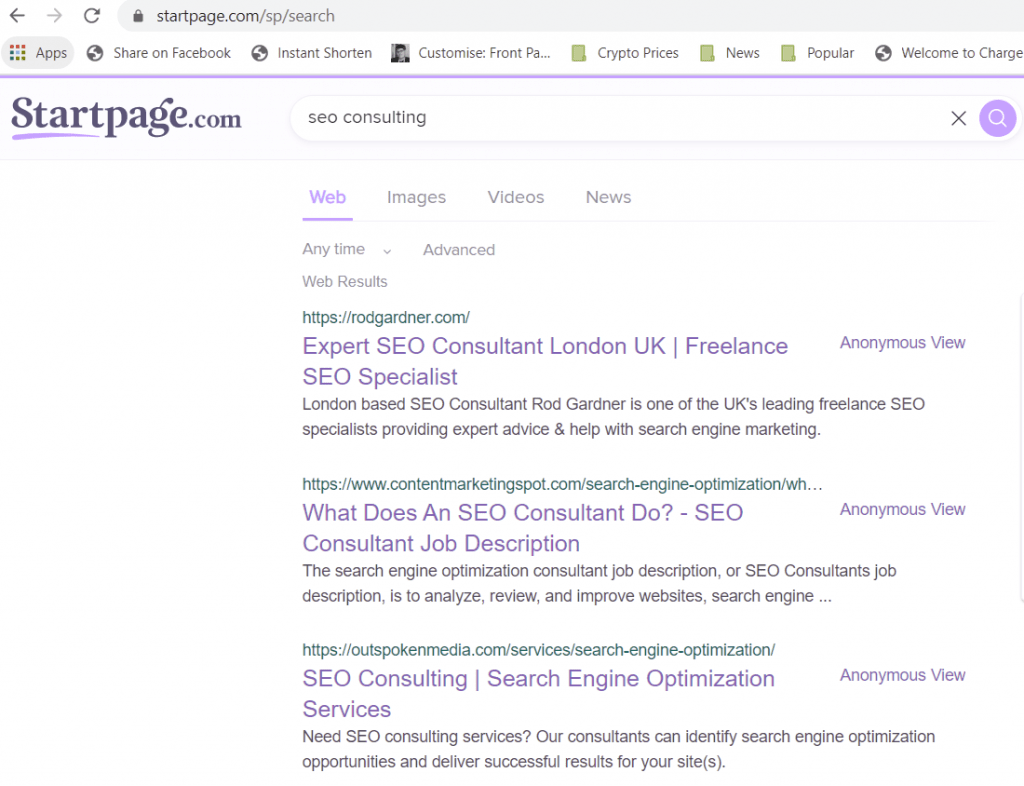 I was able to replicate his result on my PC as well and also used Startpage to remove any personalization bias in the query just to make sure.
Schema Generation
inLinks automated the schema on all pages that he associated with a topic or entity. In fact, Rod associated the page with 5 separate entities, including "Search Engine Optimization" (same entity as SEO) and "Consultant". These associations have direct hits with Wikipedia entries:


Note: You cannot see JSON-LD schema using "view source", as it is generated as the page loads. Use the "Inspect" button in Chrome or Firefox to see the DOM.
How many Internal Links did he generate?


Here is where things start getting interesting. Rod has a second page on the website with the URL "/seo-consulting". InLinks generated only 17 internal links to the home page (which is the one that rank) but generated 37 to the page called /seo-consulting. Moreover, Both pages are associated with "consultant" and "Search Engine Optimization" (something that is hard to do in our software… but take note of the "[c]" next to the home page associations… more on Context later.)
The homepage may rank higher because:
It has a higher overall PageRank
Of course, overall, a homepage is usually the strongest on a site. all other pages will link to the home page, not just the 17 topically relevant links we added in the body text. It gets the lion's share of backlinks from third party sites and in the end, has a Citation Flow of 37 compared to a Citation Flow of 27 for the internal page. (Citation Flow is Majestic's measure of Link equity and is a strong proxy for PageRank, which is no longer publicly visible.)
The links may be more narrowly focussed
In the screenshot above, Rod has used our "context" modifier to get around the issue of two pages having similar objectives. The home page ONLY gets links when another (presumably similar) topic is also discussed on the source page. This has the effect of generating LESS internal links, but adding a laserlike focus to them. I am not going to share exactly what hi did, though, He has been generous enough as it is.
Content Analysis
It is not always just about links and schema. Content, of course, has a big part to play and Rod's content talks about all the things Google would expect a page to talk about to meet the user's query of "SEO Consulting".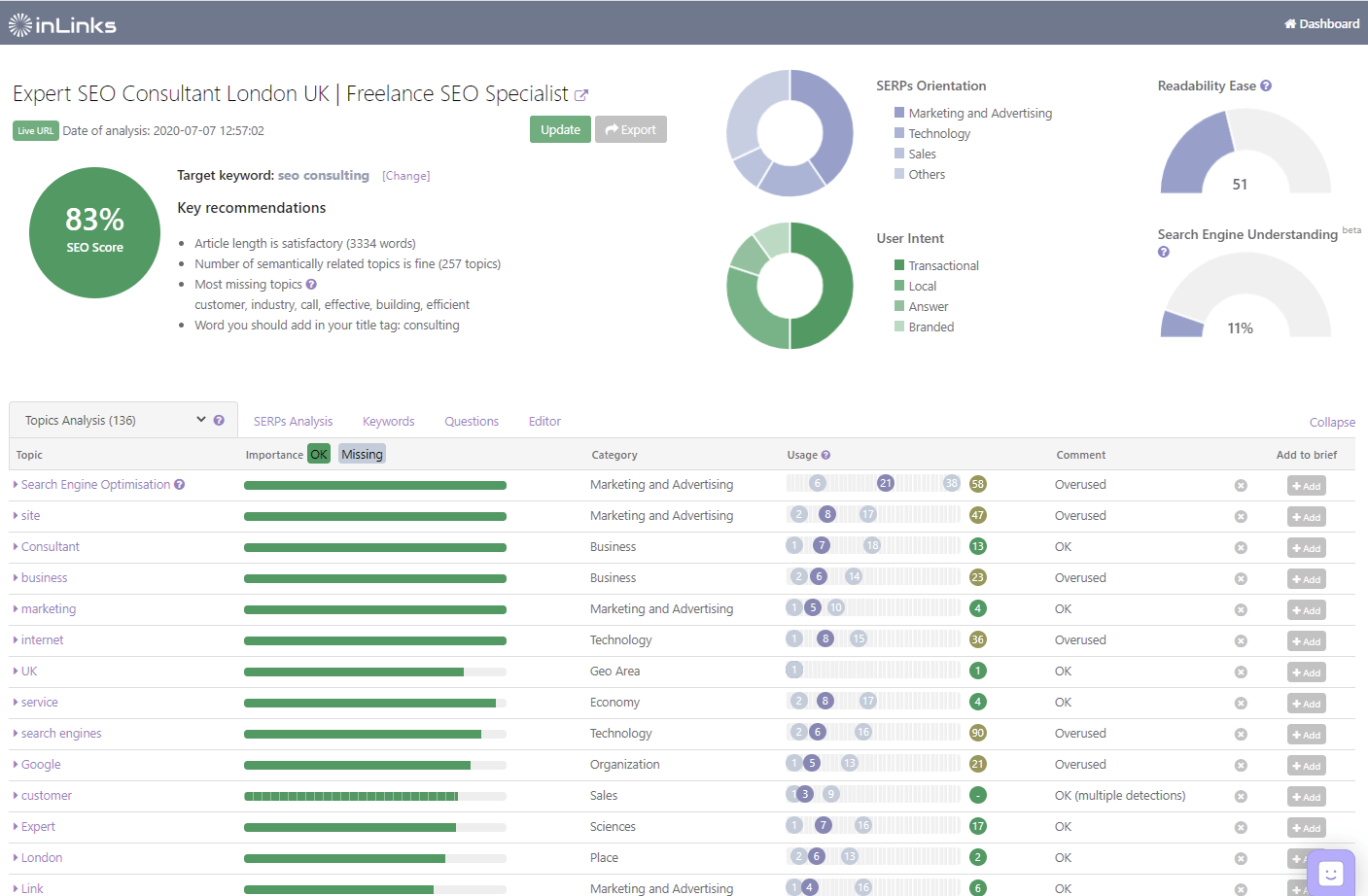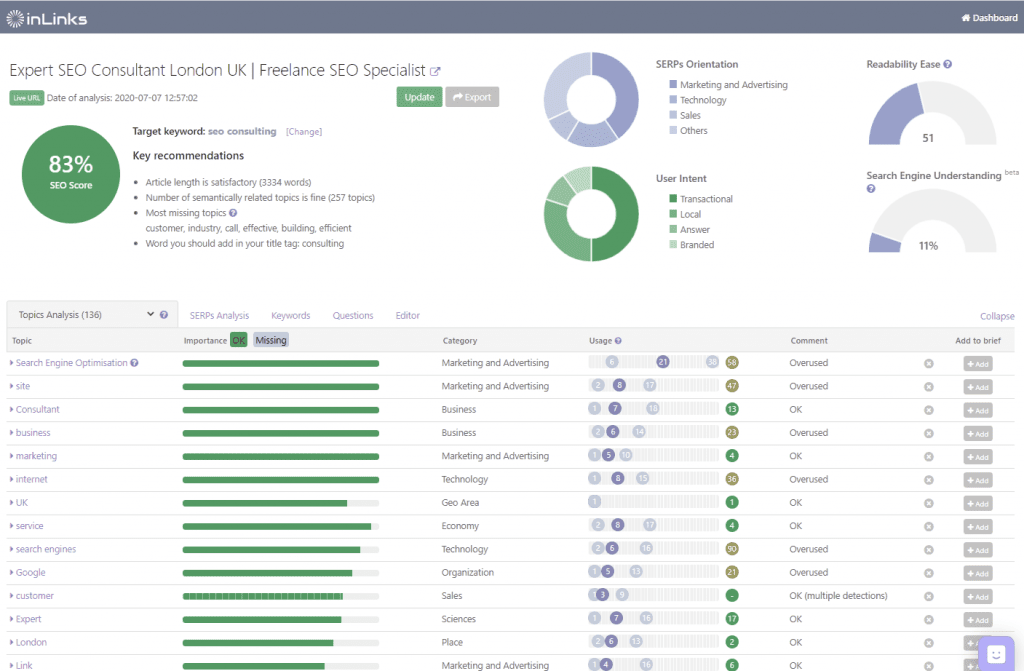 The 83% is a reflection of the content's ability to cover off all the important concepts in the body text of the page. Interestingly, his content scores even HIGHER for the term "SEO Consultant" at 89%, where he ranks on the home page, but not position 1.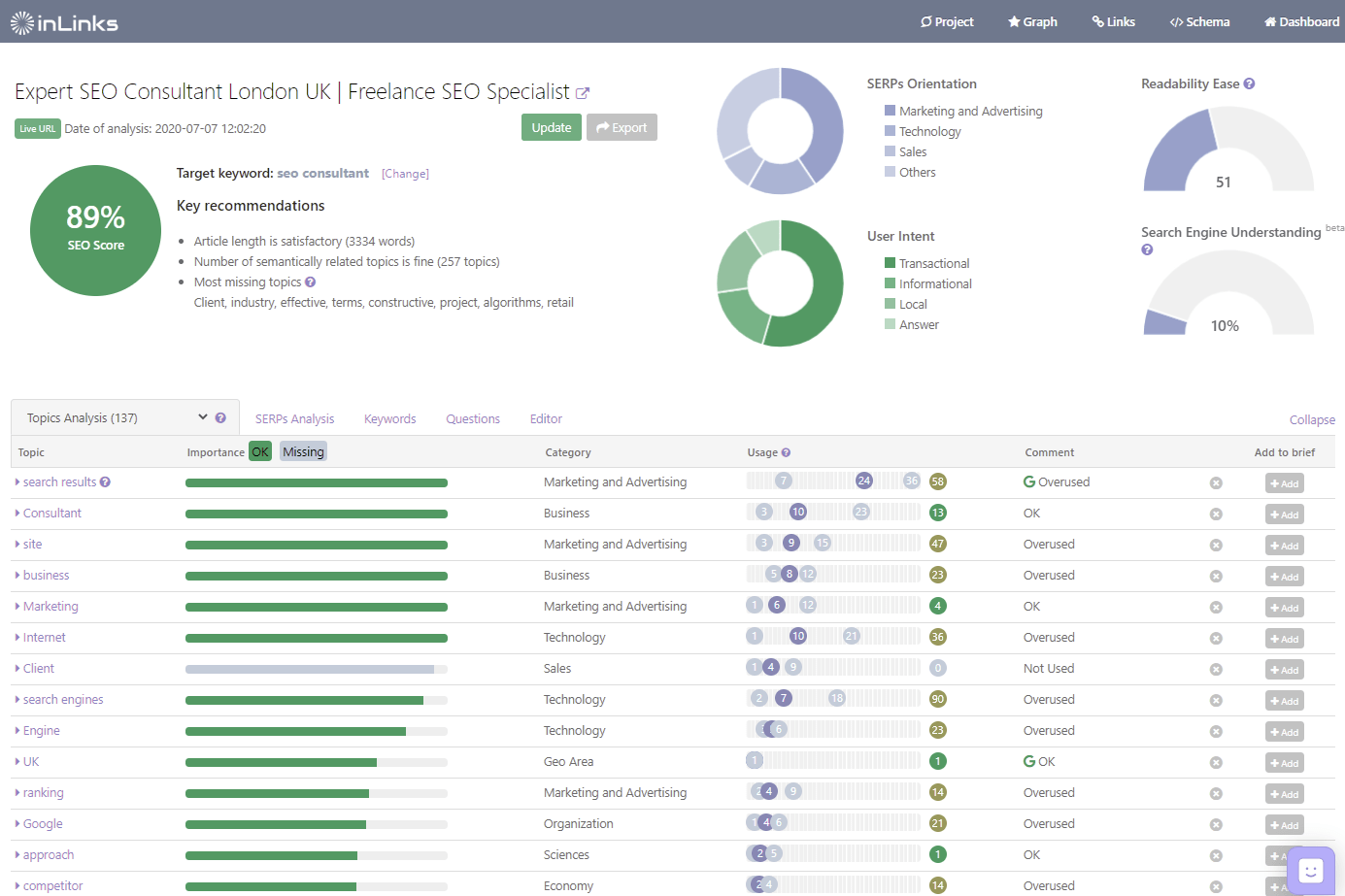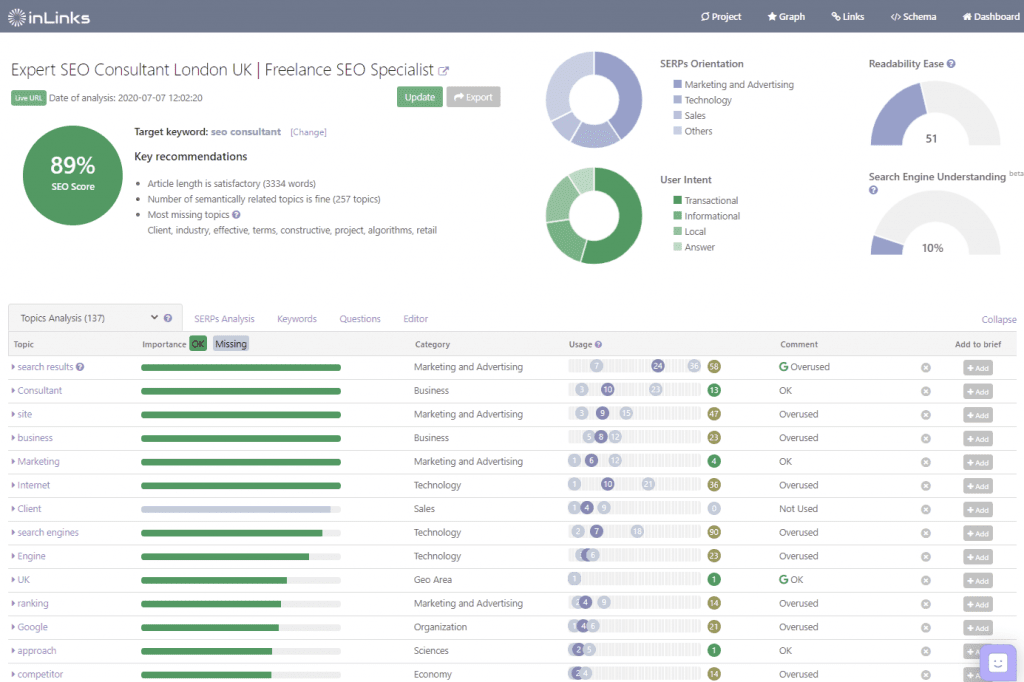 The latter audit suggests that the concept of Clients might be appropriate to add, but even so, gives the page a marginally higher score in this audit. The truth is that there is more volume and therefore more competition around "consultant" vs "consulting" according to Google Trends: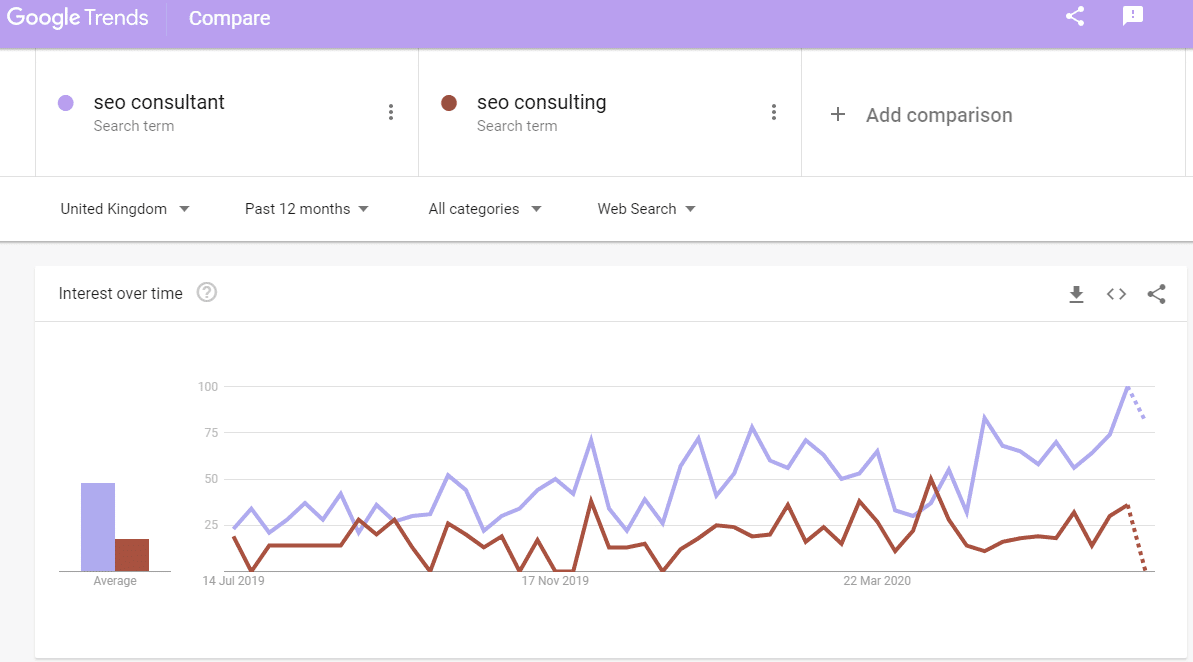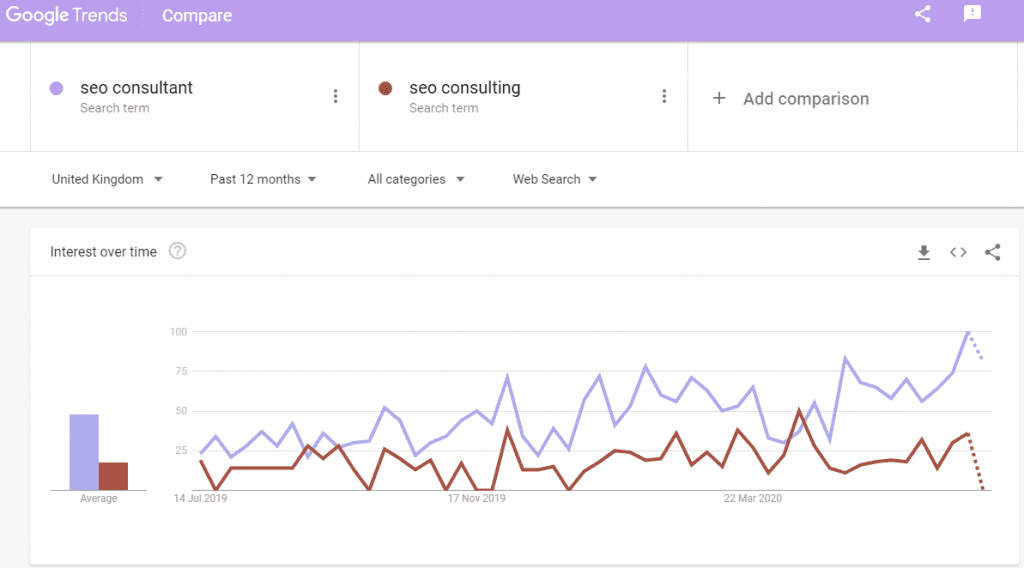 Even so, this is an impressive achievement! If ever a DoFollow link was earned, we think Rod Gardner deserves it. Putting that in as a NoFollow would have exactly the opposite effect of what a NoFollow is designed to do.
Other Factors Are At Play!
We do not suggest that simply using InLinks will give you a number 1 position! Certainly not. It worked for Rod, presumably because he had already got a lot of other ducks in a row. Things like site speed and UX all play a role. This is an Excellent and digestible read:
Ranking systems are made up of not one, but a whole series of algorithms. To give you the most useful information, Search algorithms look at many factors, including the words of your query, relevance and usability of pages, expertise of sources and your location and settings.

https://www.google.com/intl/en_uk/search/howsearchworks/algorithms/
Summary and Observations
Using InLinks does appear to have helped this site give Google the clarity and confidence needed to rank it first on the 7th July 2020. The website owner suggests that the inclusion of About Schema and Internal links made the difference. These were generated by the InLinks software, but the software still requires intelligent operation from the operator and does not purport to be a panacea for all SEO. It is very specific in its entity-based approach and the operator still needs to make the best entity associations, write the best content and optimize for many other algorithms. Moreover, the search term itself, whilst replicated in this case study, may not always return the same results since the context, history and location of the searcher also plays a role in Google's systems.
https://inlinks.com/wp-content/uploads/2020/07/position1.jpg
502
957
Dixon
https://inlinks.com/wp-content/uploads/2022/10/White-png-300x60-1.png
Dixon
2020-07-08 10:18:52
2022-05-13 10:37:54
Case Study: Position 1 for SEO Consulting