How accurate is the inLinks Market Trends Data?

An exploration of how accurately the data from inLinks' market trends tool compares to real consumer behaviour.
The Market Trends Tool
The InLinks' Market Trends Tool categorises and tracks consumer interest on topics. It can provide a daily, weekly and monthly oversight into how concepts and words are being interacted with online to surface what topics might be ripe for content writers and publicity seekers to write about. But how accurate really is the data? To see the capabilities of inLinks' Market Trends Tool, we compared Inlinks' trend data to real consumer statistics compiled independently by "Visual Capitalist" from March 2020.
The Bottom Line
If you do not have time to read the post. The results look to confirm that the InLinks trend data is in scope with real-world behaviour most of the time. With much of the data free and the paid options starting below US$40 per month, the product can be a valuable new resource. (You can try Market Trends for yourself for free, here.)
Ready? Let's dive in to specifics
Seismic Sales Changes in March 2020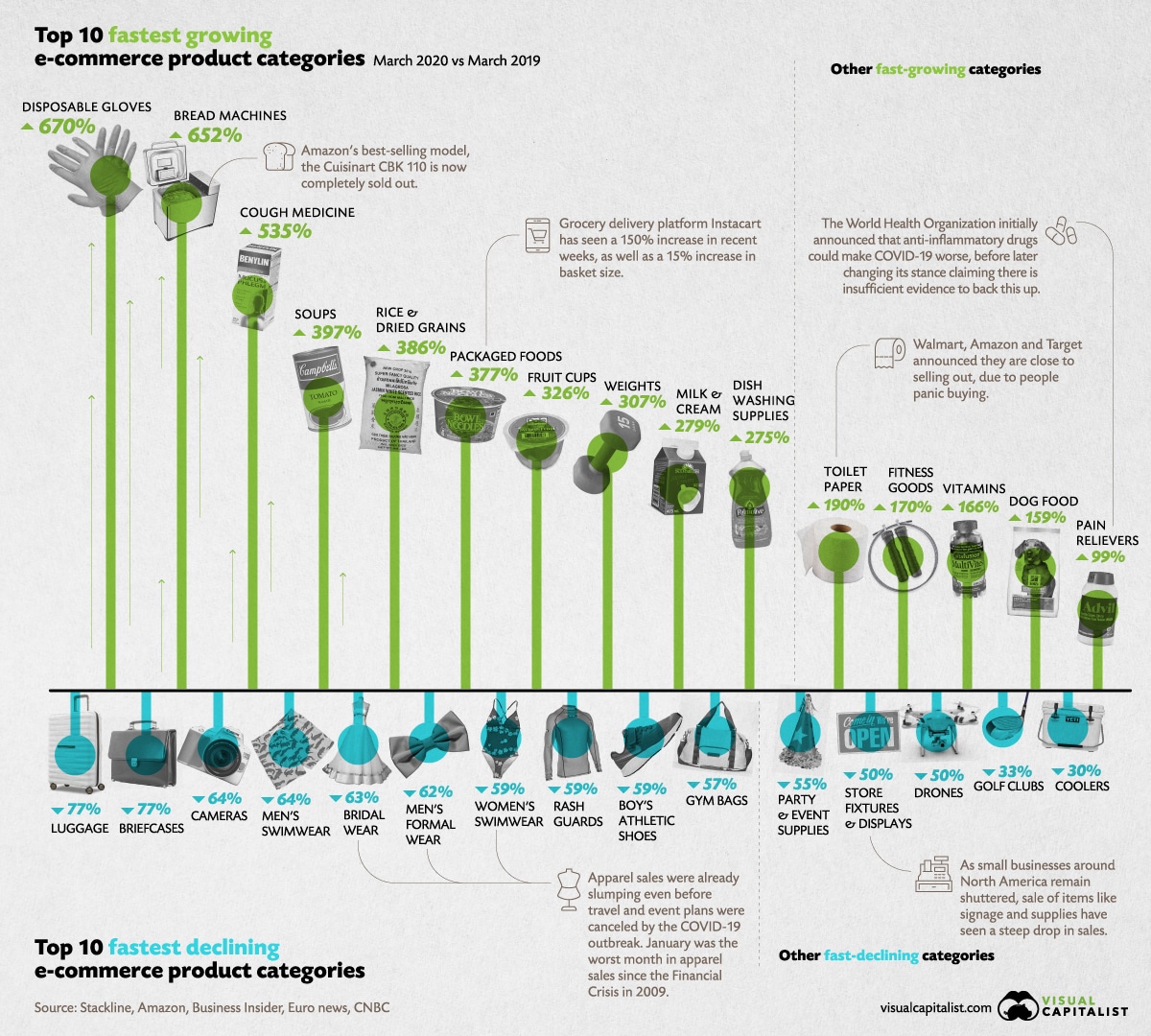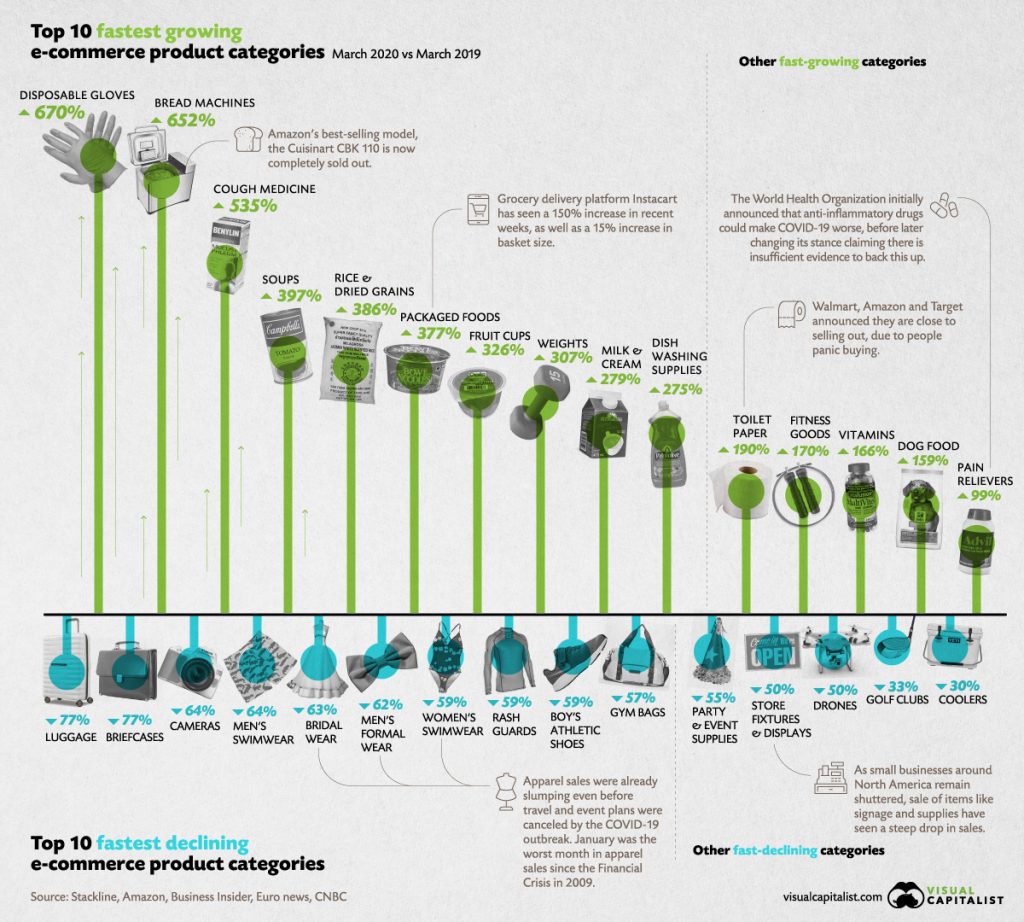 This overview of the fastest growing (and falling) sales of Ecommerce products of March 2020 takes into consideration real consumer statistics from Stackline, Amazon, Business insider, Euro News and CNBC. We used this to compare and evaluate inLinks' success and correctly and effectively identifying the fluctuation in these topics.
Disposable gloves
It seems only right to start by addressing the most incredible increase in demand for disposable gloves at 670%. InLinks recognises and categorises this as 'medical gloves', so let's take a look at the statistics.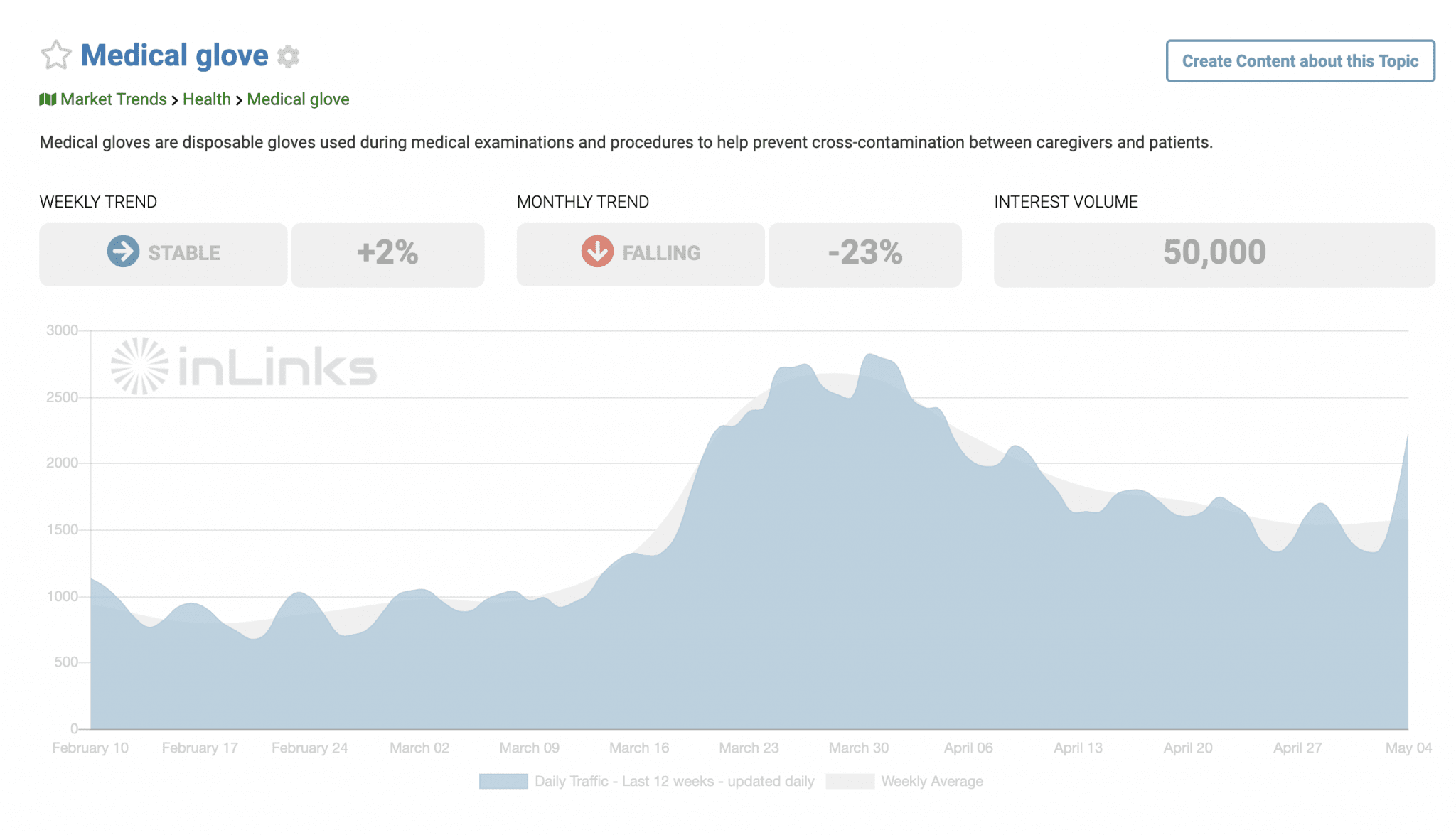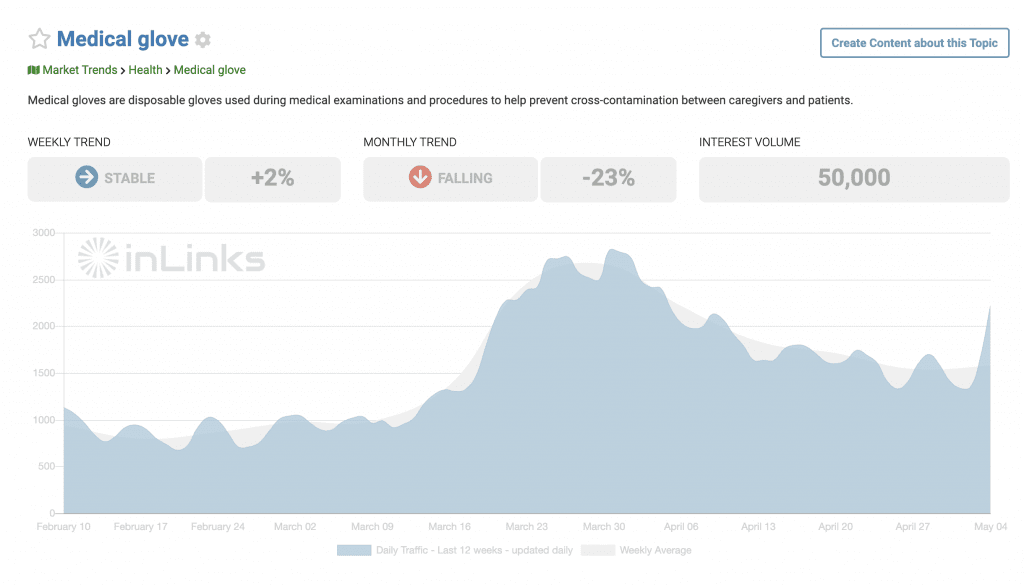 From March 1st to March 30th, we can see this huge influx in interest in this topic from an interest of perhaps 700 a day to nearer 2,700 a day. The figures, giving a 380% increase indicate that the real sales increase is accurately reflected in the inLinks data.
Bread Machine
Second on the Visual Capitalist list is the Bread Machines which saw a 652% increase in sales compared to March 2019. Due to boredom, anxiety or both amazon saw a complete wipe of the Cuisinart CBK 110.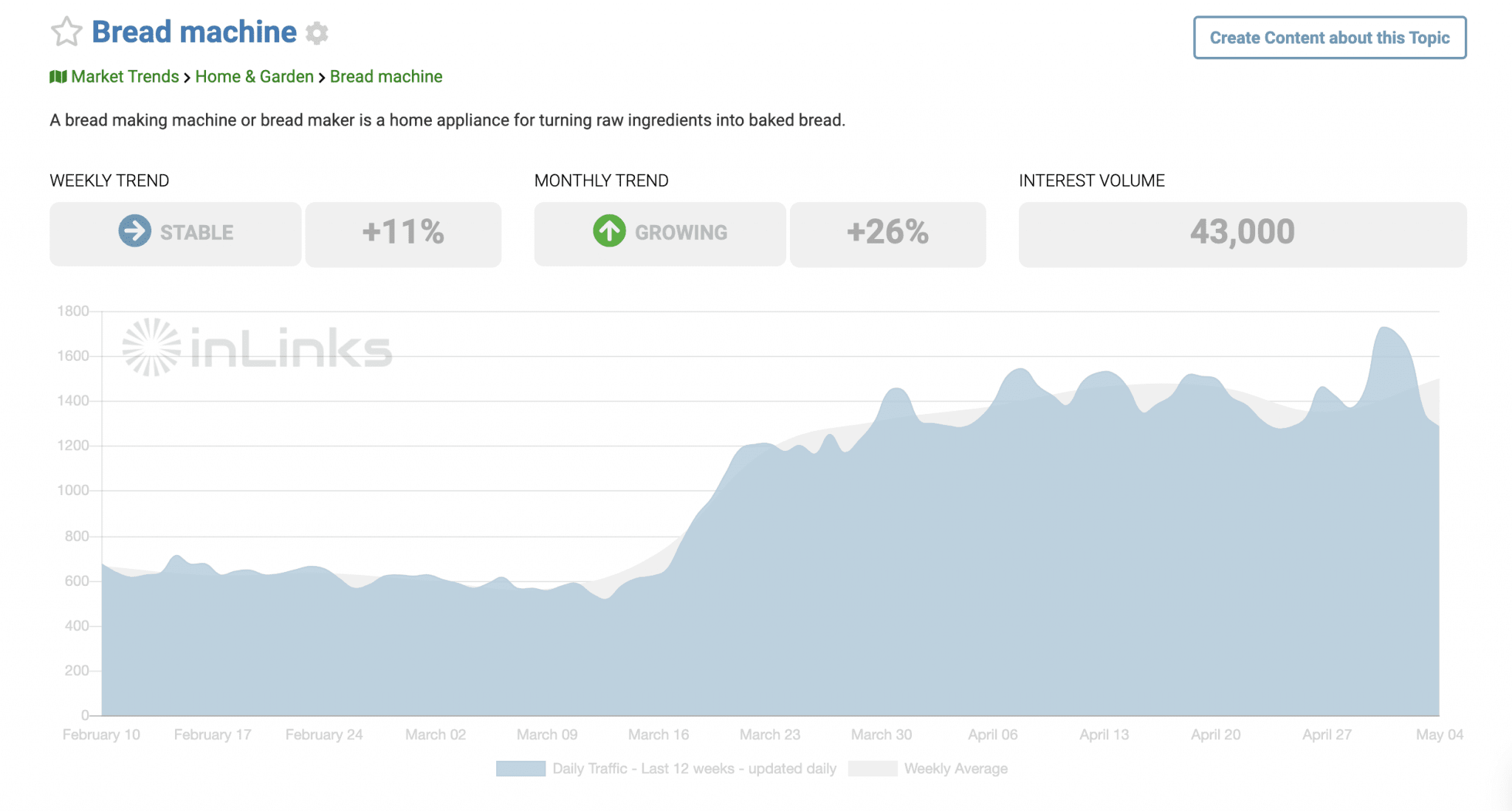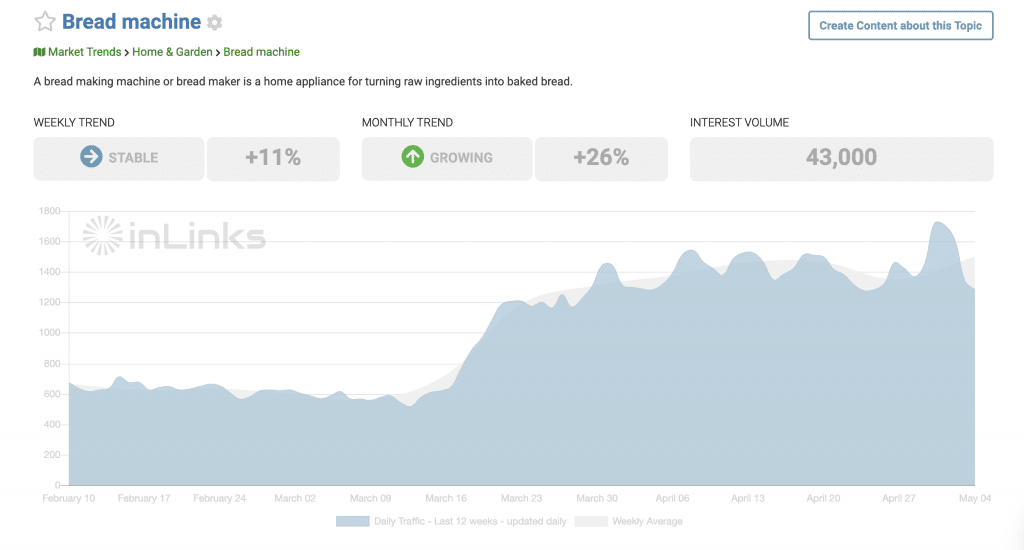 Again, inLinks' accumulation of interest in bread machines correlates and mimics the buying patterns of consumers with an isolated growing rate of over 240% in March. Inlinks can not only see this rise but also documents at what point in the lockdown consumers started to behave this way. Between the 16th and the 23rd of March, the bread machines soared in popularity, with inLinks predicting the monthly trend.
The interest in Bread Machines gives us another vector to use for verification of accuracy. In order to make bread, buyers will need flour – a pre-requisite for using bread machines. Therefore, if we believe there is an increase in interest in bread machines, we might expect an increase in interest for flour. This is what inlinks says about Flour: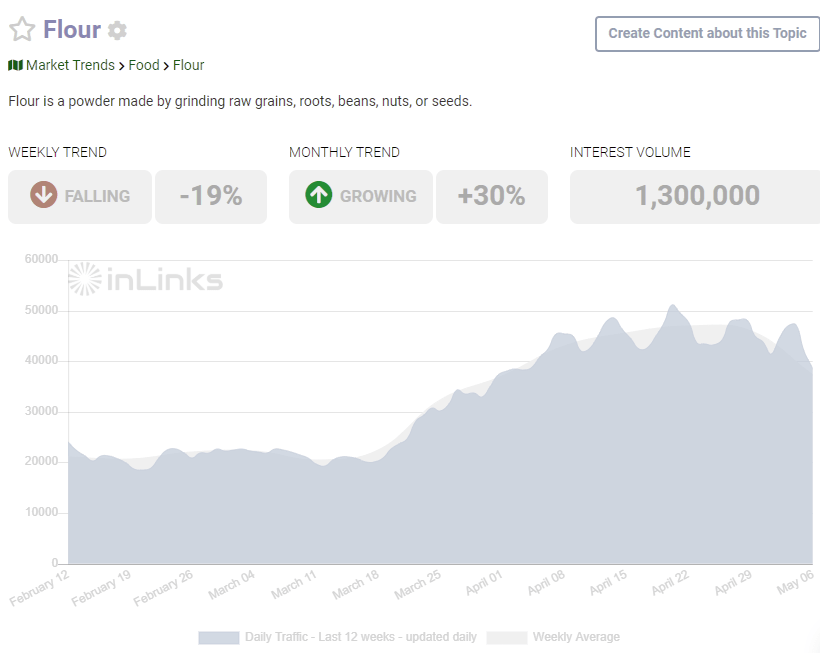 There is a very close correlation with the increase in Bread Makers.
Toilet paper
Toilet paper became number 24 on the top 100 fastest growing product categories in March, with a 190% increase from March the previous year. In the UK and Australia, the news of pending shortages seems to outweigh the fear of the pandemic, if one is to believe the press. Figure 4 shows very clearly the huge interest volume increase starting, peaking and ending in March. By week 1 inLinks had predicted a huge weekly growth trend very much in line with the consumer habits seen in Figure 1.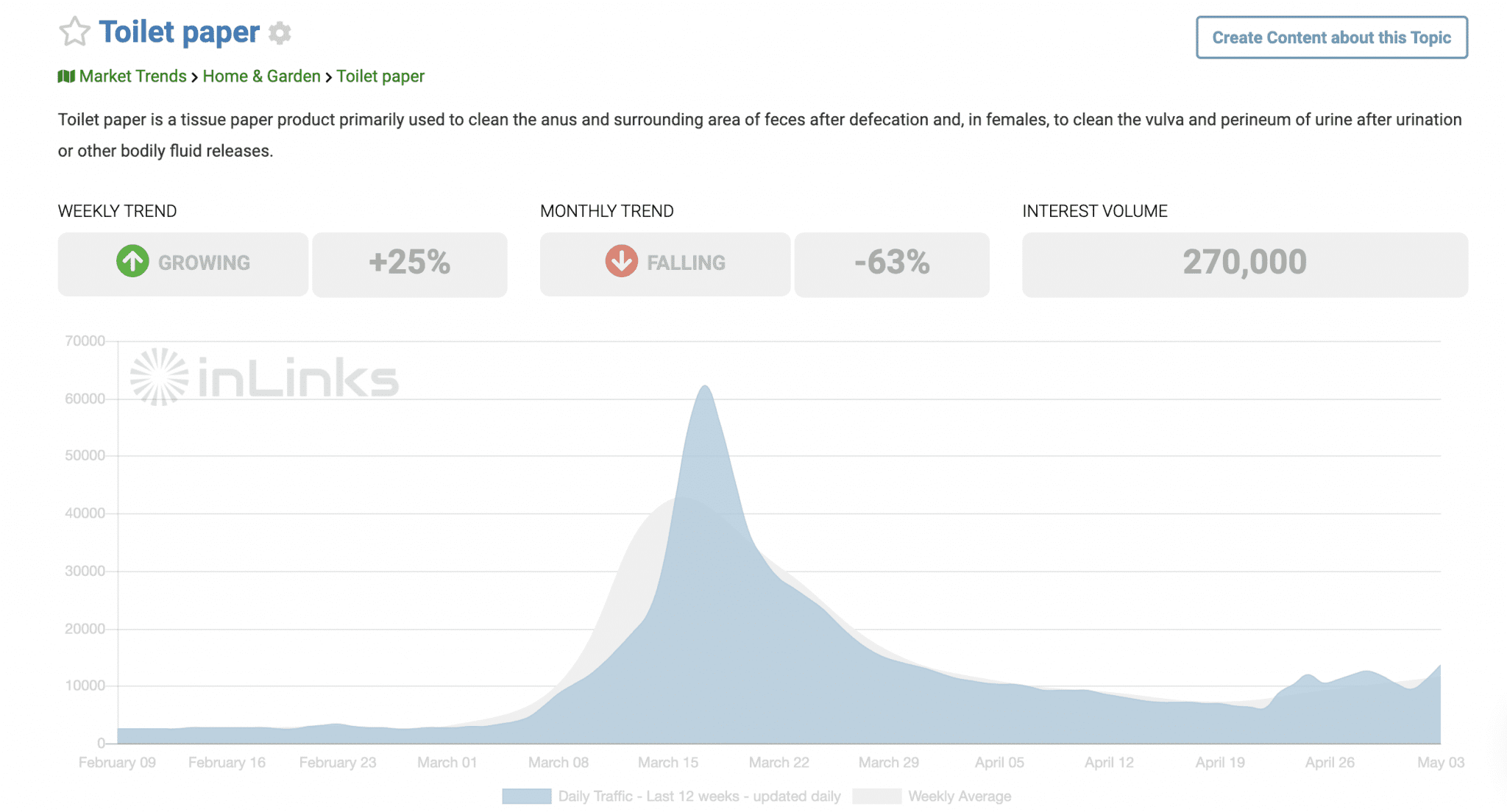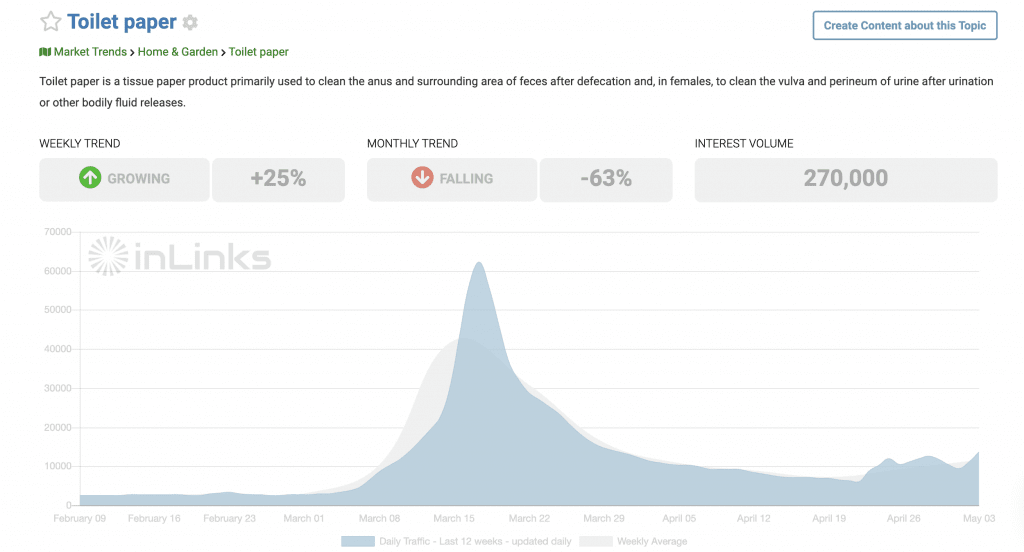 This is perhaps one of the most staggering increases, emphasised due to the news and media coverage at the time. This not only reflects consumer habits in terms of real sales, but also gives a visualisation of hysteria, along with a reassuring return to normal.
What about specific products?
Car Sales dropping
The more broader terms of gloves, toilet paper and bread machines gives us a good overview of how consumers or thinking and interacting with products online. However, how does inLinks' data fare when narrowed down on to more specific items. For example, according to GoodCarBadCar the Ford Escape saw sales drop from 20k monthly in February to only around 12K monthly in March. How accurate is inLinks' Market Trends Data concerning this?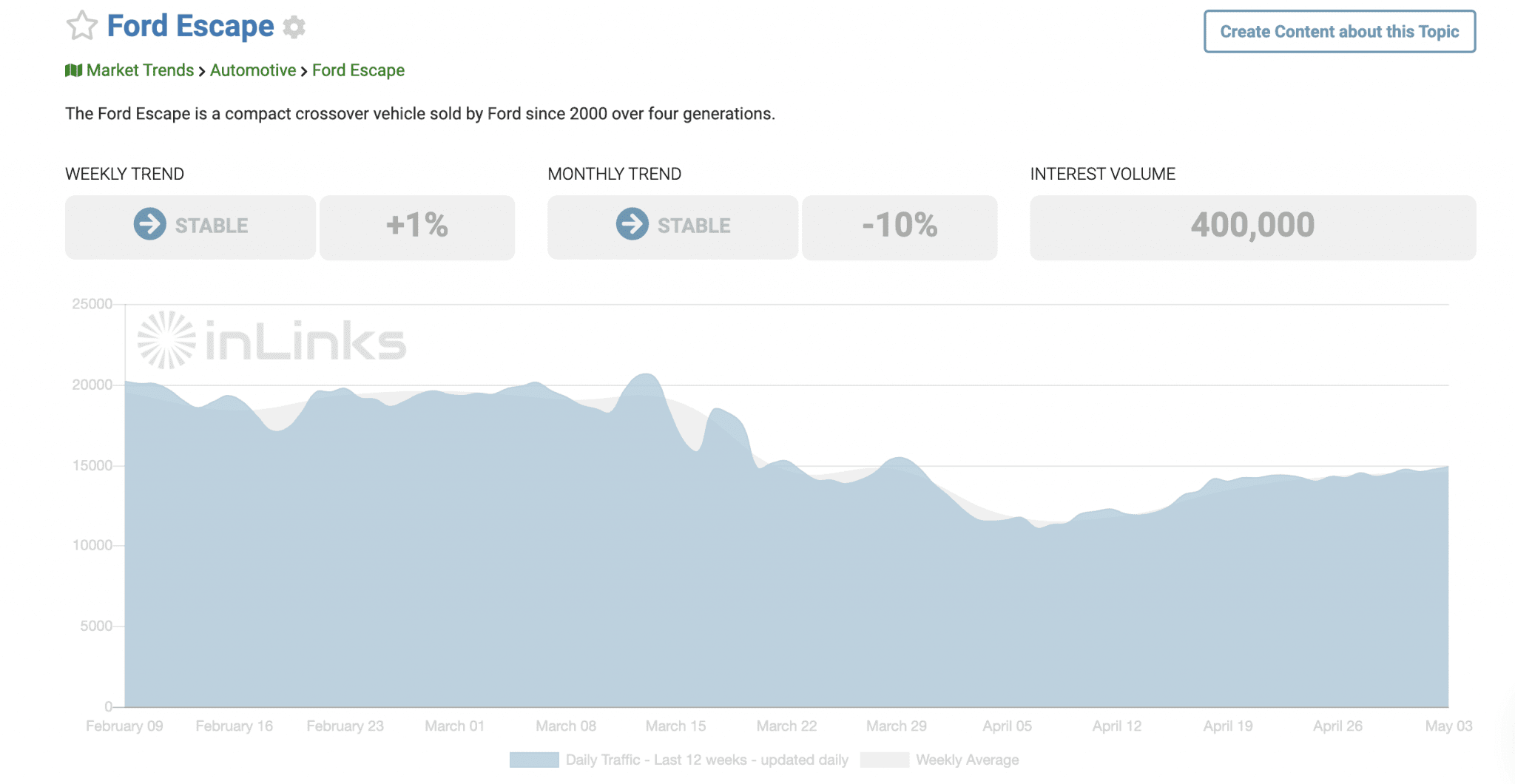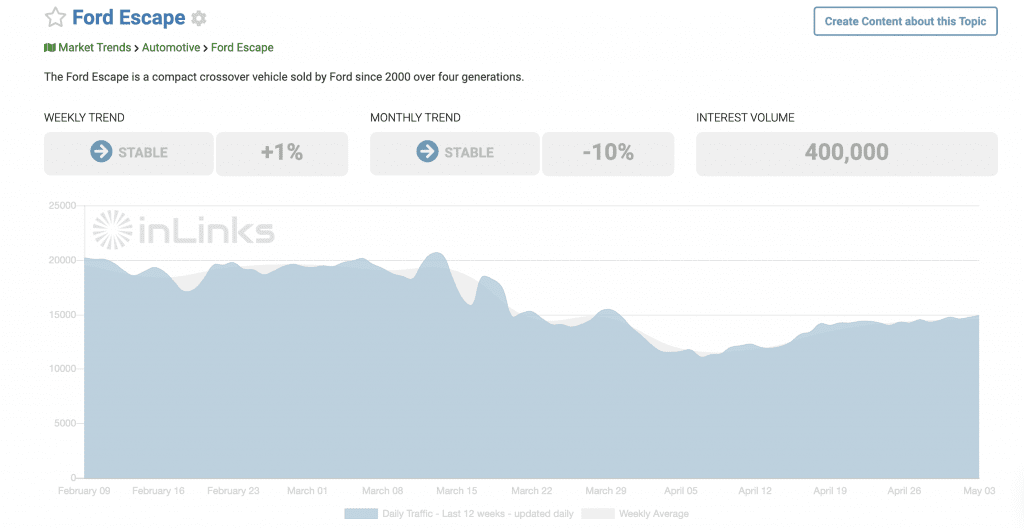 At February 9th we can visualise this 20k figure and see the decline to around 12k at the April 5th mark. Almost exactly as the data had described, inLinks managed to track.
Examples beyond the third party data
Behind the examples highlighted by the Visual Capitalist graphic, there are a few examples peculiar to InLinks' traditional readership that won't need third party verification. Let's look at Zoom and VPNs… two products that would undoubtedly have seen monumental shifts in interest during March.
Zoom Video Communications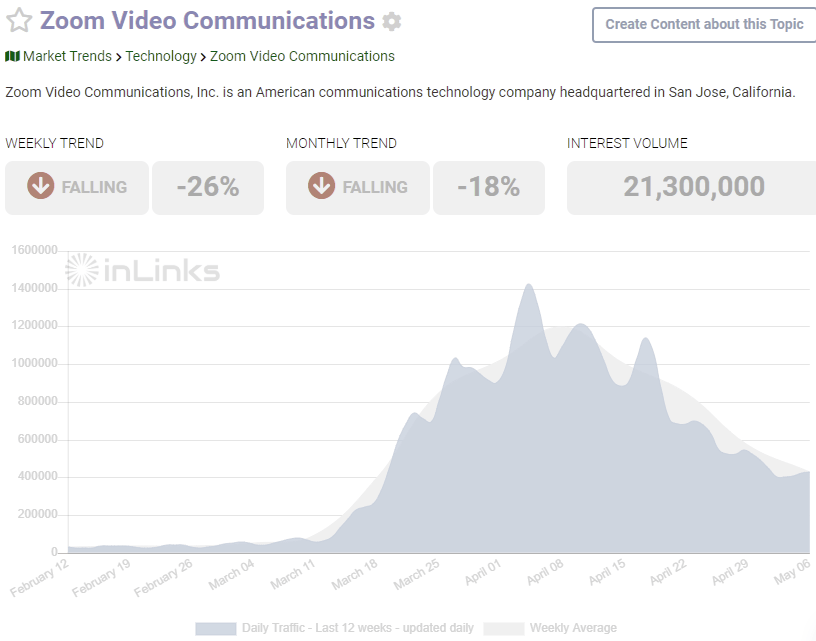 The increase in Zoom's prominence over the Lockdown has been staggering, although there are signs now that Microsoft Teams is fighting back. Interestingly, Zoom also suffered some security setbacks over this period. The hilltop-like chart more or less reflected the share price over the period as well, although this report makes no assertion that the interest data correlates in a general sense to share price variations.
Virtual Private Networks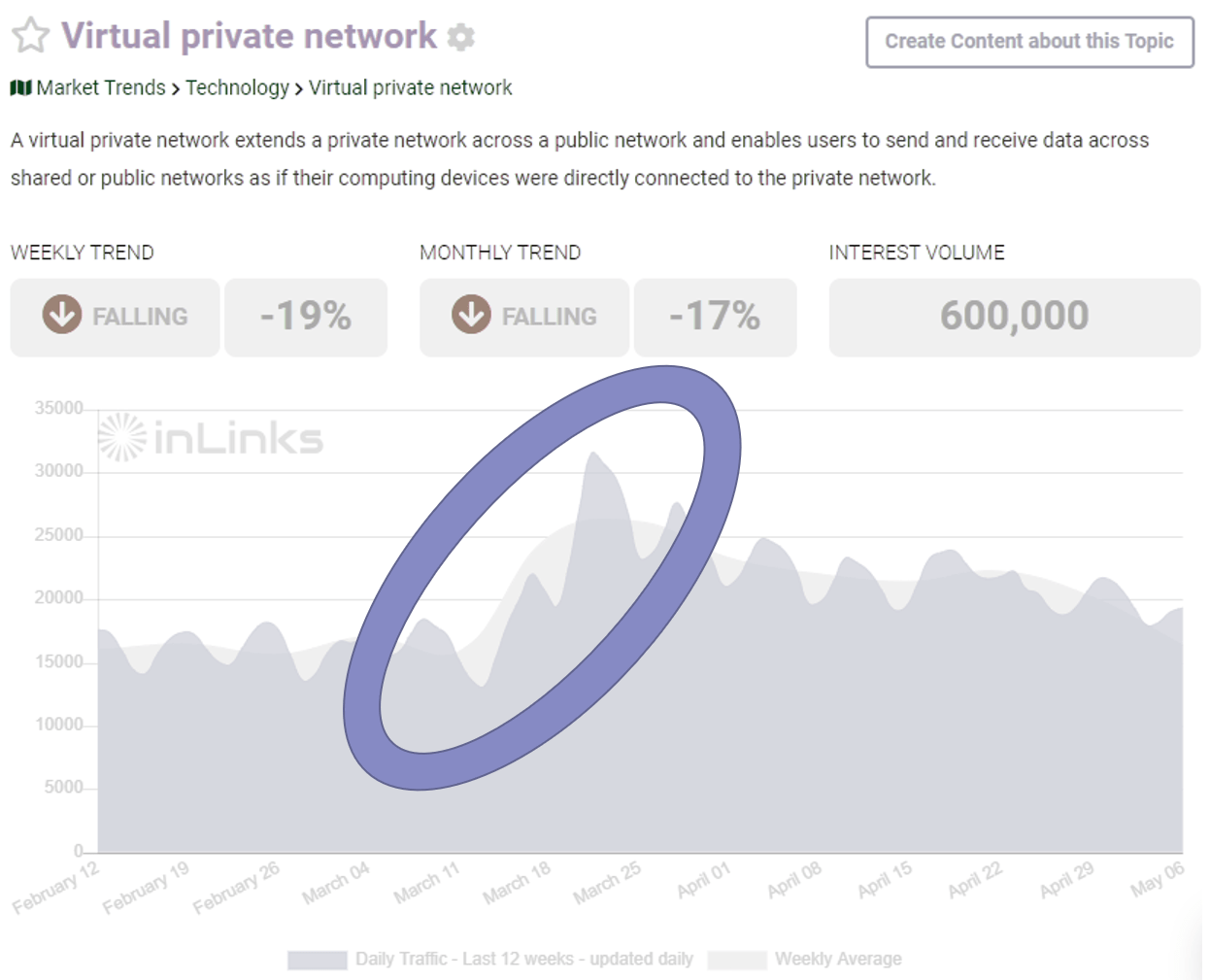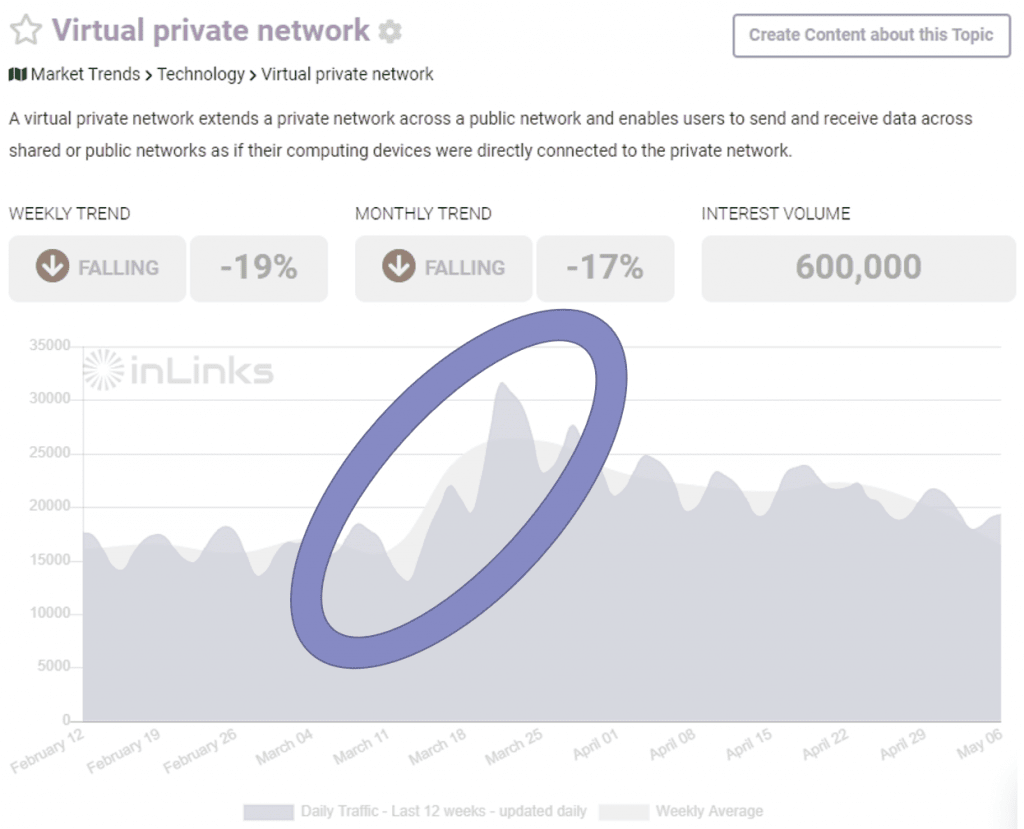 It is not surprising that as businesses rallied to the "work from home" clarion, they needed to set up VPNs that could allow people working from home to log in securely to the office network.
How does the Trend data from Inlinks compare to Keyword data?
InLinks does not track keyword clickstream data. It tracks interest in topics. According to Bill Hartzer's recent analysis, the keyword suggestion tools may have recently taken a hit after the forced closure of the primary data source, Jumpshot.
InLinks does not pretend to replace these tools, but does appear to more than stack up to these tools in that it's trends are at least "in the zone" of accuracy, given the overarching challenges of predicting "interest" at a macro level.
https://inlinks.com/wp-content/uploads/2020/05/market_trends.jpg
502
957
Genie Jones
https://inlinks.com/wp-content/uploads/2022/10/White-png-300x60-1.png
Genie Jones
2020-05-07 11:12:00
2022-05-13 10:47:04
How accurate is the inLinks Market Trends Data?