Generate Better Content Using ChatGPT

The SEO world is kicking a storm about ChatGPT (also called Chat.Openai.com). But with a million users signing up in its first five days, just using this to write your content for you will not give you an advantage for long! So InLinks has come up with an exciting way to guide this fantastic tool in a more informed way, to help the Chat AI system cover the essential entities and topics you need to cover to be relevant for your target search term.
A Video of How InLinks Improves ChatpGPT
If you are a visual learner, this video shows you what InLinks does to help you train ChatGPT to write better content by modifying the instructions. It only takes a few minutes to improve the output quality significantly.
The Difference between "Guided" and "Unguided" use of OpenAI's Chat tool
We ran several tests on improving text input into ChatGPT to see if the output was better for SEO. I have a long post (which I might turn into a case study) in the works. Still, ultimately, we can easily demonstrate the power of what we have come up with in the screenshots below, showing three versions of the output from ChatGPT around the term "PMP Certification Requirements".
The first shows that ChatGPT, on its own, created copy that scored 20% in our Content Analyzer
The Second shows content generated by ChatGPT when the first InLinks instruction is all entered into ChatGPT in one cut-and-paste command. The copy scored 37%
The Third is our recommended method, which turns our content plan into five instructions, generating content with an SEO Score of 75%.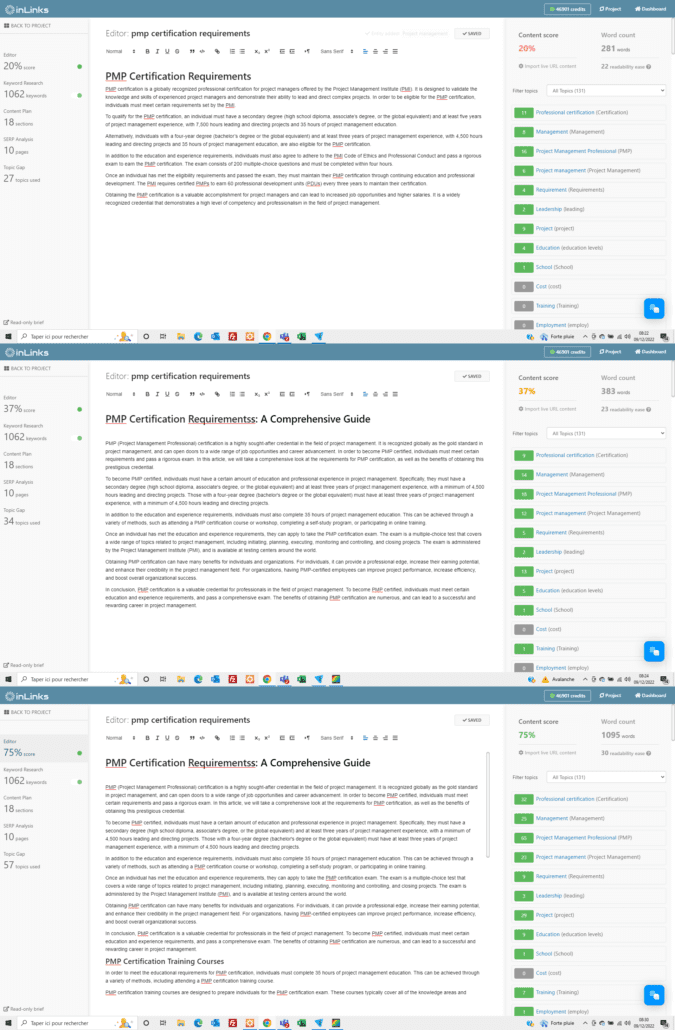 InLinks vs Frase vs Surfer for AI-Generated Content
Whilst Frase and Surfer have had AI Content integrations for some time, InLinks has taken a more conservative view towards making it easy to generate AI-driven content. We have no intention to compete with Frase and Surfer in this area, but in part, we think that doing so will not be the best path (for us). Surfer's AI content involves a tie-in with Jasper.ai, which was great… until ChatGPT came along! I believe Frase has its own content generation. By making it easy to use ChatGPT, InLinks is trying to give its users the "Gold standard" of content creation without actively encouraging users down what might ultimately be a self-destructing path. It is clear that OpenAI is most likely here to stay and will be incredibly supported by many communities – not just the digital marketing community.
Many people will prefer Surfer or Frase, but at this point, InLinks is undoubtedly an attractive alternative. InLinks is the only tool of the three built from the ground up around Knowledge Graphs. When you see a "topic" in InLinks, at its core is an ID number, which refers to a distinct entity, which we can demonstrate is also understood in Google's knowledge graph. The word "Entity" is being banded about a little too freely. Entities are topics, but topics are not always entities in the sense of having specific records in Google's Knowledge Graph.
How to use ChatGPT with InLinks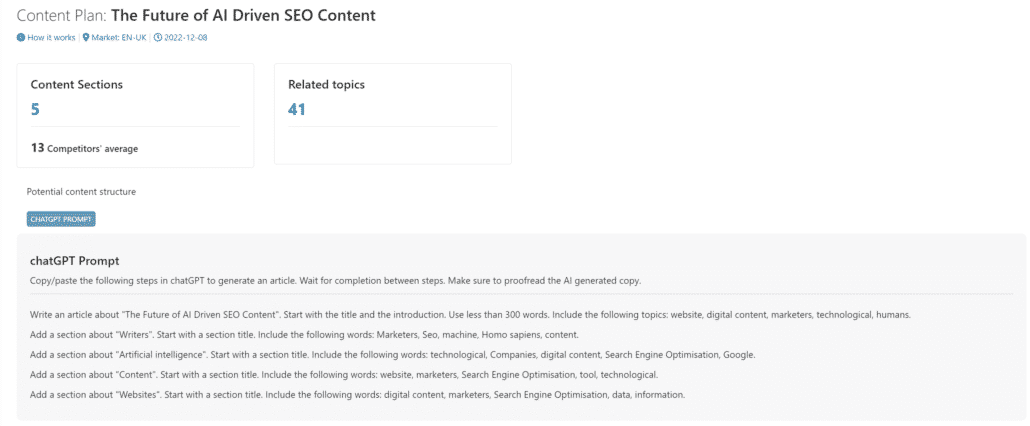 In all Content Audits and Content Briefs, there is now a new button in the "Content Planner" section called ChatGPT Prompt. Click on this to generate a set of cut-and-paste prompts to put into ChatGPT. Cut and paste the responses into the Content editor to see the content score rapidly increase.
A Health and Safety Warning!
Always READ and CHECK what ChatGPT is using and note that InLinks makes no guarantee that search engines like Google will appreciate this approach to writing content. Ultimately, that decision is yours to make, and you should only publish insightful and helpful content to your readers. Any recognition of computer-generated content by search engines should be a bonus, not an expectation.
What Languages does this work in?
Currently, InLinks provides prompts for ChatGPT in 8 languages:
English
French
German
Italian
Polish
Dutch
Spanish
Brazilian Portuguese (imminently)
Is there a Premium to use ChatGPT with InLinks?
No. ChatGPT itself is free, and as long as they provide the service free, InLinks will do so as well. Since InLinks also offers a free account, you can use it for free right now. However, paid accounts on InLinks (which start at US$39 or your local equivalent) do a better job at building content plans in the first place because they can read much longer articles fully when developing the training set that creates the topic recommendations. In short. Paid users will get better results than free users. I know – capitalist bastards, right?
How can I try it?
Do you see that Login button in the top right corner of this page? Or try one of these links:
Existing customers can log in here.
Want a free account? Start here.
Want to start on a $ 39-a-month account? Jump the queue here.
Want an agency account with multiple users? Start on $156 a month here.
You pay monthly in advance. No long-term contracts.
https://inlinks.com/wp-content/uploads/2022/12/chatgpt1.png
232
1024
Dixon
https://inlinks.com/wp-content/uploads/2022/10/White-png-300x60-1.png
Dixon
2022-12-09 10:38:16
2023-06-02 17:30:38
Generate Better Content Using ChatGPT