Content Management for SEO Content Writers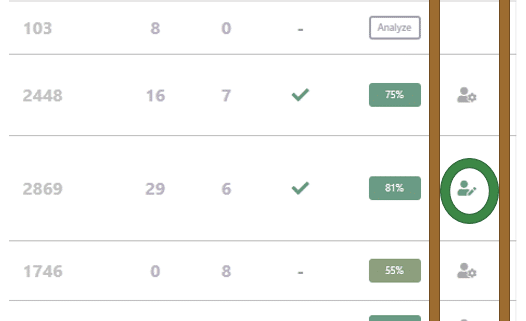 InLinks has launched the ability to assign content briefs to SEO Content writers, whilst retaining overall control of the content. This turns the Inlinks optimization module into an SEO Content management system. It gives the ability for SEOs who need to delegate content writing to freelancers or in-house teams.
Enterprise Collaboration Tool
InLinks builds content briefs around topics, rather than keywords. In order to scale the optimization of content for search engines, it is necessary to be able to assign the optimization of individual pages to other people, whilst retaining a grip on the overall topic associations and the website direction itself. Now InLinks lets SEO managers do this, from the project dashboard. The Account owner can set up writers on the fly and can assign pages to them, setting deadline dates and adding instructions as they go. As the writer adapts or creates the content, they can add comments and share a dialogue with the account manager, helping the content to become as strong as possible.
How to Assign an Article to a Writer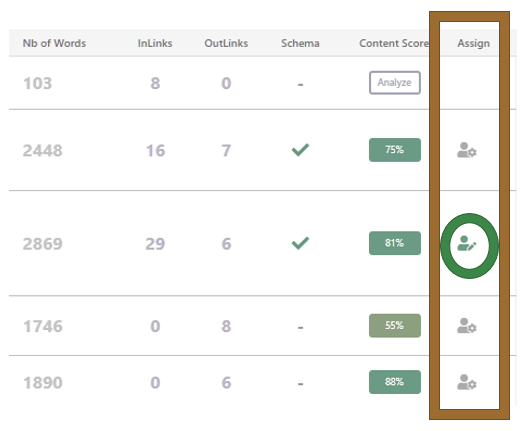 On the project dashboard, there is a new column called "Assign". This button only appears after you have given the content a target keyword and comes in three flavours:
Grey: Unassigned
A grey person means that the content has a target keyphrase, but is not yet assigned to anyone. If you do not use editors or third parties, probably all of your optimized content will be grey. If you then click on this, you are able to either assign the article to an existing editor or set up a new editor first and then assign the article. Setting up a new editor just needs you to supply their email address and name, but it will probably help them if you let them know first! They need to accept their involvement before being given content.
A person can be BOTH an editor AND an account owner if they want to be.
Green Assigned (Within Date)
When you assign content to a user, you also set a deadline. A default is offered for convenience. This sets up a common goal for the writer to work on the content and return it back when complete. Whilst it is green, both sides can add comments and the writer can use our online editor to either write content from scratch or modify existing content. The rewritten content is not published to the site, however, allowing a safe space for the content writer to try and improve the SEO score for the content.
Red (Overdue)
Eventually, someone will miss a deadline. When they do, the body turns red, so the SEO Manager can easily see overdue content.
What Can the Writer see?
The person to whom the content is assigned will get a special "Customers' Projects" section on their account dashboard. They can be given briefs by multiple account holders, making it a great central point for writers to work with website owners.

When they go into the dashboard, they see the content briefs they have to work on, like this:


Then if they drill into a specific brief, they see the same content brief that the account owner sees. THEY CAN ALSO EDIT THIS CONTENT and update the analysis:
How to use SEO Content Management for Marketing Processes
Search Engines, like Google and Bing, display several types of content. Much of it is "paid for" directly by website owners, but other content is what modern SEOs describe as "earned" media. That is to say, the algorithms that Google and Bing use to surface relevant results show up for the user at the right time. If your content is in this are, you can generate free traffic. Sounds obvious, but the truth is that the context of each search result is very different and this may lead to much larger content generation strategies so that websites can offer quality content designed for very narrow circumstances. This is where the ability to assign content writing to others, whilst retaining a handle on the SEO elements is valuable in Internet Marketing.
You can start using InLinks for Free.
https://inlinks.com/wp-content/uploads/2020/03/image-2.png
431
526
Dixon
https://inlinks.com/wp-content/uploads/2022/10/White-png-300x60-1.png
Dixon
2020-03-09 16:18:02
2020-04-17 15:39:23
Content Management for SEO Content Writers