How to use Inlinks for Arabic
We receive many requests asking if Inlinks can be used in Arabic. Although for the moment Inlinks cannot automate internal links and schema markup for the Arabic language, our content optimization tool for entities can still be useful with a workaround strategy.
Tools needed for this workaround
How to use Inlinks Content Optimization Tool for Arabic
For this example, we have taken an Arabic article found online about 'how to create websites' and we translated the content in English using Google Translate. Then we have created a content brief on Inlinks for the keyword 'how to create websites' and then copied the translated content on Google Translate and pasted it on the Inlinks content editor.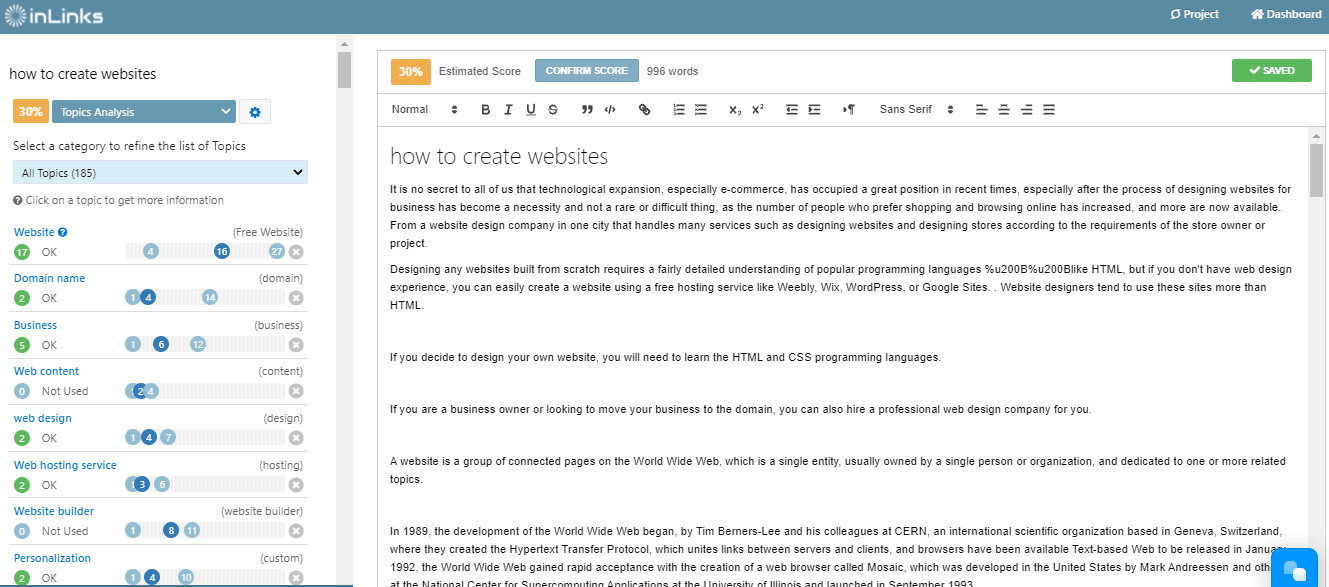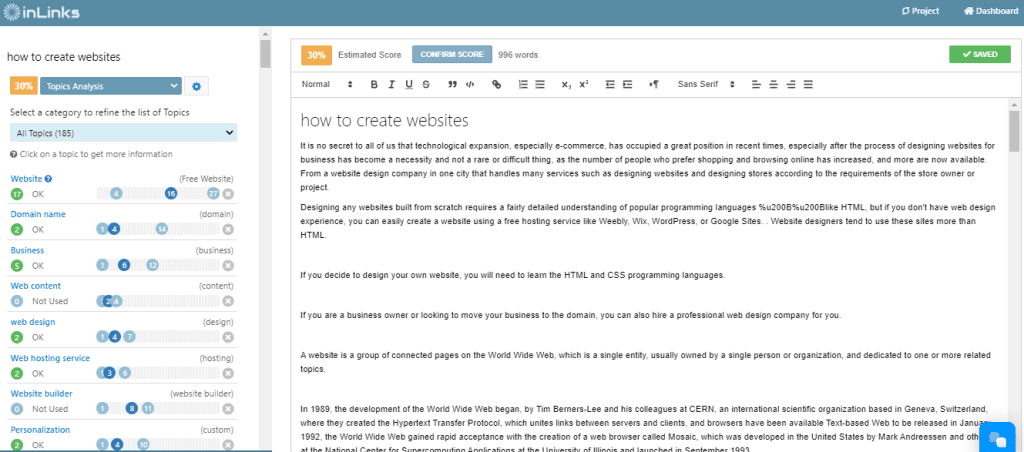 The estimated SEO score for entities we got is 30%, from here we need to update the article in the content editor with the topics shown as 'Not used' in the left side of the screen (such as 'Web content' or 'Website builder') until we get an estimated score of 80% or above.
Once we're satisfied with the SEO score on the Inlinks Content Editor (we recommend 80% or above), we can copy the content and translate it back to Arabic using Google Translate and therefore we would be having an Arabic article that's optimized for entity SEO.
NOTE: After translating the content back to Arabic with Google Translate, make sure that the grammar and the wording are convenient as a human touch is required when translating content with a machine.
Entities in SEO (such as the ones indicated in the screenshot above) have the same meaning for a search engines regardless of the language used, read our guide to understand the use of entities in SEO.
Check out a video explaining how to use this workaround :
https://inlinks.com/wp-content/uploads/2022/10/White-png-300x60-1.png
0
0
Karim
https://inlinks.com/wp-content/uploads/2022/10/White-png-300x60-1.png
Karim
2021-10-26 15:56:41
2021-10-29 13:04:48
How to use Inlinks for Arabic