Onboarding – Setting Topics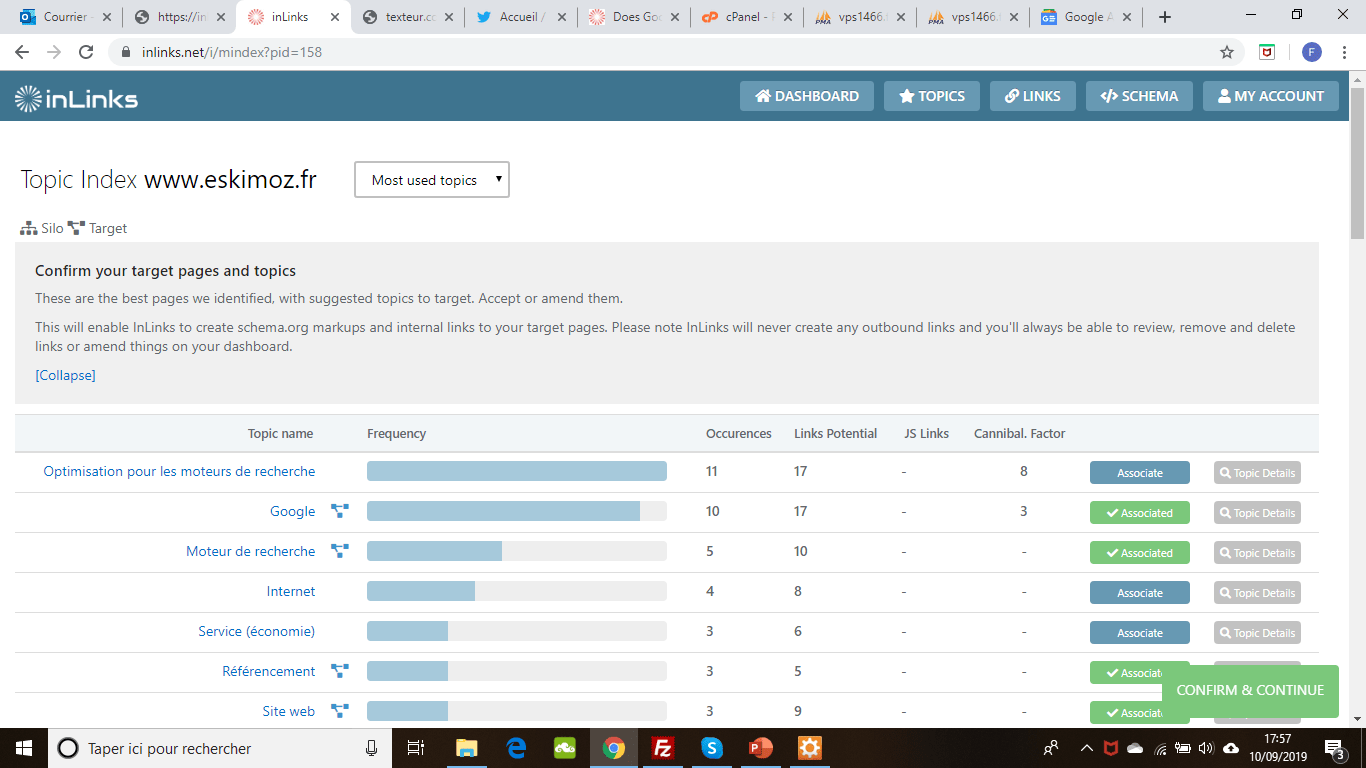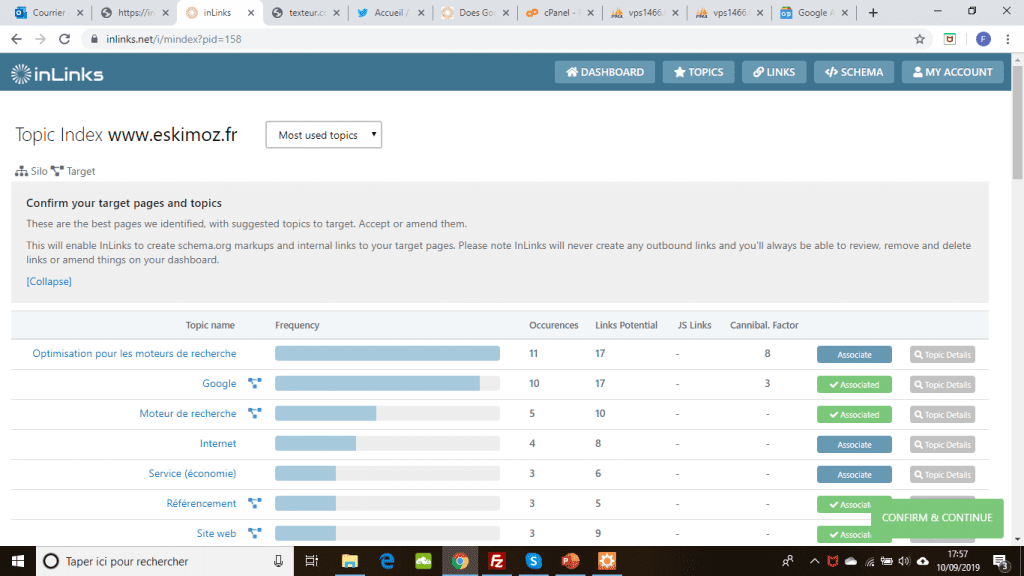 [A much more detailed help post on topic association is here]
After signing up for a free account for the first time, Inlinks tries to help you get underway. The two most important things to set up quickly are:
1: Adding the Javascript Code on the site and
2: Associating some topics to target landing pages.
This help page looks at the second point. While you were confirming your email address, Inlinks was getting ready to analyze your site – or at least 20 pages – to see what entities the site has talked about. You are then taken to the summary of this data (The Topics screen) and can see something like the screenshot here (which may or may not be in French!).
Before you can go TOO much further, you need to click the green "Confirm and Continue" button, but we STRONGLY recommend that to check inLinks' assumptions before doing so. It is easy to amend later, but in the meantime, you might let Google index the site with the wrong associations and that might hurt your rankings, rather than improve them. The "Confirm and Continue" is therefore important to return the ultimate decision making to you.
It is OK to move forward with blue "undefined" associations between Topics and Landing pages, but you will then not have as many internal links or schema markups generated as you could. The more you turn the blue "define" buttons into green "Associated" ones before continuing, the stronger your site will become, both for users and for SEO.
The logic is this:
The topics that appear MOST on the pages analyzed appear at the top of the list. The occurrence column says how many times the entity is spotted and the "links potential" is the maximum number of links that MIGHT be created after the target landing page is defined.
A TARGET page can (and often does) have more than one topic associated with the content on its page, but a TOPIC should only have one target page. So the Topic screen is encouraging you to take the topics on the site and assign (or associate) target pages that you think best represents those topics.
If you do not HAVE a page in the project about the topic, you have the opportunity to set a task to create one. You might also have a page about the topic which is not in the free allowance. Here we let you add a URL, but only until your free allowance is used up I am afraid. After that you would need a subscription to continue.
[A much more detailed help post on topic association is here]
https://inlinks.com/wp-content/uploads/2019/09/image.png
768
1366
Dixon
https://inlinks.com/wp-content/uploads/2022/10/White-png-300x60-1.png
Dixon
2019-09-10 16:32:13
2019-10-14 17:29:37
Onboarding – Setting Topics