AI content writing for SEO just got (even) better!

Content writers may have seen a wild increase in the amount of AI content generators recently. But none do quite as well at keeping the content writer in the driving seat and the content as tightly planned as the new baked-in AI Assistant in the InLinks content brief writing tool.
Launched today, the new tool has maximum flexibility functionality. Built on top of the already powerful InLinks Content Planner and Content brief tools, one great problem it solves will be creating something quite different from simply inputting your search term into ChatGPT and asking for a 1,000 words article.
What's new in the tool?
We have added a fully integrated AI Assistant, which allows you to control and write every section of your content independently. This prevents OpenAI from going away from the core task of creating optimized content… not just relevant content. The brief sections were always built around covering the correct topics in the best order to make your content stand up against all competition. We have used this to make our input data very unique.
On top of this, we have made it very easy to edit that structure, section by section, allowing you to put your own flare in at the AI writing stage. Of course, you can also edit the output to your heart's content.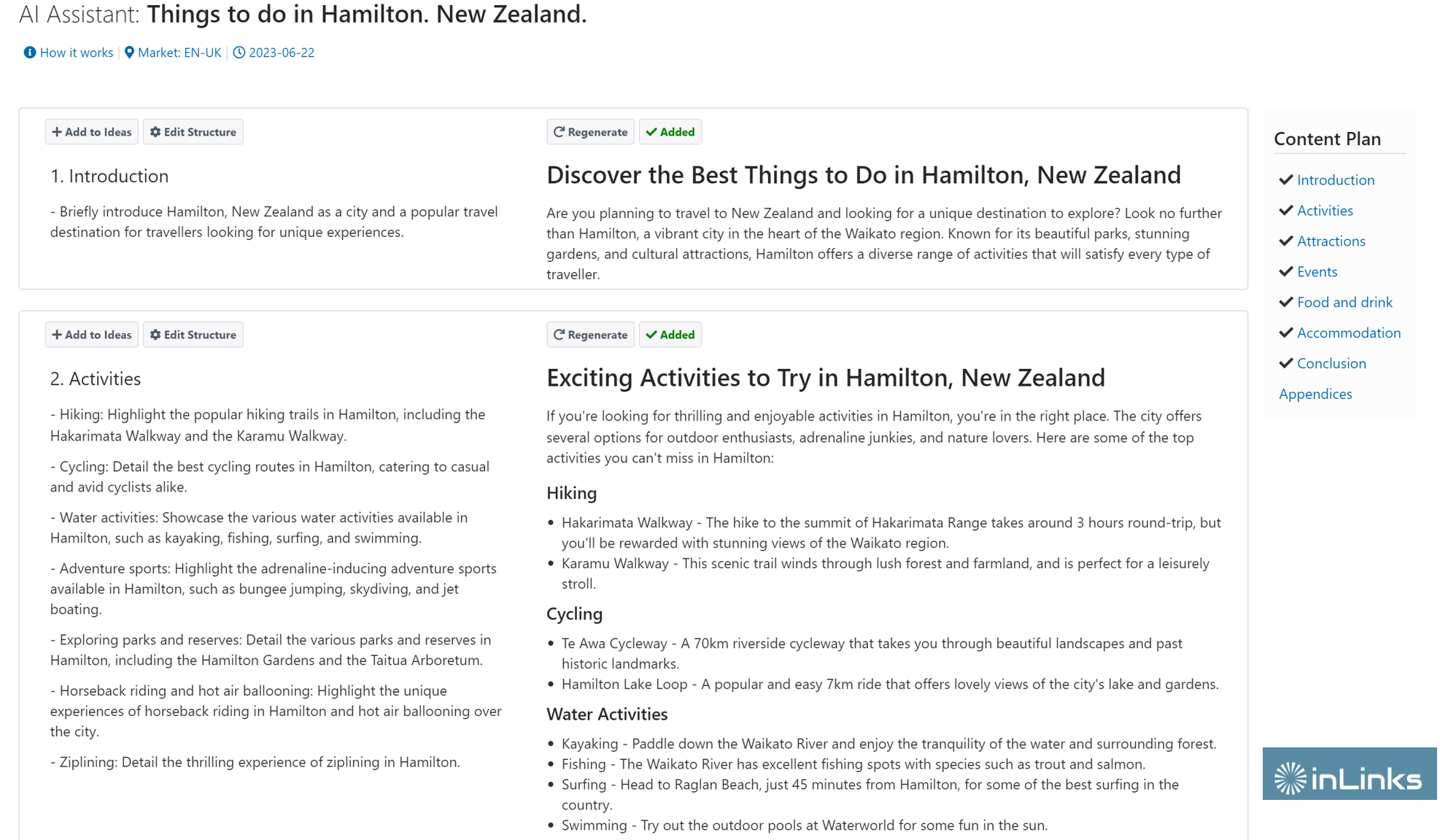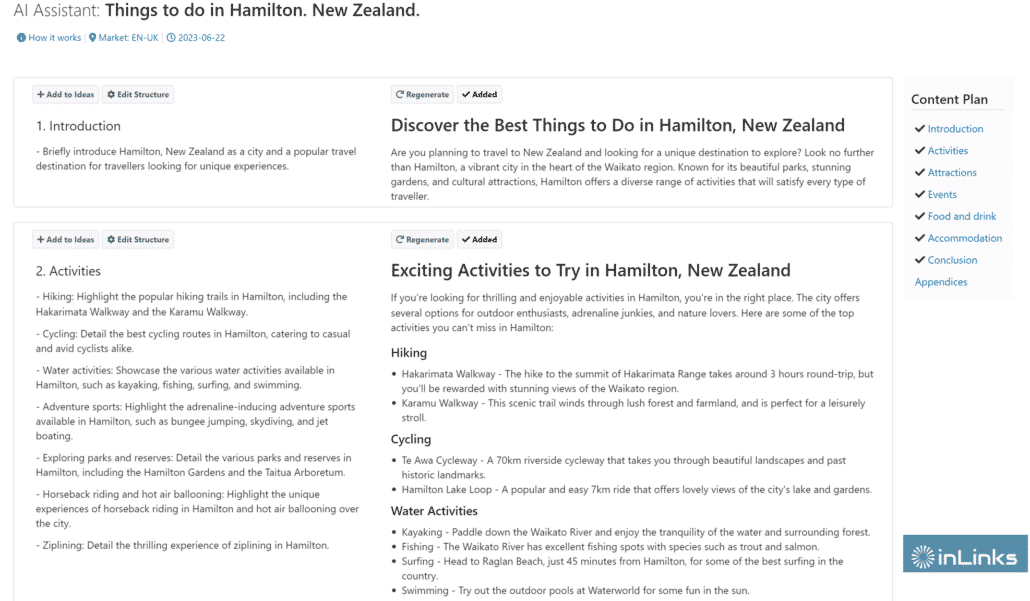 AI and Content Planning Features
Combined with the InLinks Content Planner tool, the AI Assistant and the content brief tool has all the following features:
Prioritized list of topics to write about, based on comparing your existing site pages to Google Suggest around all your keywords
Queuing system to help you order the content and write it in a timely fashion
Further keyword research at the content brief (or content audit for existing content) stage
Content Plan showing a clear picture of the topics required in what sections
Fully integrated AI writing assistant
Ability to modify the AI Assistant input section by section
Ability to modify the choice of underlying pages on which the content plan is based (the competitor URLs)
Full WYSIWYG editor
SEO score that dynamically updates as you type
Can I see it in action?
I am glad you asked. There are several ways that you can see it. You can watch the video below, or if you already have a paid account, just create a brief, and you are good to go. Of course, you are also welcome to jump on a one-to-one demo with one of the team as well.
This run-through creates a 1500-word post in around 10 minutes.
I bet it is expensive, right? Nope!
Our new AI Writing Assistant is included in every paid plan that inLinks has and is already available to you for no extra charge. That means that you could easily create a dozen articles for under $40 each month. Maybe more. Subject to a fair use policy, we are not charging for the AI Assistant. Free users will need to upgrade. But I expect you are paying for something else that is more expensive that you might no longer need.
Want to try our new AI assistant right now?
Sign up to a $39 a month account (or local equivalent) and it will be immediately available to use.
https://inlinks.com/wp-content/uploads/2023/06/AI-Content-Writing-Tool-1.png
600
1200
Dixon
https://inlinks.com/wp-content/uploads/2022/10/White-png-300x60-1.png
Dixon
2023-06-27 13:07:14
2023-07-22 10:38:10
AI content writing for SEO just got (even) better!