Our new US Ambassador is: Grant Simmons!
Well – this is a bit of a coup for us. Grant Simmons has been in the SEO industry forever. Before recently taking on Freelance work, Grant was head of SEO at Homes.com! Luckily (for @InLinks), Homes.com got bought out recently creating an opportunity for Grant to follow a new path!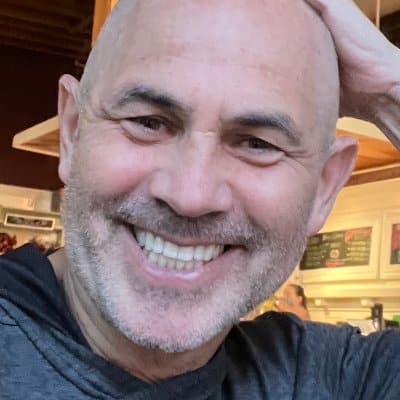 Grant fits right into the InLinks "type". He is passionate about SEO and has been at it for probably as long as I have. I have known him for years and enjoyed his talks at Pubcons in Las Vegas and Fort Lauderdale, and more recently, we met up with our life partners at a conference in Austria just before the pandemic.
Grant is that perfect blend for us, culturally. He's a Brit originally and still has that bold London cockney accent, even though he's lived stateside for 30+ years. So that makes him a great US Ambassador for an English-based company. But better than that, he's also fluent in French (Albeit with a Canadian accent!), which goes well with our French CTO and co-owner, Fred Laurent.
His experience is also right up there with the best, doing SEO with brands like:
Homes.com
FoxSports, Yell Group, Sam's Club, Red Bull, & more @ The Search Agency
ABC, Warner Bros, Paramount Studios, AIG SunAmerica, UPS, M&M/Mars
I thought I'd demonstrate just how long he's been an influential figure in the industry with this interview with WebProNews, where he talks about "Things, not Strings" and the Google Knowledge Panel) OVER 10 YEARS AGO! (He has a beard now…)
Given Grant's experience and InLinks coming across as a "New startup on a bootstrap" (or Shoestring as we say in the UK)", you might ask how we managed to drag him into our particular world of weird. Well – I THINK it is because Grant genuinely thinks this will be fun.
It all started when I spotted this Tweet from Ex-Googler, Pedro Dias asking what would be the best ever brand for an SEO to work for.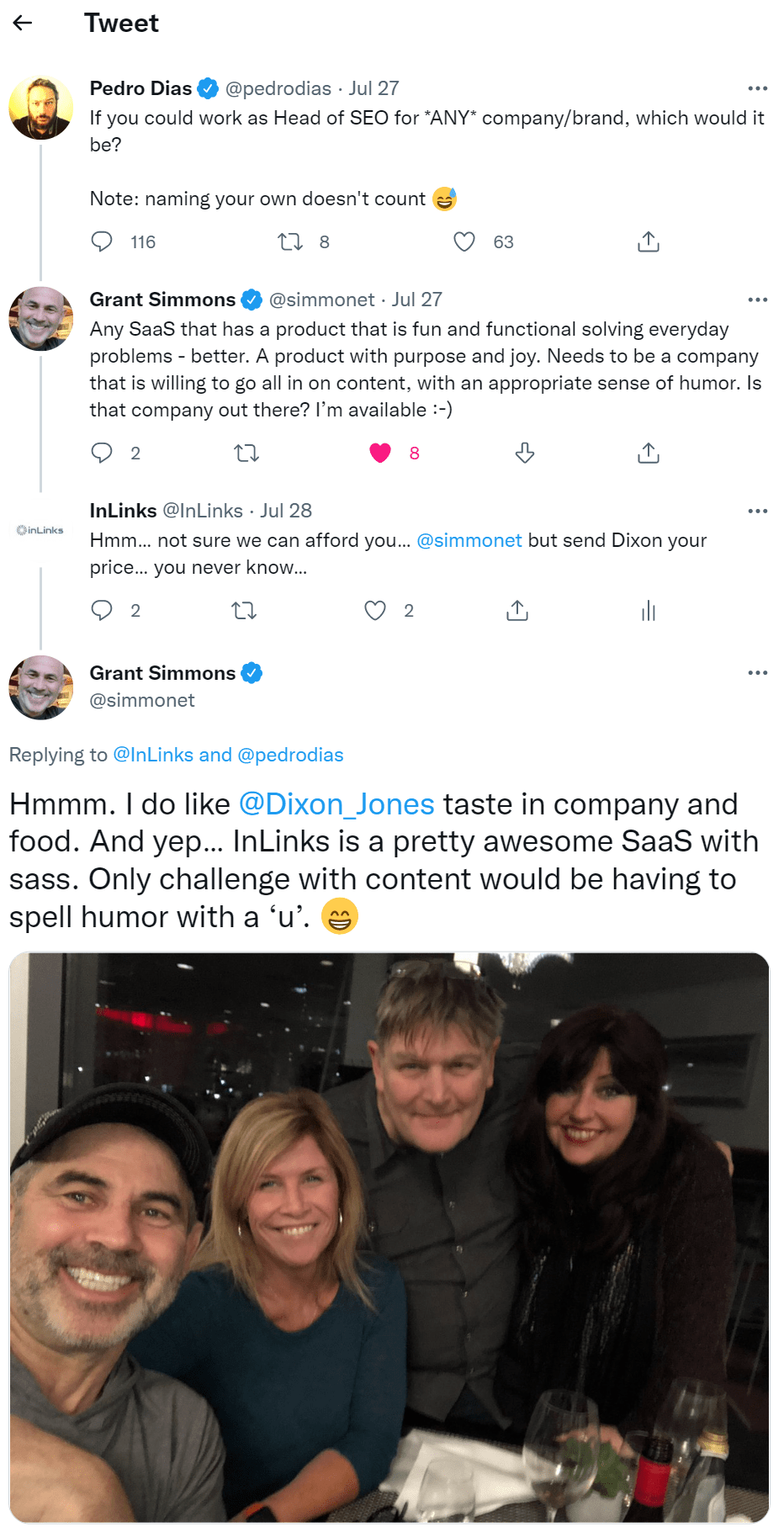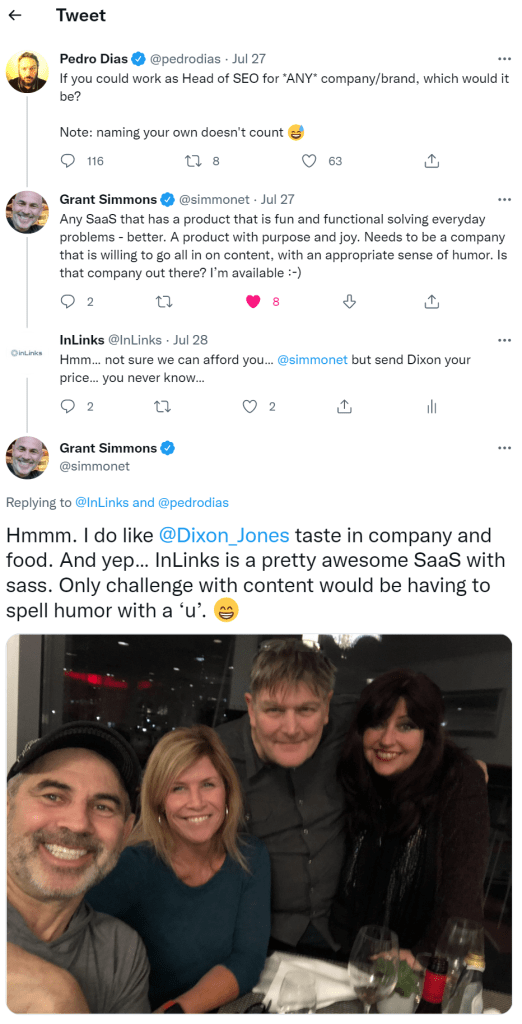 So given that thread, we HAD to chat about it! I can't afford Grant, and he's got fingers in other pies anyway (just keeping the cockney writing style going). So let's just say we are seeing how it goes, but all the stars seem aligned right now.
Grant's Approach to Life and Work
OK. I took this quote from Grant's website, which he quoted from someone else:
"Success is simple. Do what's right, the right way, at the right time."

Arnold Glasgow
That's just what we need. I go down cul-de-sacs (spot the French there) all the time, but Grant immediately jumped on some UX and "communication" challenges that we need to address at InLinks, and this feeds into our culture. We have a stated value within the team called "Love it or Change it". It reads like this:
We'd love you to thrive. But if you're not loving the culture, the mission, how you're helping, the people you're working with, or any other aspect of work, we might not be for you. Of course, if you can explain how we can be better for you, and if we can help, we will.

Our "Love it or Change it" value at Inlinks
Understand InLinks on US Time Zones
Whilst our Mexican team member, Alex, has been providing demos on US timezones for us for most of the year, we felt that we should do more to help bring the Inlinks Message to our US Cousins. A proper hardcore SEO that already loved the product was what we needed in the USA. In Grant, we've found our SEOul mate (OK, that is just a bad pun).
Grant will be on hand to demonstrate Inlinks on the main demo link, but if you want to get Grant, you can reach out to him directly as well by asking on the Inlinks site webchat: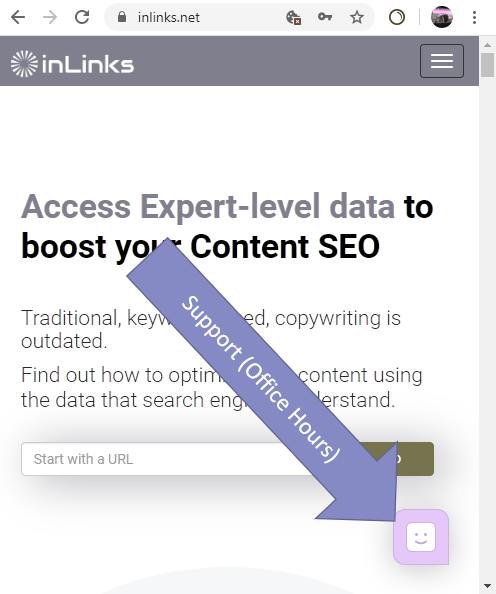 https://inlinks.com/wp-content/uploads/2022/08/image.jpeg
400
400
Dixon
https://inlinks.com/wp-content/uploads/2022/10/White-png-300x60-1.png
Dixon
2022-08-16 17:06:33
2022-10-29 19:50:04
Our new US Ambassador is: Grant Simmons!