Following requests from our users, we have reinstated and improved our Topic Gap tool in our content editor. Understanding what topics Google is seeing the best-ranked content for any keyword and region goes a long way toward content planning. This research can take many hours for every page when carried out manually. InLinks is not only faster but also much more consistent and reliable.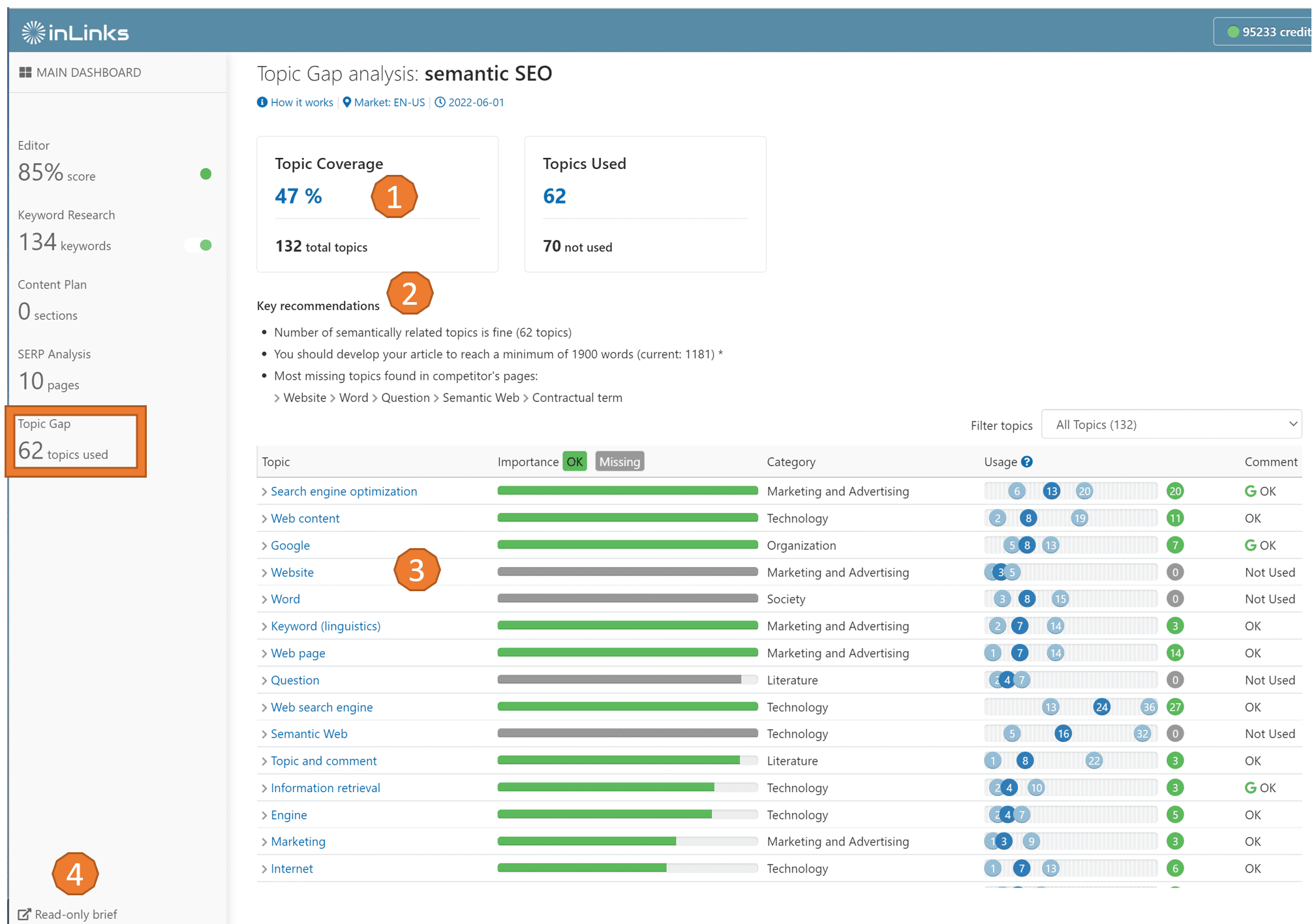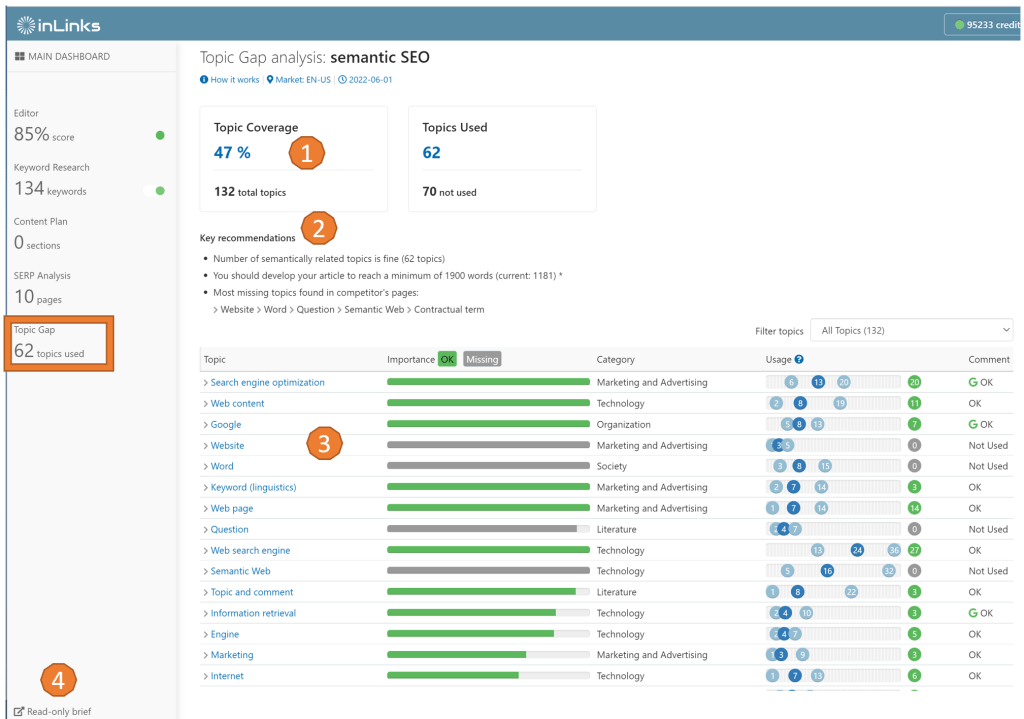 1: How do you find Topic Gaps?
After running an audit on any existing content, using the InLinks Audit tool, simply click on the "Topic Gap" tab. This is shown in an orange rectangle in the image.
2: What is Topic Coverage?
Topic Coverage is shown here (1) as a percentage. It is the number of topics used or mentioned in your content, decided by the total number of topics seen in up to 10 competing pages that rank for your target keyword. In this example, we have used 62 topics in our text, whilst the combined competition has used 132. When expressed as a percentage, this is 47%. Of course, aiming for 100% is a rookie SEO error, because you might end up having to mention your competitors or totally irrelevant topics to achieve this, but it can act as a guide as to how well the underlying keyword is being covered.
Key Recommendations to improve Content?
Here (2) we give a few quick content tips to help improve your page. If your page is unreasonably short in comparison to the others that are ranking, we will tell you by how much. A tip might show if you are missing some important topics in H tags or titles.
3: Detailed Topic Gap Analysis
The heart of this screen is a details Topic Gap Analysis. It shows you:
How important each topic is
What sector or verticle each topic is categorized under
The High, Low and Median counts represent the number of times each topic is mentioned in competitor pages. This is compared to your count.
A green "G" is a cool extra. We have also run Google's less aggressive AI API over the same content. If Google reports a Wikipedia match to a Topic, then you will see a G here. Neat, huh? This doesn't work so well on FREE accounts, by the way, because we get charged by the word by Google (for their inferior NLP API)!
Note that in your Topic Gap analysis. it is easy to filter down the verticals that are more important to your business.
4: Read Only Version of the Content Audit
If you would also like to share a read-only version of this report with a wider audience, this URL (4) will generate a report which you can share with non-inlinks users. Just wait until the Fiverr fanboys spot that… but until they abuse it, it's there for genuine customers.
How to create a Topic Gap Report?
Create a project. (No need to bring in pages that you do not want to audit)
Use "Add Pages" to bring in the page you want to analyze
Press "Audit" to generate the content audit, keyword research and topic gaps.
Have fun!
https://inlinks.com/wp-content/uploads/2022/06/image-16.png
647
921
Dixon
https://inlinks.com/wp-content/uploads/2022/10/White-png-300x60-1.png
Dixon
2022-06-15 15:11:01
2023-03-31 04:53:36
Keyword Topic Gaps