New from inLinks: Market Trend Reports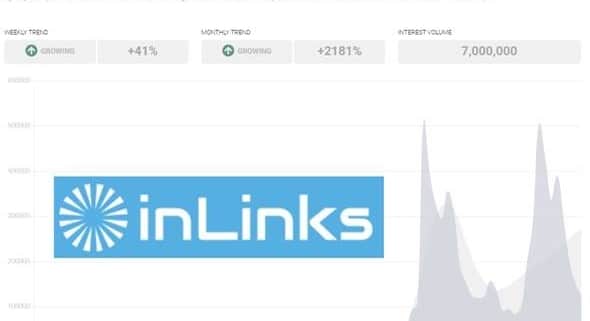 What is the Market Trend Reports feature?
InLinks' new Market Trend Reports feature allows you to constantly discover, analyse and compare trending topics of all different market genres. This includes Home and garden; Health; Marketing; Food and agriculture; Automotive; Finance; Software and finally Technology (with more being added!) With this information, you will be able to see what your potential customers are interested in and be fully in tune with which topics are trending in your market. The tool offers weekly and monthly insights into the way topics are being approached by your potential customers, in turn allowing you to better predict what people will be engaging with in the future as well as knowing extensively what people are engaging with right now.
Visit https://youtu.be/9ecajxlH_Gc to see how to start using inLinks' Market Trend Reports right now!
Why and how are Market Trend Reports useful?
Inlinks' Market Trend Reports give you all the information on how people are engaging with the things that matter to you and your business all in one place. It allows for an easy and quick overview of topics that are growing, stable and falling with relevant numerical data all on the same page. This means that you may be introduced to new concepts within your market that you may not have previously considered to be highly weighted, or you are now able to keep an eye on those topics which may be unexpectedly falling rapidly. 4 examples of the different ways you might use inlinks' new feature can be found at the end of this post!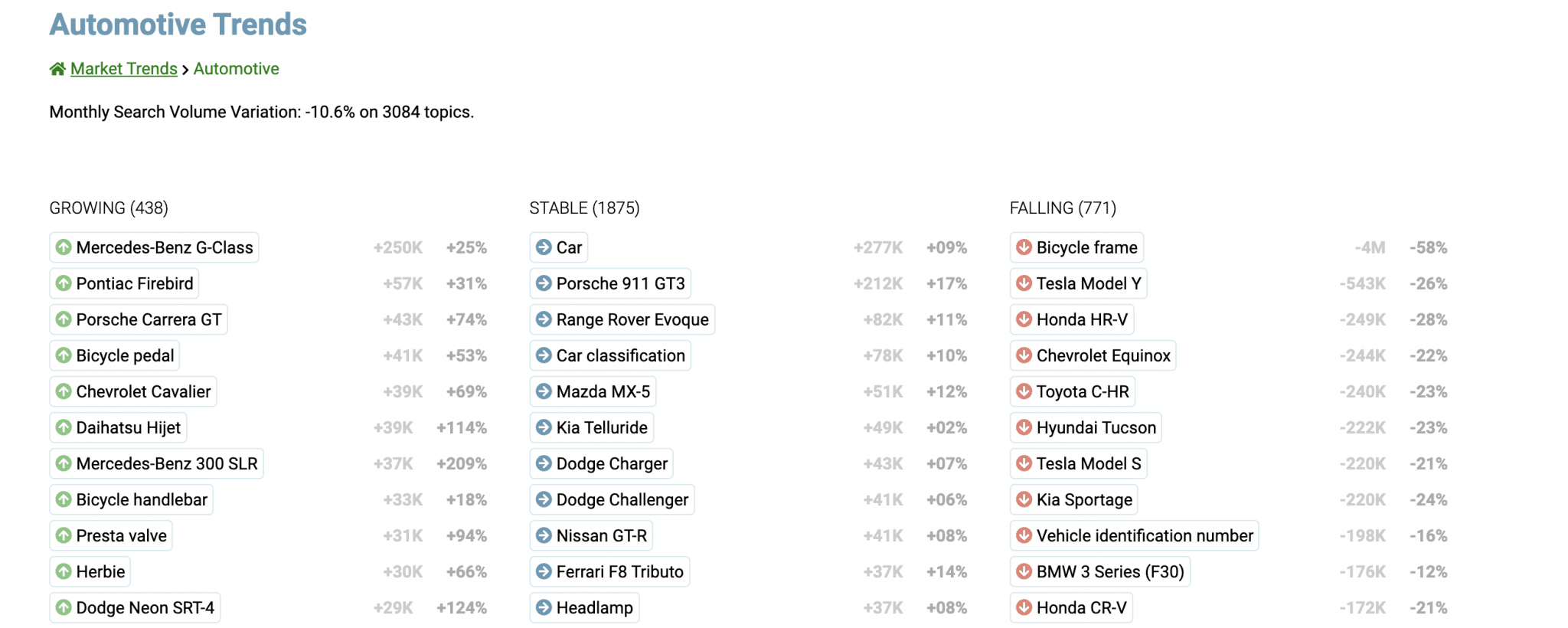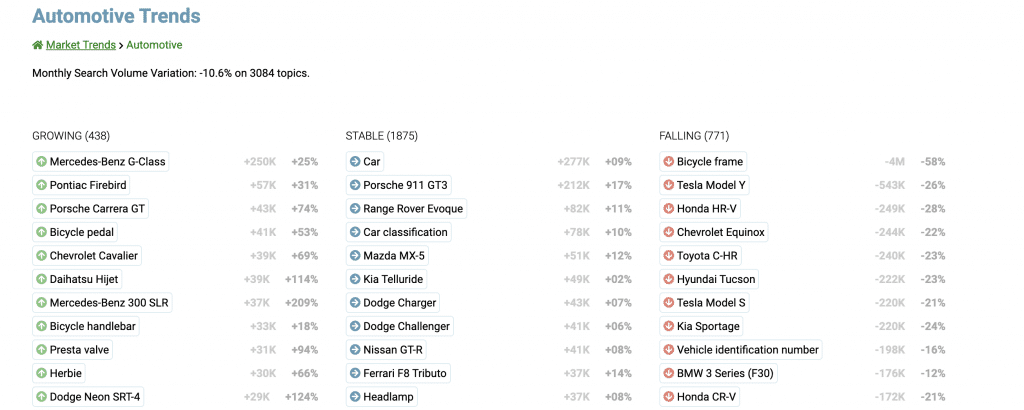 As well as trends, you may access a general Monthly Interest Volume for your market as a whole. For example, during this pandemic (unsurprisingly) the interest volume for concepts and topics relating to Home & Garden have increased by 15.5% as of Wednesday 15th April, 2020.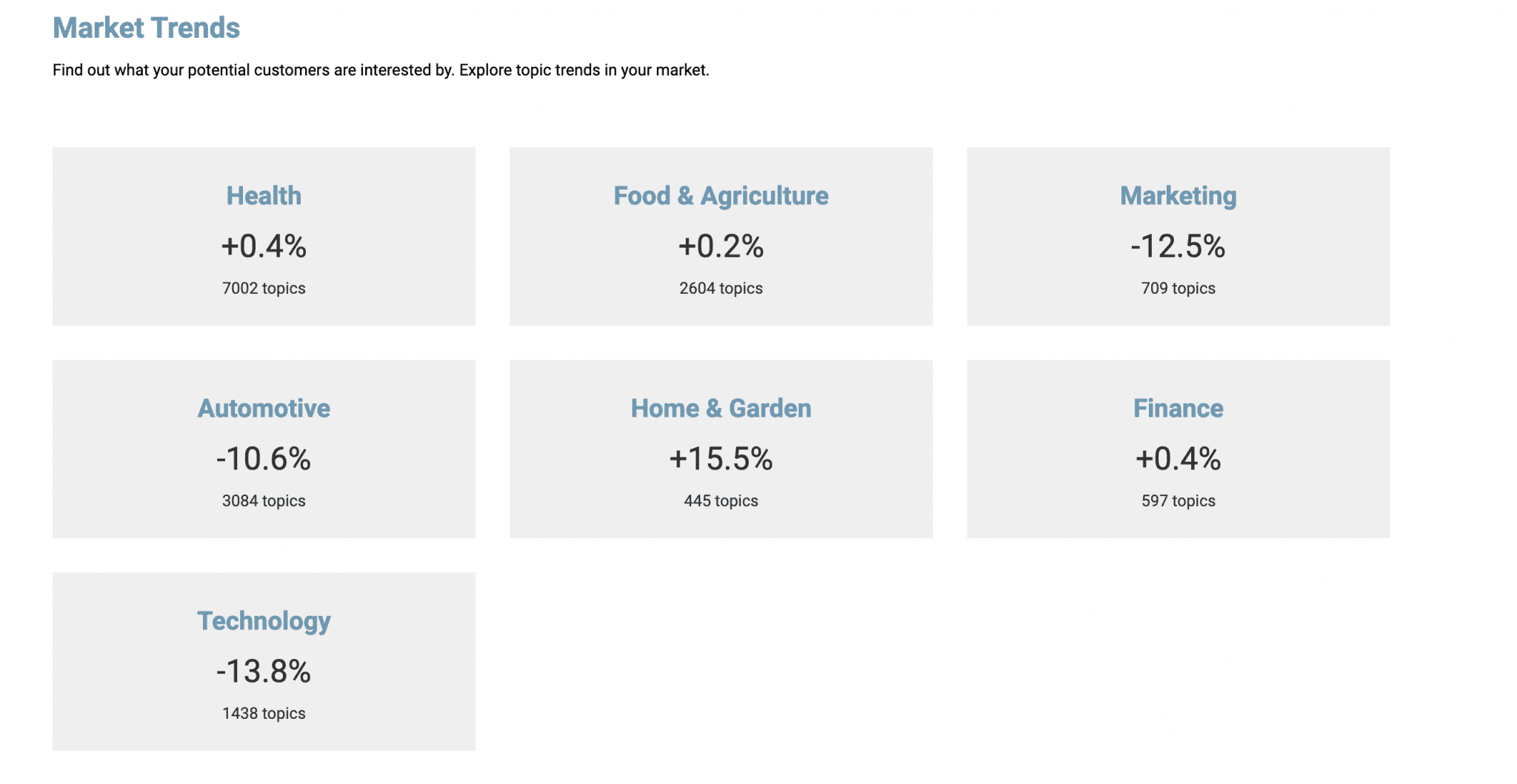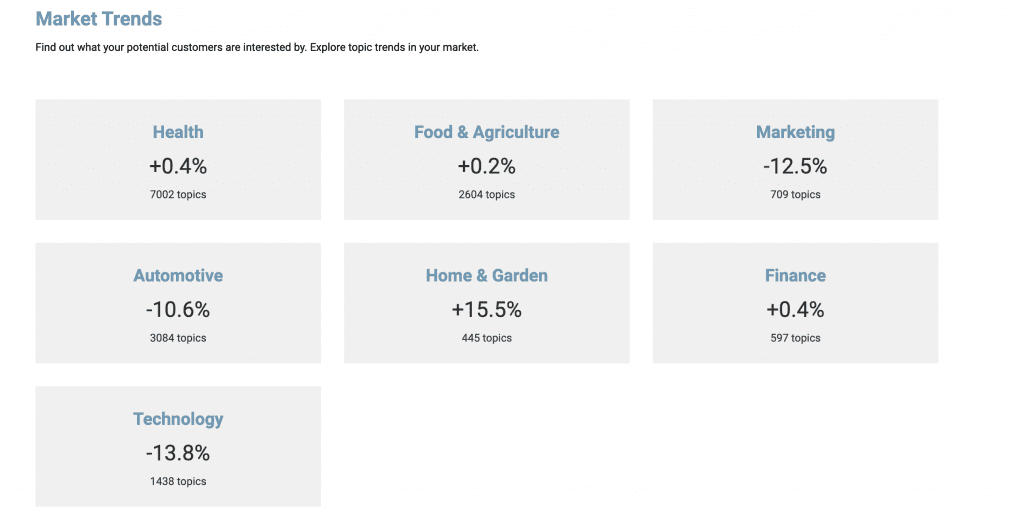 We can delve further into exactly which topics have caused this rise….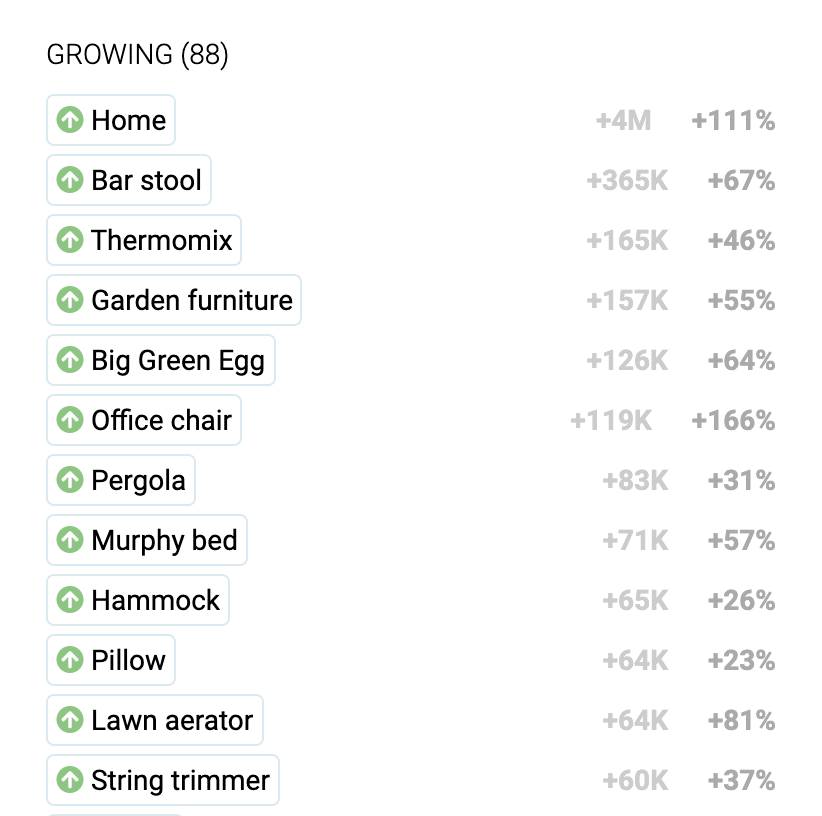 and see the overwhelming interest in searches relating to office chairs, Murphy beds and a 'Big Green Egg' (a brand of barbecue cooker!).
Why use this instead of Google Trends?
Google Trends is a service where you may search specific words through knowledge it believes you already have. It is useful for comparing specific terms but can prove messy if you are looking for an overview of your specific market. InLinks provides a list of all the information available within a market genre and gives you side by side comparisons of the way people are engaging with the topics relevant to your market. Where Google Trends will treat the searches 'Tap', 'Faucet' and 'Bathroom Tap' as different entities, for example, InLinks recognises the concept of a 'Tap' and includes data from everything in a tap's schematic make up to provide and forecast data. InLinks also recognises that a word can, and often does, have very different meanings in different contexts. The term 'Columbia' could refer to the country; an American district, or a city in Missouri. In links will be able to recognise and categorise the different semantic senses of this keyword, meaning that you will only receive the information relevant to you and your market.
Who can use this tool?
The market genre 'Marketing' within InLinks' Market Trend Reports will be a free and usable feature for anyone regardless of if you have an account. To access the remaining market trends (Health, Home & garden etc…) you will have to sign up free to inlinks. Full members of inLinks will be able to find and pin the topics that they want, across market genres to have immediate and constant access to the areas of the market most relevant. This feature can be fully customisable to suit each business' personal needs. Full members will also have access to the information on Brands and Organisations, meaning you can see how many people are searching for you or your big competitors!
4 ways InLinks' Market Trend Report can be used!
Can I use inlinks Trends to inform my supply chain?
1- Imagine a supermarket about to restock its shelves with the knowledge of exactly what it's target audience's needs are for that week or even the coming month! This tool allows you to forecast and predict which supplies you may need more of before getting the information from the tills. (In the earlier case, I'd be likely to order a couple more 'Big Green Eggs this week!).
Has Coronavirus Peaked?
2- During this pandemic, at what point has the engagements with certain things plateaued? As of today's date you can see that searches relating to Coronavirus have actually fallen… but searches for Chloroquine have risen dramatically against what the news may be suggesting! This tool lets you see past the hysteria to what people are actually searching and what people are currently worried about. This is imperative for leaders, managers and key workers.
Can I use it for market research?
3- Your business may not offer a service which, in its market genre, is very consistently highly searched for or at least consistently in the 'stable' category. This is an extremely useful tool for market research as it offers a very wide overview of things that could expand your business!
How searchable am I?
4- By personalising your account (paid version only) you can have side by side comparisons of the aspects of your business that are trending, as well as the overall monthly search volume of everything you are interested in together! By compiling your topics, you can get a better sense of just how searchable you really are and the volumes of people you could potentially reach!
How do I Use Market Trends?
Market Trends tool from Inlinks is available in both free and premium versions over at https://inlinks.net/trends/home.
https://inlinks.com/wp-content/uploads/2020/04/Hydrixychloro.jpg
412
590
Genie Jones
https://inlinks.com/wp-content/uploads/2022/10/White-png-300x60-1.png
Genie Jones
2020-04-28 07:40:00
2020-09-04 09:58:48
New from inLinks: Market Trend Reports