Using a simple Market Research workflow in your content strategy can give you 100X more impact than intuition. In most areas of business, you aim to be efficient in using your resources. But when it comes to content writing, we somehow call this a creative activity. We argue we should not be bogged down by "Market Research". This is a logical miss-step, easily fixed.
We use efficiencies to hone our business activity all the time. Otherwise, our businesses fail. So pay attention to efficiencies in content writing. Market research can be done in seconds and the impact can be dramatic, as this post will demonstrate.
Why is Market Research is so important ?
When companies launch or grow, one of the manifestations of "expansion" is the content that is used on the website. For other businesses, such as journalism or blogging itself, the content written IS the main commodity of the business. If you misjudge the mood of your industry, you will pay a price with false starts and failed launches. When building a business function, or plan, entrepreneurs may start with intuition and innovation at the heart of their ideas. But they use market research to help minimize the risk of failure and maximize the size of the market opportunity. If we look at some spectacular "fails" in business, it is often easy to see what went wrong. Also, how it could have been done right. I am drawn to a very English example of Clive Sinclair's C5. Here's a trip down memory lane:
The Sinclair C5 of 1985 is not THAT much different to the idea of an electric bike of 2020. A battery-driven vehicle. But if the market research had kicked in, they would have noted that everyone felt BLOODY SCARED driving on busy London roads in something so close to the ground. They felt even MORE SCARED when they saw there wasn't a steering wheel or anything resembling handlebars. It wasn't ALL bad, and in the world of all-electric cars, believe it or not, the Sinclair C5 is making a comeback with some of the lessons learnt.
Why is "Content" Market Research so important?
Content Marketing Research gives you scale.
When I woke up today, I was sure I was going to write about "Content Audits". It's what InLInks does so well, auditing your existing content to make it better.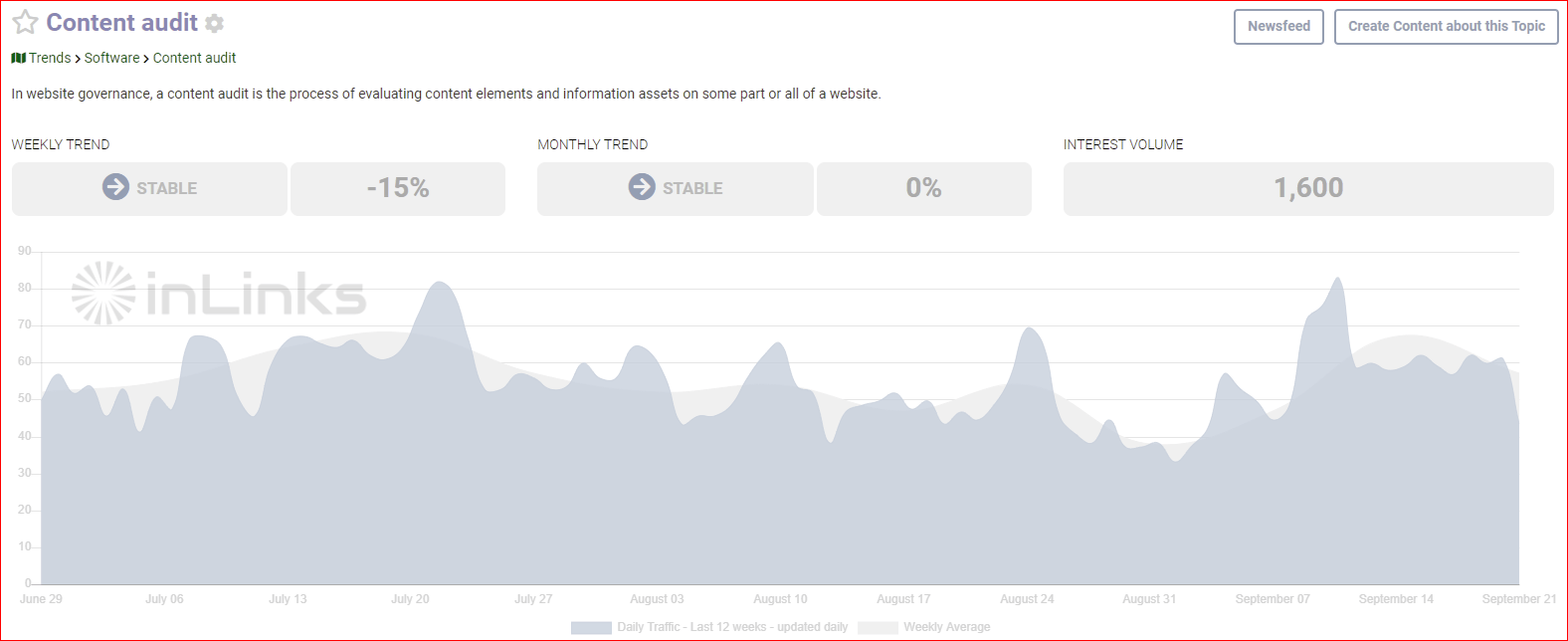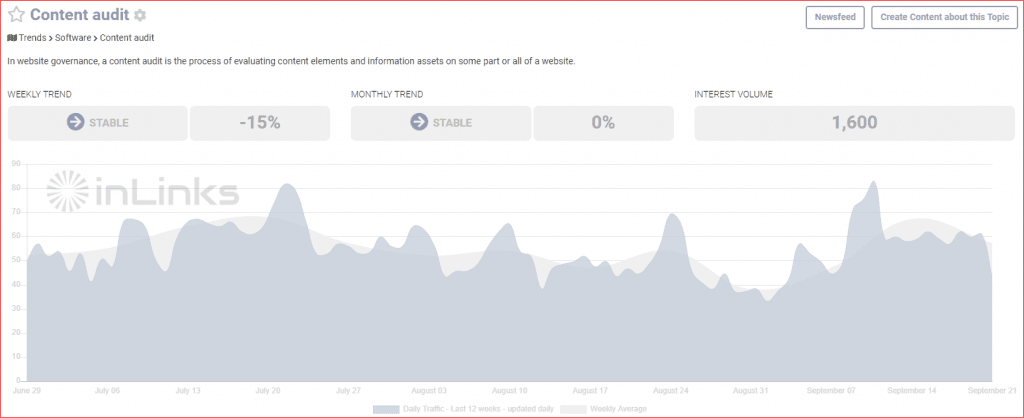 Now, I would like to rank for the phrase "content audits", but it looks like about 50 people per daycare about this in the whole of the English language. I hope I'll get there, but about 30 seconds of Market Research guided me to much richer pickings.
By finding the "Market Research" angle, I am able (I trust) to demonstrate how our tool solves a pain point. A better topic choice should resonate with a much larger potential audience. Here's that audience:


If the images are too granular, the "Interest Volume" in the topic "Market Research" is 160,000. This compares to 1,600 for the topic "Content Audits". That's 100X the market opportunity, discovered in less than 60 seconds.
Content Marketing Research gives you Momentum
It gets better…
As the video shows, I used the "Market Trends" tool to do my research. I picked a topic which was growing in interest (32% over the month) vs a topic that was stable. If the demand for consuming this content is on the increase, then there is a deficit of quality, up to date content for Google to share with those searching around the topic.
Of course, this is useful to many market research applications, not just writing content.
Market Research helps your timing
By being able to see the trend of a topic over a reasonably short time span, with daily granularity, it becomes much more viable to build Market Research into your normal day-to-day activities.
Historically, market research was something you did rarely… at the start of a business or the start of major product development. Perhaps this is why we remain reticent to embrace market data day-to-day or for shorter time horizon goals. We should change that mindset as soon as possible!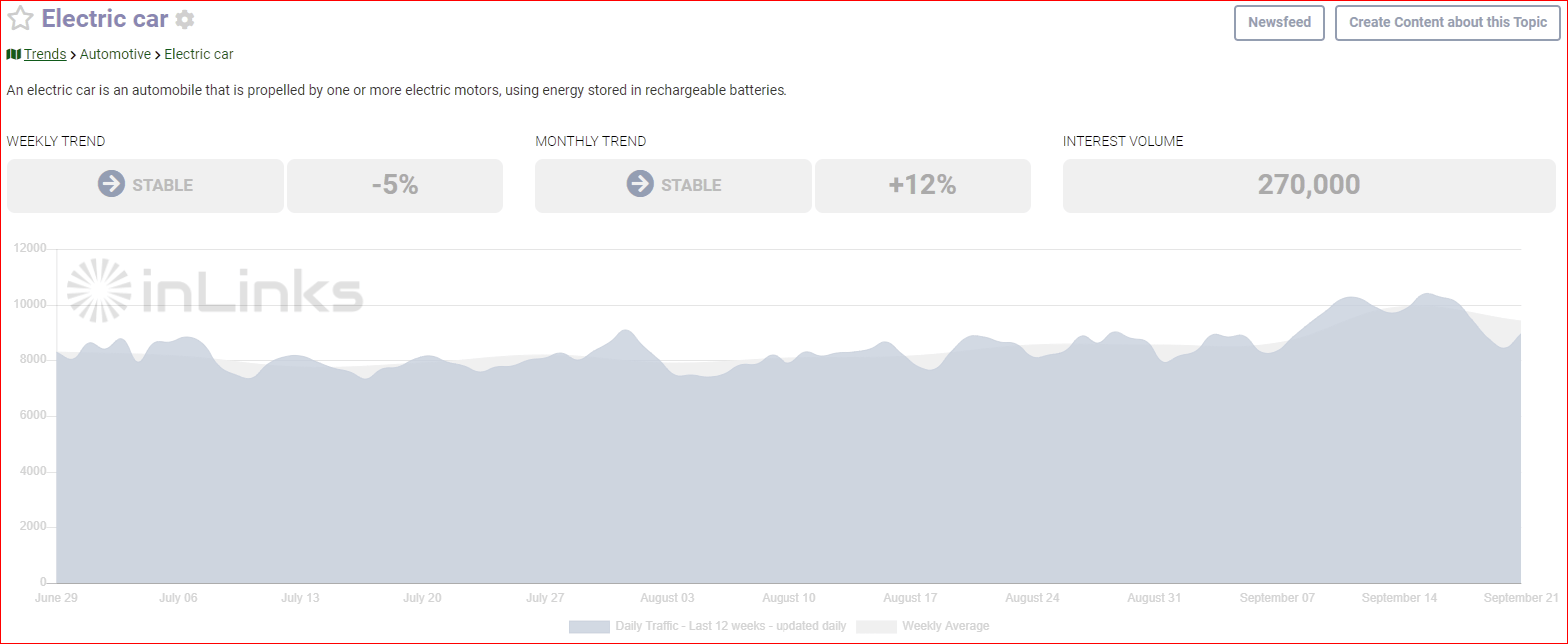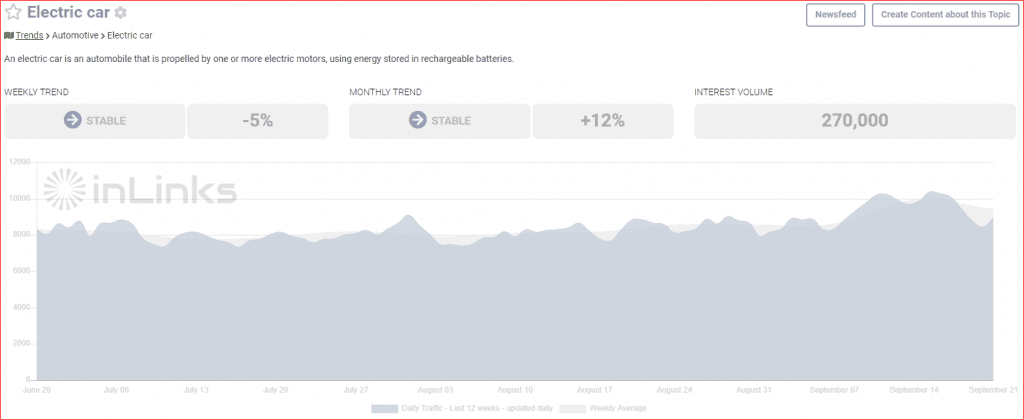 Let's carry on with the electric thems, for example. Of course, electric cars are gathering momentum over time, but using Market Research over shorter time horizons is much more applicable to most of us in our day-to-day. It seems that interest is growing in this topic by 12% over a month, so yes – a good backdrop to theme this content on marketing research, but what happens in the zeitgeist when a launch goes wrong?
How Market Research can reduce the risks of a content (or new product) launch
Often, launching content at the wrong time can be all the difference between success and failure. Compare these two charts. At first glance they might appear similar:




It is a MUCH better time to write about the Nissan Z-car than the Ramcharger, although it might not be obviou7s at first glance. Both charts show sudden spikes in interest. These tend to happen when a product launches or when there is some related news. First, don't get carried away by the size of the spike (unless you ARE Nissan trying to drive the story). The interest, to me, is in seeing what the new normal is after the spike. With the Nissan Z-Car, the spike came with the launch of a new model. We see the spike in the Google News results: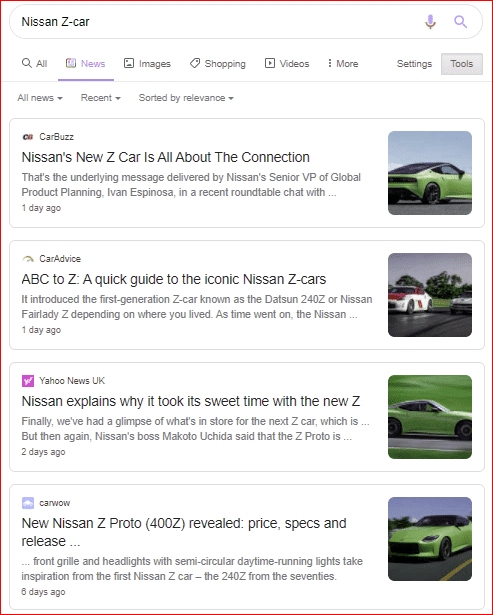 The giddy but temporary spike of 140,000 a day is not really as interesting as the normal being 2,000 a day BEFORE the launch compared to a new normal of 4,000 a day AFTER the news broke. That's a 100% increase in the interest around that model.
Compare this to the Ramcharger data. Two spikes, but with very different aftermaths. The first returns to an increased "background" demand after the spike, but the second spike resulted in a lowering interest over time. Launching content after the first spike was a good bet. Launching after the second spike would have been less effective.
Leverage the Data in Market Research
The heart of Market Research is the underlying data. In the past, getting the data was all about pounding the street and labouriously asking questions. now there is a myriad of ways to gather data very quickly and very cheaply.
Free or Cheap Content Marketing Data sources
Opinion Polls
Running opinion polls on Twitter or Facebook are free and fast! If you are only interested in communicating with your existing ecosystem, then simply put "the poll in the field" as my favourite TV series used to say. Don't use SurveyMonkey or anything TOO complex for this though, You just want to know what to write about. It's ONE question! No survey needed!

Topic Trends
Most of the charts in this post came from InLinks. You get unlimited market trend charts for just $39 a month, so why not have such a valuable resource on tap? There is also Statista, which curates open-source trend data from around the world for $59 a month (currently down to $39 a month at the time of writing… maybe InLinks gave them a scare!?). Google Trends is also useful, which is free.
FAQ Finders
Another useful approach to Content Writing is to get in the head of the user, to answer the things other people are asking. Quora, a Q&A site is a free way to do this. You can also use their data and look at the interest in a question to gauge the interest level. A Freemium low-cost alternative is "Answer The Public" (paid version starting at $99 a month), but at that price, you may as well use InLinks again, as you get more questions found and they are already baked into the product, so you get that for your £39 a month anyway.
Keyword Research Tools (and not to use them)
Everything in this post has been around the underlying topics that you should be targeting but has not focussed on the older approach of "targeting a specific keyword" (Or keyphrase). This is because Google works hard at understanding synonyms and variant of search queries with the same user intent. Even Google Trends – a free keyword finder tool – has started to make topics more prevalent in its data. But understanding topics and keywords that are close (I am trying to avoid the phrase "semantically close" here) will help you write about content ideas that reinforce your central theme. For this, the InLinks content optimization tool works a treat which can let you easily optimize 3 or 4 pages of content a week for $39 a month. That's enough for most writers.
Background Research:
This e-book By Robert F. Lusch and Stephen L. Vargo contains an interesting paper on the interaction between entities as a dominant focus for marketers.