Google loves it when your content answers questions that users are asking. Inlinks leverages this and helps you to get the most out of FAQs by:
2: Providing a world class Question finder
How FAQ pages help SEO rankings
Search engine optimization (SEO) is among the best marketing strategies that businesses and any person using online platforms for economic gain can use to grow. How beneficial your SEO strategies will be to your business is dependent on various factors, and one of them is how user-friendly your online platforms are. Frequently asked questions (FAQ) pages play a significant role in making a website user friendly. Therefore when thinking SEO, as a business owner, it is vital that you also think in line with the FAQ for SEO. When a website has an FAQ page, it becomes easy to use for most of your potential clients as some of the commonly asked questions can be answered through the FAQ page.
You need to note that most of the questions that customers ask on websites are common. Therefore with a FAQ page, such questions can be addressed hence allowing the marketing teams time to focus on other more pressing areas that are likely to generate sales. Additionally, using FAQs for SEO instead of just a customer service medium will benefit your business in several ways.
Here is how writing FAQs can benefit your SEO rankings
Organic rankings
Online customers derive various ways of searching for services and products online daily. More people have begun asking questions on a search engine instead of just typing a word or sentence. Search engines also try as much as they can to understand what searchers are looking for. In the event the FAQs on your website match the question asked by a potential customer on a search engine, there is a high probability that your website will rank organically. The best thing about leads generated from such searches is that the searchers will most likely seek your services or products because they have a specific need. Always ensure that you seek expert services to help in writing FAQs for SEO. Most SEO marketing experts have studied online customer search trends; therefore, they are best placed to structure the questions in a way that will aid the SEO.
Create blog attention
FAQ pages can draw attention to the blog section of your website. Working with the right team specializing in writing FAQs for SEO is an excellent way of creating blogs that expound on the asked question. When a searcher lands on your website from a search engine, being led to a blog that expounds on the question with adequately explained answers could help draw significant attention from search engines to your website.
Draw attention from Social Media Platforms
While social media is not relevant when it comes to SEO, posting FAQs on your social media page can drive traffic to your website. The best thing you need to do is ensure that while you post the FAQs, a link to your website is provided, guiding your social media following to an expanded version of the answer they find on social media. There are various service providers, including social media managers, to ensure the FAQs and links are placed the right way. Additionally, when the social media following finds your page to be resourceful, their trust in your products or services often increases.
Inbound links
Inbound links are held as trustworthy by search engines. Most websites that use inbound links often enjoy good ranking when it comes to search engine optimization. There are various ways to make use of inbound links, and FAQs happen to be one way to get good ranking via inbound links. Your FAQs can link naturally to relevant third-party sites hence helping your page generate leads.
While most FAQs are known to you as an individual, the wording of the FAQs is vital if you intend to use your FAQs for SEO purposes. The key to successful SEO marketing through FAQs is finding the right people who major in writing FAQ for SEO. Your website will only receive a ranking on a search engine if the wording of the FAQs is almost similar to the question typed in by the searcher on the search engine. In general, your FAQ page should not be just a dormant page on your website waiting for a website visitor to use it; it can also be part of your SEO marketing.
Implementing FAQ Schema
When your FAQ pages are published, one important step would be to implement FAQ Schema Markup. FAQ pages when marked up correctly through schema are eligible to become rich results in Google's search, this allows you to improve your site's visibility and authority.
Automate FAQ Schema with InLinks
One of the most powerful features on InLinks is the automation of schema markup across all your webpages including FAQs.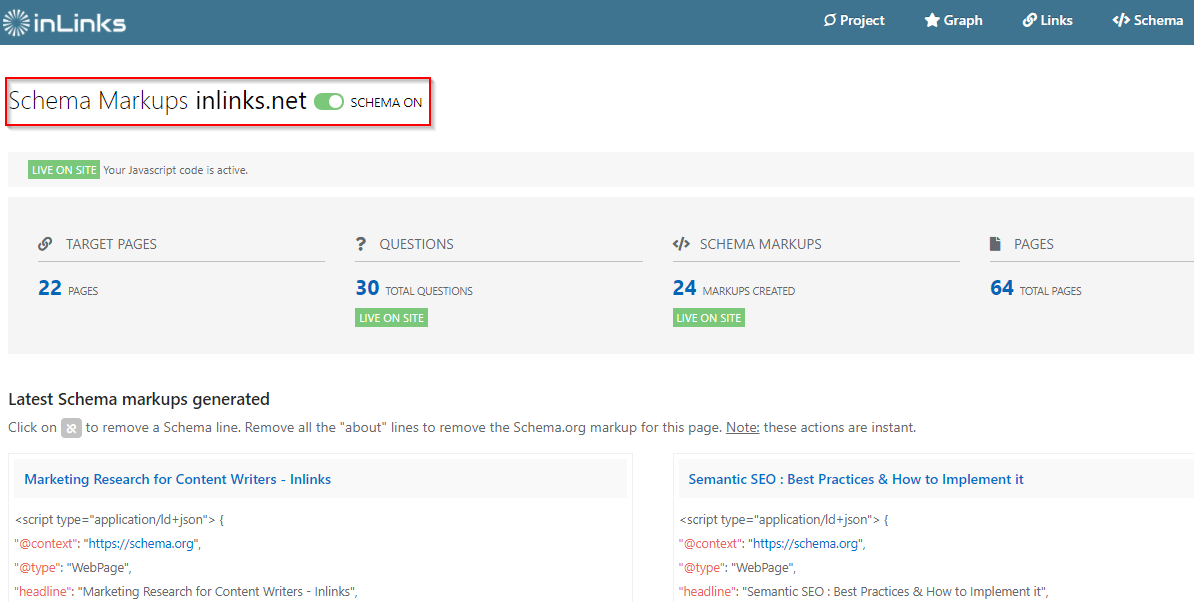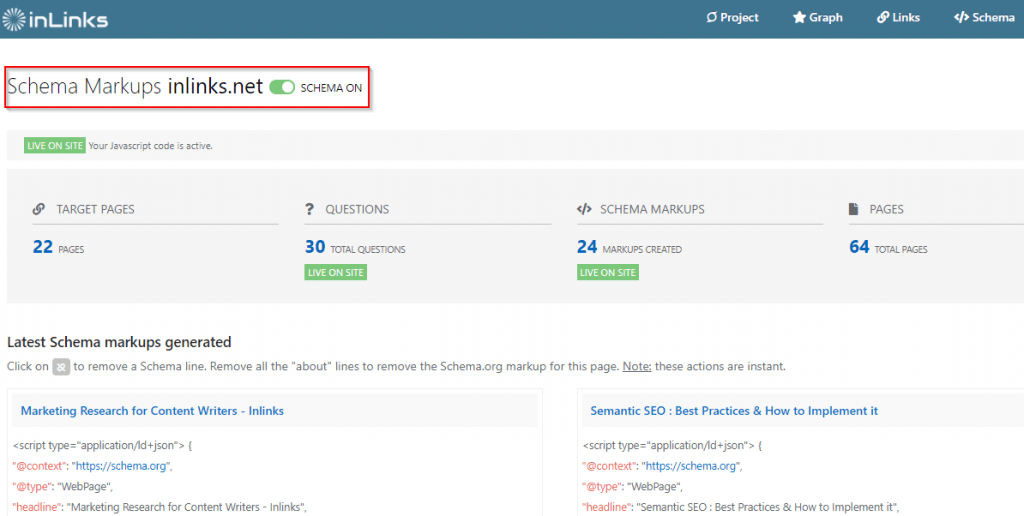 Sign up for a free account on InLinks and start using this powerful feature for your FAQ pages.
https://inlinks.com/wp-content/uploads/2022/10/White-png-300x60-1.png
0
0
Karim
https://inlinks.com/wp-content/uploads/2022/10/White-png-300x60-1.png
Karim
2020-09-25 10:15:47
2020-09-28 08:21:05
Writing FAQs (for SEO)