Inlinks launches Govtrackr
A free tool that tracks the main themes covered by prominent UK politicians via their tweets.
What is Govtrackr
Powered by Inlinks technology, Govtrackr is a unique tool used to determine the overarching themes tweeted by UK politicians. It takes tweets and creates comprehensive data on the discovered themes. This includes the amount of public engagement encountered on each tweet and how this differs from politician to politician or party to party.
It aims to be an unbiased and granular breakdown of UK political social media presence, and an accurate way of viewing constructed online identities and political priorities as talked about on Twitter.
Govtrackr's Features
The tool first offers you an overview of the top topics/themes of the past 24 hours. These drop-down menus allow you to see which politicians are talking about each theme and the tweet in which they mentioned the theme.

Here we can see that Christmas has been the most prominent theme in the past 24 in terms of the number of politicians tweeting about it. However, the theme of Boris Johnson is mentioned in fewer tweets but evoked far more engagements (classified as likes, retweets, and comments). Because of this, we can see which themes are having the most effect on citizens as opposed to which are being tweeted by the most politicians.
Not only this, but it is also possible for you to directly compare two political leaders or focus solely on the cabinet minister's data.

Here is the panel which solely focuses on the cabinet ministers. Once you click on a minister, it will take you to this page:

Here you have a comprehensive overview of the themes tweeted in the past 7 days specific to Boris Johnson. Click on these themes to reveal the specific tweets that have made this data.
One of the most unique features of this software is the ability to filter themes by country. An interactive world map reveals which politicians are talking about specific countries during that week. This data can be used to get a clearer picture of politicians' public opinions of other countries.
Here I have clicked on China: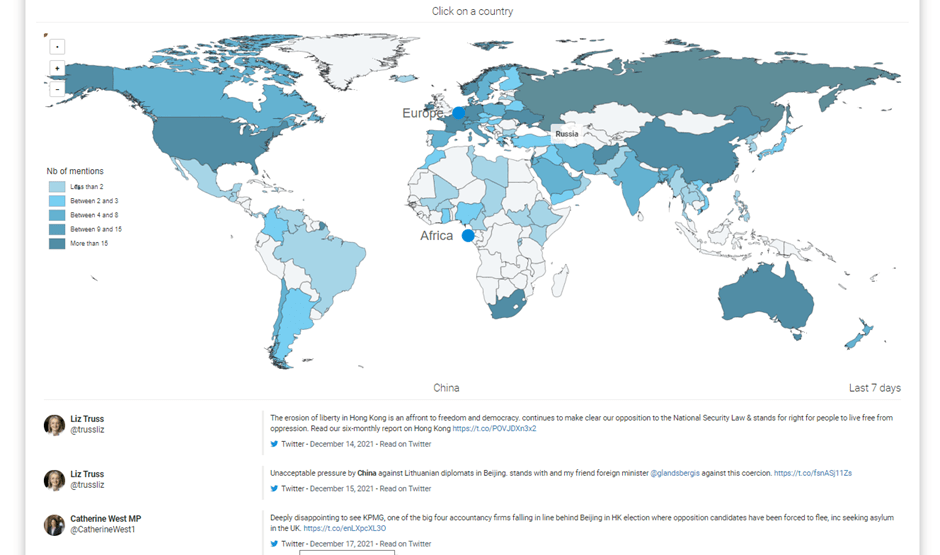 Although not always mentioned directly, China has been picked up as a theme in Liz Truss and Catherine West's tweets. This is because the entities extracted from their tweets contained words semantically similar to the entity of China.
What is a theme?
A theme is the essence or 'point' of the tweet. Our technology does not just provide you with a list of keywords that appear in a politician's account, but instead reads the tweet and aggressively extracts entities together to give them context. This means that if we see someone talking about foodbanks and homelessness in one tweet Govtrackr can understand that has a 'theme' of poverty. In doing so, we can compile much more useful data and get an intricate understanding of who is talking about what.
Govtrackr gives the following overview of a 'theme':
A theme encompasses aspects such as:
A person(such as Boris Johnson)
A company (such as the government of the European Union)
A city or country
A thing or concept (such as Education, Safety, …)
How are the themes determined?
Every 24 hours, Govtrackr retrieves the Tweets of the relevant personalities and political parties, and analyses these publications using the InLinks software.
InLinks then returns the list of topics identified in each post.
Govtrackr then identifies the most mentioned themes from those posts arousing the strongest engagement (i.e., the greatest number of reactions: likes and comments)
Why are some themes not appearing?
The identification of topics can sometimes contain errors or omissions. It is important to remember first that only Twitter posts are analyzed. A topic mentioned only in a TV interview will not appear here.
In addition, the analysis of themes is carried out considering the context they're mentioned in. As most of the posts contain only a few words, it can happen that certain topics are not identified correctly."

Who can use this data?
Anyone! From politicians to voters, this data is available for free to everyone. It is even available for the French political sphere as well. Try it out here and let us know what you think.
https://inlinks.com/wp-content/uploads/2022/10/White-png-300x60-1.png
0
0
Genie Jones
https://inlinks.com/wp-content/uploads/2022/10/White-png-300x60-1.png
Genie Jones
2021-12-20 10:40:33
2021-12-20 10:40:35
Inlinks launches Govtrackr