Topic Research Tools – The New Keyword Research

InLinks has launched a revolutionary new topic research tool and methodology. With its new Content Optimization Editor launch, InLinks has totally reimagined keyword research for SEO and introduced meaningful clustering and a whole new approach to satisfying user intent.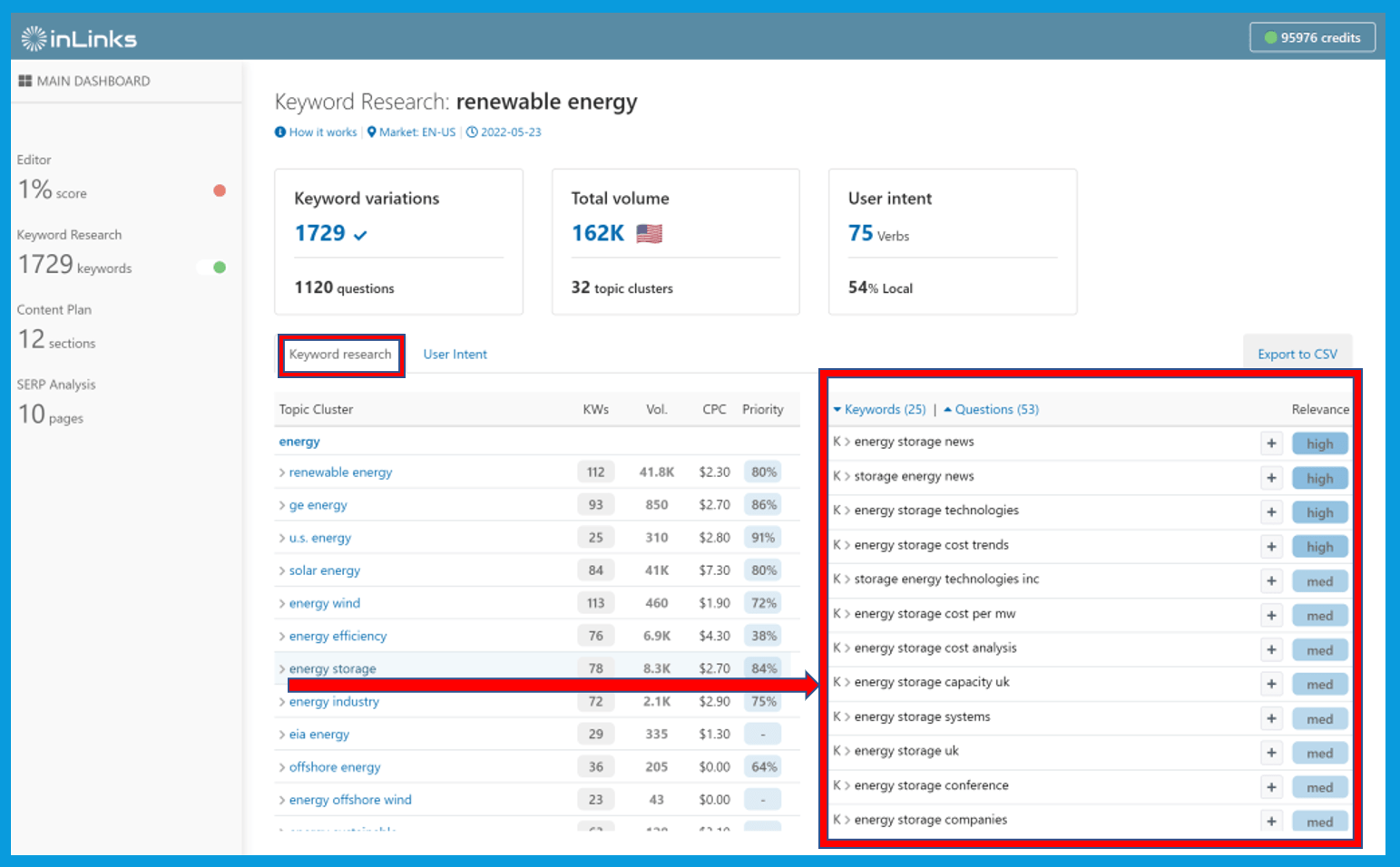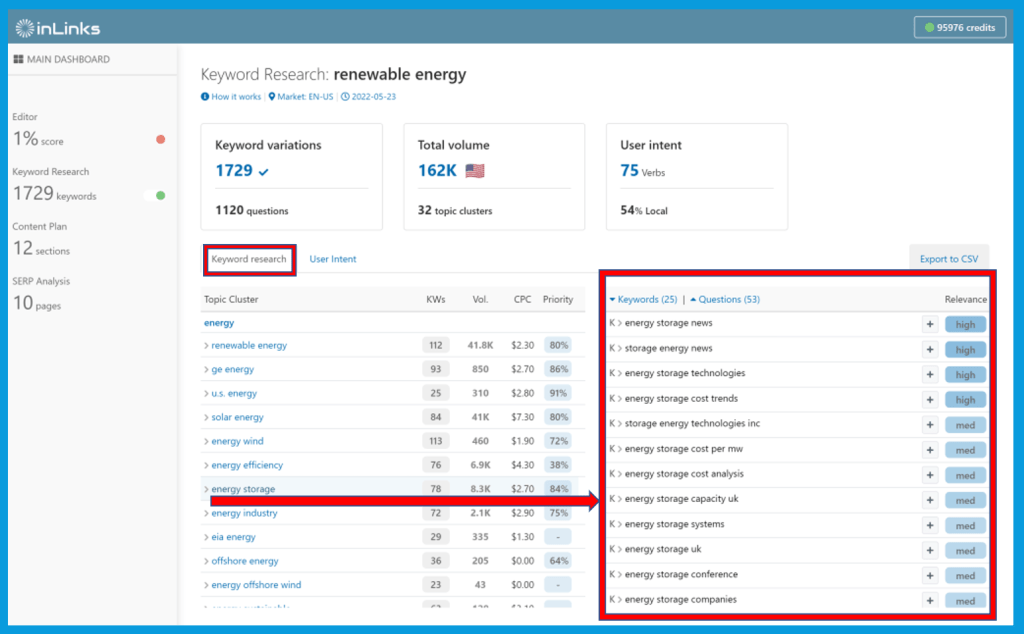 What is this Keyword Research Tool? (And why is it Different?)
Most keyword research is based on looking up a keyword's search volume and CPC value. The result is a list of literal keyword suggestions which are not necessarily directly related to your website or business. Indeed, the keywords may not even be contextually related to each other!
But what if you could do keyword research in a way that is meaningful to your business and situation? What if your research could take into account: context, your competition and verbs? What if you could group relevant keywords into relevant topic clusters and include meaningful questions that Google searchers actually search for? Then imagine you could develop a content plan that not only suggested the keywords and topics but also what questions need answering in each section?
This is what the new InLinks content planning and keyword research module sets out to achieve. We really believe that the approach is better and the Topic Research is much better than simple Keyword Research.
How to use the Keyword Research
When you have set up a project, you can either create a content brief (if you do not have content already). Or audit an existing page. Use one of these two options.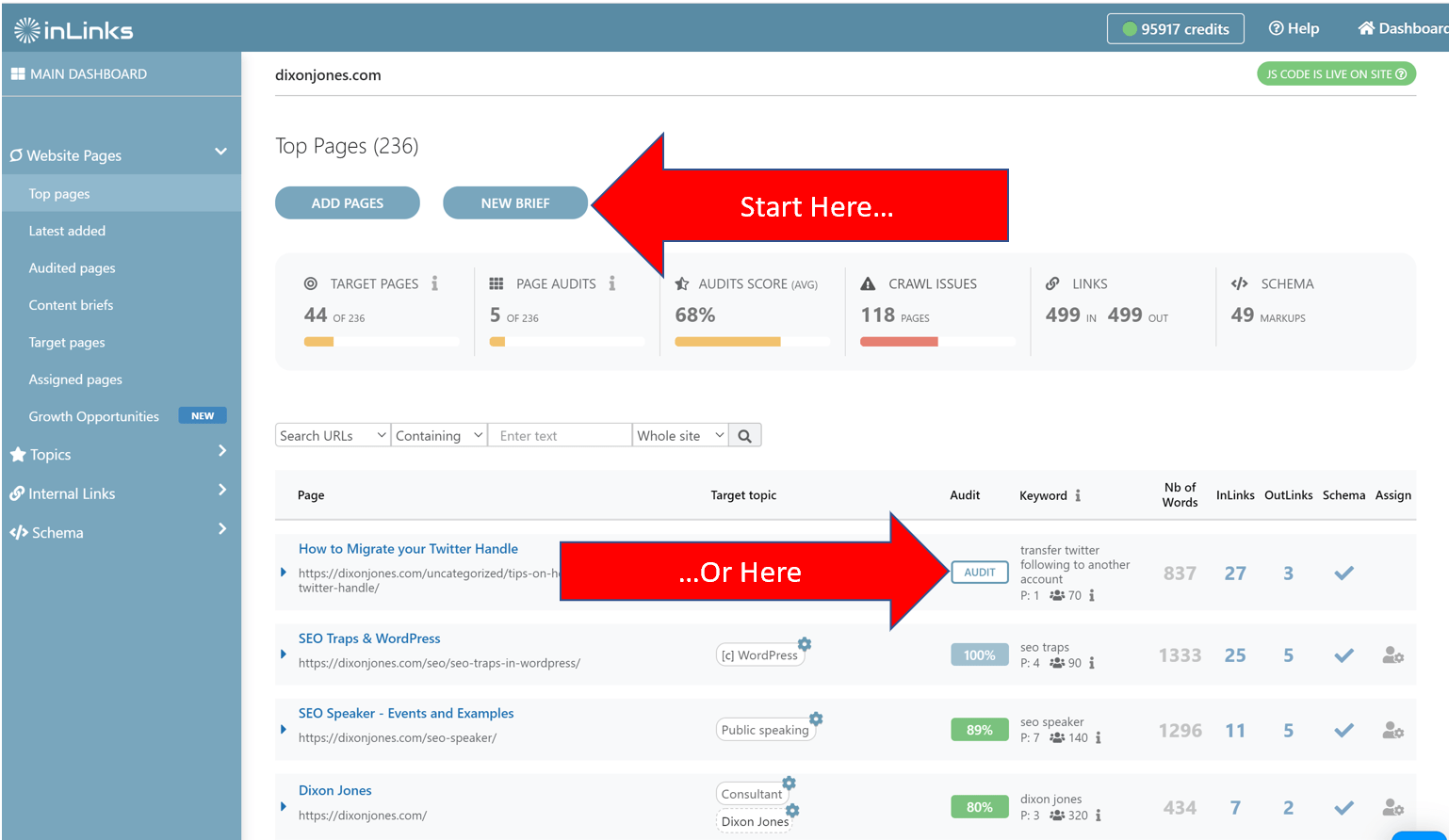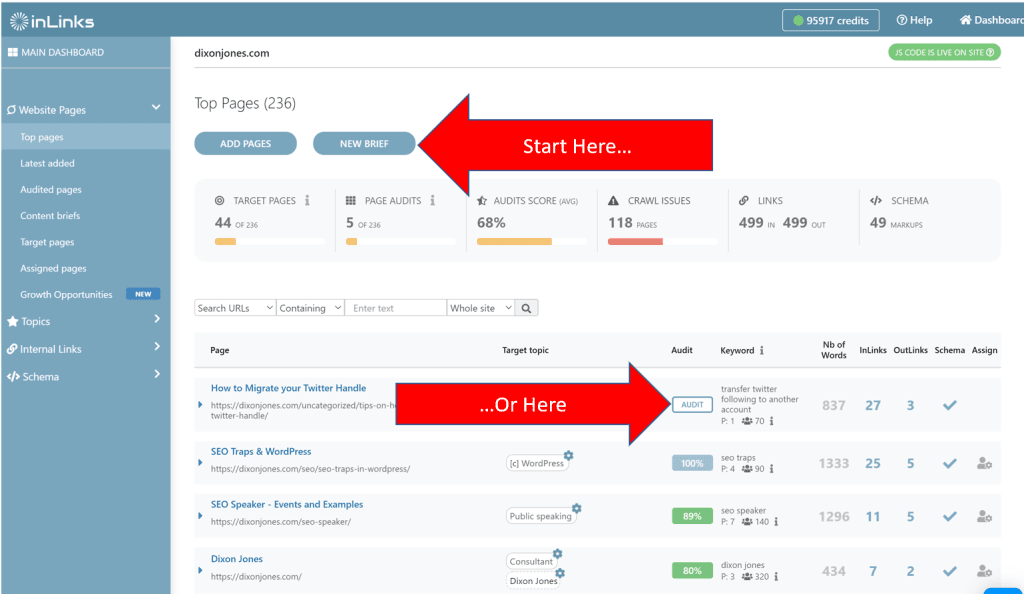 Highlights of the new Keyword Research and Topic Research Tool
More Keywords, but MUCH more context
Take the phrase "Renewable Energy". A market-leading keyword research tool returned a search volume of this term in the USA as just over 40,000 searches and also identified 90,000 keyword variations with a total search volume of over 800,000 searches a month. It describes the user intent as "informational". But how many of these variations are useful to your business? If you store renewable energy, that is very different from buying renewable energy or generating energy.
The research is done without knowing your website. There is no semantic analysis of the competitors ranking for the term and there is no secondary lookup of phrases, connecting themes together.
It would be better to be able to see the keyword research around the phrase "renewable energy" when you knew that you were looking for Google users that wanted to "USE" renewable energy, rather than (say) "GENERATE" it.
What you would want is to be able to drill down by user intent like this: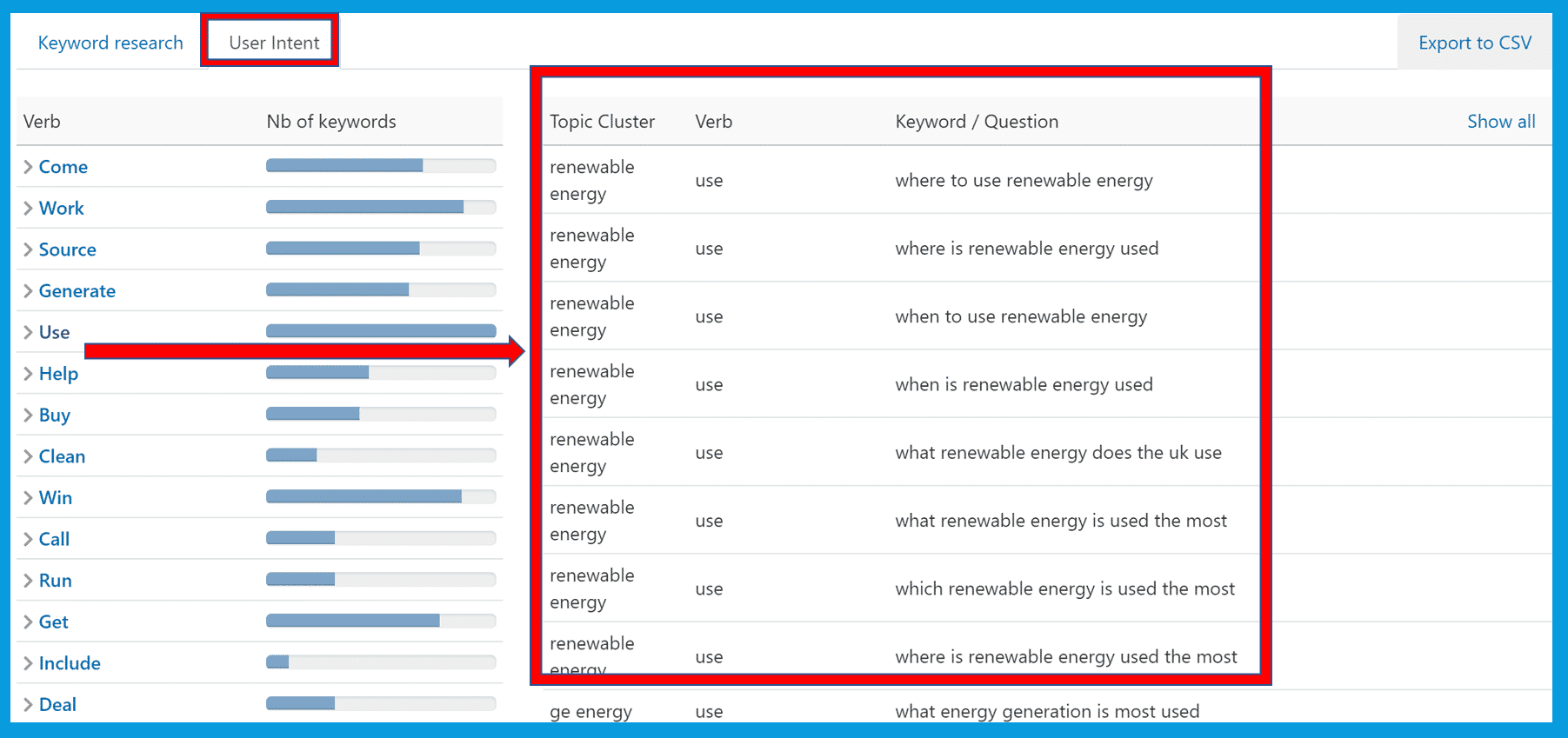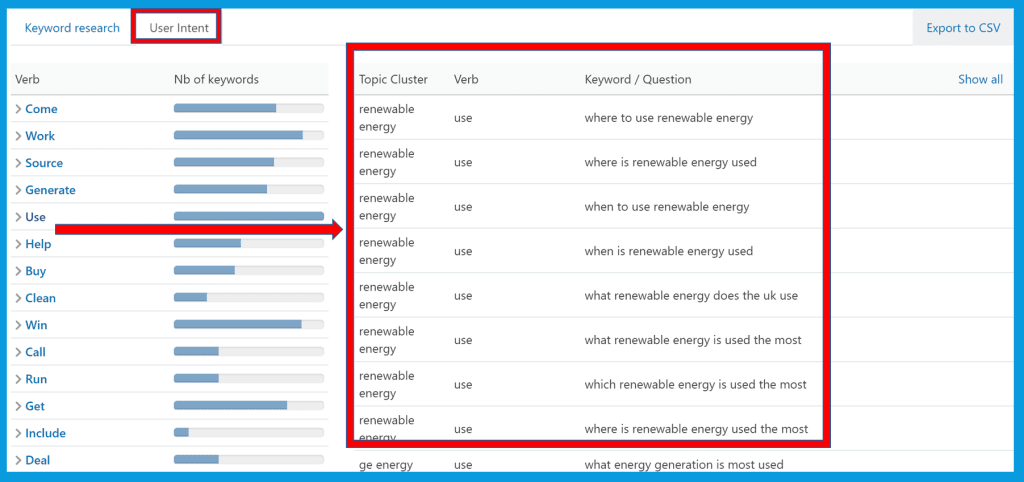 A Content Plan that you can actually use
We are quite proud of the new Content Plan, which removes hours and hours of research – and groups topics into meaningful sections for you. Just because you mention (say) "solar" energy in one section about energy "storage", do you then need to talk about it again in the section related to "Photovoltaic" energy? To know that, you need a content plan that helps the writer like this: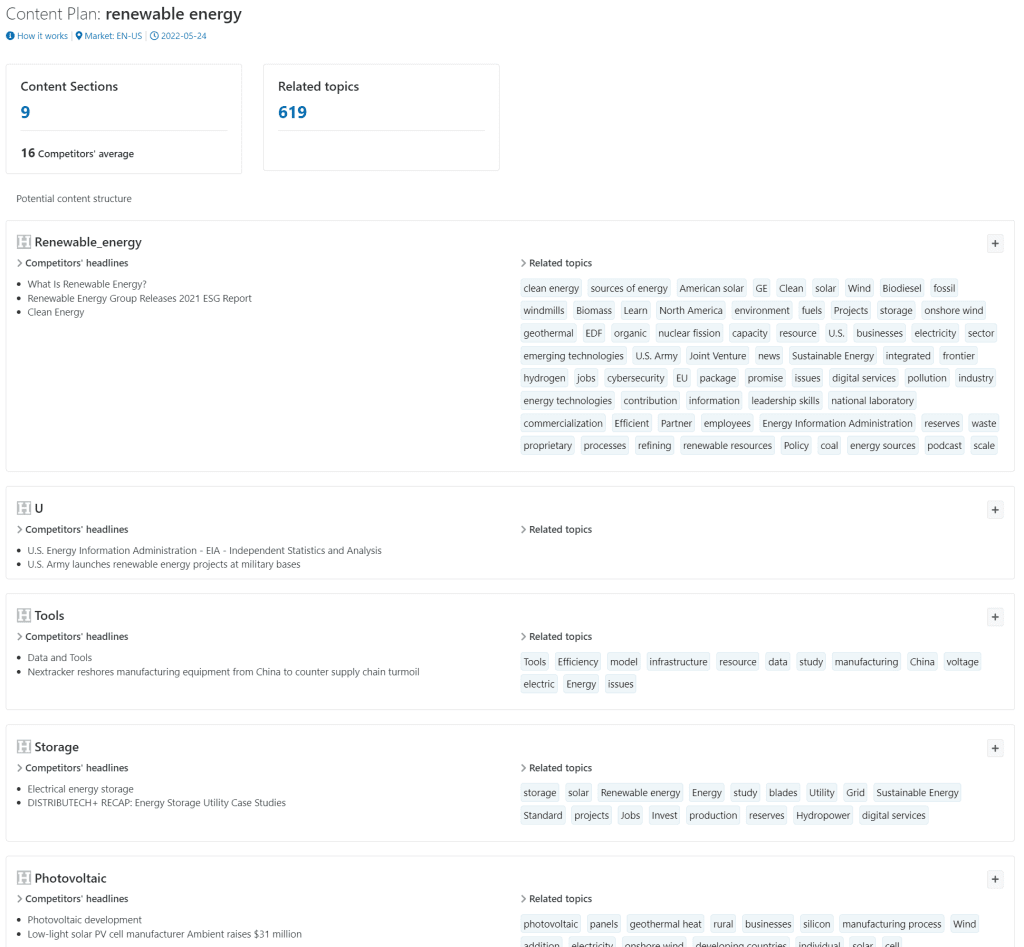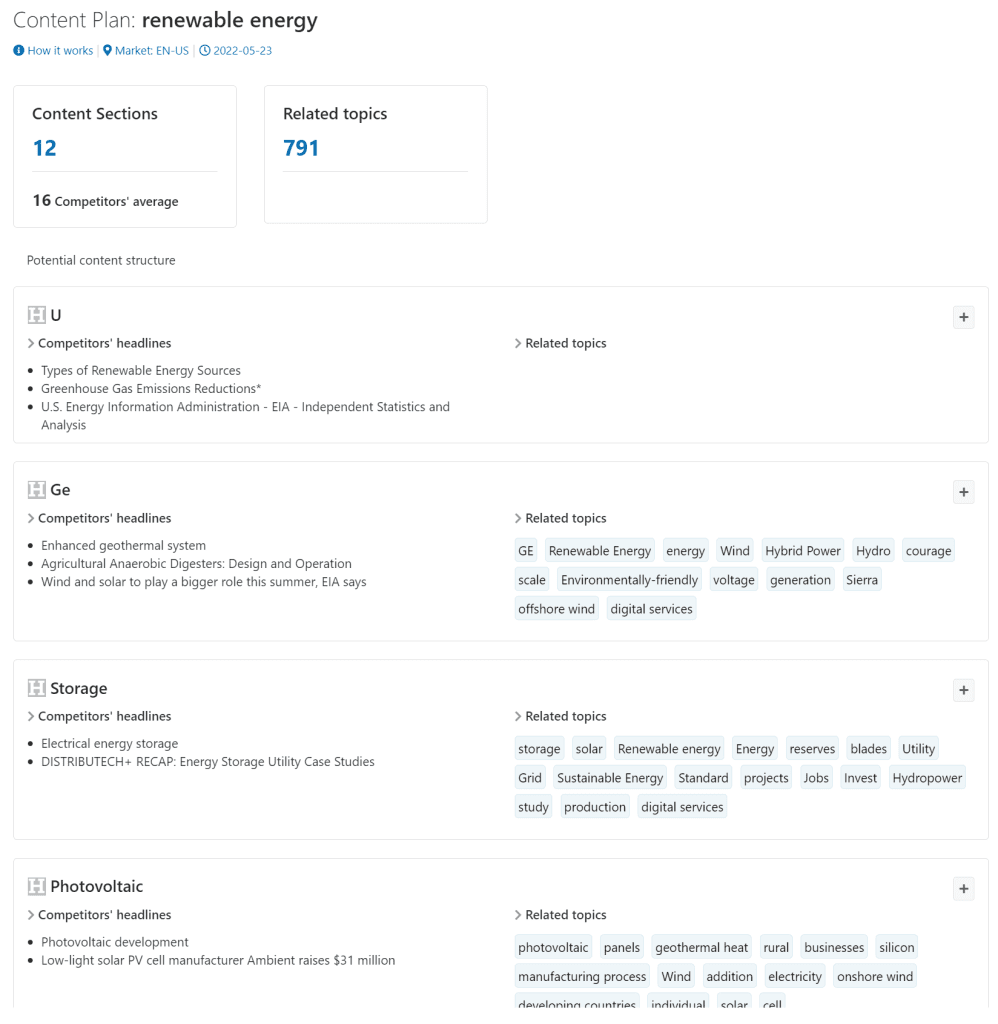 What I particularly like about this plan is the little [+] buttons on each section. This allows you to select only the content sections that apply to you. So if you have no direct relationship with General Electric (G.E.) then you probably do not need that section. By omitting it, you also remove "Distributech+ case studies" (whatever that is) and "blades" (which are stripped-down web servers in this context).
The content plan also gives the writer a sneak peek into the competition's way of looking at a topic, without putting words into the writer's mouth. By citing relevant competitor headlines, the content writer can choose to enhance or ignore what the competitors were trying to articulate.
All the main old functionality is still in the tool
Although we have moved some of the old functionality around, you should still be able to see everything. the one thing we do not now have is the "read only url" for reports, as far as I can tell. But there is a CSV export.
What is still to come?
The one thing we did not get out in this release, is to be able to suggest when a section should become a completely new page of content. The line between "page" level keyword and topic research vs. "Site" level keyword and topic research is still content is still in the hands of the writers. Still, I hope you will agree that this keyword research tool is a big step forward.
https://inlinks.com/wp-content/uploads/2022/05/image-48.png
482
1024
Dixon
https://inlinks.com/wp-content/uploads/2022/10/White-png-300x60-1.png
Dixon
2022-05-31 06:37:00
2022-05-31 09:11:32
Topic Research Tools – The New Keyword Research