Spanish Knowledge Graph Launches
Inlinks is proud to announce that we have built out a Spanish speaking Knowledge graph, which is now live. The home page of the main site is now available in Spanish and we will be translating other parts of the site in due course. In the meantime, you can now use Inlinks to optimize content in most Spanish speaking counties and you can also use inlinks to automate Content and FAQ schema in Spanish and automate internal linking.
How do I set up a Spanish SEO Project?
From the Inlinks Dashboard, select "Create New Project" as you would for any website. Now, in the choice of markets, many Spanish countries are given as options.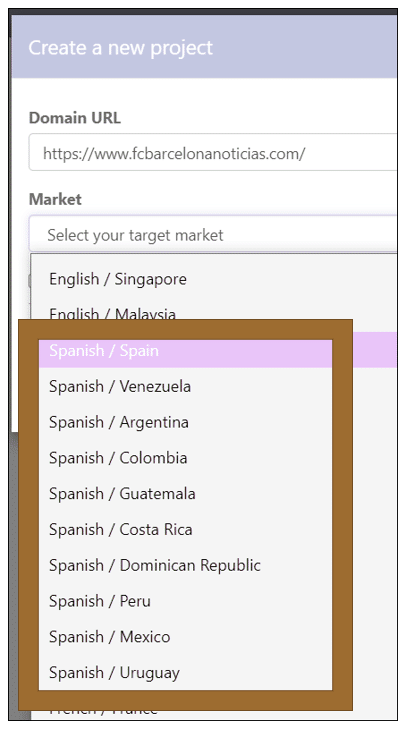 Spanish regions covered at launch are: Spain; Argentina; Colombia; Costa Rica; Domican Republic; Mexico; Peru; Uraguay and Venzuala.
How do I create an SEO Content Brief in Spanish?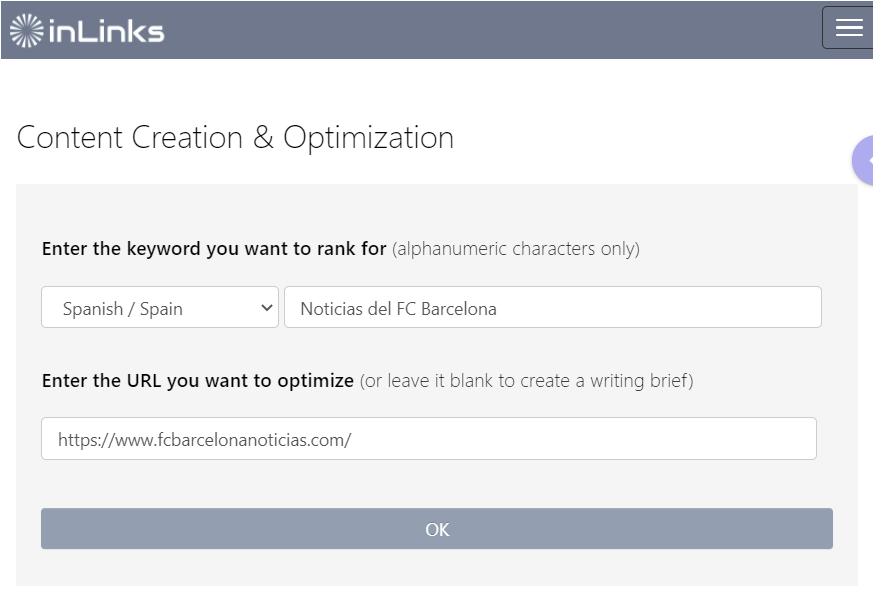 In a similar way, creating an SEO Brief for Spanish SEO Content Writers is simply a case of selecting a Spanish region. This will mean that our NLP API will analyze the main pages returned in Google's Search API for that region. Since we also know this is set to Spanish, we will show the Spanish knowledge graph in the recommendations: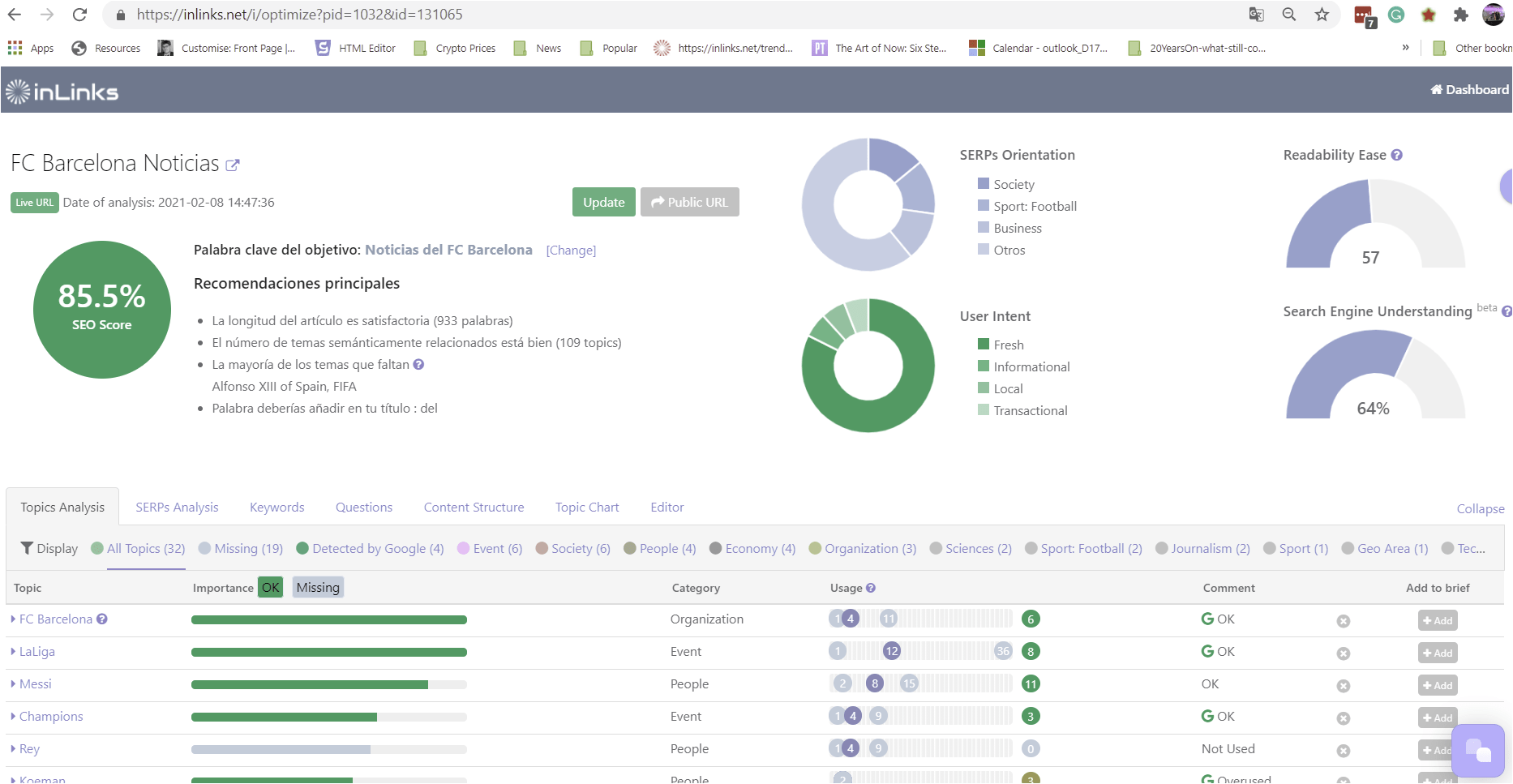 (You can also see a read only version of this Spanish SEO content brief)
You can see that the main recommendations are in Spanish. Furthermore, the underlying Knowledge Graph is based on the Spanish version of Wikipedia, so by clicking on a topic, you can see the underlying entity in Spanish, along with semantically related entities categorized by vertical: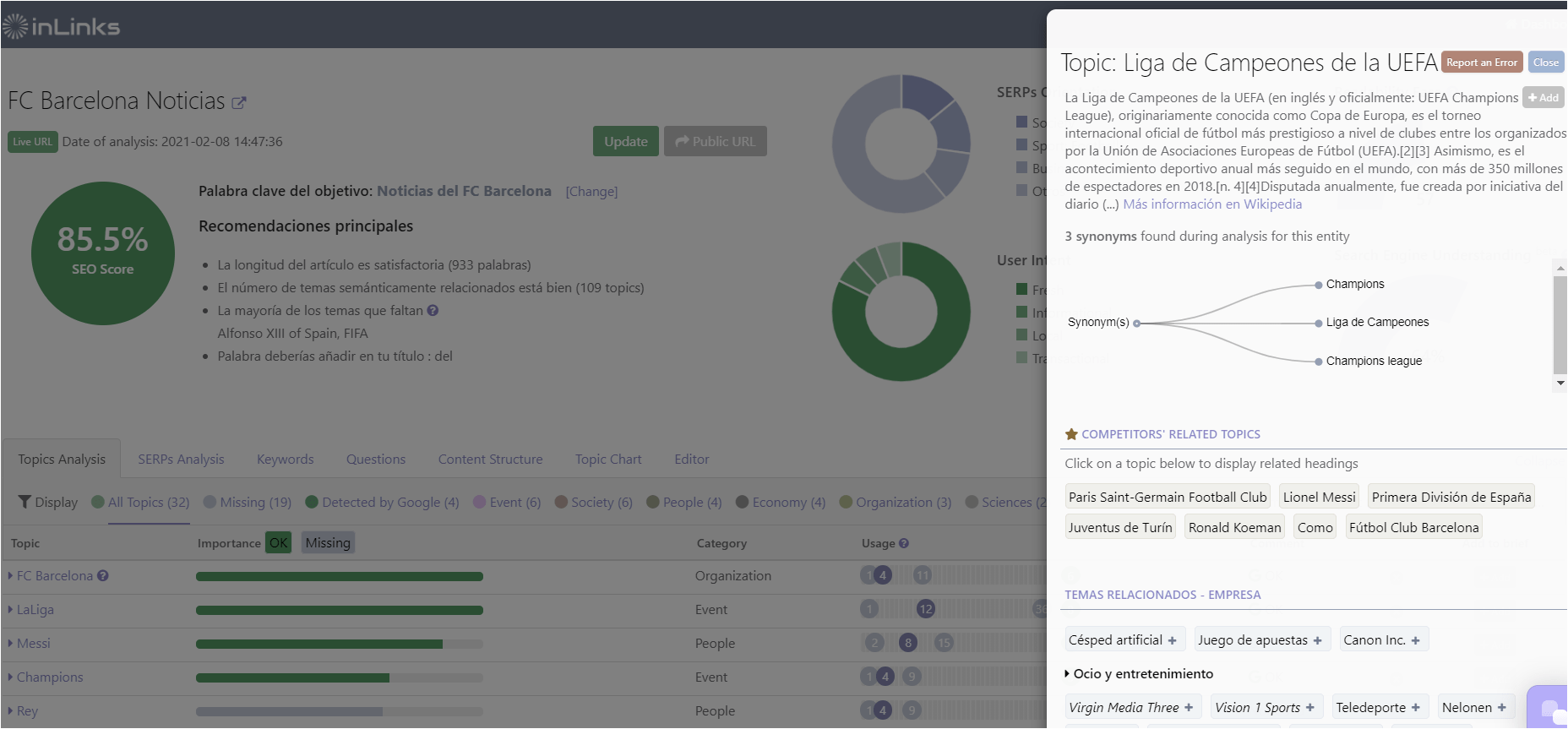 What is InLinks?
For the Spanish amongst you that have not seen Inlinks before, it is an SEO technology which works differently from other tools, because it has a proprietary Natural Language Processing algorithm behind it, which means any content can immediately be broken down into its constituent topics or "named entities". This allows content to be better optimized around topics and ideas rather than keywords which can vary wildly between and within any given language.
By also maintaining an independent knowledge graph, Inlinks is also able to build out relationships between entities.
You can find out more about InLinks (in Spanish) at https://inlinks.net/inicio.
https://inlinks.com/wp-content/uploads/2022/10/White-png-300x60-1.png
0
0
Dixon
https://inlinks.com/wp-content/uploads/2022/10/White-png-300x60-1.png
Dixon
2021-02-09 10:47:24
2021-02-09 10:47:25
Spanish Knowledge Graph Launches