Switch Links and Schema on and off with one click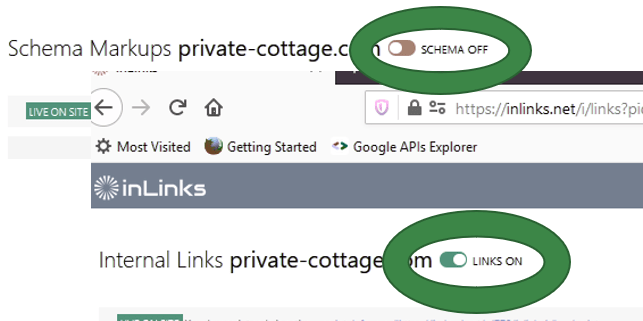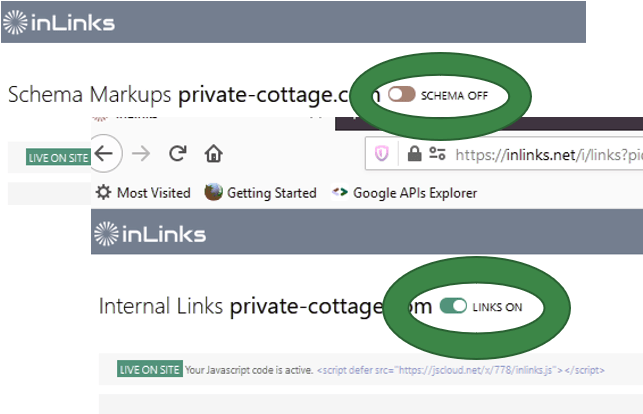 You can now temporarily (or permanently) suspend one section of the InLinks system whilst it is under review. This was a feature request that we have had from more than one customer. We understand that for some website owners, the thought of javascript injecting links and schema directly into a live site needs some internal discussion. Office politics aside, it is also a good safety net if you suddenly find that the system is behaving unexpectedly.
How To Switch off the internal link building globally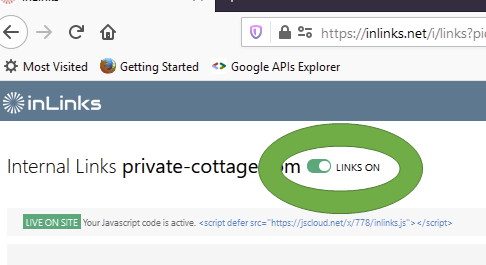 On the project dashboard, click on "links" in the top-right menu. This lists all of the links created by InLinks. There is a global "Links On" button which you can simply slide to off. This will switch all the internal links we have generated off immediately. It is reversible, so you can switch them back on at any time.
Review and change the links one at a time
When the button is off, you can still modify the links on the system individually. This allows you to pause the entire system, manually or automatically modify the links and then restart the link injection.
How to switch off the About and FAQ Schema Globally

In exactly the same manner, click on the "schema" option on the top-right menu of a project and simply toggle the global schema on and off.
Modify the schema page by page
If you wish to be a little less brutal than a global cull, you can also edit the schema page by page. This functionality has existed for a while and is probably much more sensible if internal politics is not preventing you from doing so.
Do your own about schema and internal link case studies easily
One side effect of this feature is the ability to easily carry out your own case studies. Simply take two sites that are generating reasonable organic traffic and make sure that both have been added to InLinks and topics have been associated with the main pages. Now, on a specific time, switch off one of the global settings on one website (leaving the other as a control). See if you can see a marked change in the rankings over the next weeks and then see if the rankings recover after switching the setting back on again.
https://inlinks.com/wp-content/uploads/2020/06/image-4.png
414
643
Dixon
https://inlinks.com/wp-content/uploads/2022/10/White-png-300x60-1.png
Dixon
2020-06-10 10:34:25
2020-06-10 10:34:26
Switch Links and Schema on and off with one click