If you are a new user, you may want to review the FAQs that our users usually ask.
If the answer you are looking for is not here, please feel free to contact us using the chat button.
---
---
GENERAL FAQs
How does InLinks work?
Will InLinks guarantee that my content goes to the top of Google search?
Nothing in SEO is guaranteed. Like all other tools in your arsenal, we cannot promise p1 rankings. However, we are optimizing for the semantic web in a way that no one has before. We are ahead of the curve and have built our own knowledge graph which has far better entity extraction for many sectors than Google's.
What happens once the Google algorithm changes again? Will that stop InLink's ability to function?
That's highly unlikely, all features provided on InLinks are considered the cornerstone of any SEO strategy (internal linking, schema markup, Entity content optimization)
What should I write next in order to become an authority on a subject?
I'd say that's where the topic charts come in!
If you were to make a content brief around 'vacuum cleaners' you will be able to see all of the topics that semantically relate to it.
Inlinks doesn't specifically tell you what to write next (unless you count the growth opportunities tab, which will show the articles that should be audited in order of usefulness). However, in the content brief, it does show you how 'important' each topic is, with red entities being the most important, and yellow being the least.
Will the free version be enough to impact my website?
It's hard to say. If you have a small number of pages on your site then adding the free version of InLinks to help with schema markup and internal linking may have an effect. Larger sites will find this plan very restrictive because InLinks only places internal links between the pages that exist in the InLinks project, so the number of internal links placed will be very small.
What is the main difference between the paid and free versions?
In the free version, you can only add up to 20 pages or run 2 reports. In the level 1 subscription, you will have 100 pages or 20 reports.
Is there a way to measure how InLinks is improving my SEO?
You can use SEO ranking tools such as Ahrefs or Semrush to measure the rankings of the pages having the schema markup
How will InLinks help me earn more money?
It will save you time by automating schema markup and internal linking. This will increase topical authority on the concepts you want to rank for, which is an increasingly important aspect of the semantic web.
---
ACCOUNT AND BILLING FAQs
How do I cancel?
To cancel or downgrade, first delete excess pages and projects and remove .js code from relevant sites, otherwise we cannot honour download requests. When your account is ready, use the chat or ask here.
If I cancel, how do I keep my links and schema?
In the sad case you decide to leave us, please let us know in advance using the chat button or ask here. We will create a report of the internal links that were created so you can keep those in an excel sheet and manually read them to your site. We cannot provide a similar report for schema, so you will have to manually copy /paste from our dashboard before canceling if you want to keep this.
If I cancel, can I get a refund?
We are a friendly bunch, so if you feel something has gone terribly wrong and that you are entitled to a refund then get in touch and we will review. In most cases, however, it will not be possible to refund you.
Can I pause my account?
No, there is no option to pause your account. You need to delete your excess pages to up to 20 and continue as a free user.
Is it possible to pay via transfer?
Usually not; we consider each case individually.
How can I see how many credits I have on my account?
To see how many credits you have remaining you can look in the top left-hand corner of your project. Alternatively, you can go to Main Dashboard > My account >Account information for a more in-depth overview of your account information.
How to change / update my credit card?
To change / update your credit card, go to My account -> Account information – and click on a button UPDATE CARD on the bottom of the page.
Do the credits expire each month?
Yes, unused credits expire each month and you will get new ones every month. (e.g. for level 1 – 100 credits)
How many briefs can I add on level 1?
Each brief costs 5 credits and level 1 gives you a total of 100 credits. If you create briefs without adding existing URLs then you can create 20 briefs per month.
If I stop working for a client, can their account be passed on to another email address?
Yes, just message us with all of the information and we will get you sorted!
---
INTERNAL LINKING FAQs
Will InLinks export the internal links structure so I can do it myself?
You can ask our team to provide you with an excel sheet showing all the URLs from which internal links have been placed by the tool as well as the target URLs and the anchor texts being used.
How do I TARGET a custom Wikipedia link?
If InLinks does not list the appropriate topic to be associated and if you find a topic on Wikipedia, you can add that Wikipedia link to the InLinks target topic.
This can be done by pressing the target button:

Then opening up 'more options':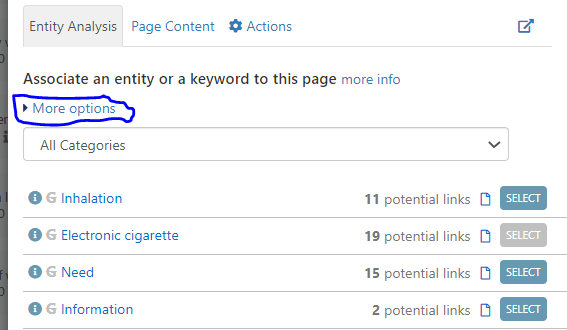 Then paste the full URL of the Wikipedia topic you think is most appropriate to your page and remember to press save!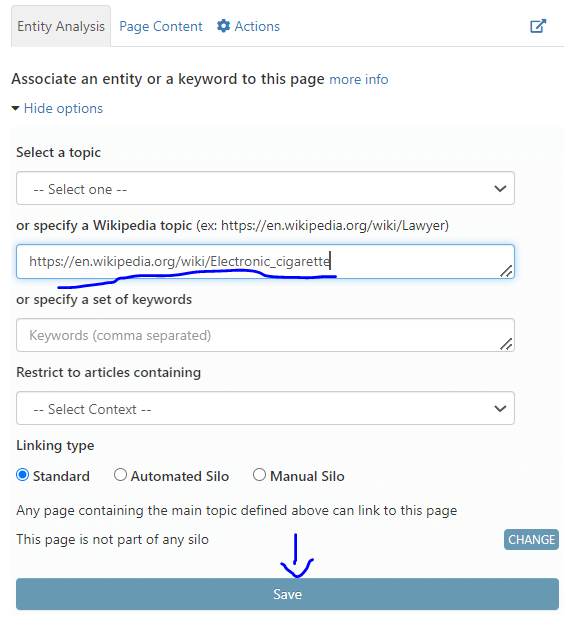 What are standard, automated, and manual silos?
Standard >> All your project pages will have internal links between each other
Automated SILO >> If you associate a page to a topic (say for example Tennis), ALL pages speaking about Tennis will place internal links to the parent page that was associated with 'Tennis'
Manual silo >> you tell the system manually which pages to keep in a silo and InLinks will not place links outside of this specified group.
Why is it not possible to select the same target topic for two different articles?
It's not possible to associate a topic with 2 different articles because on InLinks we aim to make only 1 single page which will be the pillar page about that topic.
The aim is to eliminate cannibalization, say for instance the client has 20 pages about 'iPhone'
Google needs to know which page to give priority to when trying to rank a page, it'll get confused if there are too many pages about the same topic
By associating 1 pillar page on a website to a topic, that pillar page will get all the internal links and schema and will be given priority in the search results.
Why can't I see the Export button?
You must be level 4+ to export links and schema manually.
---
JAVASCRIPT FAQs
How do I install the javascript code on my site?
You can check our blog article about installing the JS code, it explains how to install our JS code via the Inlinks WP plugin, Google Tag Manager, and other tools.
How can I make changes live on my website?
That is an easy one. InLinks is so easy to use that you just simply need to add a single line of Javascript code into the footer of your site, and that will do the magic.
Can I add the internal links and the schema markup and then remove the code from my site while keeping the links?
If you take the JS code from the site, the links and schema will disappear. If you are concerned about security matters, please refer to the following article about InLinks JS code: https://inlinks.com/help/js-code-faqs/#security
Can I use InLinks for multiple sites?
It's possible to create multiple projects for several websites, each project has a unique Javascript code that needs to be installed in the footer of the website. Just head to your dashboard to find where you can start new projects.
Can InLinks see draft WordPress pages?
No. InLinks pulls in pages from their URLs. It will not be able to see content from unpublished pages.
What to do when I have installed my Javascript but it is not showing that it's installed?
First, make sure you've implemented the snippet correctly. You can see a walkthrough on how to do this here: https://www.youtube.com/watch?v=HSM4DnJ29Rg
If this has not worked, make sure you haven't pasted the code via WordPress rocket as this does not work on InLinks. Here is a link to a way to fix this type of implementation: https://inlinks.com/help/js-code-faqs/#wprocket
Finally, get in touch with us via chat and we will look into the specifics of what might be going wrong.
---
SCHEMA FAQs
I already have schema on my page, will InLinks ruin/overwrite this?
No. InLinks can only enhance existing schema and will not negatively affect anything
If I edit schema and internal links, do I have to do anything for them to roll out live to the site or does it happen automatically?
As long as you have the JS code live, any changes will be implemented live on your site immediately. If this is not happening, get in touch with one of our team members.
Is it possible to customize the first part of the schema?
No, it's not possible to change the type of the schema (the first part of the schema). It is possible to edit the topics within a schema by going to Schema > Edit Schema
---
ADDING PAGES FAQs
Can I manually add pages that might not have been pulled up?
Yes, you can use the 'Add Pages' button to manually add pages into an InLinks project.
Is there a way that I could manually enter pages that I want to use for comparison?
Yes, when you create your project, in the upper section you will see the "Add pages" button. Please click here and add and paste the URLs you need. You do not have to add your own URL, which may be useful if you would like to bring in a competitor page for content audits etc. Note that, if you bring in a competitor's URL you will, obviously, not be changing anything live on their site as changes only happen after you have added the JS snippet to the footer of your website.
How to add/remove pages manually?
Click on a page title to open the side window > Actions > Remove page
---
PAGE AUDITS AND CONTENT BRIEF FAQs
What is the difference between content briefs and content audits?
Content briefs are used to build optimized content around entities for a new keyword (new article), whereas audits are used to improve the entity optimization of an already existing page.
The SEO score in the audit tool is 100%, will that guarantee I'll be at the top of Google?
Reaching a score of 100% is not a guarantee of reaching the number 1 spot in Google results. That said, it can help rank a page on the first page and even in the first 5 spots if the target keyword is not too competitive.
Here are a few tips and pieces of advice for using all of InLinks' features effectively to rank:
If an article shows a 100% score, focus on targetting it with topics and creating internal links. This plus the schema markup is an effective strategy to rank.
An article can be not in the top 10 for a given keyword but could be in the top 10 for a different keyword. Check for this using other tools such as Semrus or Ahrefs.
There are many factors that come into play, depending on how competitive the keyword is
I would advise not to focus on only 1 article but on how the whole website is evolving in terms of search traffic. Having one good article is not going to equal topical authority so continue to audit all of the pages you have on your site.
In SEO things change pretty slowly, usually, we have to wait sometime in order to see improvements.
What's the difference between pages and page audits – also how the credits are used?
A page is 1 URL, and will cost you one credit. A page report/audit gives you a gap analysis of the entities on your page compared to the top ten keyword competitors in the SERPs. This will cost you 5 credits.
Here is a graph delineating the pricing structure: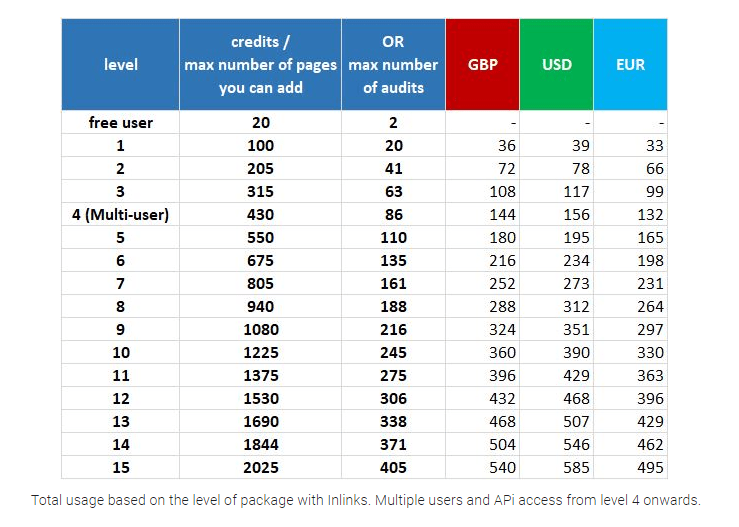 Do you have proof that you have helped other websites to rank better?
Yes, please visit our website and look for our case studies to learn how InLinks have helped other SEOs to position their keywords. https://inlinks.com/category/case-studies/
What does "Topics marked in green are Google DETECTED topics/entities" mean?
We run Google's NLP alongside our own when doing any analysis. The ones in Green are the entities that Google returns which is often very little compared to ours. Please take a look at our industry reports to see just how superior InLinks' entity extracting really is for each sector.
What is the difference between associated and targeted?
Nothing, the button should always say targeted. Bring it up to our Support if it says 'associated'
How do I create a topic chart?
Create a new content brief
Set the target keyword and target market
Pull out the tab at the bottom: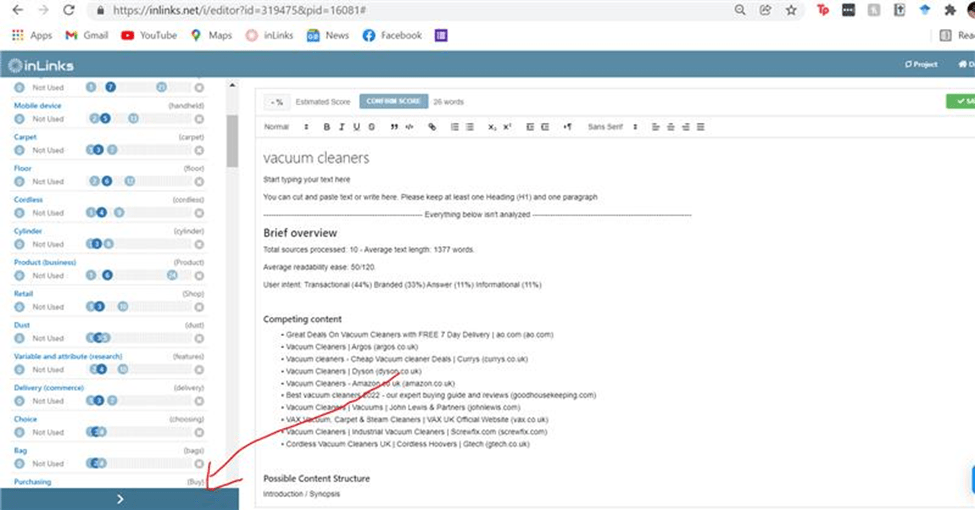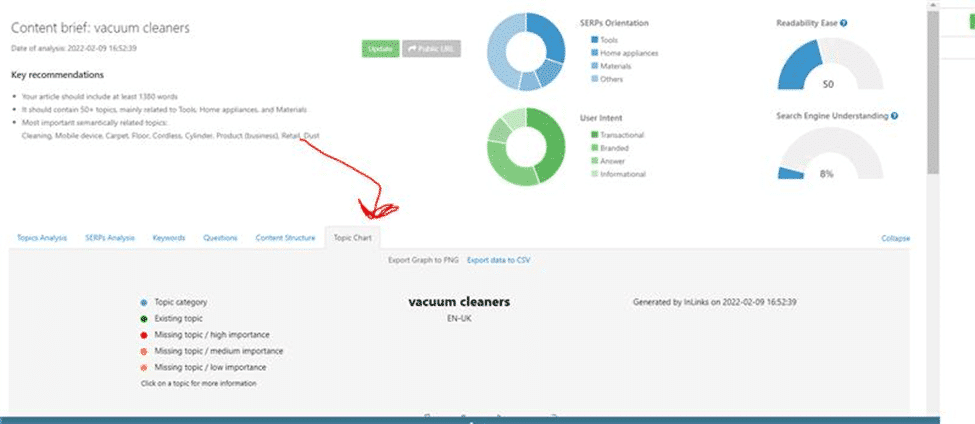 What's the difference between the Estimated score and the Confirmed score in the editor?
The estimated score only tries to pick up the entities mentioned in the editor, but the "confirmed" score runs a full, context-based analysis of your content. This takes time and costs one credit. So, better to do it once you have your copy done for a final check.
Where does the keyword research data come from?
The data you see here: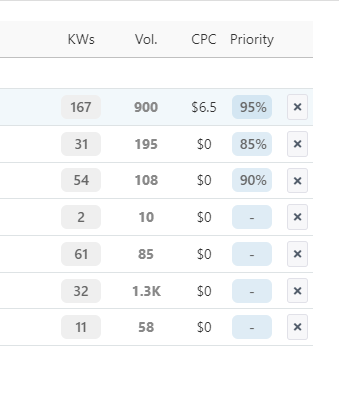 Can be explained by as;
KW: number of keywords and questions retrieved by the tool
Vol: average (minimum) value for the whole cluster (computed from a plurality of keywords volumes pertaining to the cluster, these volumes being provided by a well-known third-party SEO tool)
CPC: same as Vol
Relevancy: computed taking into account the NLP analysis of competitor's pages
All of the keywords themselves however have been taken directly from google suggest after entering bespoke topic clusters and harvesting the most relevant results.
My keyword research won't load
Keyword research should always finish loading in under 15 minutes. If this is not happening, it could be due to the nature of your search.
Anything sexually explicit or with violent/rude words in the title will not produce a result in our keyword research tool. This is because we take all our data from Google Suggest and there are stringent restrictions on words of that nature.
They never return results, so we suggest you make use of our topic gaps when writing content like this and avoid relying on our keyword research tool.