Internal linking: 5 effective strategies to boost your SEO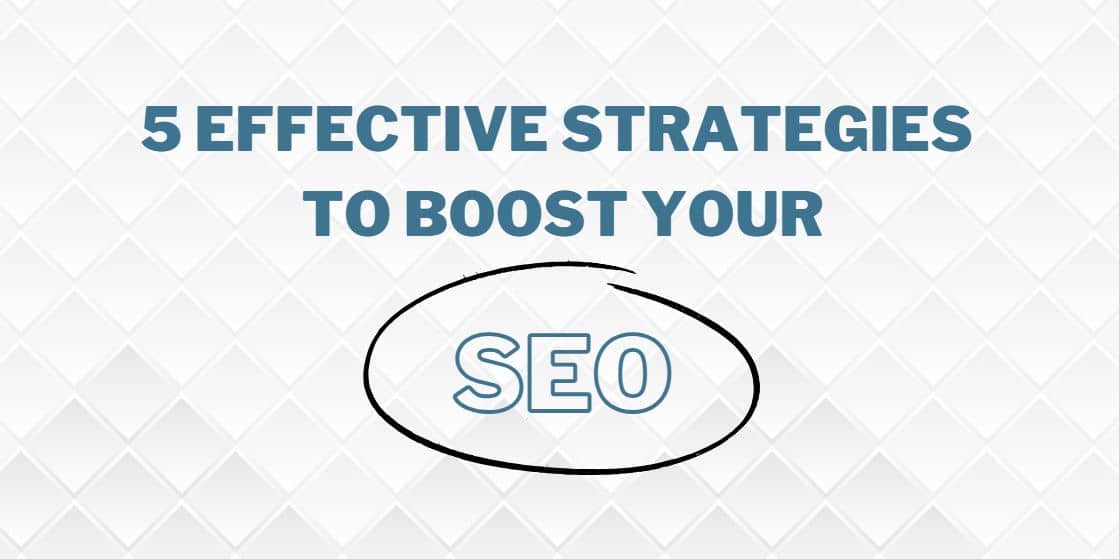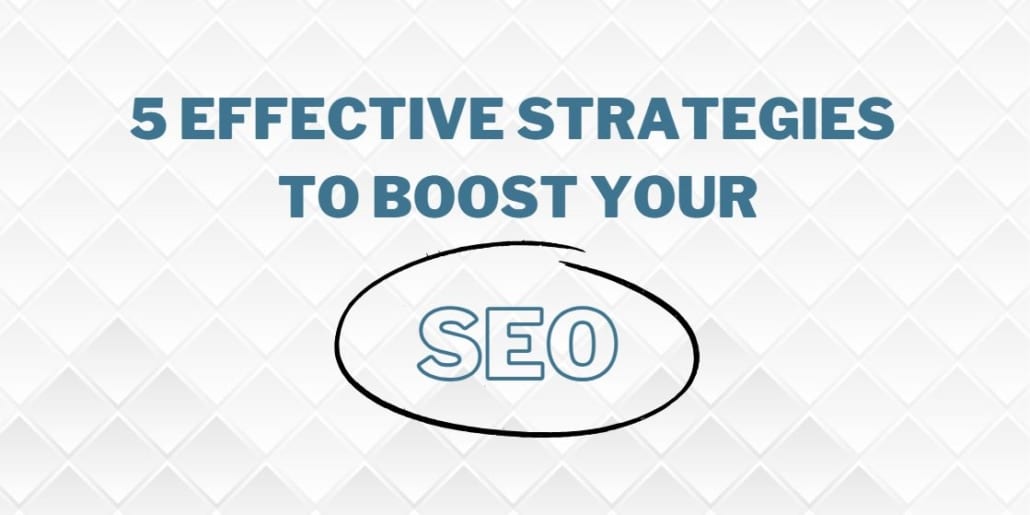 Besides helping users navigate and understand your website, internal link strategies play a huge role in ranking. When used correctly, they demonstrate your website's authority on the SERPs, pass the right ranking signals to the search engine algorithm and amplify your SEO efforts.
Even though SEOs and content marketers understand these benefits, most of us still do not build internal links right.
Randomly adding a link to older articles from every new post you create is not enough. To get internal linking right and reap its benefits, you must approach it strategically like you would every other content marketing or SEO initiative.
So, apart from using dofollow attributes, here are five strategies SEO leads and content marketers use to build internal links and boost their SEO performance.
1. Build internal links with content hubs
(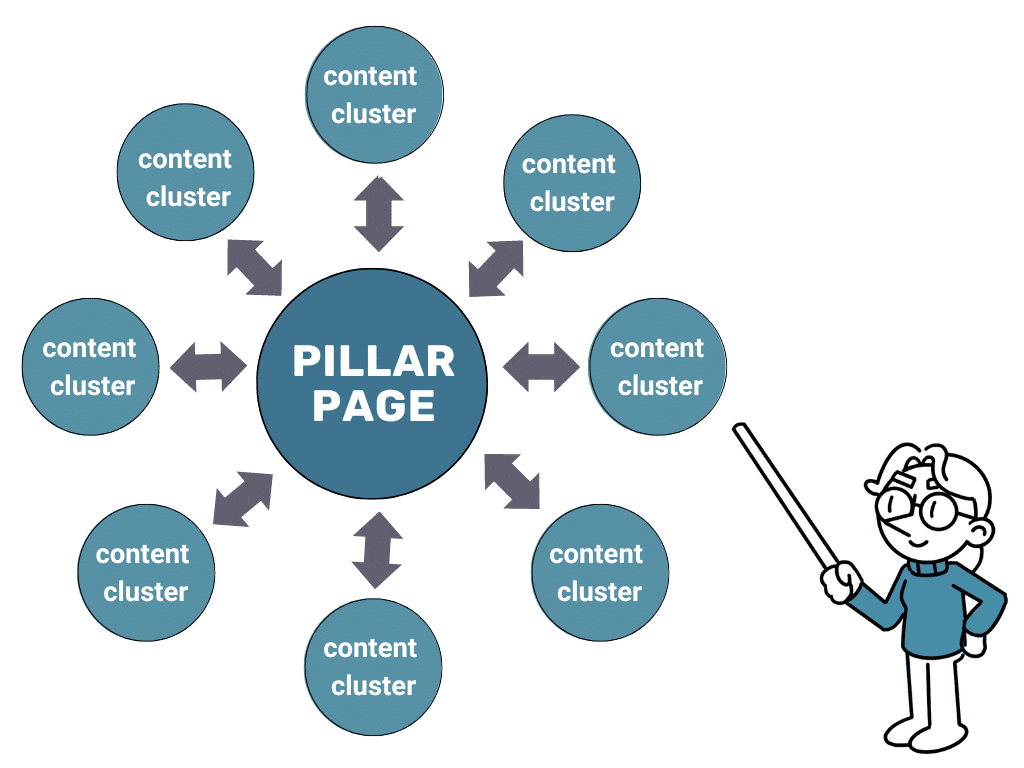 Content hubs, otherwise called the pillar-cluster model, consist of a pillar page and multiple related topic clusters with internal links connecting them.
If you're relying on content marketing to power your SEO efforts, content hubs will help you create a well-structured internal linking system that will:
– increase your authority on selected topics
– increase your organic ranking and overall web traffic
– improve the discoverability of your content by search engines
– boosts user engagement and increase the likelihood of conversions
– enable search engines to understand the relevance and depth of your content.
The pillar page is an authoritative page with a high-level overview of the subject you want to build authority on. It'll introduce several related subtopics, all of which will form your topic clusters. When you develop these subtopics (topic clusters) into detailed blog posts, they'll link to the pillar page, which will link back to them from appropriate subheadings.
For instance, here on inLinks, a content hub on the subject of internal linking looks like this:
Pillar page:
Topic clusters:
This web of internal links between pillar page and topic clusters demonstrate the relationship between your pages and reinforces your expertise on the subject. As multiple cluster pages point links to your pillar page, it strengthens the internal link profile of that page, increases its topical authority and boosts its ranking on the SERPs. The internal link structure you build from the pillar page to cluster pages helps to distribute link equity and authority to all related pages, making it easier for your pages to perform better on the SERPs.
And if you build your content hubs properly, you'll naturally find internal linking opportunities as you create content. Steven Macdonald, Head of Content at Inevo, shares his thoughts –
"Every piece of content I create links to my 5 most important pillar pages. The content I create is always on topic, making it easy to include internal links. If I find that there are no internal linking opportunities in a new article, it means I'm focusing on the wrong topic. With this pillar-cluster model, I've been able to rank 4 of my 5 pillar pages on page 1 for terms like "CRM", "Customer Experience", "Customer service", and "B2B sales".
2. Build internal links from pages with strong backlink profiles
The more backlinks a page has, the more authoritative it appears to search engines and the higher it'll rank. Using internal links, you can pass some authority and pagerank from high-profile backlink pages to other pages on your website. This strategy, however, depends on relevance. The source and destination pages must be relevant to each other so that:
the internal links seem natural,
provide a good user experience to readers and,
do not confuse the search engines.
Using Google Search Console, look into the external links section of your site to see pages with a high volume of backlinks.
If you're keen to use a third-party tool, use Majestic. Under "site explorer" go to "pages" to find website pages with the most external links. These pages will serve as link hubs. If they're editorial content pages, then you want to find other related content pages that discuss the topic in those link hubs.
You can use the advanced search operator – [keyword] site:yourdomainname to find these related pages on your website quickly and then link them back to the link hubs. As you do this, Sara Bodner, digital content manager at Conklin Media, says –
"keep your site's visitors and their user journey in mind. Think, if someone is on this page (high profile backlink page), what page would make sense for them to visit next? Is the page I'm linking to a natural step in the user journey? Does it offer additional value, or am I diverting them from where they should be?"
If you use the topic-cluster model we discussed in the first point, this internal link structure comes even more naturally, as pillar pages usually have the most backlinks. This approach improves the overall ranking of your topic pages and helps to build topical authority.
3. Update internal links on old content pages and fix broken links
As your content library grows, it's easy to forget old content published years ago. And often, these old pages have acquired high volume legitimate backlinks that can boost new content pieces.
Using advanced search operators again, dig up old pieces of content and check their internal links to ensure the links coming in and going out from them are still relevant. If they're not, update them with links to fresh content.
If you remove a content page that was previously interlinked, the URL will return a 404 error page when users and search engines try to access it. Broken internal links dilute your PageRank and waste your site's crawl budget. They also increase bounce rates and disrupt the user experience.
Still using Google search console, you can monitor and fix broken internal links by replacing them with fresh, relevant links.
In GSC, go to indexing > pages > then scroll to not found (404) to find pages with broken links.
If the broken links point to highly authoritative pages and are relevant to your topic, updating them with new internal links can pass ranking potential to your new pages.
As you update the internal links, use the correct anchor text. Also, diversify them so they look natural and give users and search engines a clear understanding of your pages.
💡→ Pro Tip: If you use inLinks to build internal links, the tool will automatically vary the anchor texts of every link, so you do not have to do it manually.
4. Point internal links to your high-value pages
Every page on your website has its place and purpose. Some rank highly, while others support and buttress high-ranking pages. Your high-value pages are those that drive the most traffic or conversion for your website. Therefore, pointing many internal links to them tells search engine bots that they are the most important pages to your website and should rank higher.
For example, on an e-commerce site, a product category page may be the highest value page to rank since it has commercial intent. Craig Martin, SEO lead at Authentic Digital, says –
"For a product category like "gifts", I may see an opportunity to write gift guides. Each gift guide will be linked to from other articles; but most importantly, the guides will link to the key product category pages. In this way, the product category page gets a boost and reinforces commercial intent. But every other page also benefits.
By pointing several internal links to high-value pages, Craig explains that his agency has recently helped a small retailer outrank a national competition on major keywords while improving month-on-month sales.
Charlie Southwell, Marketing Director at Let's Talk Talent, tells me his agency builds external links to resources and other related pages. Then, they strategically build only internal links to their high-value money pages from the pages having external links. This way, they can distribute link value to the money pages while protecting them from any risks that may arise from linking out.
5. Use internal links to set up your site's architecture for success
How many clicks do visitors take from your home page to the most important content pages? If they take several clicks, it indicates that those pages are not really important.
In 2018, John Muller confirmed in a Google Webmaster Central Hangout that pages closer to your homepage are considered more relevant and will be given more weight in the SERPs.
With internal links, you can display your most important content pages on your home or blog page, making them easy to access with fewer clicks. Think — sidebars with related article sections or recommended readings on your home page. Also, your main navigation menu or footer can work here.
As Bill Gaule, the SEO strategist at Content Growth, explained –
"Many websites have their best pages buried in the site architecture with pagination. And as more content gets added over time, link equity dilutes, and older blog posts sink deeper into the site and away from the homepage, thus increasing their click depth and reducing their ranking. However, displaying important pages can reduce page depth and the risk of them becoming 4,5,6 clicks away from your home page."
According to Bill, his clients see excellent SEO results using this strategy. He says –
"For one client, the impact was immediate after increasing the number of blogs on the blog page. Impressions went up first, clicks followed, and so did average position. Over the following 30 days, there were an extra 7000 clicks to the blog pages alone. For other clients, when we move a page to the homepage footer, the ranking always jumps. For 1 particular client, a blog post jumped to position three from page 3 immediately. That blog post was responsible for many leads and ultimately business in the door."
A big caveat with this strategy is: Do NOT overdo it. The emphasis is on displaying your most important content pages because problems with UX can arise when your content library grows.
Bill recommends prioritising bottom-of-the-funnel content (high-value posts) on your blog page as your library increases, and you begin to use pagination.
Databox is an excellent example of a website implementing this strategy with its footer.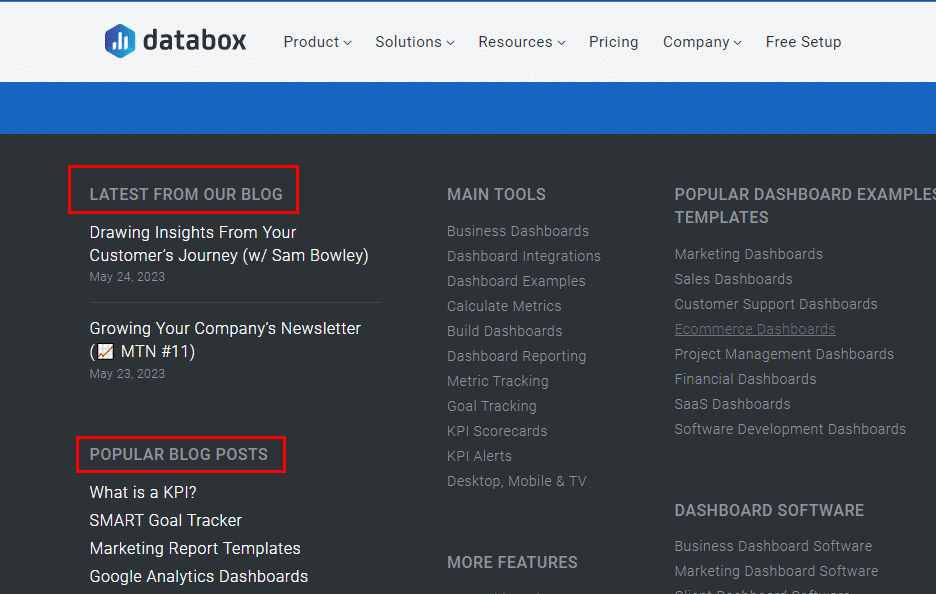 Internal linking doesn't have to be complex
The ultimate purpose of building internal links is to help visitors and search engines better understand your content from the moment they land on your website.
Once that happens, you'll notice positive impacts on organic search visibility, click-through rates and conversion.
However, all that depends on getting your internal links structure correct. And that is where inLinks can help you. inLinks automates the internal linking process so you can easily create an optimal internal links structure and boost your SEO.
In the words of Craig Martin:
"Whenever I take on a new site with weak internal linking, inLinks allows me to build quickly and at scale. This almost always brings a boost in visibility – which is an early, visible win for the client while all that vital initial research gets done."
If you're ready to use inLinks for internal link building, signup today and build links to your first 20 pages for free.
Related reading:
How to do an internal links audit
https://inlinks.com/wp-content/uploads/2023/05/boostyourseo.jpg
559
1119
Dixon
https://inlinks.com/wp-content/uploads/2022/10/White-png-300x60-1.png
Dixon
2023-05-30 14:00:00
2023-07-19 05:14:09
Internal linking: 5 effective strategies to boost your SEO