Internal links vs Backlinks: which is more important for SEO?

"Backlinks are the secret sauce behind SEO"
"Backlinks are the backbone of a strong SEO strategy"
Statements like the above are common within the SEO community. While SEOs continue to tout their importance above all else, Google officials don't exactly agree. They insist other factors like content and internal links are more crucial for ranking. This makes backlinks one of the most controversial Google ranking factors.
You see, for the longest time, SEOs have invested in backlink building while ignoring internal links—the links that hold content pages on the web together.
As Dixon Jones, SEO veteran and founder of inlinks.com, stated in a chat with Lauren Bourrelly:
"…the conspiracy is that backlinks are more important than internal links".
Here's the thing: links are essential for search engine optimization. However, sidelining a specific type of link (in this case, internal links) and relying heavily on another type (backlinks) is not advisable.
Wondering why? Let's find out below.
The problem with backlink building
First, backlinking is not a walk in the park. It requires a full and long-term commitment, especially if your website is not yet known in your industry.
Let's say you're looking to build a bunch of backlinks for a new site. One effective way to build your backlink profile is through cold outreach and guest blogging on other high-authority domains. Imagine the hours it would take you to search the depths of the internet for relevant high-domain authority websites you can reach out to for guest blogging opportunities. With a low domain authority site, be prepared to receive several rejections.
If you manage to secure a few positives, calculate the hours spent creating new content assets, gathering thousands of leads, and doing outreach. It's a time-consuming and costly process that's largely unscalable.
Also, using link schemes like link buying, comments spamming, excessive link exchange, and building links from irrelevant websites may save you time and effort. However, they'll make your website look spammy, attract stiff penalties from Google, and reduce your ranking. In such cases, the risk always outweighs the reward.
On top of all these, you have little to no control over the backlinks coming into your website. So even when you actively participate in link building, you cannot control where the backlinks are placed or the type of content they appear in.
This is not to discredit backlinks—they're definitely important. For starters, they drive traffic to your website. They also act as a vote of confidence, telling Google that your site is authoritative and contains relevant, high-quality content in a particular niche.
However, that's only half the equation because once that traffic and authority come in, it has to be distributed using internal links.
The over-reliance on backlinks by SEOs makes no logical sense, considering how easy it is to manipulate them. Meanwhile, internal links have proven very powerful for SEO.
During a live podcast session at Brighton SEO, Google's representative John Mueller predicts that the weight of backlinks as a ranking factor will drop over time. While Google will continue to use backlinks for content discovery, it'll no longer be such a big factor for ranking as the search engine looks beyond links to understand how content fits in with the rest of the web.
In a recent Google Office Hours video, Duy Nguyen from the search quality team corroborates John's prediction by saying that backlinks as a ranking signal have less significance today compared to when Google first started out.
So, instead of focusing only on backlinks, it makes sense for SEOs to look beyond it and concentrate on other important things like creating helpful content and using internal links to interconnect them and make your pages topically relevant so it's easy for search engines to crawl your site and see how it fits within the context of the web.
Why are internal links so important for SEO?
Internal links help Google rank your pages
Internal links pass page rank through your website. They point Google toward your most important pages and help it figure out the pages to rank for particular topics.
A while back, in the help section of Google Search Console, Google stated that:
"The number of internal links pointing to a page is a signal to search engines about the relative importance of that page…."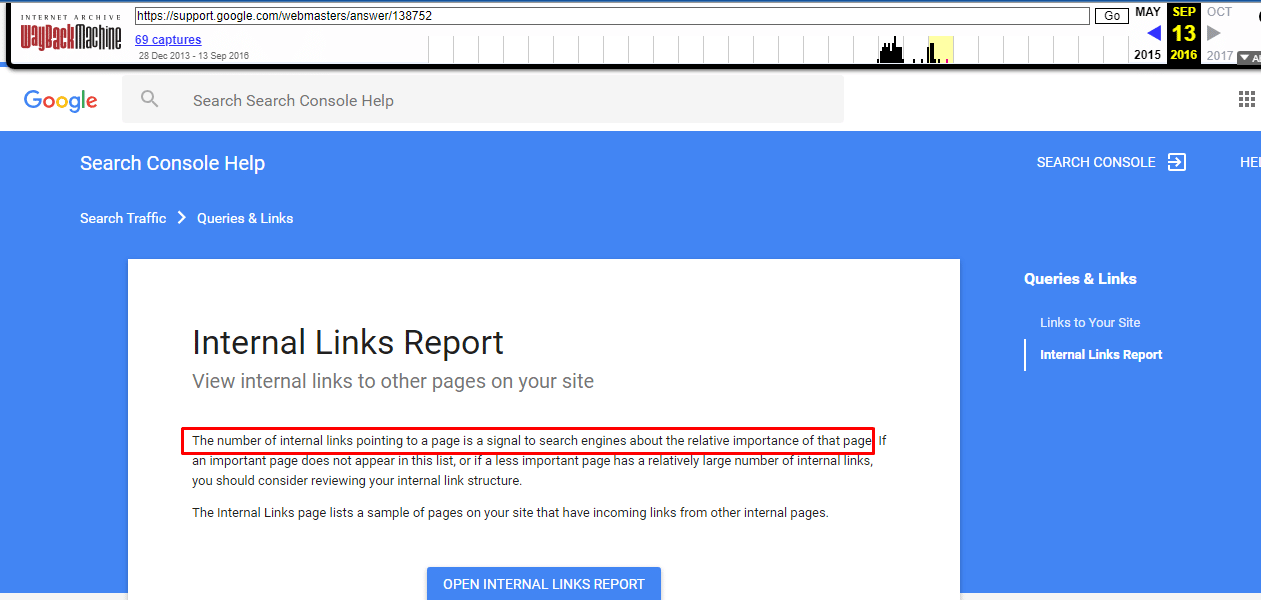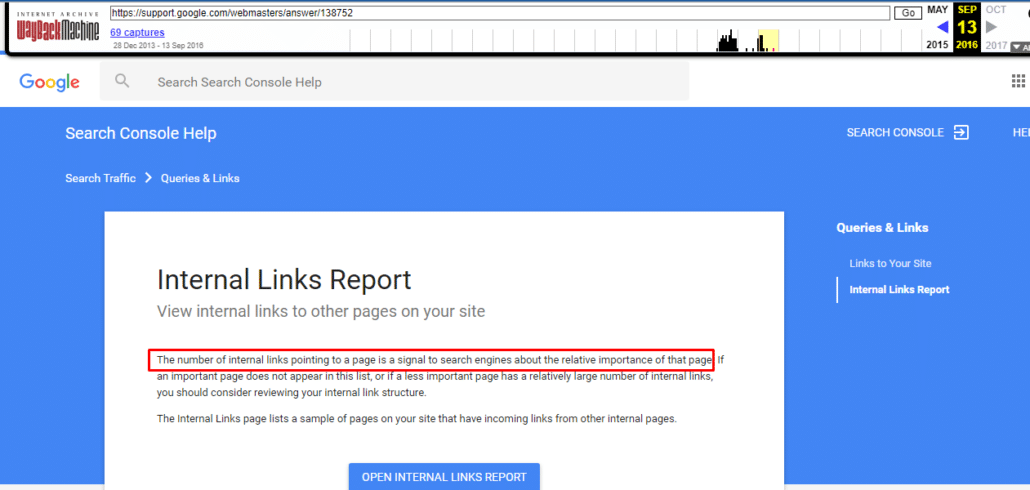 Even though they've since deleted this advice, we've seen several instances where implementing a smart internal linking strategy resulted in significant search ranking improvements.
For instance, Reboot Online, a London-based SEO company, used InLinks to implement a smart internal linking structure within their website. They also optimized their important landing pages and built internal links to them. And in three months, their homepage jumped to the top 5 in the SERPs for the keyword "SEO company." Their service page about digital PR also moved to the number 1 position for "digital pr agency" in the UK.
In conjunction with other SEO strategies like creating content and acquiring new backlinks, another digital marketing agency in Sweden used InLinks to deploy a smart internal linking system. In 4 months, they increased organic traffic from 10k to 20k while the organic traffic value increased from 2.6k to 3.8k.
These are just a few examples of the SEO results we've achieved using internal links. For more examples, please visit our case study page.
Internal links build your topical authority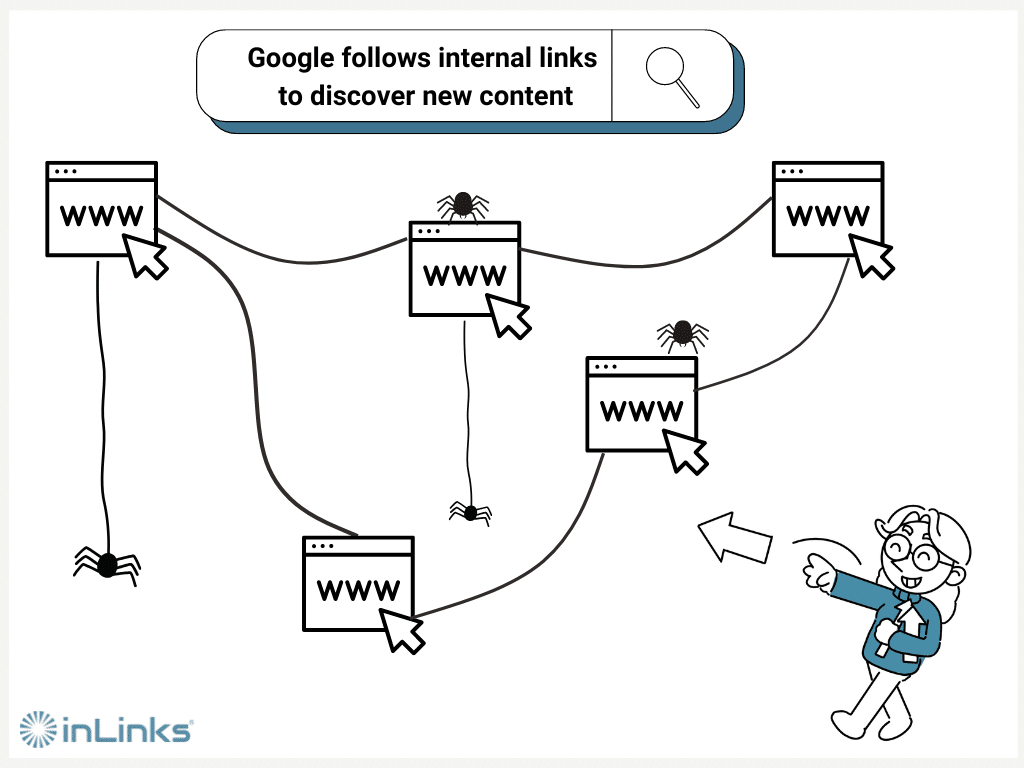 Becoming an authority on a topic makes you the go-to resource for every keyword related to that topic. Theoretically, this means you've built a massive content moat that covers a subject as a whole in a way that the search engine believes your site is better than similar sites.
When you create several pieces of content on a topic, on their own, they do not suggest to Google that your website is authoritative on that topic. But when you connect them using internal links and the right anchor texts, you build a hub that tells the search engine that you want to be known for such a topic.
By showing that these several pieces of content are related, your authority and trust increase in Google's eye. And since Google works with semantic associations, interlinking your pages help crawlers find your content quickly and, in turn, rank your site for more keywords associated with your topic. And this happens even for new websites with low domain ratings.
For instance, here's the SERP result for "social media content tools" in Semrush.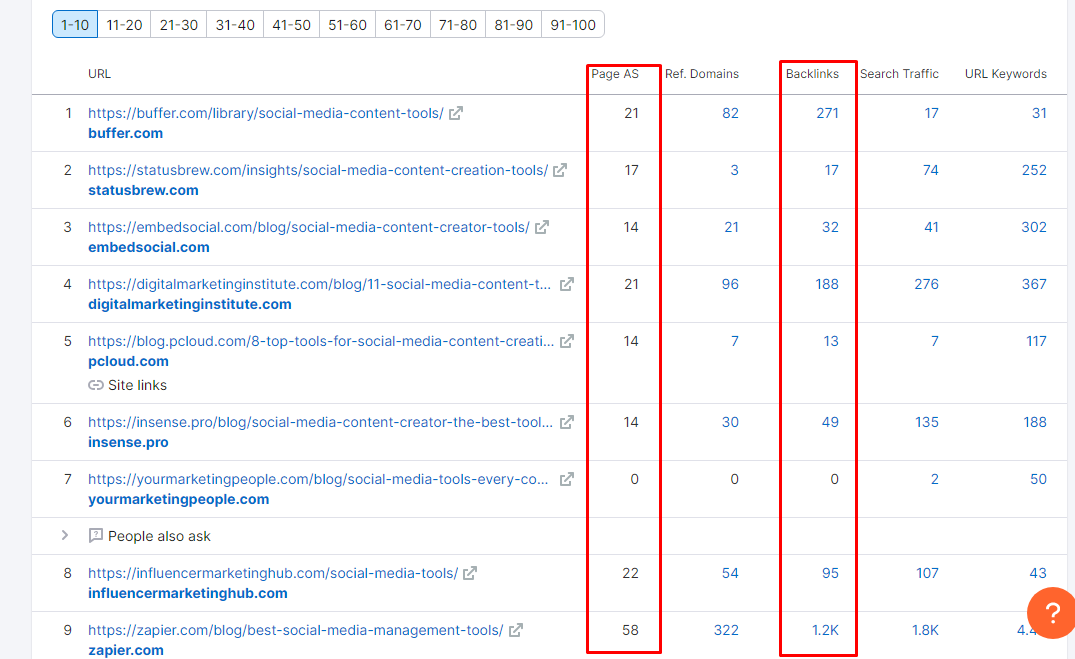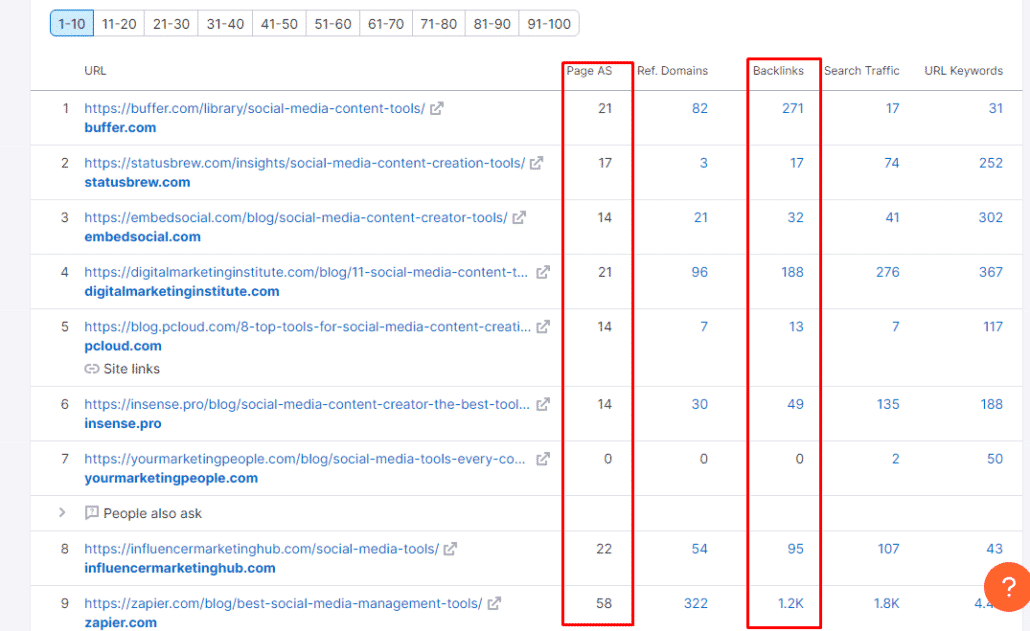 For this keyword, notice how sites with a lower Page Authority Score—17, 14, and even 0—rank higher above established sites like Zapier. The reason could be that even though Zapier is a highly authoritative website, it doesn't have topical authority for "social media content tools," while a newer website like embedsocial.com is all about social media.
Internal links help Google crawl and index your pages faster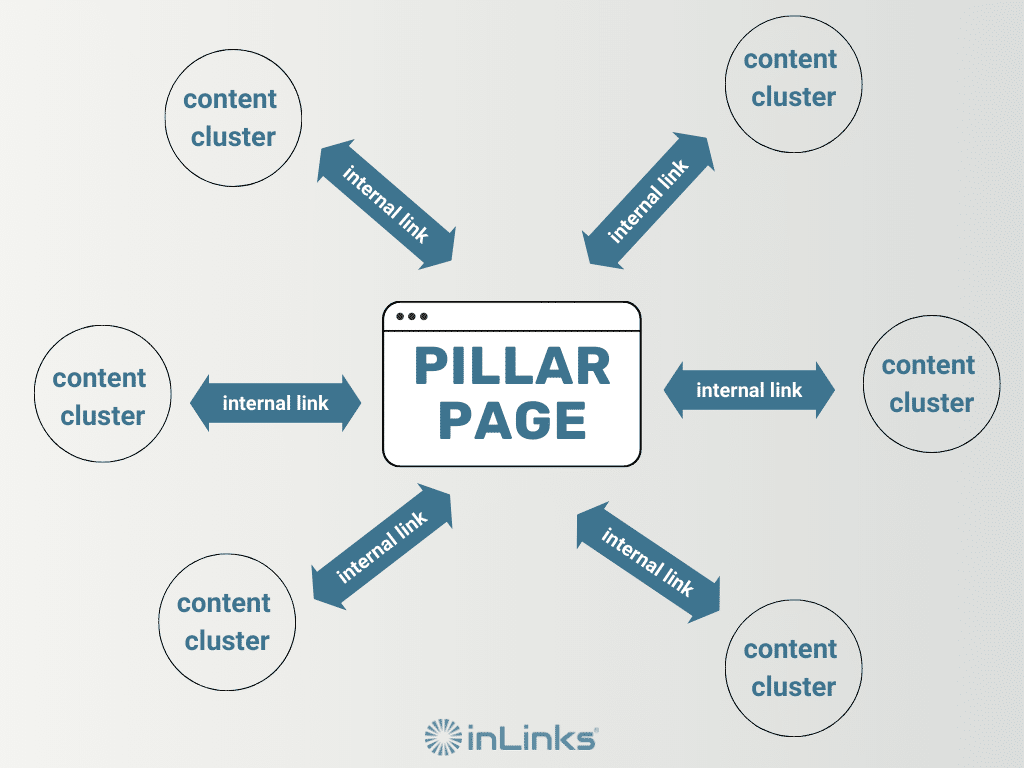 In their documentation on How Search Works, Google makes it clear that internal links help the crawlers discover your pages:
"…so Google must constantly look for new and updated pages and add them to its list of known pages. This process is called "URL discovery." Some pages are known because Google has already visited them. Other pages are discovered when Google follows a link from a known page to a new page: for example, a hub page, such as a category page, links to a new blog post…."
Maintaining a proper internal link structure will help the search engine discover and index new content quickly. And the more site pages you have in the Google index, the faster you can begin to rank for your important topics.
To learn more about internal linking, read our extensive internal linking guide and the benefits of internal linking for SEO.

To answer the initial question,
Are backlinks more important than internal links for SEO?
Short answer? No.
Both types of links are equally important. Some SEOs even argue that since link-building campaigns are frowned upon by Google (given how easy it is to manipulate backlinks), internal links are the most important ranking factor today.
And we see reasons in their argument.
For one, internal links force you to create the right kind of content on your website. Otherwise, you won't be able to interconnect your content and make it accessible to your audience and search engine crawlers. It also gives you more leverage and authority in search over other webmasters who only know how to build backlinks.
Secondly, building internal links gives you more control over the quality of links coming in and out of your web pages. You can determine your anchor text and ensure your links are placed within the right content and context. You can also remove, redirect and modify your internal links to maximise page rank as your website grows.
On top of all that, you do not have to wait a long time, send hundreds of cold emails and write tons of guest posts to deploy a link-building strategy that will improve your SEO.
Start investing in internal linking today
As you put resources into acquiring backlinks, make efforts to get your internal linking right. Both link-building strategies supplement each other and help you deploy SEO campaigns that drive results quickly.
And while internal linking can seem daunting, especially if you have hundreds of content pages (this is why most SEOs shy away from it) InLinks, an entity SEO tool, helps to streamline the process so you can build and manage internal links with ease. Read our review of how the InLinks internal linking tool works to see how we take the stress out of internal linking. 
Related reading:
Internal link-building mistakes + how to fix them
https://inlinks.com/wp-content/uploads/2023/06/backlinks-4.png
600
1200
Juliet John
https://inlinks.com/wp-content/uploads/2022/10/White-png-300x60-1.png
Juliet John
2023-06-26 14:00:00
2023-07-19 05:18:48
Internal links vs Backlinks: which is more important for SEO?