Our internal links plugin makes integrating Inlinks technology into your website a fast and easy process. This award-winning SEO tool crawls the pages indexed by Google and understands them in terms of topics and entities. This then allows you to audit and create content based on schemata surrounding each entity, established through our own knowledge graph. We will help you rank for the keywords you need by understanding them in terms of concepts, and navigating their true meaning instead of encouraging stuffing (or other outdated SEO techniques!). Simply put, we add a human touch to natural language processing and help you to curate trusted influential content which ranks in search engines for your business niche.
Moreover, the Inlinks plugin will automate internal linking with only 1 line of code. This is done by assigning each page to an entity, meaning that other pages which demonstrate anchor text that matches that entity will internally redirect to that authoritative page and create complex and accurate internal link building. This technique, used alongside automated schema markup and intelligent content audits, makes the Inlinks internal link plugin a unique and powerful addition to your website. We drive traffic to your site through strategic and high-quality information, based on tangible search engine results.
Get your first 20 pages absolutely free to see for yourself the impact Inlinks can make. Our pricing plans start at just £30 a month!

Why use our internal links plugin?
There are a few reasons why you might choose to add this trusted plugin alongside your Inlinks account. Firstly, it is a simple way to implement the changes you make within your Ininks project into your website. All you need to do is locate your project ID, found in the URL or at the bottom of your account, and our plugin will do the rest. Here is a visual example of how to do this correctly:
How to find your project ID and where to add it: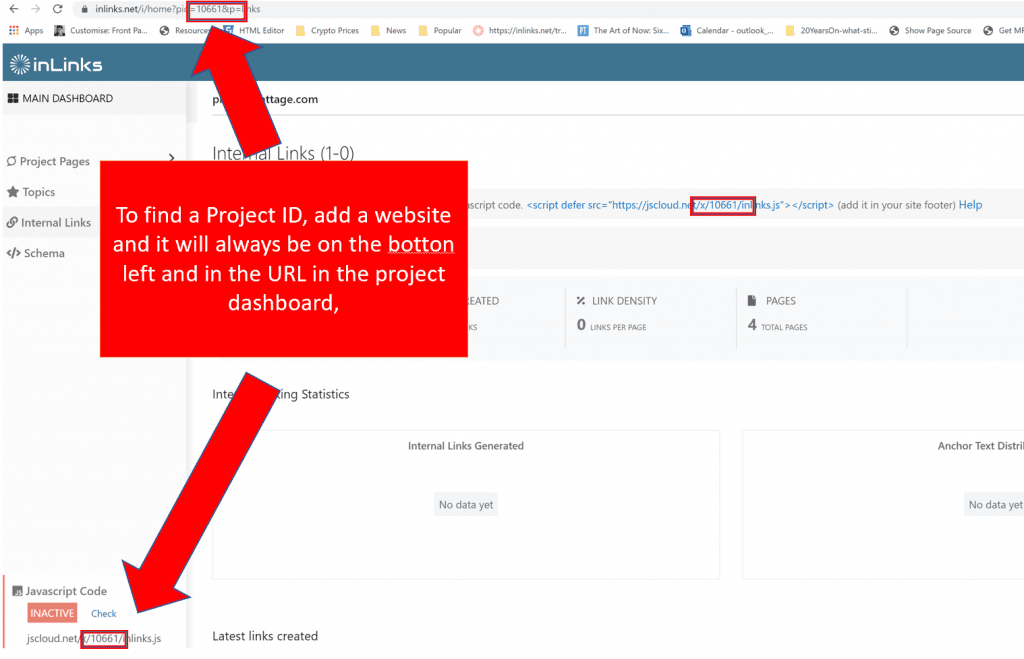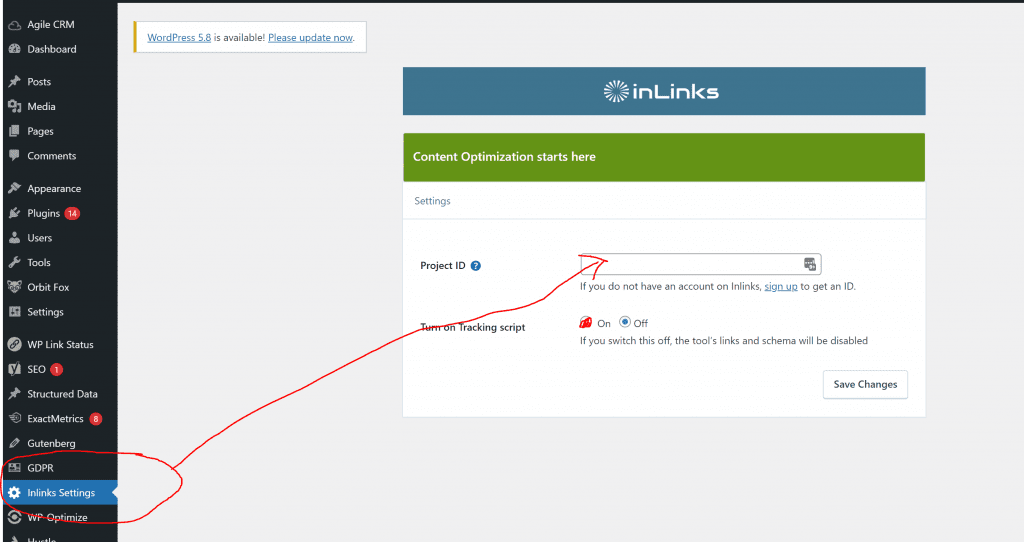 The next reason to use our plugin is that it offers the option to render the schema and internal links built by Inlinks serverside via PHP instead of using the .js browser-side default.
Finally, it should be noted that this plugin will act as a platform for further data developments. By implementing this internal links plugin you will be able to access more and more Inlinks features from within your WordPress site. Our aim is to make Inlinks as accessible as possible, and this plugin is only the beginning of this journey!
If you are finding Inlinks slightly more complicated than you had anticipated, fear not! In conjunction with this plugin, we also offer free demos, close to 24/7 human support via our chat function and a plethora of youtube tutorials on all of our features!
How can inlinks help your SEO strategy?
Inlinks uses web crawlers to find the pages of your project which are indexed on google. After crawling, it will be able to take into account your content and compare it to the top-ranking content for your desired index term. For example, If you wanted to rank for 'dog grooming' in the UK, Inlinks would crawl the top 10 ranking pages (on Google's UK index) and show you the topics and entities you are missing in order for google to accept your NLP strategy. not only this, but it will recognize an optimal structure for you to follow when writing your content and create a succinct plan to improve your SEO score from the moment you start curating content!
Organize your internal links, schema, backlinks, and more with Inlinks, and be part of the community which is working to help develop the complexity of our simple plug-in!
Video tutorial
Check out the following video for more info on how to use the Inlinks for WP plugin
For More Help
Please use the blue Chat icon on the bottom right of this page.
Language
Register for Free
Sign up for a free account on InLinks and start optimizing your content the right way!
Categories
Give us a call or drop us a message using the blue chat icon