Getting your content in front of your target audience has never been more challenging. As search engine optimization continues to get competitive, content marketers depend on several SEO tools to create and optimize content for better results on the search engine results pages (SERPs).
Two such tools are Frase.io and InLinks. Both Frase and InLinks are all-in-one SEO content tools. They help with content research, creation, and optimization. However, the two platforms function quite differently and offer extra features to further enhance your content's performance. So, here's an in-depth Frase review compared to InLinks. To write this review, we signed up with Frase and tested it's features. This is how Frase compares to InLinks, features, pricing, and all.
What is Frase.io?
Frase.io is an SEO content tool that uses artificial intelligence to optimize the content creation process. It gives marketers and writers an all-inclusive platform for research, content writing, and optimization. With it, users can generate content briefs, write a complete draft with AI, and optimize their content for ranking. It also serves as an answer engine platform that scrapes different sources to extract questions people are asking about your keyword so you can answer them in your content.
Frase.io is based in Boston, MA, and was co-founded by Tomas Ratia and Frankie Liuzzi.
What is InLinks?
InLinks is the first full suite of entity-based Semantic SEO tools on the market. It was founded by Fred Laurent and Dixon Jones, who used their SEO expertise to develop a proprietary semantic analyzer and knowledge graph.
The platform includes a comprehensive content optimization module, an internal linking tool, a schema markup tool, and a social media manager. The content module simplifies content research and optimization by retrieving all entities within a piece of content and determining how to improve its search ranking. This content can include blog posts, articles, and web pages of any other kind. InLinks delivers recommendations for on-page optimizations and automatically generates and applies internal links and schema markup.
InLinks focuses on semantic search optimization and the entity that a keyword represents. In this way, the tool goes beyond keyword optimization to capture the intent and context of each page and make recommendations based on that understanding. This approach is particularly important since Google has shifted from keywords to entities using Natural Language Processing (NLP).
How Does Frase.io Work?
Frase works as a content optimization software that compares any search term or keyword to content already available online using its proprietary AI algorithms. It takes the keyword you want to rank for and Googles it. Then, it collects the first 20 results for your keyword, analyzes, summarizes, and compiles them into detailed research you can then use to create and optimize content.
To use the tool, you first need to sign up at www.frase.io. Once you sign up, verify your email, and go into your dashboard, you'll be prompted to provide information about your company and how you'll use Frase. Once you do, you can move on to creating your first Frase document—where you'll be using the software.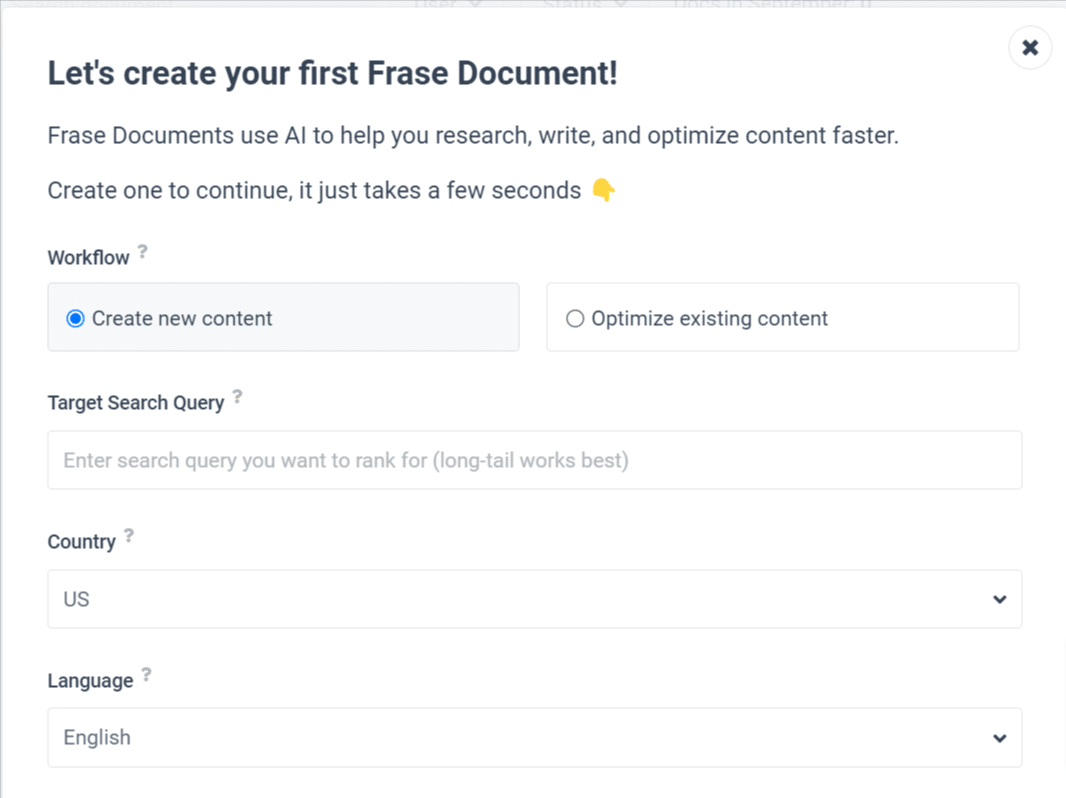 You can either create a document for new content or optimize existing content. From here, you'll be able to create briefs and content outlines, see recommendations for optimizing your article, and write with the AI tool. We'll get into the details about how these features work in a bit.
How does InLinks work?
As an entity-based SEO tool, InLinks optimizes with topic and content recommendations, smart internal linking, and schema markup.
The platform's semantic analyzer mirrors Google's Knowledge Graph and considers the entity a keyword represents to inform more in-depth and complete optimization recommendations. Its recommendations are based on the software's understanding of relevant topics, the top 10 results on Google SERPs, Google Suggest data, and more.
To use the content optimization tool, create a free account here, then go into your dashboard.

On InLinks, content optimization happens inside a content brief, so choose the Content Briefs option to your right and then click the green Create a Brief button.

From here, you'll be able to
research,
create comprehensive content briefs,
write well-informed content yourself or with AI and
optimize existing content for higher ranking.
Frase.io vs. InLinks core content optimization features
As mentioned earlier, Frase and InLinks provide tools to help you optimize existing content or create new, well-optimized content from scratch. Let's now compare their content optimization features in more detail.
Content Editor
The content editor is where all the content optimization happens, and both tools provide a powerful content editor with SEO recommendations for improving your content.
To access Frase's content editor, choose between Create new content or Optimize existing content from the document creation screen.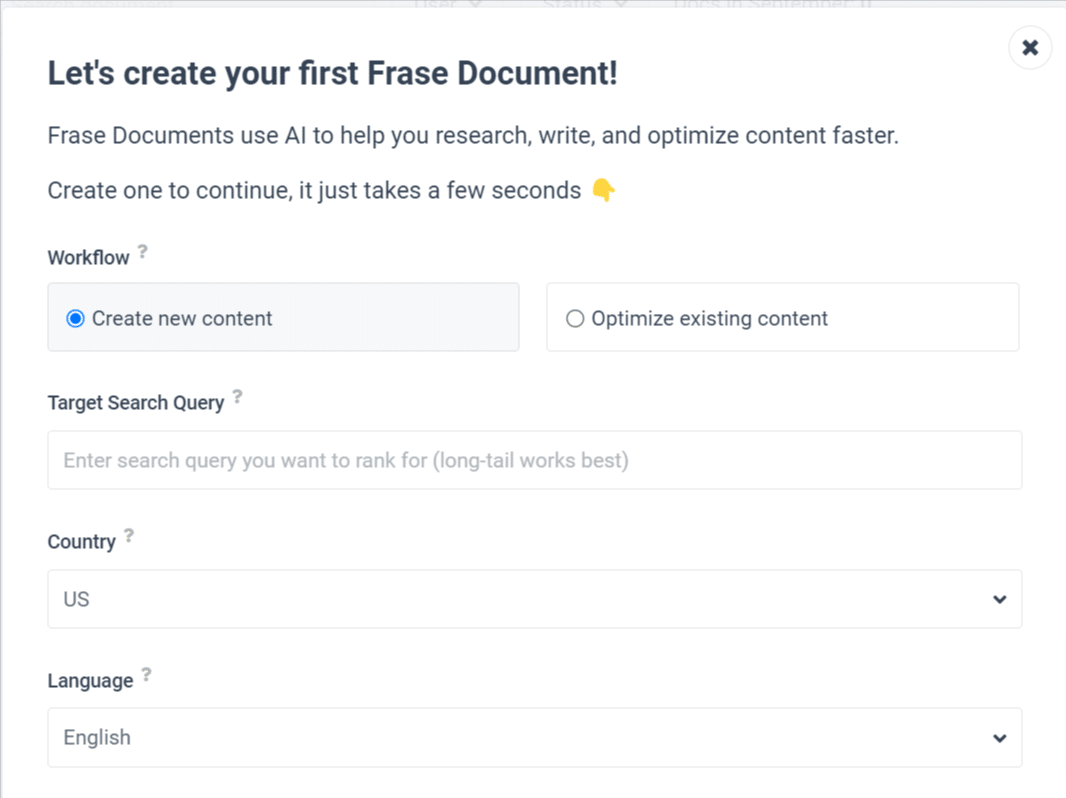 If you optimize existing content, you'll need to provide its URL, the keyword you want it to rank for, country, and language. Once you create the document, Frase will import your content into its editor, process the top 20 Google results for the query, and provide a gallery of options for next steps. Select Optimize on your screen, and the tool will grade the quality of your content against the competition. It'll show you a content score, keywords you should include to optimize your content, and the number of times to include them. It'll also take into account the keywords you've used and how much you've used them compared to the competition.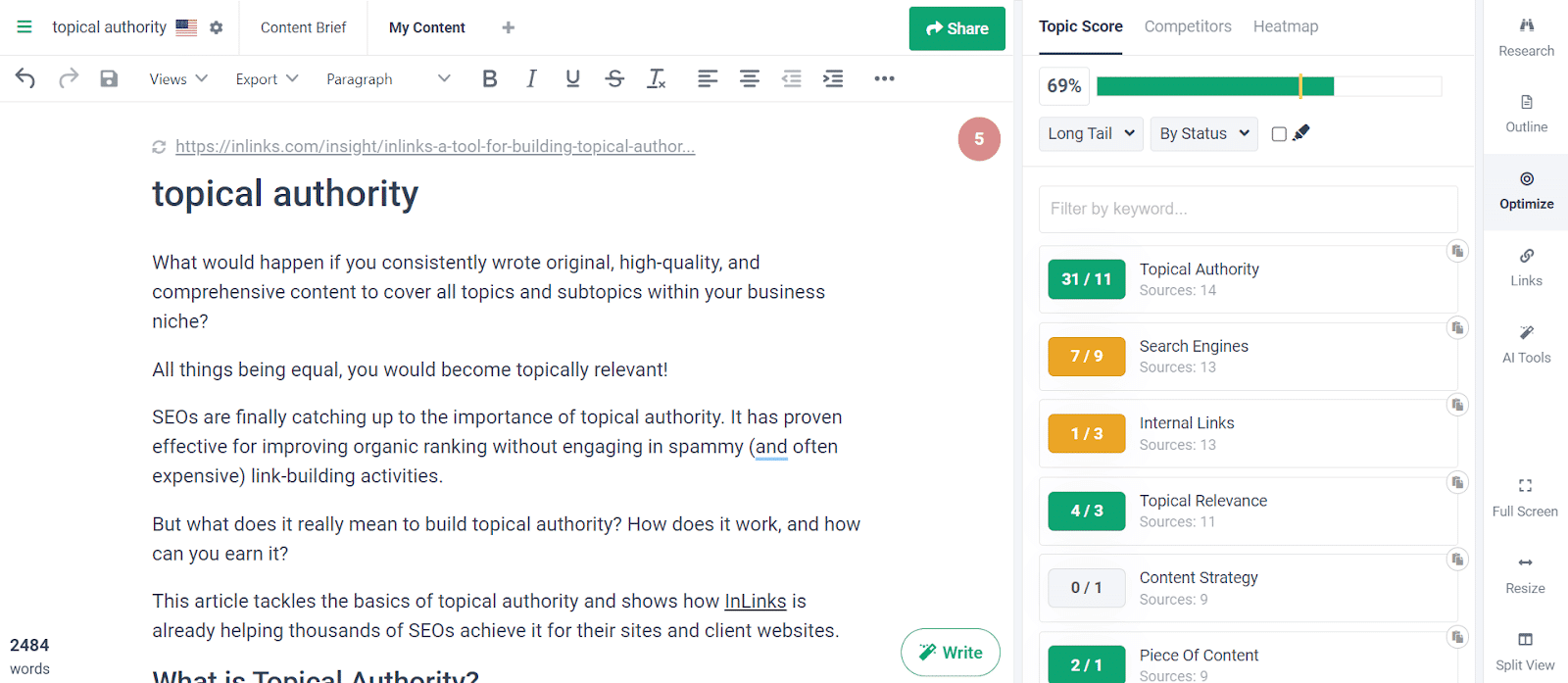 Adding keywords from the recommended list will improve your content score in real-time. You can bulk up your content with sections from competitor content or rewrite paragraphs with the AI writer (more on this later). The tool also identifies questions you can add to your content from sites like Quora, Reddit, and People Also Ask.
It's important to note that Frase optimizes for keywords instead of entities. This means it doesn't take into account context, synonyms, or semantics. Instead, it recommends keyword variations with the same meanings. For example, in the article we've brought into Frase for optimization, the tool suggests we include both "user intent" and "search intent," which means the same thing in the context of SEO. They are synonyms and can be used in place of another.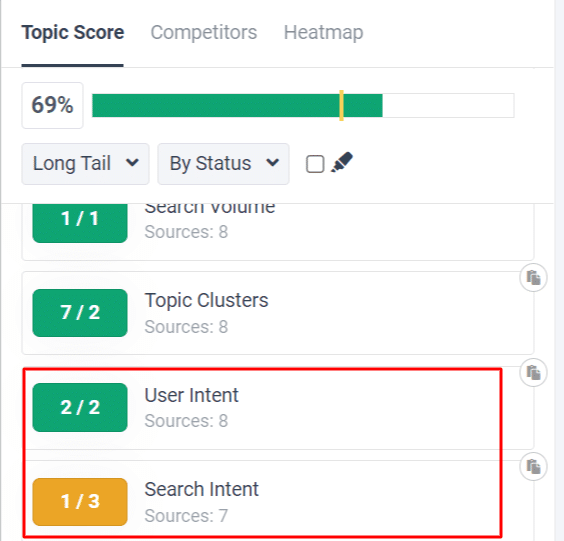 While including user intent and search intent in your content is not wrong, it simply shows that Frase does not understand or consider the underlying meaning of a term like InLinks does when making SEO recommendations.
Also, if optimizing existing content on a website, double-check to see that Frase has imported the complete article and that the competitors it compares your content against are a correct representation of the SERPs. In our test, we noticed some content sections were missing in the editor, and the order of competitors didn't fully match the SERPs for the query.
Away from SEO recommendations, Frase's content editor offers the standard bells and whistles of a classic document editor. You can write, edit, and format your content professionally as you would in Google Docs or MS Word.
To optimize existing content on InLinks, click Create a Brief on your dashboard, select your target market. Then, add your URL and the topic you want to rank for in the keyword field.

Once you click OK to create the brief, the InLinks NLP will:
analyze your content and the SERPs for your topic,
run a detailed keyword research and topic gap analysis, and
compile all its findings in the next screen.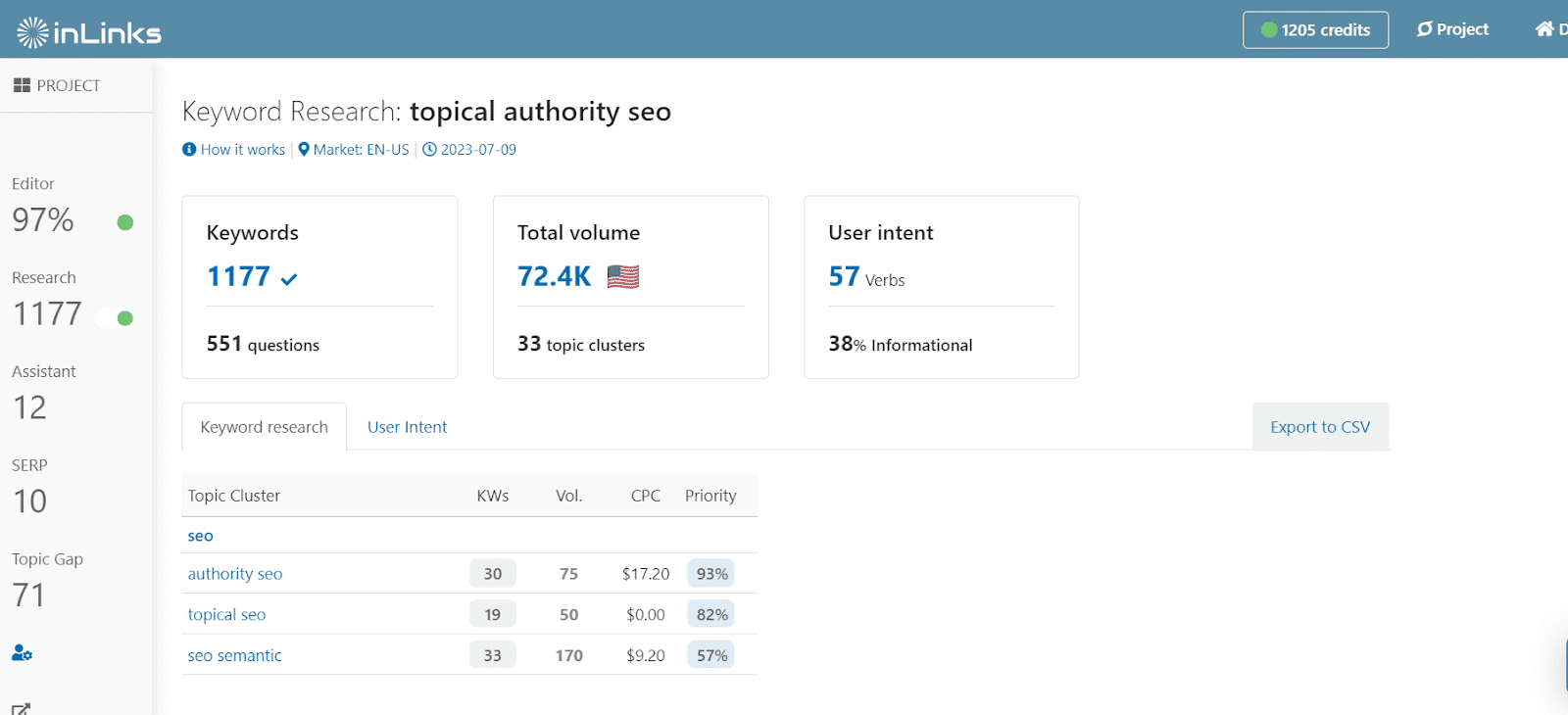 To start optimizing your content, go to the editor. First, you'll notice that InLinks imports your content exactly the way it is on the live URL. And like Frase, you can format, type, and edit content in the editor.
To your right, you'll see SEO metrics like content score, word count, and readability score. These metrics represent your content's quality compared to the competition.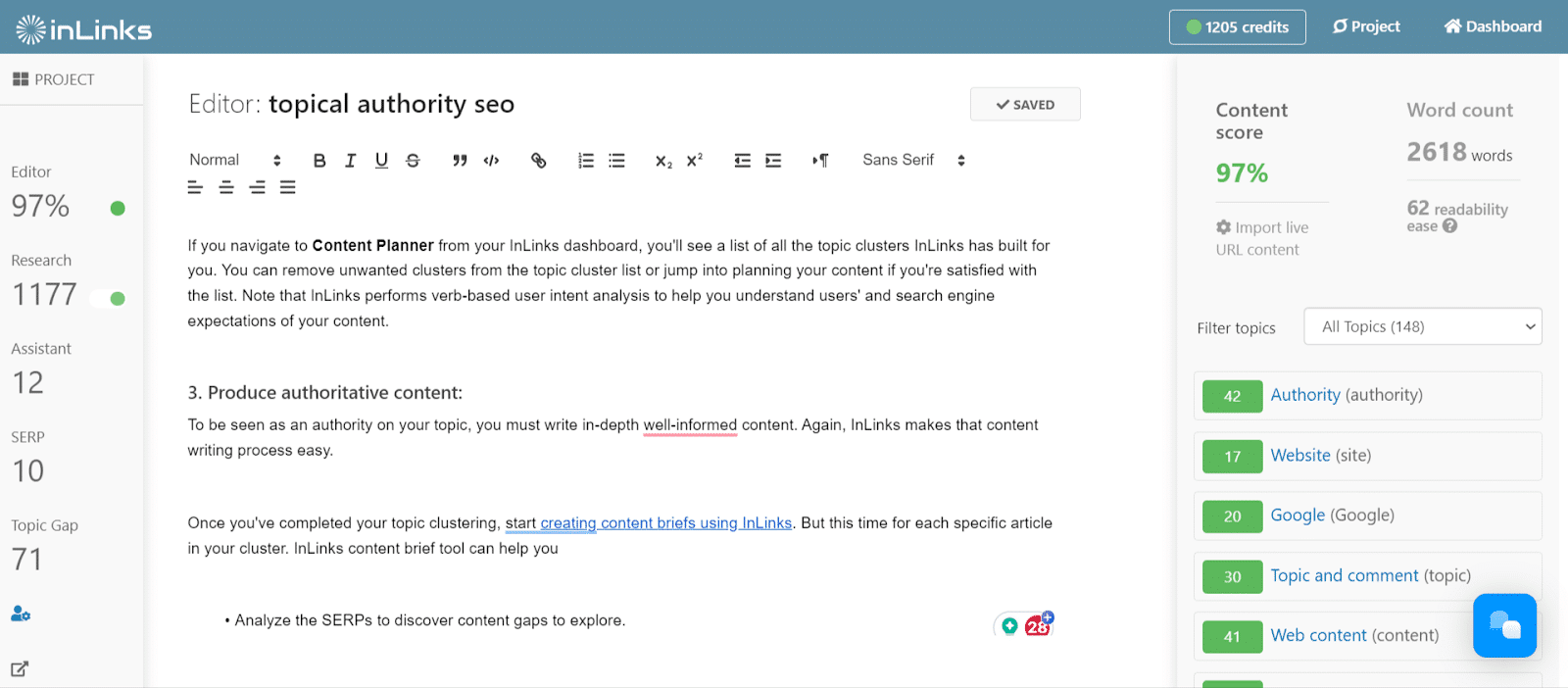 You'll also see topic recommendations for improving your content. The numbers beside each topic signify how often you've used it in your article. Since it's a semantic SEO tool, InLinks understands synonyms and related phrases and recognizes them in your content.
Also, for every entity, InLinks gives you the full context into why you should include them in your content. So, to confirm an entity is relevant, drill into it by clicking on the entity. You'll see its Wikipedia meaning, synonyms, related terms, and competitor content section referencing such entity.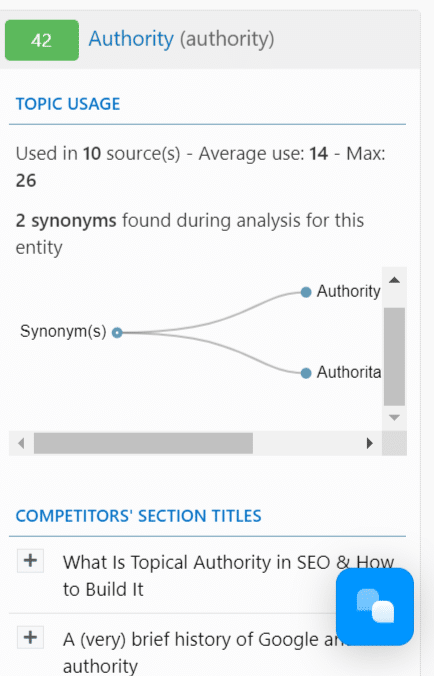 If you click the Plus (+) sign next to a competitor heading, it'll paste into the editor so you can bulk up your content. Your content score will improve in real time as you add entities to your content in their correct context. The content in the editor autosaves every 30 seconds, but you can click the save button at the top of your screen to save new changes.
We recommend you aim for an 80% score and above when optimizing. To better visualize your content optimization effort, navigate to the Topic Gap tab to see how well you've covered the topic and a detailed summary of the entities used.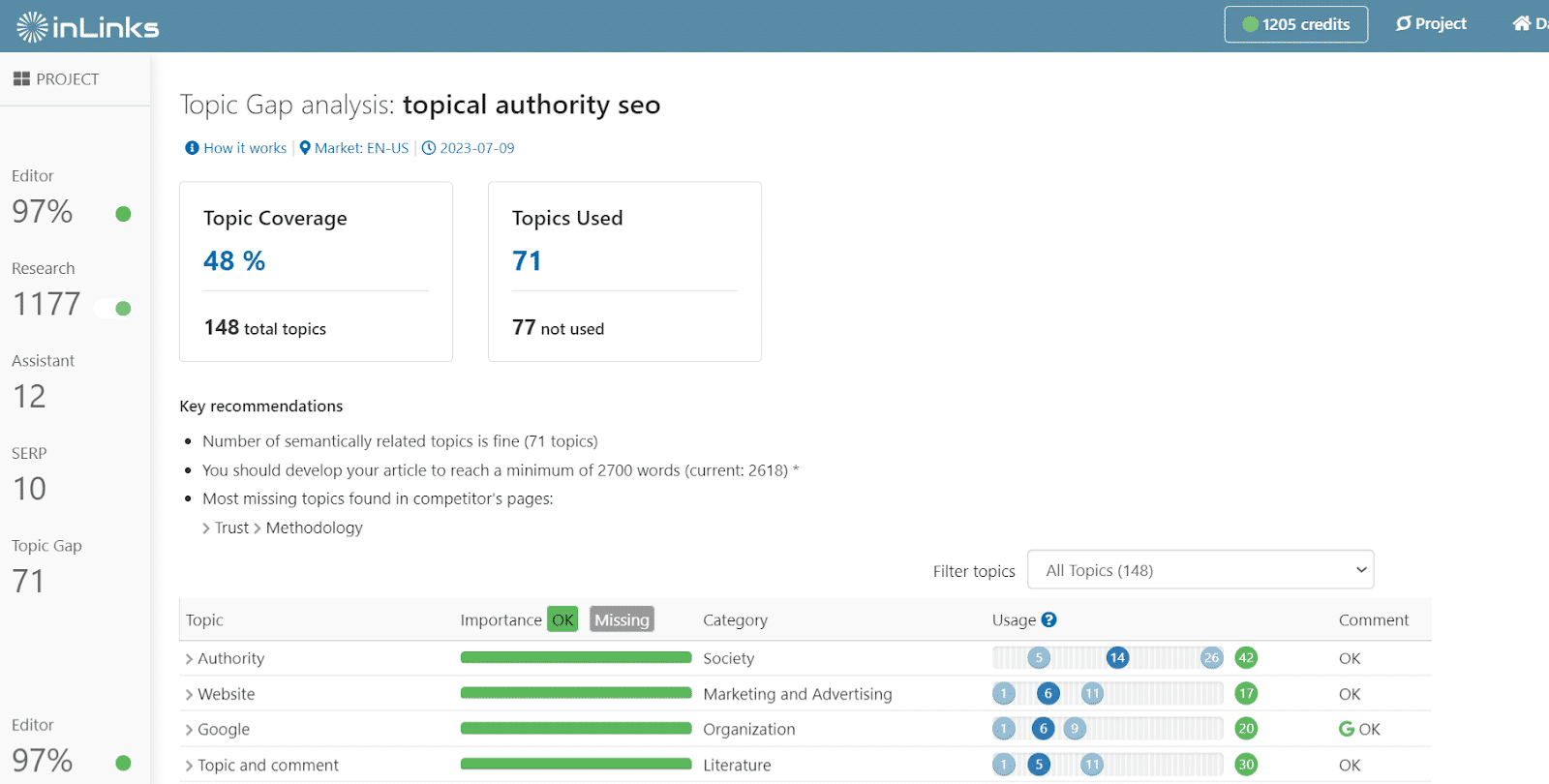 Content Briefs
Both SEO tools allow you to create and share content briefs to streamline your content workflows.
Frase offers auto-generated content briefs when you create a new document. The tool builds this brief from the top 20 pages ranking for your target keyword, and it includes headers, keywords, SERP competitors, People Also Ask questions, and the websites these ranking pages are linking to. You can use this AI-generated brief as is, but it's also better to review and edit AI content before use.
Alternatively, you can use any of Frase's content brief templates or create your custom templates for repeated use. Frase offers several templates for different content types like product reviews, comparison posts, how-to content, etc.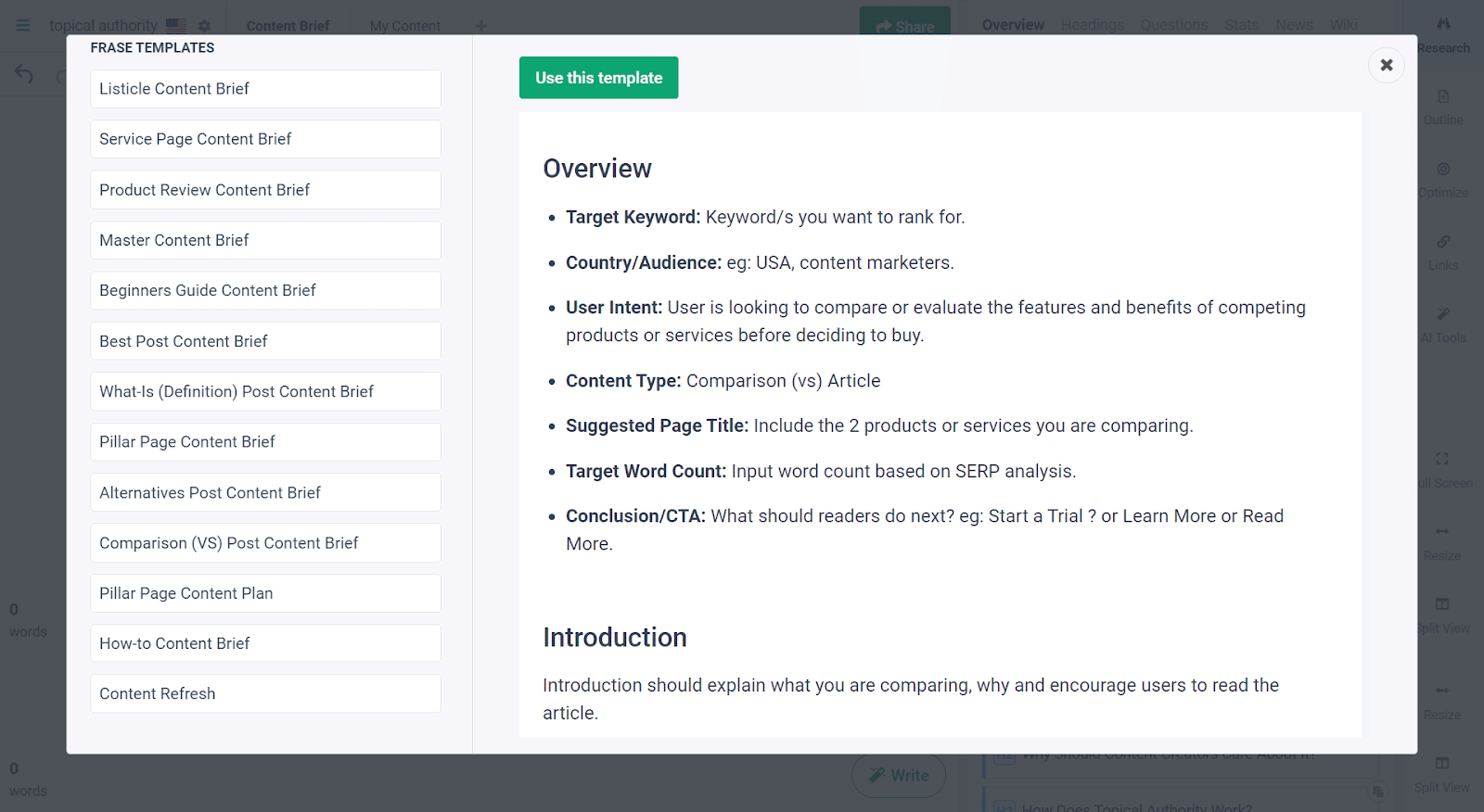 After creating a template, you can quickly share it with a writer as a read-only link or a full document.
With InLinks, content briefs are more comprehensive and collaborative. Whenever you create a brief, the NLP algorithm analyzes your topic, mirrors Google's knowledge graph, and taps into the SERPs and Google's Auto Suggest to extract keywords, questions, and user intent. So, instead of just a list of competitor headings, you get keyword clusters, SEO metrics, and user intent data to help you or your writers align content accordingly.
Go into the AI Assistant tab to see a detailed content structure for your topic.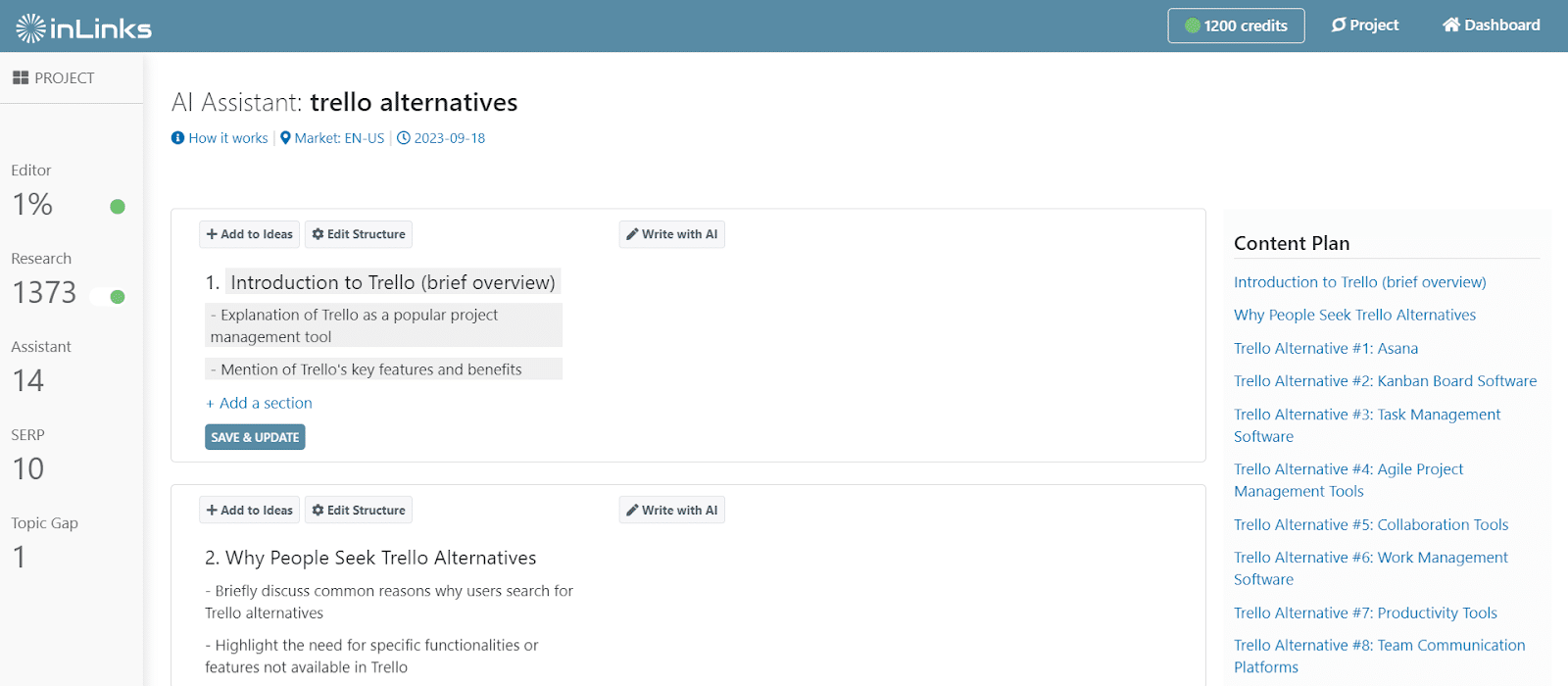 If you click the +Add to ideas at the top of a section, it'll paste into the editor. You can edit the section to remove or add content ideas by clicking the Edit Structure button. You'll also see competitor content sections down the page, so you can easily add them to your brief.
In the SERPs Analysis tab, you'll see the top 10 ranking results, their average word count, search engine understanding score, content sections, and the entities in their content.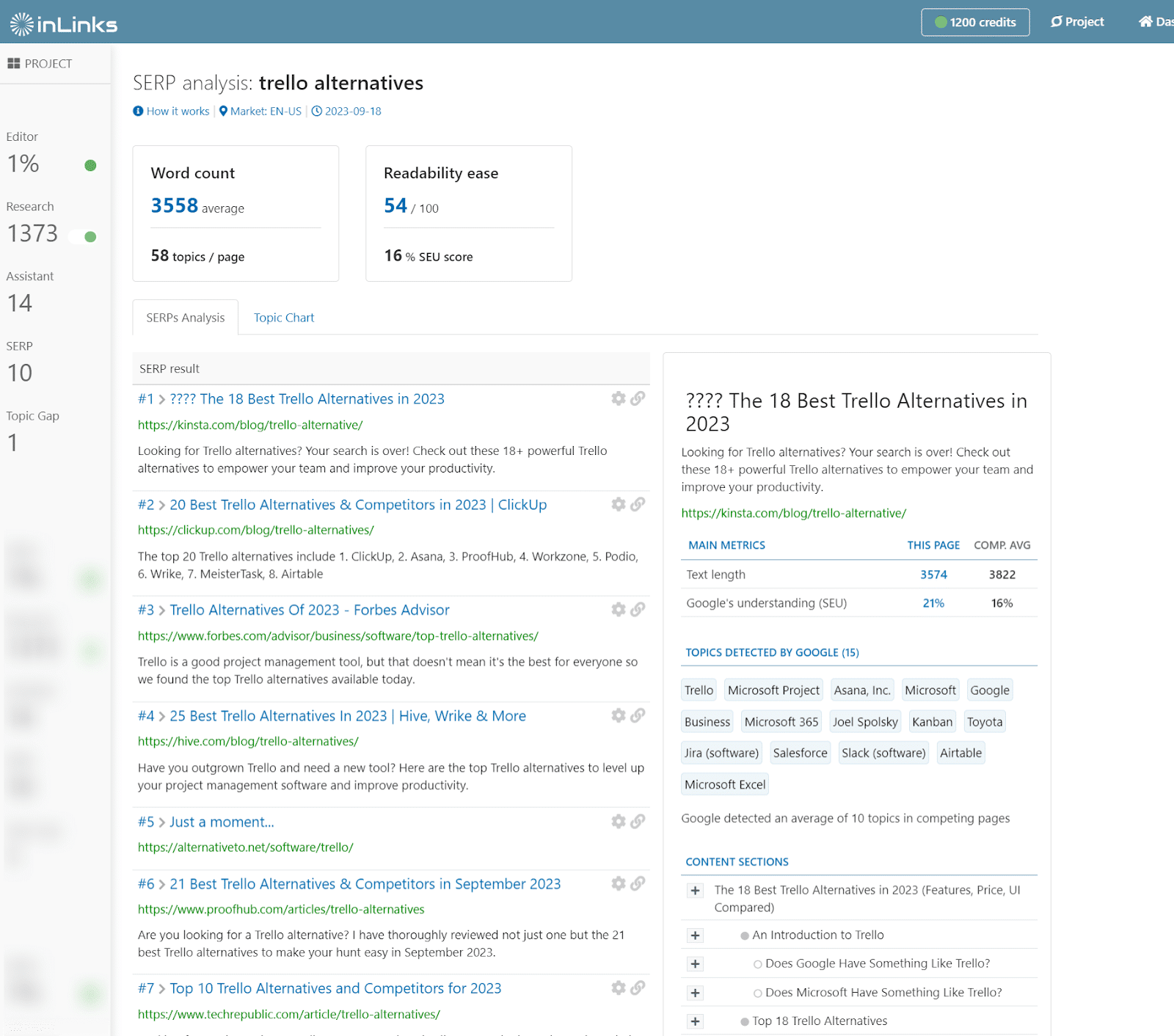 Again, clicking the Plus (+) sign on a competitor content section, will bring it into the editor.
If you want InLinks to analyze a specific competitor, you can edit the SERP results by clicking the Gear icon on any link you want to replace and pasting your preferred URL.
In the Topic Gap Analysis tab, you'll see key recommendations for word count and entities to include in your content.
Once you populate your brief with content sections, your editor should look like this.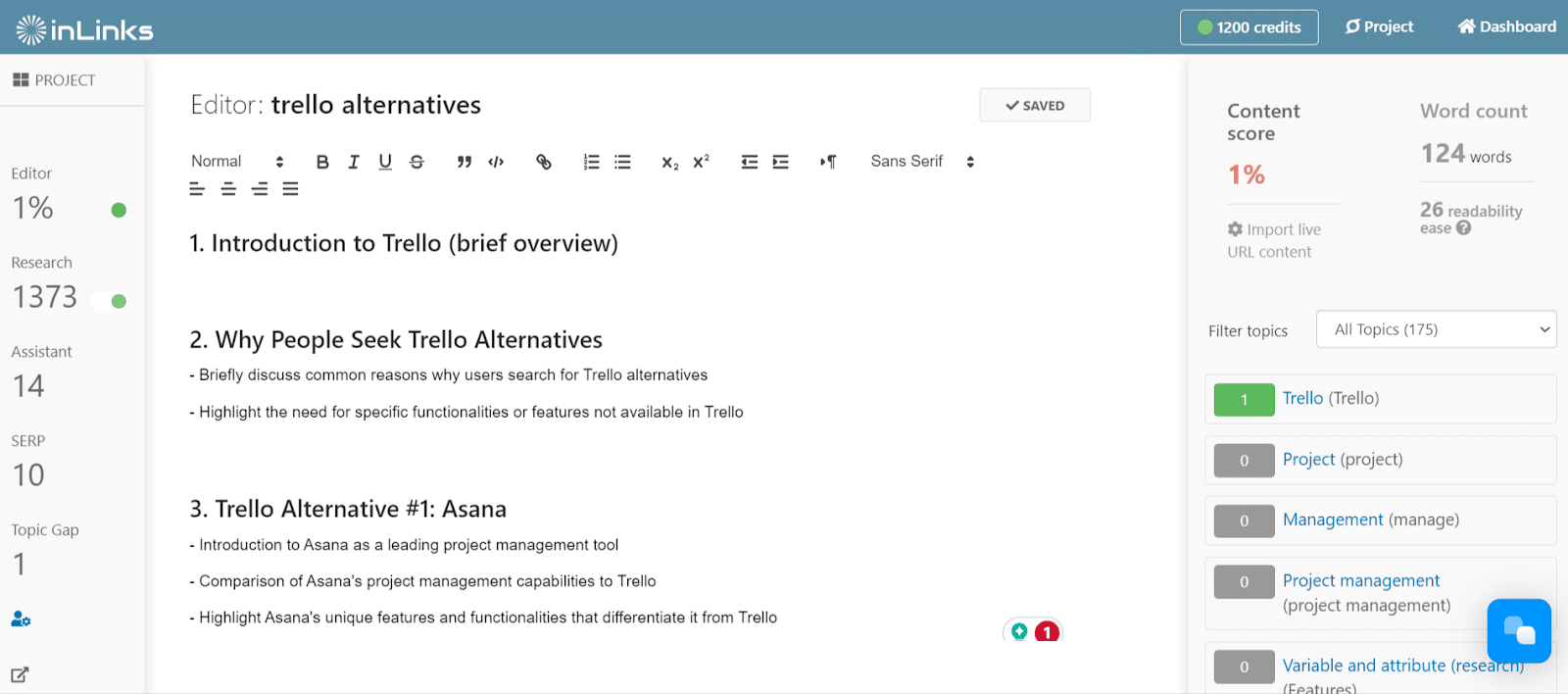 You can share this brief with external writers by clicking the little Assign to a Writer button in the right panel. The writer will be able to work within the InLinks content editor, use the research tabs, and optimize the content with SEO recommendations. You can set a due date in the share window and leave notes for clarification. Writers can respond to your notes and collaborate on the content.

AI Content Writing
Frase offers an AI writing tool within the content editor to support your content optimization efforts. This AI writer can rewrite or expand existing content sections.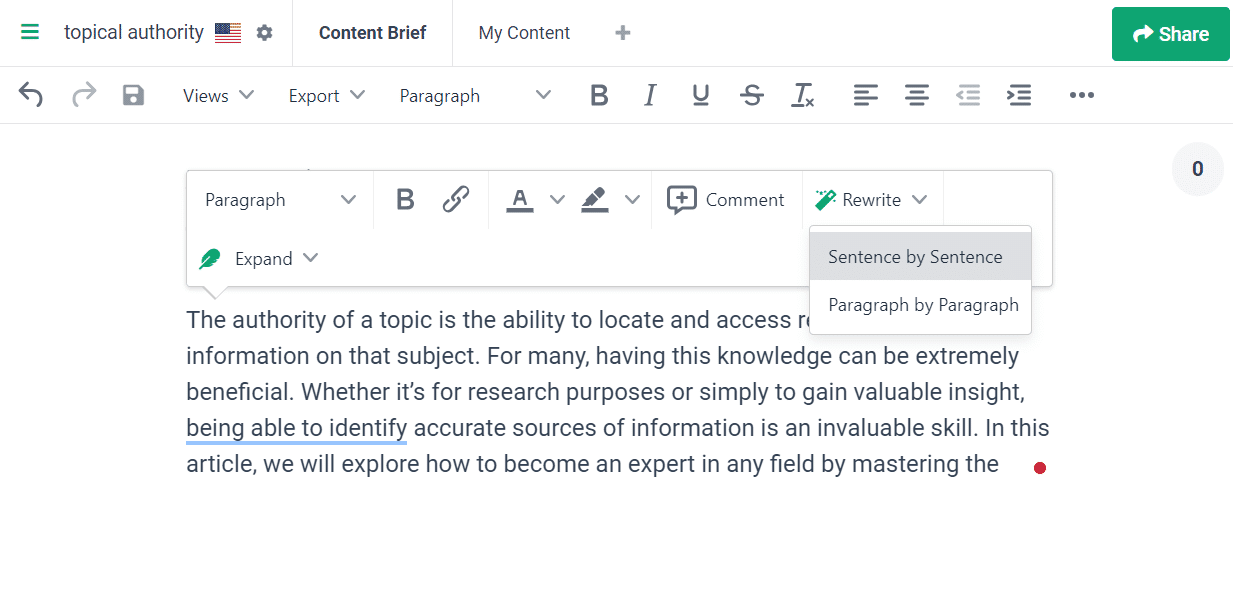 It can also generate full-text paragraphs to add more depth to your content; you only need to specify details like tone of voice, keywords, background information, and word count. In addition, frase offers more AI tools for generating different types of marketing content.
InLinks' AI writer works as a creative assistant in the content brief. You'll find it in the AI Assistant tab, where you have the content sections. Beside any section, click Write with AI, and the system will use that content section as the prompt/background information to generate relevant content.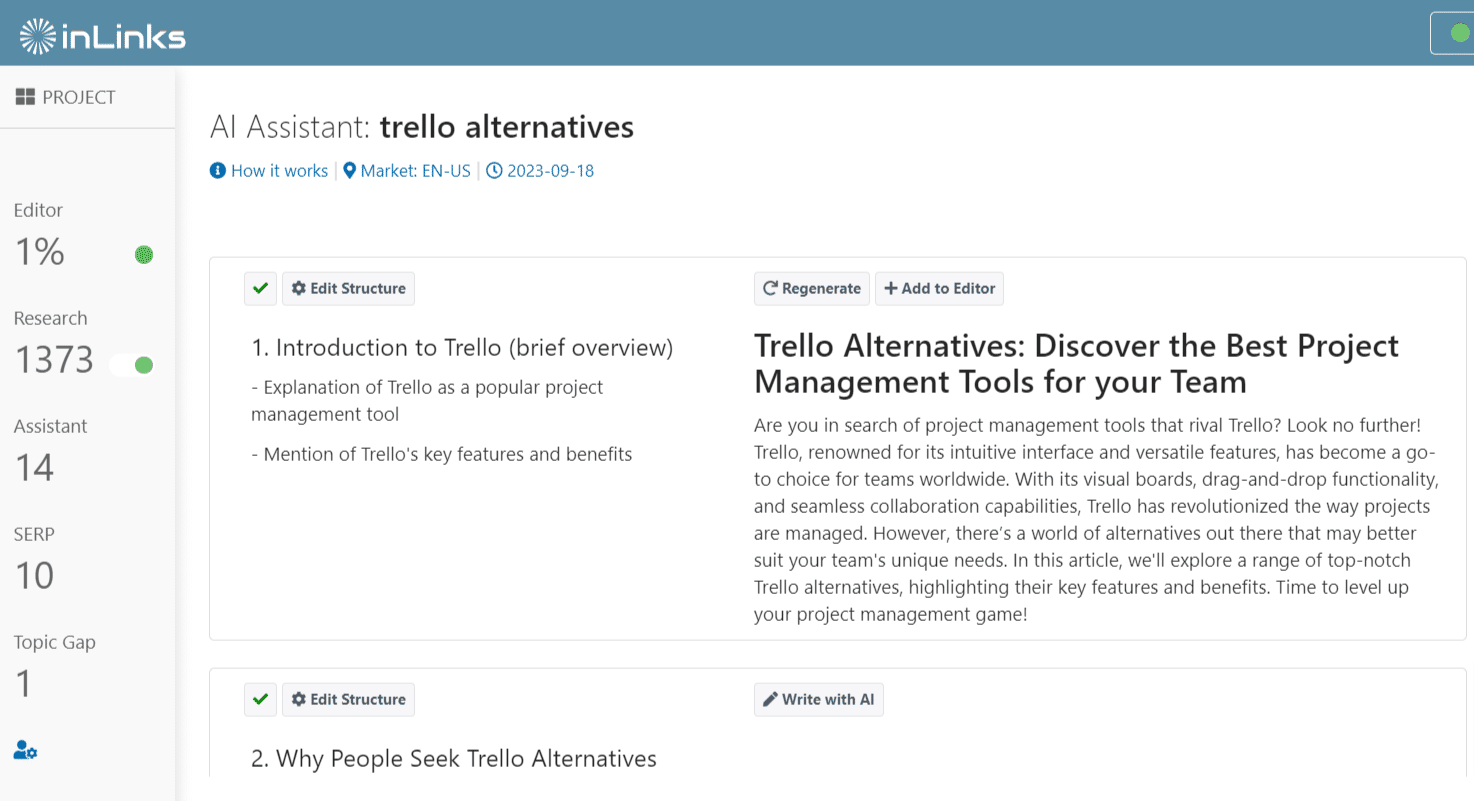 Click Add to Editor to add the AI-generated content to your editor. The content will always include a relevant heading, and you can regenerate the response if you're unsatisfied with the first output. InLinks' AI writing assistant gives you or your writers a headstart for developing content. Just make sure to review the outputs and tweak them where necessary to make the content more human.
Internal Links and Schema Markup
Content optimization doesn't stop in the editor or when you hit publish. InLinks continues to optimize your content with internal links and schema markup even after you go live. As long as you've associated your content pages with their target entities, the InLinks system will automatically decipher which pages to link to based on the ones you've already done. It'll also add webpage schema to your content to improve Google's understanding of it and impact your rankings positively.
Recommended reading: Automatic RSS new page discovery on InLinks
Frase.io offers internal linking in the content editor. However, you must integrate your Google Search Console data first. And when you do, the tool will pull up a list of internal pages relevant to the content you're optimizing. Then, you'll have to go through your content manually and insert the internal links. Frase doesn't offer schema markup.
Other Tools in Frase.io and InLinks
Topic/Content Planner
Frase.io offers a topic planner tool to help you build a content plan by analyzing the top 20 pages on Google for a particular term. Once you add a search query, it'll extract subtopics from the top 20 results, and you can select any topics from the list as part of your content plan.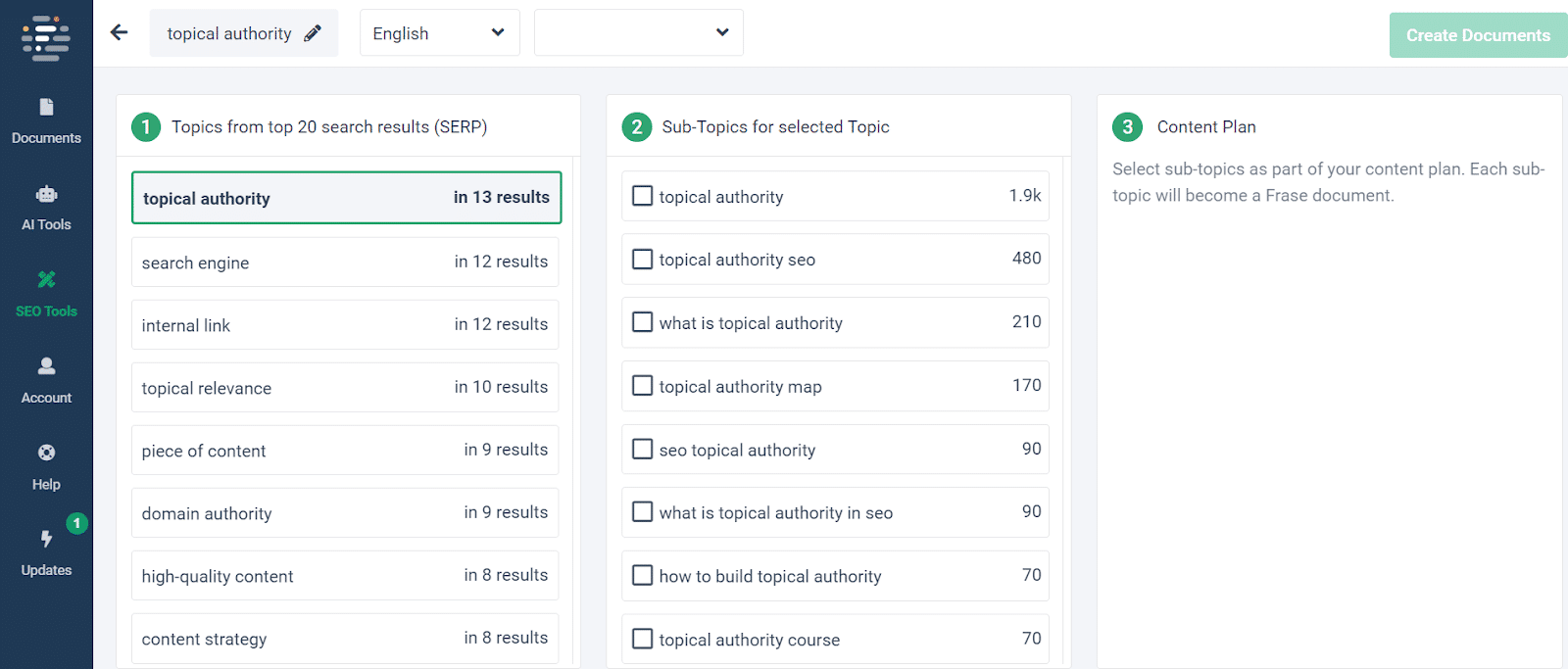 InLinks, on the other hand, offers a much more comprehensive topic and content planning tool. When you add your website to a project, the InLinks NLP will analyze it, extract all the entities within it, and build your website's knowledge graph. Then, it'll automatically identify the topic clusters relevant to your website and put Google Suggest on autopilot to deliver real-time, context-based questions and keywords related to your website.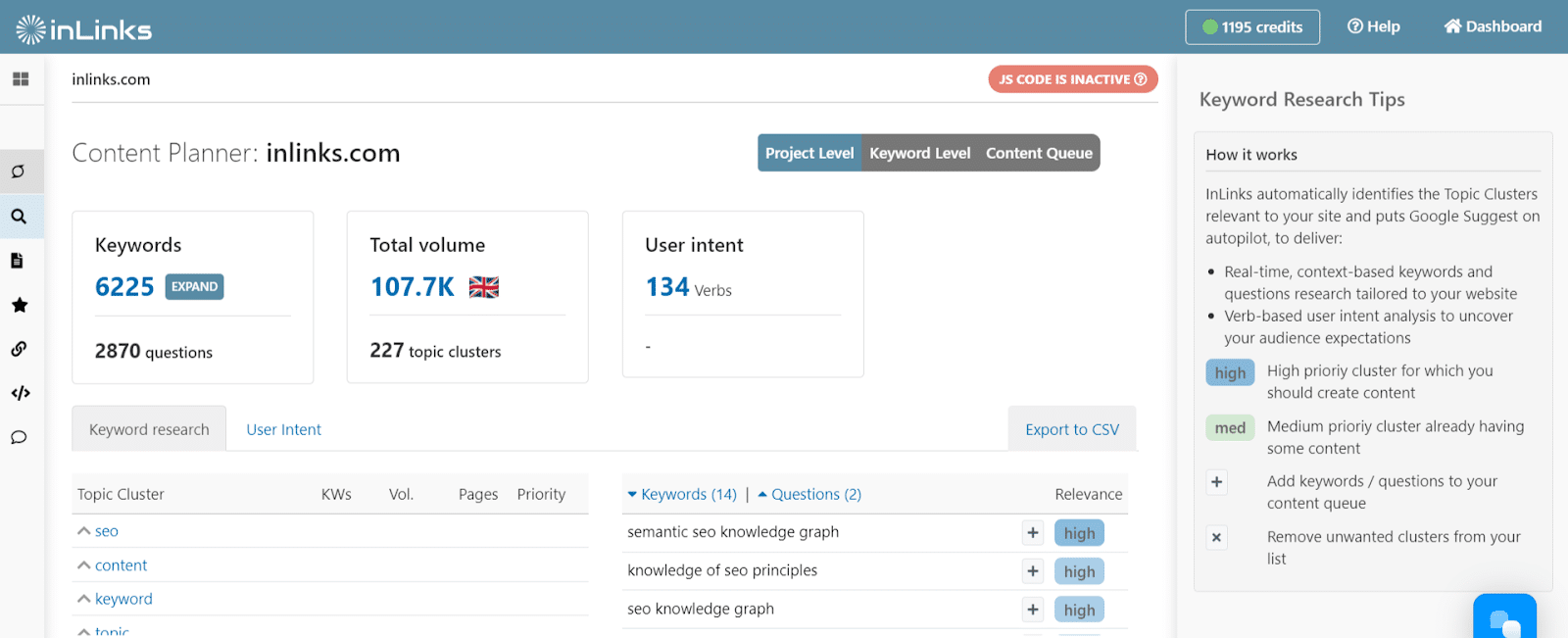 InLinks will also build a topical content map of your website to show you how well you've covered the important topics Google associates with your website and their semantic relationship to one another. With these insights, you can build a cohesive content plan for establishing topical authority in your niche.
How Much Does Frase.io Cost?
Frase monthly cost starts at $14.99/month for the solo plan with one user seat. At this price point, you can write and optimize up to 4 articles per month. However, your writing will be capped at 4k words monthly, except you purchase the Pro-Add On for $35/month. The Teams plan costs $114.99/month for three user seats, and additional seats cost $25 each. Every plan gives you access to the brief templates, outline builder, Google Search Console, and document folders. However, document sharing is not included in the solo plan. You can test-run Frase.io for five days with only $1.
How Much Does InLinks Cost?
InLinks offers a free account with 20 free credits to allow you analyze up to 20 pages per month. With the free version, you can access all InLinks' features, create up to 4 briefs/optimize four articles, build internal links, add schema, and plan content for up to 20 pages of your website.
The paid plans start at $49/month and are customizable by the volume of briefs required. InLinks offers agency plans from $196 to $2450 with additional features like unlimited users, white-label briefs, and content management tools. 
Frase.io vs. InLinks: The Bottom Line
Overall, Frase.io is the simplest of both tools. However, InLinks is more comprehensive and powerful. Here are other significant ways they differ:
Frase operates at the page level, whereas InLinks works at the site level, generating related topics, internal links, and schema for continuous optimization.
InLinks displays related questions based on topics and entities. Frase optimizes for keywords.
Frase.io returns questions based on keyword usage on forums such as Quora and Reddit, while InLinks returns questions based on Google's semantic understanding of a topic. As a result, InLinks delivers more than 2x as many questions as are relevant to a particular subject if you run the same brief on both platforms.
Both tools allow information to be added directly to the content editor. However, Frase's content editor allows users to upload templates and documents directly into the editor. But in InLinks, content must be pasted, created within the system, or pulled from a site analysis. InLinks is presently working to make improvements to its editor.
InLinks displays entities found in Google's NLP API written in Green to show which ones Google reports, independently of InLinks' proprietary NLP/Named Entity extraction algorithm.
If you're looking for a powerful content optimization tool to get ahead in this modern SEO era, InLinks will give you your money's worth. With semantic optimization, internal linking, and schema automation, you'll quickly notice positive improvements in your rankings.