In 2020, SEO company Sistrix studied billions of search results and 80+ million keywords to better understand click-through rates (CTR) in Google search. In their study, they found the average CTR for position 1 on the Google search engine results page to be 28.5%. After that, the percentage drops quickly to 15.7% in the second position and 11% in the third position. By the time you get to position 10, only ~2.5% of searchers are clicking.
What does this tell you?
If you're not ranking in positions 1 – 3 for your topic, you'll barely get your money's worth for your SEO efforts. And if you're not on page 1 at all, there's a miniscule chance searchers will find you from Google.
Several factors influence your ranking on the SERPs, from the technical elements to links and content. And of those factors, content makes up a significant part. In other words, it'll be difficult to rank on Google if you're not writing search engine optimized content.
This begs the question: How do you write SEO content that ranks?
In this post, I'll show you my eight-step process for writing SEO content that searchers will love, and Google will reward with higher rankings. But before that, let's make sure we're on the same page…
What does SEO writing mean?
SEO writing is the process of creating content with the intent of ranking highly on the first page of search engines like Google and Bing. It involves three essential things:
Carrying out topic and keyword research to uncover the type of information people are seeking.
Creating and structuring your content to fulfill the intent behind their search.
Optimizing the content for more reach.
Why is SEO writing important?
SEO writing is important because it helps Google show your content to the right audience. Additionally, ranking on Google for your topic is the fastest, most effective way to drive relevant traffic to your website.
Without SEO, your next best options are advertising and using social media to drive users to your website. With advertising, the traffic stops where your money ends. On social media, the frequent algorithm changes make it very difficult to get much-needed engagement. Hence, organic search remains the most effective channel for driving free, recurring, and relevant traffic for any modern business.
Now we understand the why, let's explore how to write SEO-friendly content.
Eight steps to write SEO-friendly content that ranks
1. Start with topic and keyword research
You can't create search-optimized content without a clear understanding of what you're writing about. Topic research shows you what the target audience cares about and how Google understands your intended topic. It's also in line with the search engine's move from keywords to entities in the semantic web. Starting with topic research will help you unearth the specific intent of your audience's search, pertinent questions to answer in your content, and keywords to target when writing.
To start your topic research, use the InLinks content optimization tool. Create a new content brief and add the topic you want to rank for in the keyword field. Then, select your target market and click OK.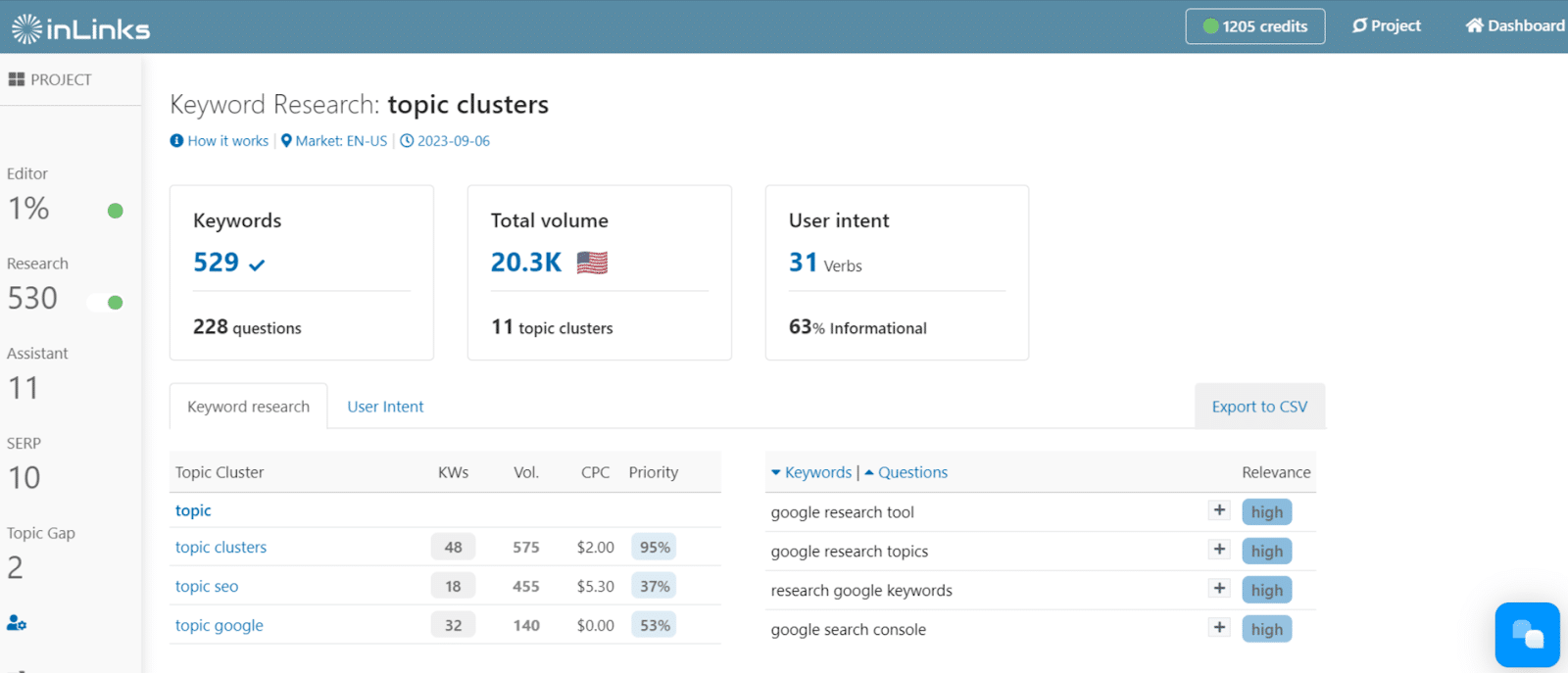 The Topic Clusters in the keyword research tab show you the context in which Google sees and understands your topic. To the right, you'll see a cluster of keyword variations based around Google's understanding. These keywords and the questions beside them are pulled from Google Suggest to show you the actual information people seek when searching for queries around your topic.
Next, look at the user intent tab to see the search intent of your target audience. Search intent is the desire a searcher has in mind while searching. It's what they're hoping to achieve from reading your content. And InLinks uses verbs to specify this intent, so you have all the context you need to create meaningful content.
Additionally, in the topic and keyword research stage, it's important to look at what your competitors (the people currently ranking on page #1) are saying about your topic and how they're saying it. Instead of going back to Google, navigate to SERP analysis in your dashboard to look at the search results for your topic.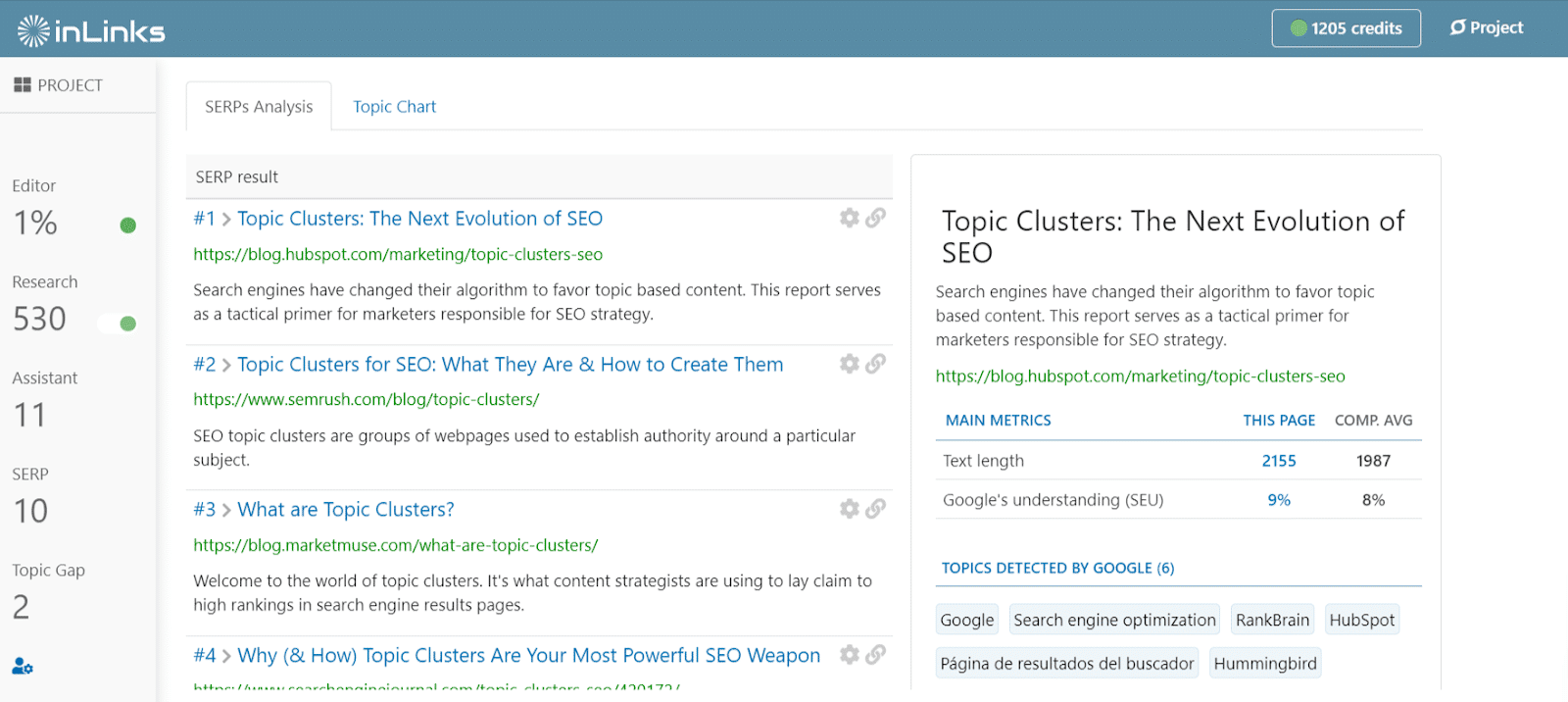 You can analyze metrics like competitor content length, content structure, search engine understanding score, and the entities present in their content. Analyzing competing content gives you an idea of what is expected of you. It's also an opportunity to spot content gaps to take advantage of when developing your unique content angle.
Once you understand how Google sees your topic, the right questions to answer with your content, and the search intent, go into the writing part.
2. Create a detailed content outline
When it comes to SEO writing, I swear by content outlines. A content outline is the fastest way to create clear, helpful content matching search intent. Even if you know your topic inside out, it's good practice to always create an outline as it serves as a guide.
Ideally, your outline should be detailed so you can work off it without suffering creative block or wasting time. It should include SEO details like:
keywords,
competitors,
related content to link to,
target audience,
questions searchers have, etc.
But most importantly, your outline should spell out your headings and subheadings, the key takeaway for the reader, and the unique angle of the piece. Having a unique angle is important because it helps your content stand out on the SERPS, which, in turn, improves your ranking.

I like to include mine in a section I call "how we win for this topic." Here's an example of my unique angle spelt out in an outline I created: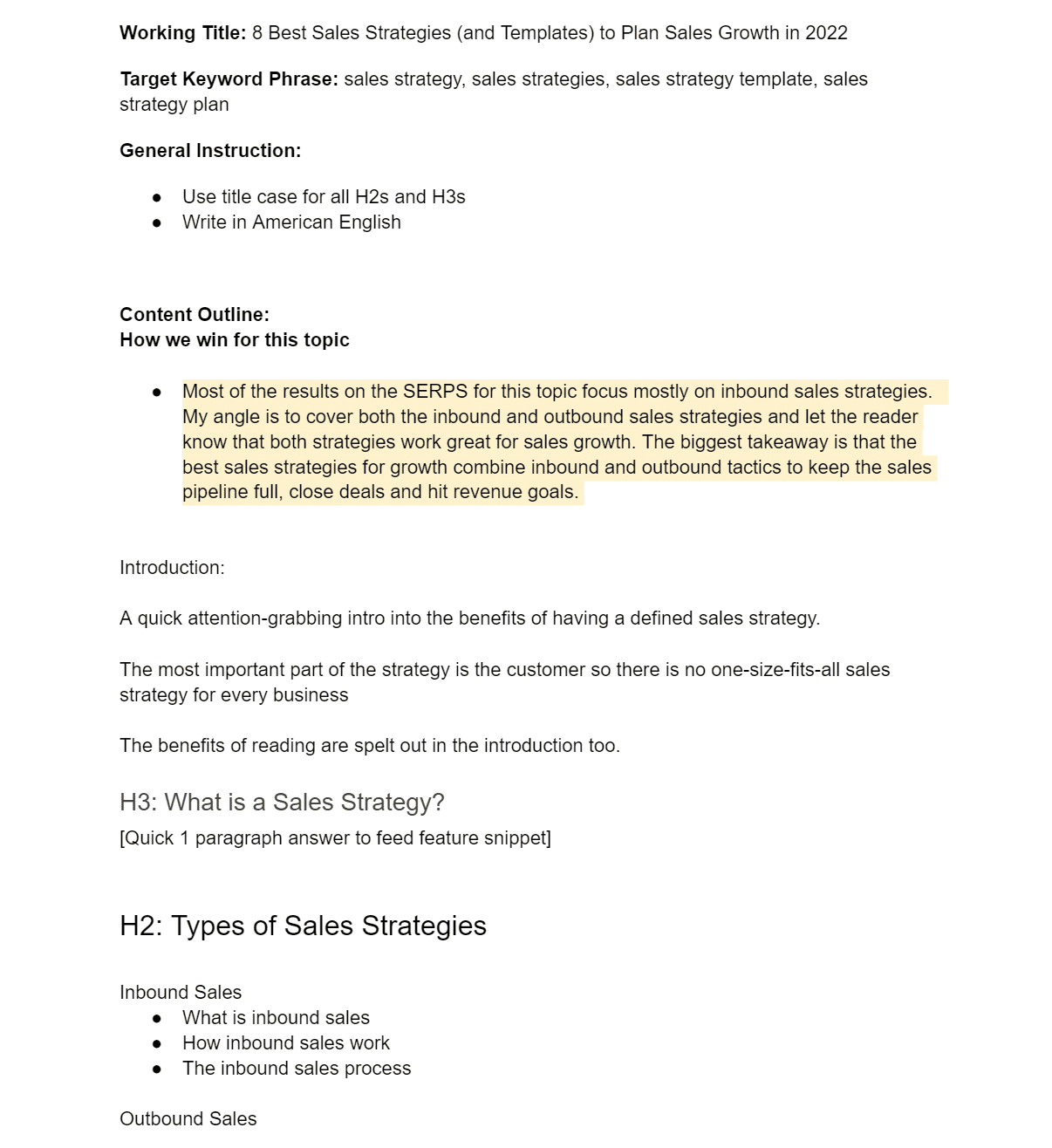 The goal is to contribute something new instead of blending into the sea of sameness on the internet.
3. Write your first draft
Now, it's time to develop your outline into a rough draft. Flesh out your ideas and build on your research. Make sure you're answering the questions you gleaned from your topic research. Also, include expert insights, recent statistics, and relevant examples.

But don't put much pressure on yourself here. Remember, your first draft is just that — a draft. It's not the final piece you publish, so don't worry about perfecting it. Just get the ideas out of your head, then move on to the next step.
4. Revise and optimize your draft
Once your first draft is ready, go through it again and smoothen it. Ensure your argument is strong, the flow is logical, and the piece is helpful and practical.

Having a second pair of eyes look over your content is always a great idea, so if possible, send the draft to a colleague or friend for review. Implement any feedback you get and move on to the next step: optimization.
With proper optimization, the search engine will better understand your content and serve it to the right audience. So, after writing, use the InLinks content optimization tool to include the important entities that should be present in your content.

For that, go to the content editor tab of the brief you created while doing topic research at the beginning. Paste your article into the content editor to get a content optimization score.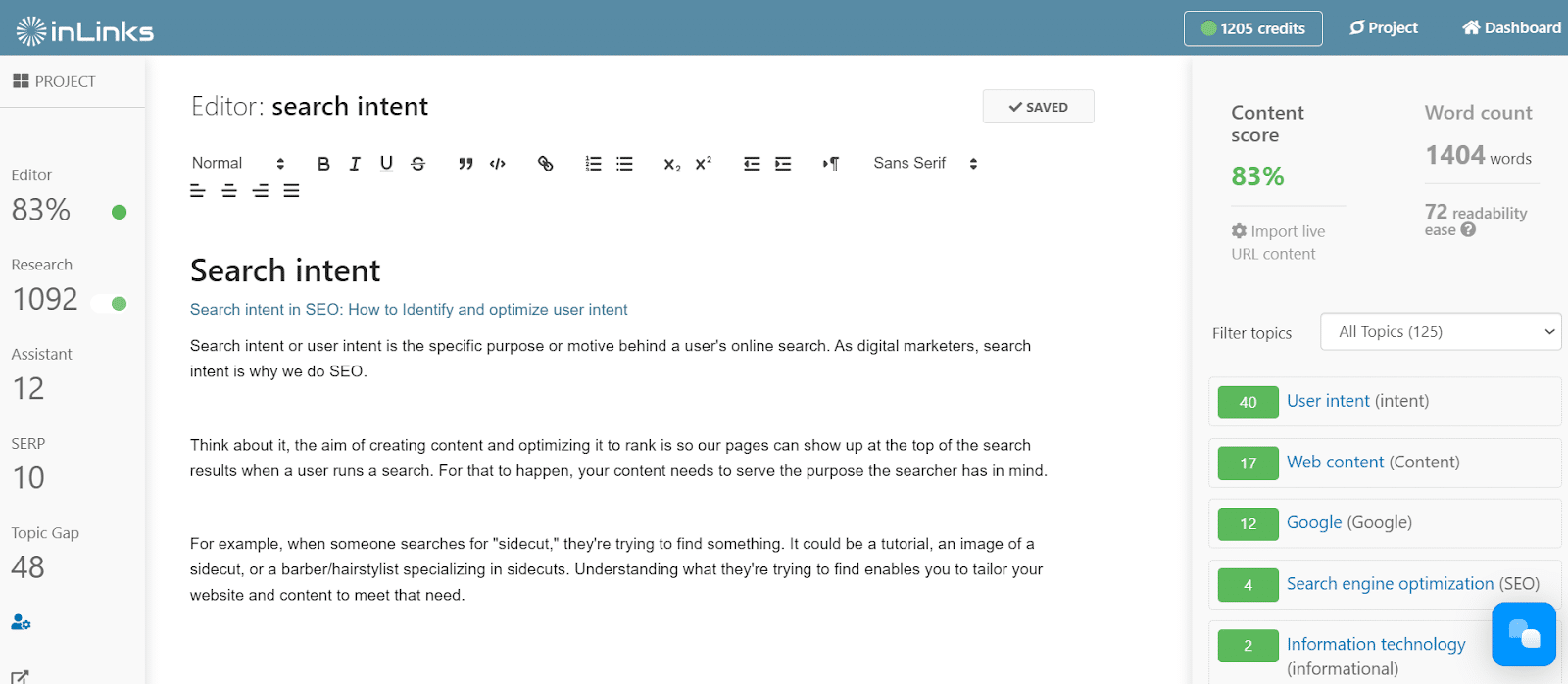 InLinks scores your content based on factors like length, comprehensiveness, and semantic entity density. The tool will show how well you've incorporated those important entities into your content. Any score above 80% indicates comprehensive, clear content with an optimal amount of entities. A lower score may be an indication that your content is lacking. If you get a low score, improve it by asking yourself the following questions:
Have I covered the topic thoroughly?
Am I providing the best possible answer to every question the searcher might have?
Does my content include enough semantic entities to help Google understand what it's about?
As you answer these questions and adjust your content accordingly, your content score will improve in real-time.
5. Polish your writing for quality assurance
Now, your search-optimized content is ready. It's time to edit, proofread, and polish to make it presentable.
If you can, invest in a content editor. Their sharp eyes and attention to detail will improve your content quality. But if you cannot afford an editor, you can still edit your writing yourself. All you need is a bunch of content editing tools like Grammarly or Hemingway App and a self-editing checklist for copy and content editing. Here's an example of my self-editing checklist.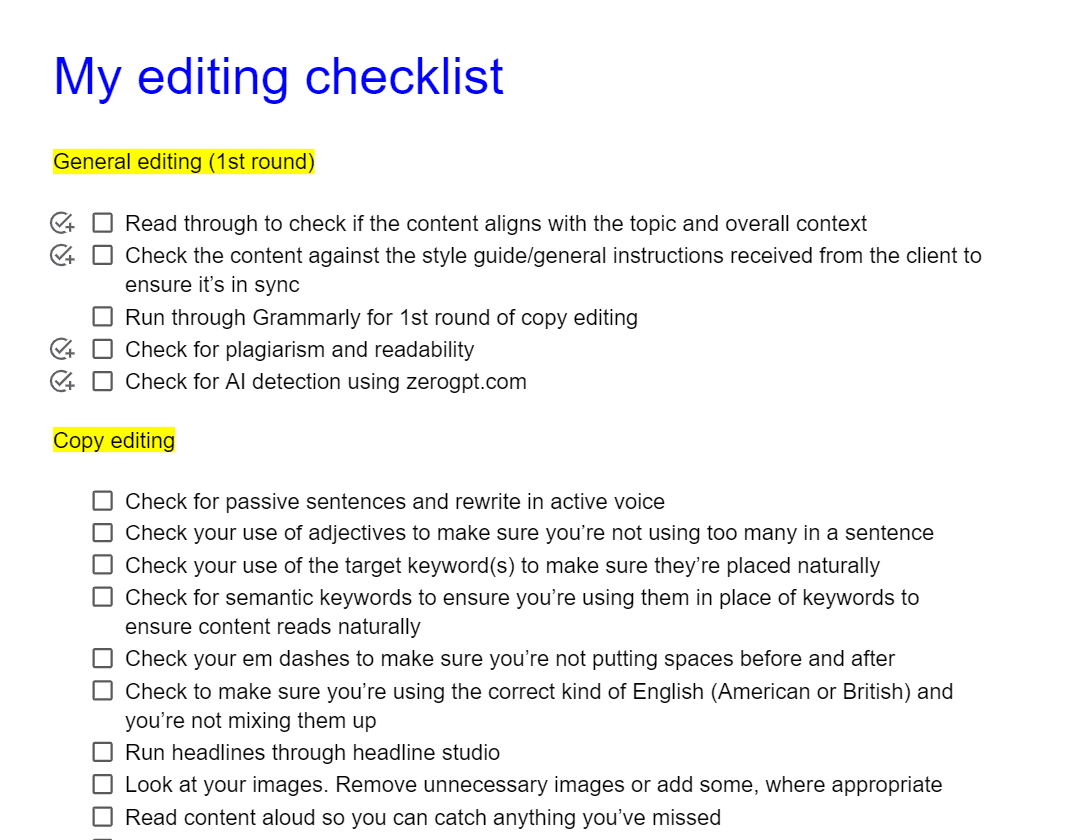 As you edit, read your content out loud to catch boring, unclear, complicated, or run-on sentences.
You can also polish your content by formatting it correctly. Break large walls of text into short paragraphs and vary your sentence lengths. Use bullet lists, italics, bold, and visual content to make things more interesting. Finally, organize your content with the correct heading structure so readers and search engine crawlers can skim and quickly find what they need.
6. Optimize the on-page factors
Among the other factors that help you reach the coveted first page of Google search are on-page SEO elements like title tags, meta descriptions, URL slug, image alt text, post category page, etc. Hence, optimizing them is equally important. Most of these optimizations will happen in your content management system (CMS). If your website is WordPress, there's a plethora of plugins you can use to set them up quickly. But keep the basic SEO best practices in mind and only include entities where it makes sense.
7. Add structured markup
Structured markup is part of on-page SEO. Adding it to your content improves Google's understanding of your article and increases your chances of showing up as a rich result on the SERP. After publishing your content, you can automatically add schema markup with InLinks. Just associate your content page with a target entity, and the tool will automatically create the appropriate About&Mentions and FAQ schema.
Related: How to create structured markup for SEO with InLinks.
8. Add internal links
As you markup your content, don't forget internal linking. Internal links help web crawlers access and index your content. Not only that, but they improve user navigation and contribute to higher search ranking by distributing link equity (PageRank) across your site.
An easy way to optimize your content with internal links is to use InLinks. The internal linking tool will automatically spot internal linking opportunities in your content and build links to relevant related pages using the correct anchor text.
Ranking on Google is not rocket science
SEO writing comes down to two things:
Creating helpful, meaningful content for searchers first
Then, optimize that content for search engines.
Once you nail these two using the process I detailed above, you have a high chance of scoring the first few positions on Google's first page and achieving your content marketing goals, whatever they might be.