What is content optimization?
Content optimization is the process of enhancing digital content (written and visual) to improve its performance and achieve a specific goal. The said goal could be higher search rankings, conversions, or social shares—or, in many cases, a combination of all.
From an SEO standpoint, it's difficult to rank or drive any tangible results without content optimization. If you're looking to boost existing, underperforming content or give new content the best chance to rank, read on and implement these optimization strategies.
9 ways to optimize content for SEO + expert tips
1. Ensure you're targeting specific topics, not just keywords
Since the Hummingbird update in 2013, the foundation for ranking on Google switched from keywords to topics. Now, the search engine is more concerned with ranking pages that cover a topic as a whole versus those that simply insert keywords in different locations.
Hence, it's important to identify the right topic for every piece, understand it, and ensure your content is topically relevant.
To find the right topic you need to target, here's what you need to do:
Go to the InLinks content optimization tool,
select the content brief option,
then enter a general idea you think is relevant to your audience.
For instance, if you provide digital security services, you might want to start with a topic like "identity theft." Select your target audience, then click OK to run a topic analysis.
Next, you'll see a list of topic ideas grouped into clusters you can choose from.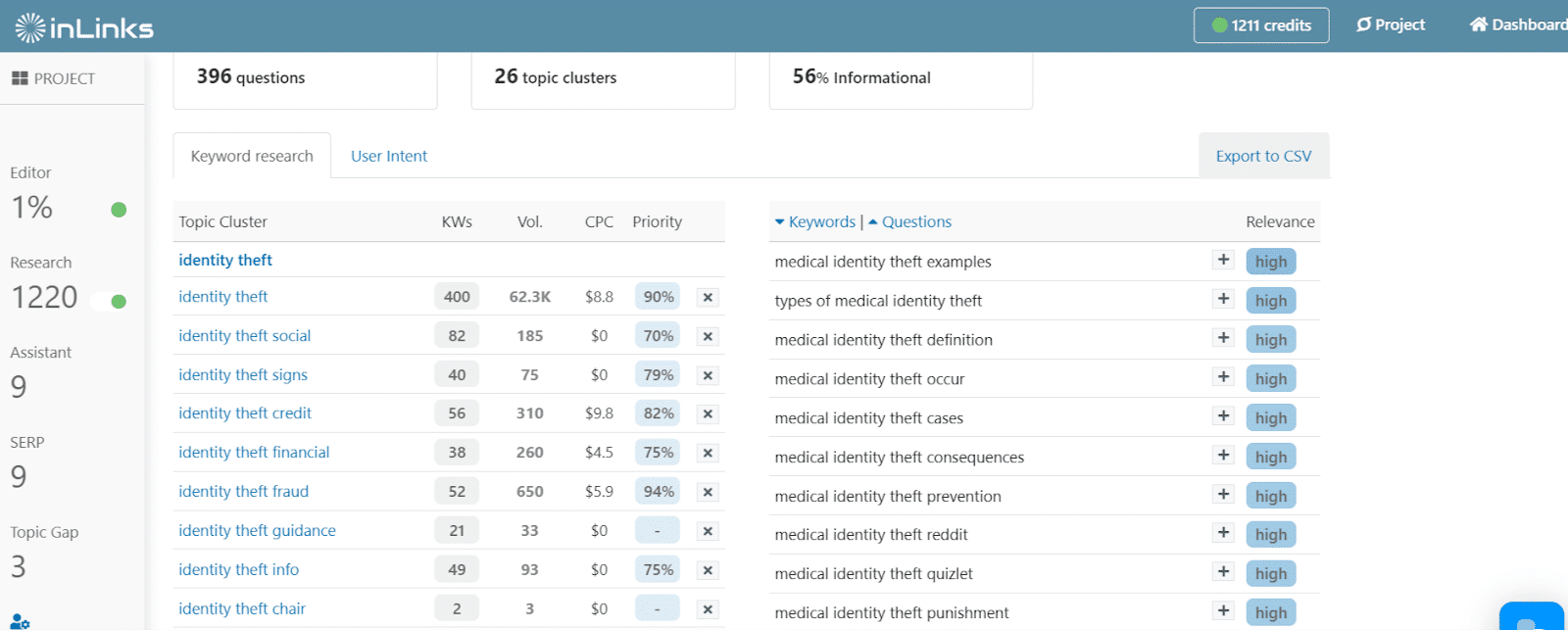 For instance, you can choose to go for the "identity theft fraud" topic. Click on it to see the exact keywords and questions people are searching on identity theft fraud, pulled directly from Google's AutoSuggest. You can use these keywords and questions to inform your subtopics and cover the topic fully so the search engine can consider it topically relevant.

Remember that targeting topics helps you rank for multiple keywords at a time without issues like cannibalization or duplicate content. You can repeat this process to discover multiple content topics for your blog. By grouping topic ideas into clusters, the InLinks content optimization tool helps you quickly build out weeks worth of related content.
2. Make sure your content matches search intent
Unless your content meets the exact desire searchers have in mind while searching, it's dead on arrival. That's because Google's mission is to satisfy search intent and deliver a memorable search experience. So, if your content doesn't solve the specific problem a searcher has or help them in any meaningful way, it's a signal that such content doesn't deserve to rank.
Digital Marketing Analyst at Terakeet, Jonas Sickler, says you should always ask:
"Does the intent of your page, including your targeted funnel stage and content format, align with what users are looking for?"
The easiest way to answer that question is to look at the User Intent tab in the content optimization tool. Based on the keywords and questions from AutoSuggest, the user intent tab uses verbs to show you the exact objectives searchers have in mind while searching.
For instance, for an article about identity theft fraud, you can see that this audience mainly wants to see content around "how to report identity theft," "how to protect yourself from identity theft," "why does identity theft occur," "how to prevent identity theft."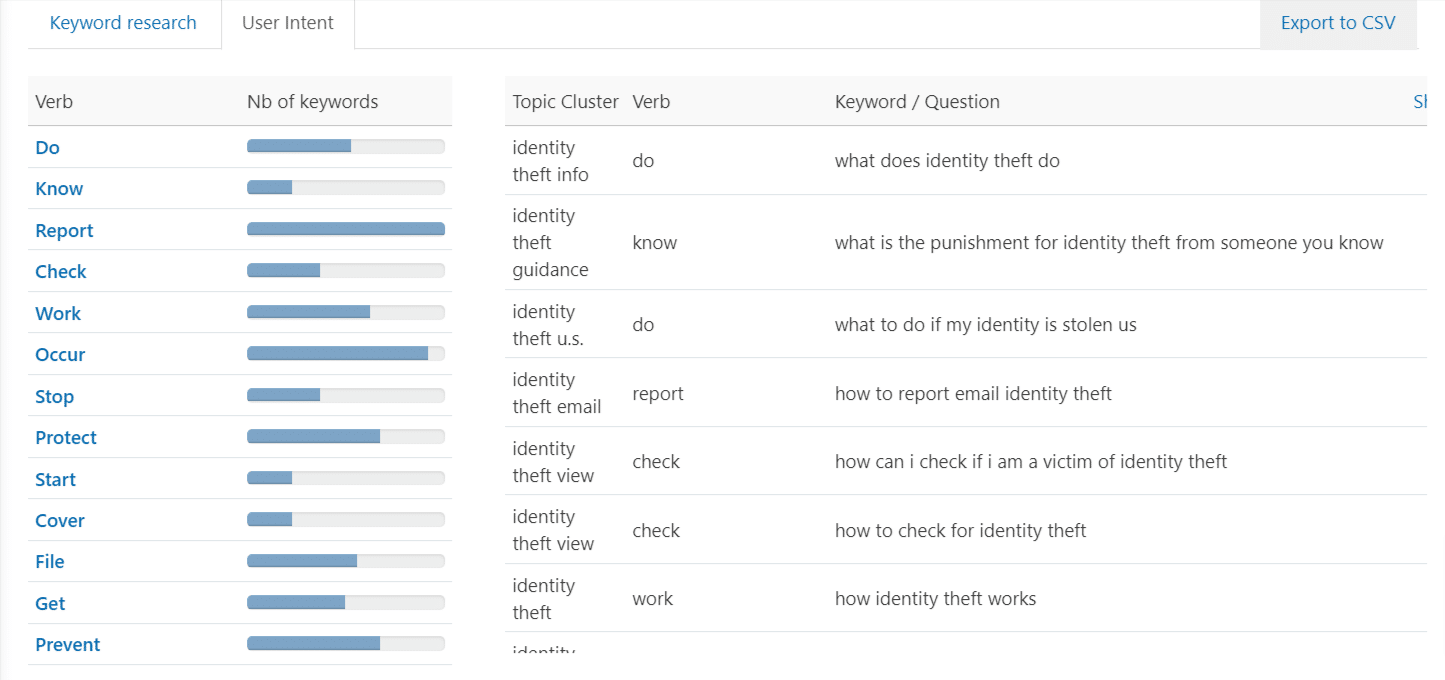 Use this insight to analyze your content type, format, and angle to align it with the needs of your audience.
"Organic search is the world's most honest focus group. Users tell Google things they wouldn't tell anyone else, and Google filters the results in real-time to reveal the intent behind those searches. So, always prioritize search intent," Jonas says.
3. Make sure your content is comprehensive and includes semantically related entities
Google loves in-depth and expert-written content because it improves the search experience for users. If your content provides all the information a searcher needs without having to go back to the search bar repeatedly, it signals to Google that such content is relevant and should receive favorable consideration on the SERPs.
To increase your chances of ranking, make sure the content you create for every topic is authoritative and comprehensive. Here's a three-step process to follow:
Analyze competing content: Looking at rival content helps you uncover content opportunities you can explore to better serve search intent. So, start by looking through the SERPs for your topic to see how competitors are covering the landscape. For a more in-depth analysis of your competitors' content, bring their pages into InLinks so the tool can show you their SEO content score and topic gap. Add the competitor URL in the content brief stage, select the target market, and leave the keyword field bank. InLinks will audit it. Then, you can use the insights it returns to inform your own writing.
Consider the questions customers have about your topic: Apart from the questions you gather during topic research, go the extra mile and use customer insights in your content. Zach Wilson, the CMO at Lokal, shares that their best optimizations have come from listening to customers and reframing their pains and objections into new thought content. He says:
"By using customer feedback as our primary source of ideation and optimization, we deliver successful local SEO results for our clients. For one of them, we built a content series (based on customer feedback), and to this day, the keyword clusters for those pieces account for over 50% of organic impressions and nearly 40% of all their organic click-throughs."

Zach Wilson
Focus on quality and valuable content: Don't just regurgitate what's already out there; put in the effort to create better content. Introduce unique insights or feature insights from subject matter experts. Do thorough research, source statistics, relevant examples, use cases, and original ideas.
Write authoritatively and answer frequently asked questions within your content. FAQs are a quick way to nail search intent and improve your chances of securing prominent search positions like featured snippets.
As you create content, pay attention to your structure, flow, presentation, readability, and information depth. Those factors inevitably impact engagements, conversion, and rankings.
For structure, Ben Goodey, the host of SEO case studies, recommends keeping your introductions short, snappy and centered around search intent.
"Short introductions grab attention, establish trust, and dramatically improve metrics like read/dwell time if done correctly. My latest client has grown from 7,000/month to 70,000 clicks a month in 6 months. I've done all the introductions like these, and all the content is ranking really well."

Ben Goodey
Also, include semantically related entities to help Google better understand the context of your topic. To quickly identify semantic entities for any piece, use the content optimization tool again. Once you run a brief for your topic, the InLinks semantic analyzer will extract semantic entities from your top 10 rivals and the Google knowledge graph.
Click on the Editor by the left to see all the entities for the content.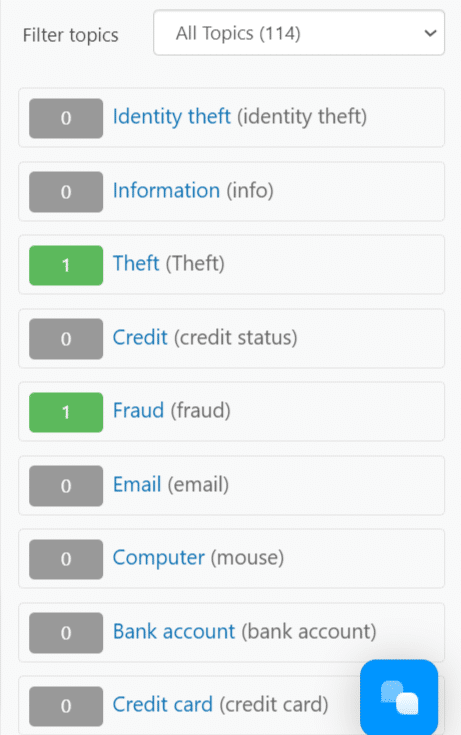 For instance, for our article on identity theft fraud, the content should include entities like "information," "email," and "bank account," among others. These entities are grouped into categories to emulate how the search engine structures topics in its knowledge graph. The entity suggestions also consider synonyms and similar meanings to give more context to content and present it in the way humans would naturally search.
As you create in-depth content, it's important, though, that you do not deviate from the original intent of your topic by going too broad. Each topic in your content network should solve a specific problem for the reader.
👉 Recommended reading: SEO writing: 8 steps to write optimized content that ranks
4. Make the content easy to read
Writing great content is not enough. You have to present it properly for two reasons:
So it's easy for readers to find what they need quickly. Remember, most people skim through web content to pick out the main points that jump at them.
So, search engine crawlers can quickly access, understand, and crawl your content.
Start by using a logical heading flow. The related questions you discovered during topic research can assist you here. Use the appropriate heading tags (H2, H3, H4, etc.) to break up your content into sections. Then, write in short paragraphs, use bullet lists, and add visuals along the way (like we're doing here) to improve readability and engagement.
As you structure your content, put the most important information at the top so they're easy to access. Don't make the reader and search engine crawlers dig through the entire page to find what they came for. Remember basic readability concerns like spelling, grammar, and punctuation. Use tools like the Hemingway Editor and Grammarly to catch common errors that annoy and repel users.
5. Use internal links
Interlinking content is a highly underused SEO practice that delivers a significant ranking boost. Internal links help users and crawlers navigate your website and pass authority from your power pages to lower-performing ones.
For every new article, include internal links to related content. For example, if you have an article on "identity theft warning signs," link it to an article on "what to do if your identity has been stolen." As Jonas explains:
"internal links with proper anchor text are powerful signals of context, relationships, and authority for search engines. They're also an excellent way to present your content to users at precisely the right moment."
A proper internal linking structure from your cornerstone page down to individual cluster pages will help your readers explore further and support your SEO efforts. However, make sure to avoid common internal linking mistakes like:
exact match anchor texts for multiple pages with similar intent,
using too many internal links and
linking to irrelevant pages.
To streamline your internal linking strategy, you can use InLink's internal linking tool to build relevant and contextual links between related content pages automatically.
The tool uses related phrases, synonyms, keyword variations, and sentence fragments to vary link anchors and prevent cannibalization. For instance, look at the anchor texts InLinks has used to build internal links to a hub page on internal linking from other related pages.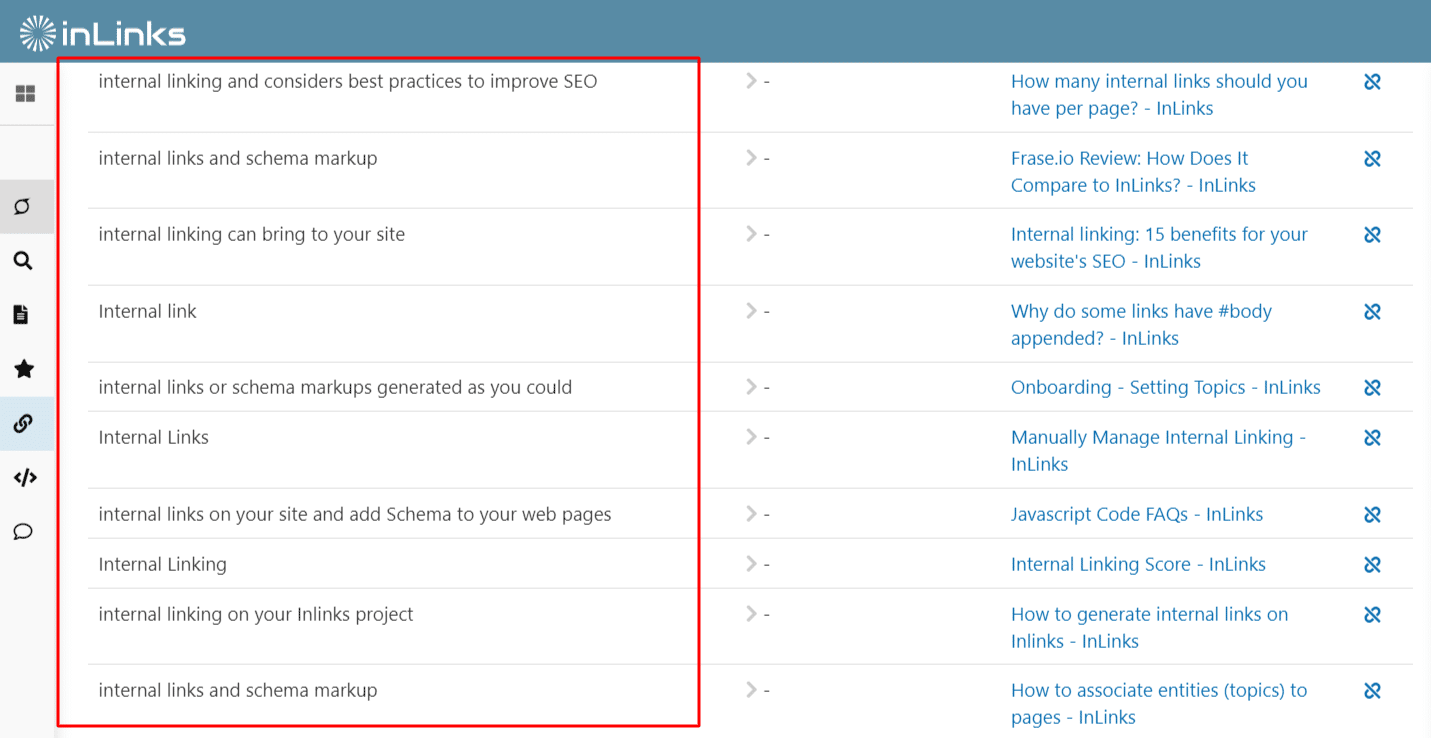 InLinks will also deploy internal links on your website, so you do not have to do anything manually.
6. Add structured data to your content
Schema markup enhances search engine's understanding of content. Adding correct schema codes to an under-performing article can help Google understand the entities within the piece and their context and then show it in more prominent positions on the SERPs—like featured snippets or rich snippets, the knowledge panel, carousels, People Also Ask, etc.
Data from Milestone Research show that occupying one or more of these positions can increase your visibility and click-through rates by up to 58%.
You can use a schema markup generator tool like InLinks to automatically generate correct schema markup codes in the recommended JSON-LD format. InLinks Schema tool will automatically inject the codes directly into the <head> section of your HTML webpage to ensure accuracy.
7. Cover the basic on-page SEO elements
Things like title tags, meta descriptions, URL slug, optimized headlines, and alt tags for visuals are essential if you want your content to receive the attention it deserves. So, ensure you optimize them to describe your content to the crawlers and searchers accurately.
Also, keep them relevant. At first glance, a searcher should be able to tell what your content is about by reading the meta description and title they see on the SERPs. Remember: Google truncates the title and description after a certain length, so keep them short. You can add your target entities in the meta description and headings, but make sure they make sense in the context of your description.
8. Don't forget the technical parts
Technical elements like site speed, navigation, and user experience influence your rankings significantly. If your site is not technically sound, no amount of optimization will help you. So, use tools like Google PageSpeed Insights to run general checks for speed and other issues. If your page loads slowly, enable caching, compress images, and remove unnecessary scripts to improve its load time. Also, ensure your page is easy to navigate, accessible to all kinds of users, and compatible with all devices.
👉 Recommended: Technical SEO in 2023: The Knowledge Panel Show
9. Regularly update your content
Do not publish and forget, especially if you're covering fast-moving topics that are constantly evolving, like big data, AI, and even SEO.
Regular content updates can boost underperforming pieces and retain your rankings for top-performing posts.
Bill Guale, SEO strategist at Content Growth, explains that content updates can include:
Tweaking your title to reflect the most up-to-date information
Adding content to improve and better match search intent
Adding optimized images
Adding and updating internal links
Updating publication date.
By implementing the above on one of his client's old blog post, Bill says he recorded 114,000 impressions and 752 clicks in 30 days versus the 30,600 impressions and 64 clicks the post had before the update.
Jonas Sickler also shares –
"After 8 months with no organic traffic growth, we executed a content audit and refreshed key pages. The updates contributed to a 154.2% organic traffic increase and a 241.5% increase in SERP features following the August 2023 Core Update."

Jonas Sickler
Before updating old content, carry out content audits to identify content opportunities. Bill says he usually looks for 3 main criteria:
Conversion potential
Search volume and
Quick wins (content pieces in positions 4-20).
"While conversion potential is my #1 criteria, I aim to find content update opportunities that tick all 3 boxes," he explains.
Finally, Zach recommends flagging all your educational and how-to-specific pieces for frequent updates in your editorial calendar to ensure your screenshots and how-tos are accurate.
Optimize your content for greater impact
Content optimization dramatically improves the quality and quantity of traffic you receive from Google. To date, organic search remains the best and most reliable way to drive relevant visitors to your website without spending on expensive advertisements. So, going the extra mile to improve every article you produce will enable you to get the most out of your content marketing efforts.
As you implement the strategies mentioned in this article, check out our comprehensive list of the best content optimization tools that'll help you position your content for success, rank higher on the SERPs, and bring more relevant traffic to your website.