WordLift Review vs InLinks: Comparing SEO Content Tools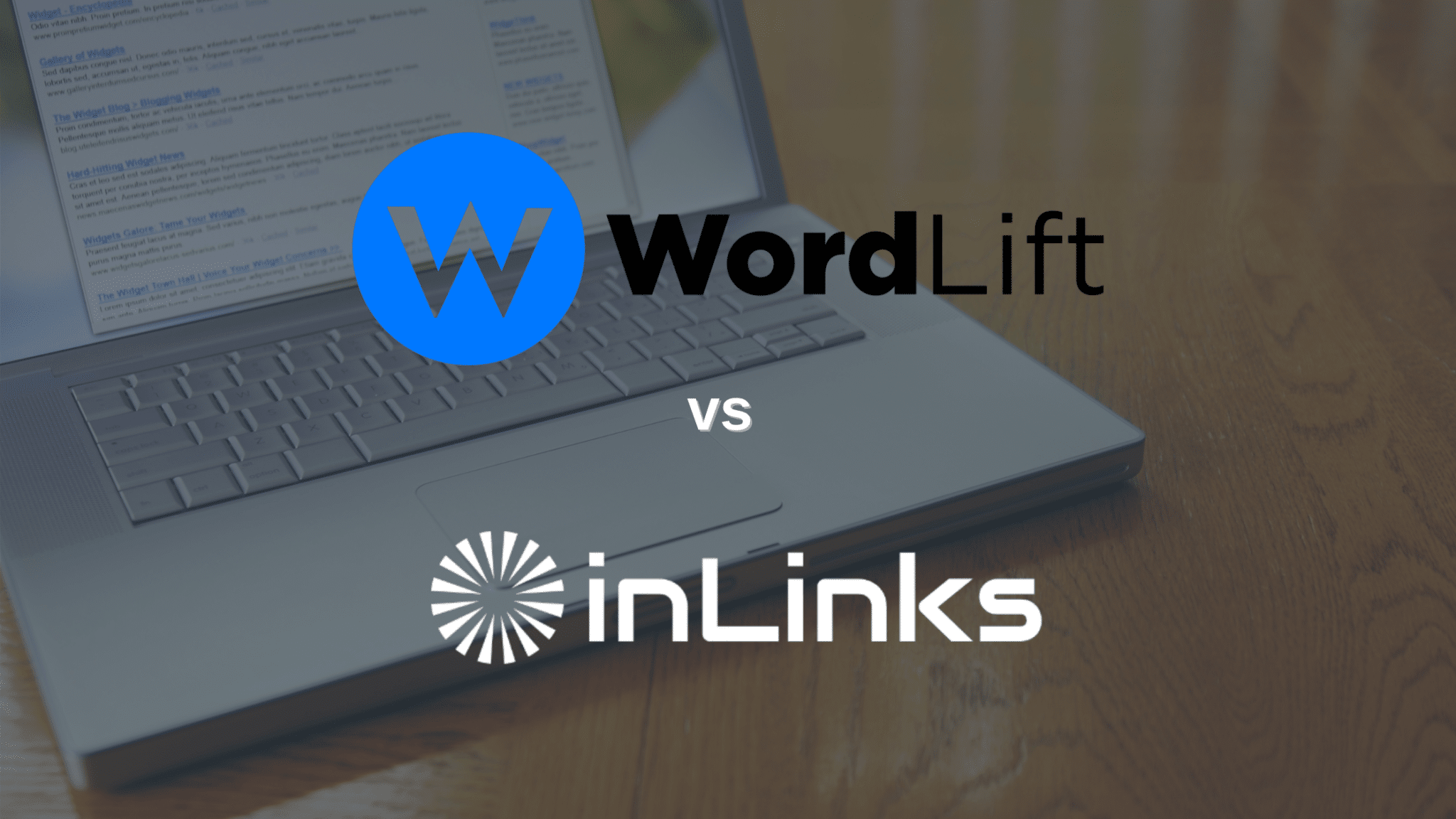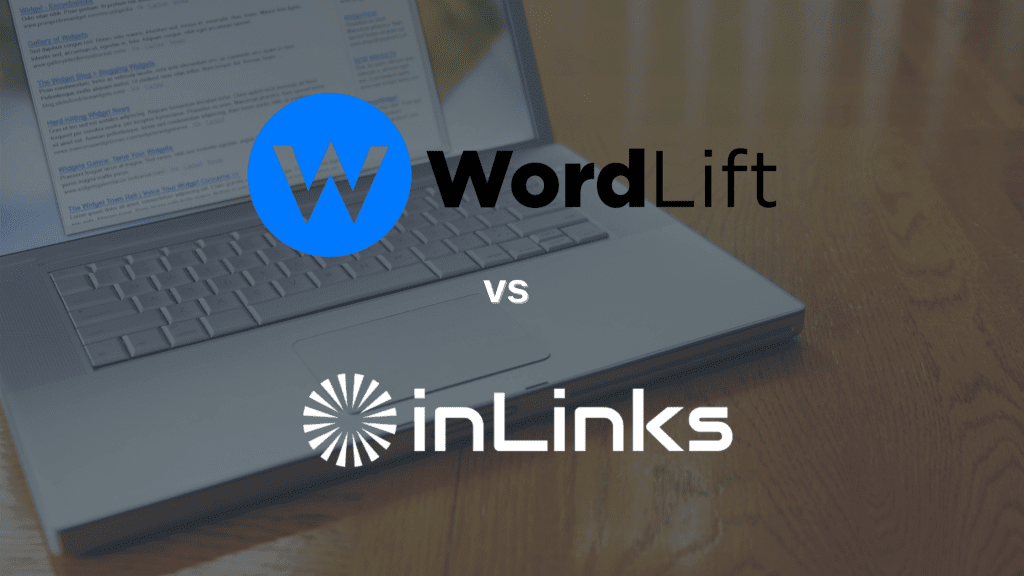 This is a full WordLift Review compared to Inlinks. WordLift promises that its AI-powered SEO tool can help publishers, agencies, and companies get the greatest value out of their content by creating their own knowledge graph. 
Learn everything you need to know about this content optimization platform and how it stacks up against InLinks.
What is WordLift?
Created by insideout10, also the brains behind Salzburg-based software development firm Redlink, WordLift.io is a semantic platform combining natural language processing, knowledge graph publishing and machine learning to optimize content for organic and voice search.
Specifically, WordLift says it helps users accomplish four objectives for content:
Organization
Enrichment
Connection
Optimization
Available as both a WordPress plugin and a JavaScript library, WordLift also features trained language models for 32 languages.
Founded by Andrea Volpini and David Riccitelli, WordLift evolved from a research & development project of insideout10's into a standalone startup late in 2016. They opened headquarters in Rome
What Is InLinks?
InLinks is an advanced entity-based SEO platform that powers competitor analysis, writing optimization, internal linking, automated schema markup, and two types of entity-based SEO APIs. Entities (or named entities) are machine-readable topics and concepts; for example, people, places, organizations, and generic products.
InLinks uses a semantic analyzer and knowledge graph to provide:
Entity-based SEO
AI-enabled content recommendations
Internal links automation
Schema markup implementation
InLinks was founded by French entity-based SEO expert Fred Laurent and Dixon Jones, former CMO of Majestic SEO, one of the world's largest link maps.
WordLift & InLinks Core Features
WordLift's stated goal (as per its plugin documentation) is to help bloggers, journalists and content creators connect and share experiences with their readers as well as structuring knowledge in machine-readable form.
InLinks, on the other hand, bills itself as an entity-based SEO Platform to help you rank higher & stay ranked longer in Google Search. It promises that optimizing content for search is just the start.
WordLift uses open source software and tools to enable you to create and publish your own knowledge graph. As subscribers to Tim Berners-Lee's Linked Data Principles, they subsequently publish your knowledge graph as Linked Open Data.
InLinks uses a proprietary semantic analyzer and knowledge graph to deliver expert-level data for on-page and on-site optimization to drive more effective digital marketing.
According to their documentation, WordLift's features include:
support for self-organising or structuring content using publicly or privately available knowledge graphs via linked open data
an easy way to build your own dataset made of web content, semantic annotations and a custom vocabulary
support for creating web content using contextually relevant fact-based information
valued and free to use photos and illustrations from the Commons community ranging from maps to astronomical imagery to photographs, artworks, and more
insightful visualisations to engage the reader
new means to drive business growth with meaningful content discovery paths
content tagging for better SEO
InLinks features include:
Content optimization with analysis of competitor content by drilling deeper into the wider knowledge graph to find important and semantically relevant extra ideas.
One-click internal linking optimization with automated implementation using a single line of JavaScript.
Automated schema to connect your content to the Knowledge Graphs of major search engines to improve their understanding of your content and improve optimization for Featured Snippets.
WordLift vs InLinks: Who Do They Serve?
On its homepage, WordLift says it is for publishers, agencies, and companies looking to create a knowledge graph and get more value out of their content. Its FAQs broaden the definition of publishers and say: "WordLift is for all bloggers, journalists, and content marketers publishing and fighting for readers' attention on the web."
InLinks has plans and features designed to meet the needs of individual users and freelancers, content marketing and digital marketing agencies, mid-sized companies, and enterprise organizations. It helps content marketers, SEO professionals, digital marketers, and anyone else tasked with writing for the web to optimize their work using entity-based SEO.
How Does WordLift Work?
As a plugin for WordPress, WordLift helps content creators write, organize, tag, and share content online by adding semantic annotation. It combines information publicly available as linked open data to support the editorial workflow by suggesting relevant information, images and links.
Essentially, WordLift helps you organize your content according to your own internal vocabulary to improve navigation, content repurposing, and search rankings. Specifically:
It reduces the complexity of content management and content marketing operations so creators can focus on more creative pursuits.
It enriches your content with contextual information, links, and media, drawing from your custom vocabularies and/or the wealth of open data available on the web.
It uses cross-media discovery and recommendation widgets to improve content quality and reader engagement.
It complements other plugins like Yoast by automatically adding schema markup to your text.
The first step in using WordLift is getting organized. The software analyzes your text in the CMS and identifies matching entities according to 4 categories: Who, What, When and Where.
You can choose which entity suggestions to accept, which inserts internal links. You can also create new entities, which WordLift will learn from in order to recognize these entities in future content. Entities can be edited to reflect your custom vocabulary.
From there, you can choose from a few different widgets to add images, a geomap, related articles, or a timeline to your content. WordLift uses Wikipedia's classification system to automatically identify topics in your article that may lead you to new entry points for that content. The software then adds schema.org markup to your piece and publishes your content's metadata.
As a plugin, WordLift works inside of the familiar WordPress interface.
You can see each of the above processes in action here.
How Does InLinks Work?
InLinks first performs a semantic analysis of each new project's content to retrieve all entities found. You can either begin with existing content or start fresh with a New Brief. InLinks' semantic analyzer digs into the search engine results (SERPs) and builds a knowledge graph of your competitors to uncover how you should write and optimize your content to best meet audience needs.
In its analysis, InLinks considers a variety of factors including user intent, SERPs orientation and semantic density. From there, InLinks:
Maps the knowledge graph created in SERPs analysis against that of your own content.
Identifies common topics and the density of each one.
Provides a gap analysis between your content and top-ranking content, with topics defined by both Google's NLP API and InLinks'.
Updates your word count and topics in real-time, pointing out where topics may be over or underused.
Suggests FAQs content via its Question finder and shows questions being answered as the piece progresses.
Identifies long tail keyword opportunities and suggests content structure to help you achieve the best possible coverage of the topic in order to meet customer and searcher expectations.
All of this happens inside a WYSIWYG onscreen text editor with a familiar content management system feel.
Once an entity is associated with a target page, InLinks starts looking for internal linking opportunities to this page, taking into account entity synonyms detected in your content. You can then review and edit these link opportunities from your dashboard and, once completed, internal links are automatically added in your site's content using the InLinks Javascript code.
Then, semantic schema takes significant words from your text, disambiguates them and connects them with their corresponding (machine-readable) entities. In addition to the semantic schema, InLinks also automates FAQ Schema markup, enabling FAQ rich snippets in search engine results pages.
How Much Does WordLift Cost?
WordLift monthly plans range from €49 (Starter) for small websites to €199 for business and e-commerce users. Each plan comes with a specific number of domains and web editors, as well as schema types. For example, the Starter plan includes 6 schema types while the Business E-commerce plan provides for all schema types.
This means that lower-tier users have some limitations on the features available to them, in addition to the limits on domains and web editors.
At the €79 price point, with the Professional plan, users can have up to 3 domains and web editors. Enhanced features not available to Starter plan subscribers include AI-generated summaries and metadata, Google Analytics integration, and AI Content Recommendation widgets.
AI Product Recommendation Widgets, open APIs integration, hotline support, and support for all entity types is only available to top-tier plan subscribers.
Enterprise pricing is by quote.
How Much Does InLinks Cost?
InLinks is a freemium tool with a no-cost account plan that enables users to analyze up to 20 pages per month. The Free Plan includes all basic features available to paid users at every level.
Freelancer Plan pricing begins at $39 per month and is customizable by the volume of creative briefs required. At the highest level, $195 per month, users have access to 110 creative briefs. Subscribers at this level get access to enhanced Content Brief features, improved content audits, an advanced question finder, and unlimited trends.
InLinks' Agency Plan can also be tiered according to the volume of active URLs in the plan and ranges from $156 to $1794. Additional features for agencies include unlimited users, projects, and websites as well as APIs access, white-labelled briefs, and content writers management tools.
For Enterprise users, there is dedicated infrastructure including CPUs and hosting, unlimited pages, and 10,000 credits per month. Subscribers have access to unlimited URLs and everything in the lower-tier plans for $1999 per month.
What Happens If You Stop Using InLinks?
If you cancel your InLinks subscription, you will no longer have access to the platform. That means you cannot analyze new creative briefs, use the editor to optimize content, benefit from its advanced entity-based competitor analysis, or enjoy any other benefits of the software.
The content you created and published using InLinks is not impacted.
What Happens If You Stop Using WordLift?
Breaking up with WordLift is more complicated. If you cancel your subscription but keep the plugin on your website, you will no longer be able to edit or update the content you created with it.
If you deactivate the plugin, all metadata, entities and pages created with WordLift will disappear from your dashboard. Everything created can still be retrieved (by exporting) or reactivated (by reactivating your subscription) from your WordPress database.
If you want to unpublish the linked data you created by using WordLift, you will need their support team to do this for you.
WordLift vs InLinks: The Bottom Line
WordLift and InLinks are two entity-based content optimization platforms with dramatically different approaches to entity-based SEO.
WordLift uses open source tools to democratize semantic technology and enables editorial teams to build their own knowledge graph using machine-readable entity IDs. That content is then published as Linked Open Data.
InLinks is a proprietary entity-based SEO platform that understands millions of entities in context, analyzes competitor content, makes content optimization recommendations, and automatically applies internal links and semantic schema markup.
WordLift offers three subscription packages and will tailor a quote for enterprise organisations.
InLinks has a freemium pricing model with a free tier, customizable pricing based on needs for Freelancers and Agency users, and an all-access Enterprise plan with transparent pricing.
WordLift is available as a WordPress plugin and JavaScript library, while InLinks is a standalone platform with a user-friendly WYSIWYG onscreen text editor.
Each offers a free demo and collection of helpful resources to assist users in getting the most of their tool's capabilities.
Sources:
https://inlinks.com/wp-content/uploads/2022/10/White-png-300x60-1.png
0
0
Miranda
https://inlinks.com/wp-content/uploads/2022/10/White-png-300x60-1.png
Miranda
2021-05-20 07:16:00
2021-05-19 14:46:26
WordLift Review vs InLinks: Comparing SEO Content Tools