If you're searching for an SEO tool to help you better optimize your content for search, you've no doubt heard of Surfer SEO. It's an excellent optimization tool that provides the competitive analysis, business intelligence, and SEO recommendations you need to succeed in the SERPs. However, it's not the only great tool out there, especially considering its costly price tag.
Another top content optimization tool is InLinks. InLinks offers all the same tools as Surfer SEO, with additional features like automatic internal linking, schema automation, and comprehensive content planning to help you optimize your entire content strategy and achieve better results.
And InLinks offers all these features at a fraction of Surfer SEO's price without any extra add-ons. Plus, you are not missing out on pedigree either, as InLinks has won several awards, including a Global Search Award for SEO technology of the year.
Read on for a detailed comparison of two powerful content optimization tools, InLinks and Surfer SEO, to see how their features, technology, and pricing stack up.
What is Surfer SEO?
Surfer SEO is a popular tool used by digital marketing professionals in SEO copywriting and optimization. The tool analyzes the top-ranking search results for any given keyword based on 500 potentially impactful search ranking factors. Then, it provides keyword and content recommendations to help you outrank competitors. Surfer SEO was founded by Michal Suski, Richie McMahon, and Tomasz Niezgoda and is headquartered in Wroclaw, Poland.
What is InLinks?
InLinks is the first full suite of entity-based semantic SEO tools on the market. It uses a proprietary semantic analyzer and knowledge graph to streamline content research, writing, and optimization. InLinks works by retrieving all entities found within a piece of content and then providing recommendations for on-page content optimizations. It also automatically builds internal links and schema markup to improve the search engine understanding and ranking of any blog post, article, or webpage. InLinks was created by SEO veterans: Fred Laurent and Dixon Jones.
Surfer SEO vs. InLinks Features
InLinks and Surfer have some similar features:
content editor,
keyword research,
content audit,
SERP analyzer and AI writer— and we'll get to them shortly.
Beyond traditional keyword optimization, both tools use Natural Language Processing to identify the entities, context, and the sentiment of queries in order to make better-informed SEO recommendations.
InLinks is an entity SEO tool with its own NLP engine and API. Surfer, on the other hand, relies on IBM Watson's NLP model to identify and measure entities. So, it makes sense to compare their NLP engines to show you which is more aggressive at extracting correct entities, understanding them, and providing the insights you need to dominate Google's semantic search engine.
Surfer SEO NLP vs. InLinks NLP
To properly test both NLP systems, let us analyze and extract named entities from the landing page of InLinks' CEO, Dixon Jones, using IBM Watson (Surfer's NLP) and InLinks'.
Access the IBM Watson entity checker using this link. Once you input the URL whose entities you want to check in the text box, click analyze URL to run the system and extract meaning from your text.
After its analysis, IBM will display the results categorized into "entities," "keywords," "concepts," and "relations."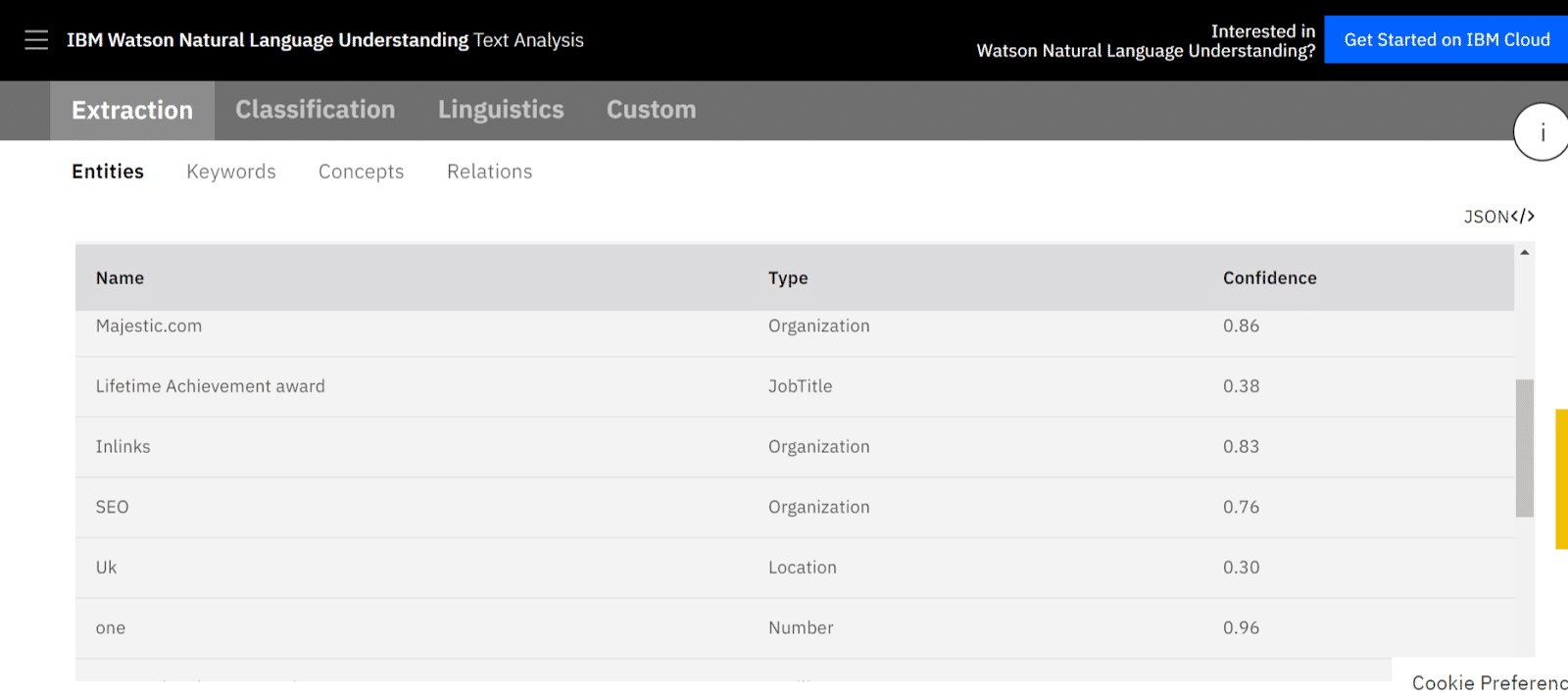 Under entities, you'll see the entity name, type, and confidence. But, when you look closely at the different entity types, you'll notice some inconsistencies. For instance, one of the entities found on the URL is SEO. However, "SEO" is not an organization as IBM Watson has reported it to be.
And that's not the only skewed entity interpretation on that list, as even the "Lifetime Achievement Award" is reported as a job title. This means if using Surfer SEO, you need to confirm that its entity recommendations are accurate and you're optimizing your content within the correct context. Also, IBM only reports a minuscule amount of entities compared to InLinks NLP.
You can access the InLinks entity checker here.
Enter the URL and click Go to analyze the page. For this URL, you can see that InLinks' aggressive NLP has extracted more entities than IBM. It even identifies the entities detected by Google's NLP and those the search engine has yet to discover.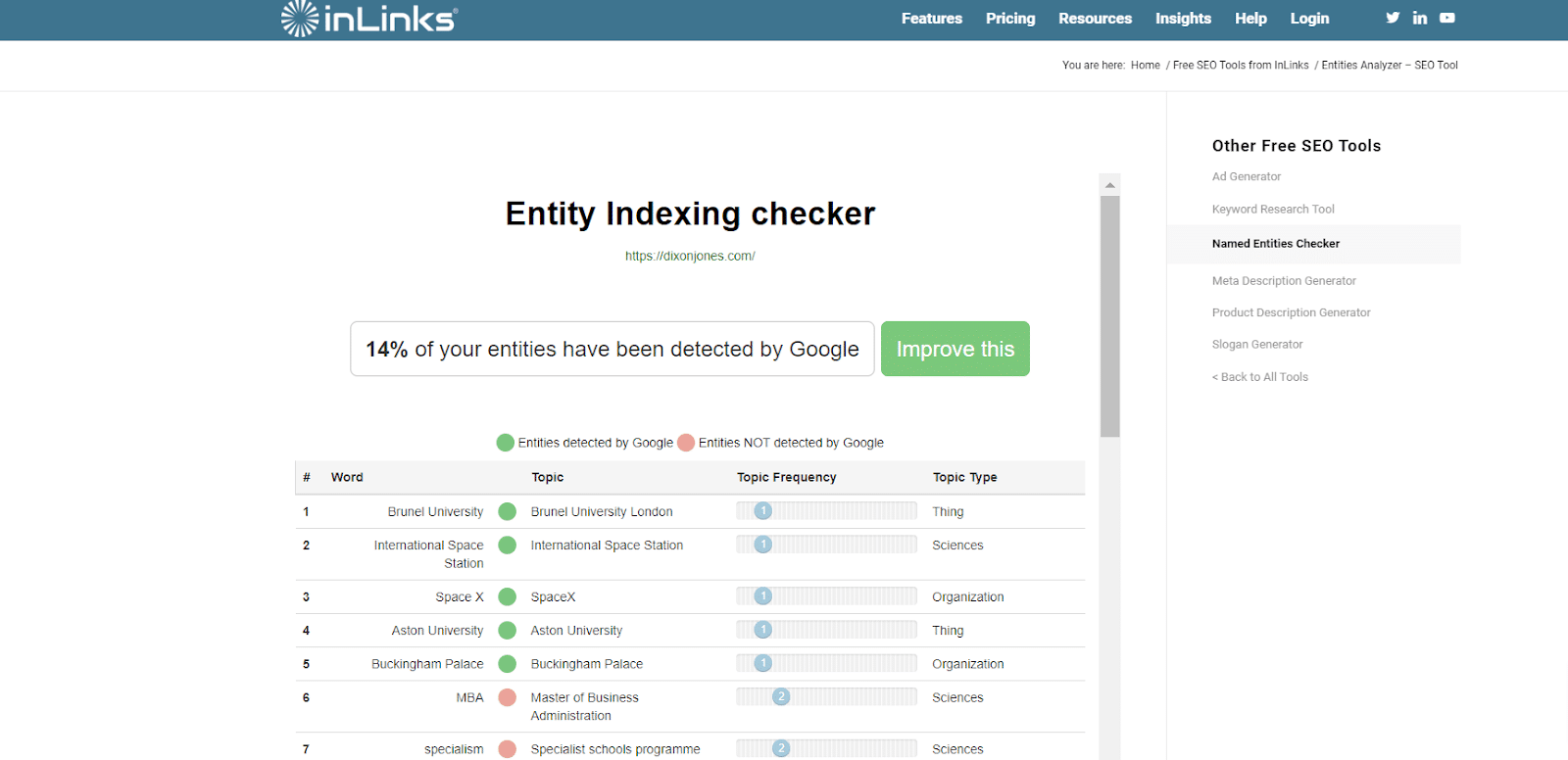 For every entity, InLinks reports its overarching topic, how often the entity is present in the content, and the correct entity type. If you want to help Google discover more entities on a page and better understand it, click Improve this, and InLinks will generate schema markup for that page.
With InLinks' comprehensive entity report, you can uncover more entities not yet included in Google's knowledge graph. Including and optimizing for these entities helps Google discover more entities and improve its knowledge base.
Let's now look at Surfer's and InLinks' on-page optimization features.
Content Editor
When it comes to content optimization, the content editor is where all the magic happens. Both tools offer an easy-to-use WYSIWYG content editor with optimization recommendations.
In Surfer, you'll find the content editor option on your dashboard after onboarding.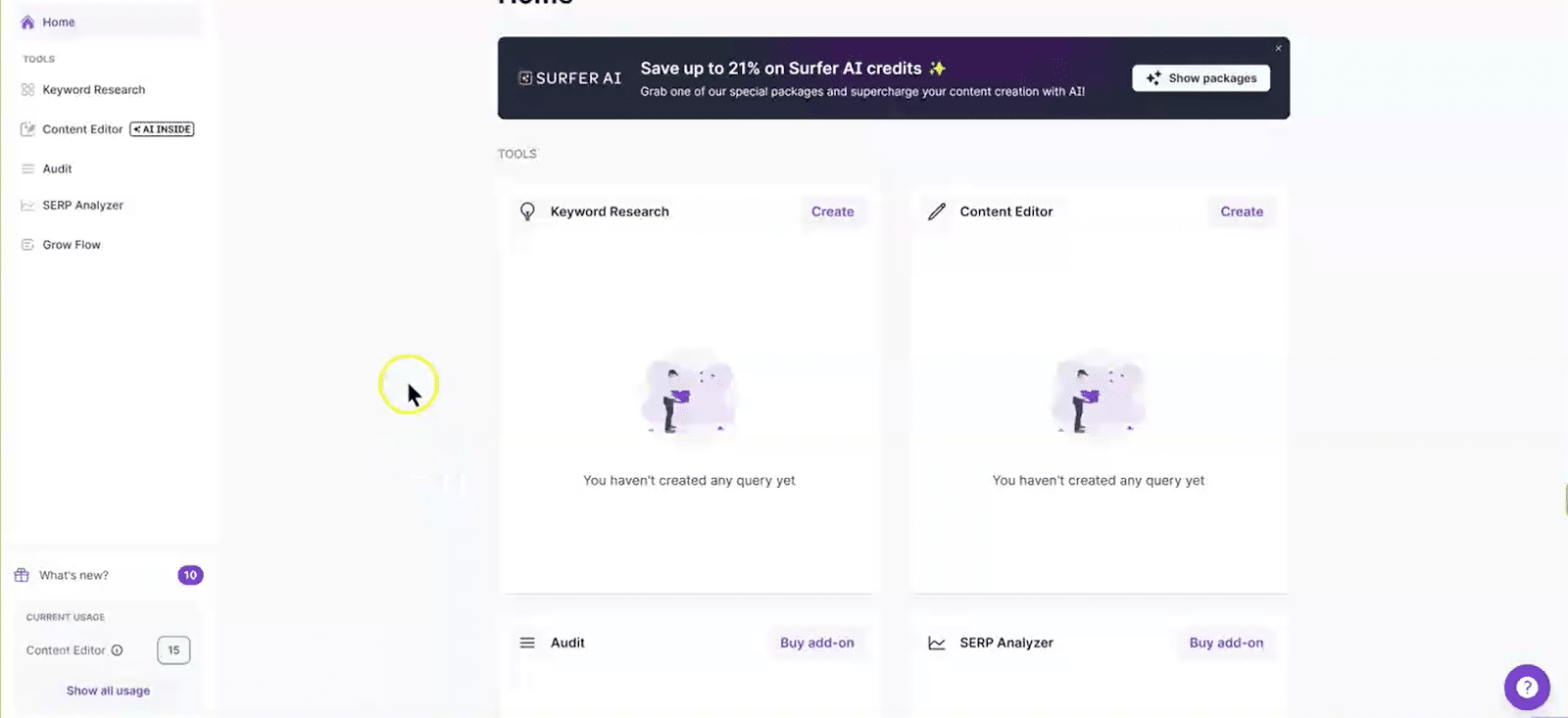 Once you click "create" on the editor card, you have the option to write and optimize content from scratch in the editor, generate an article with AI, or import existing content for optimization.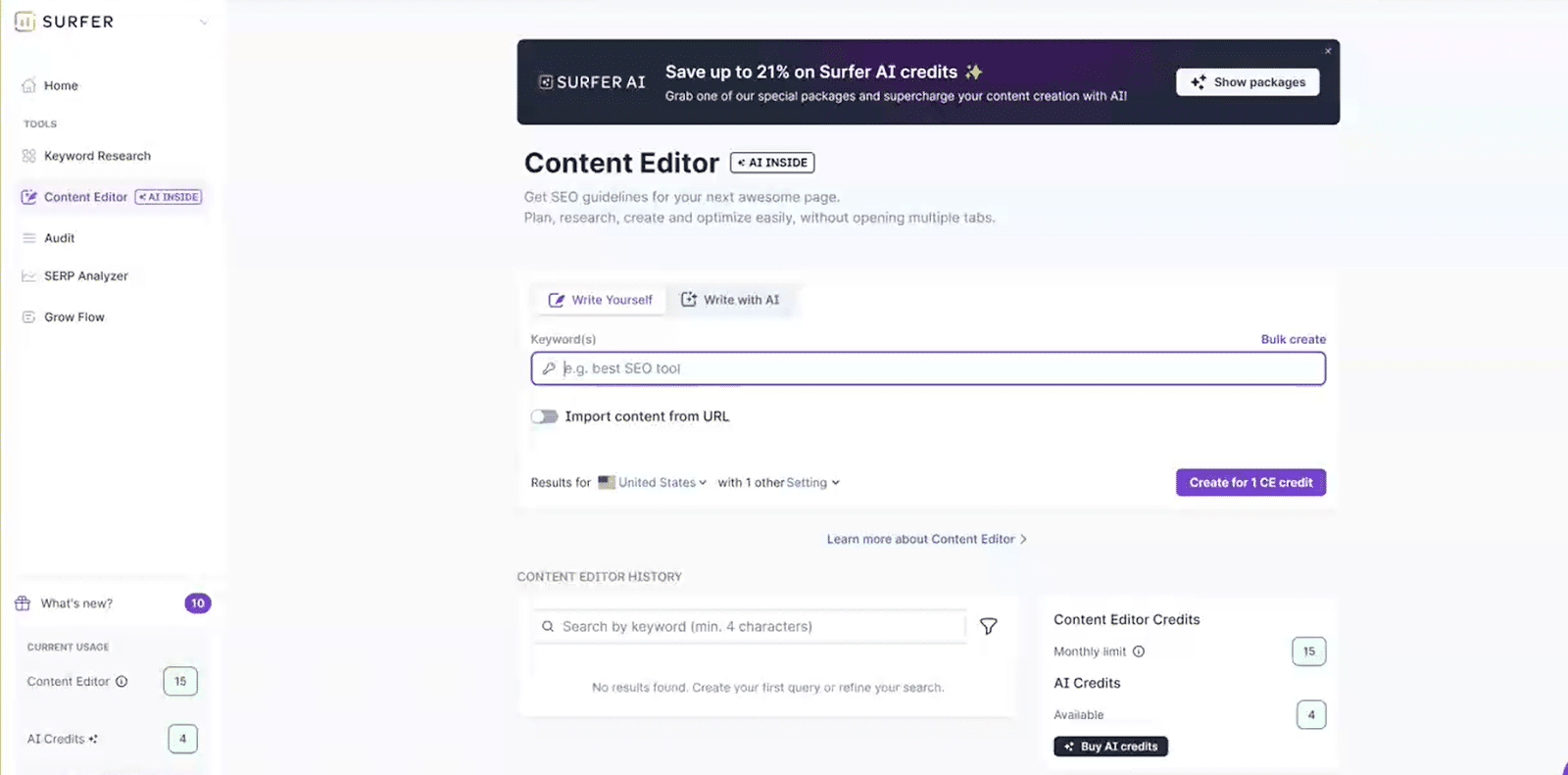 If you import content, Surfer will analyze your page, compare it against the top 10 competitors for the keyword, and then bring it to the editor with suggestions for improving it.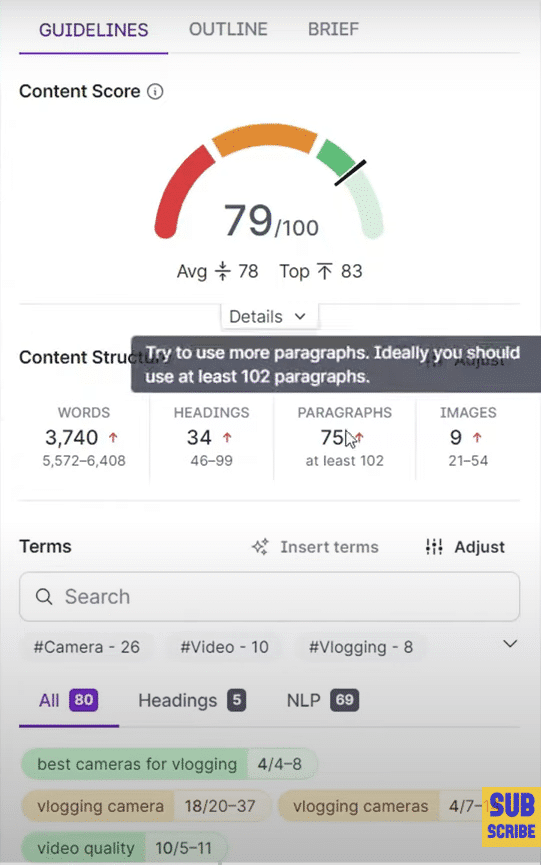 Image via David Utke on YouTube
The suggestions stay in the right panel and include things like content score, structure, and keywords. The content score summarizes your article's current optimization level. It'll also reveal the average and top content score among competitors to give you an idea of what to aim for as you optimize.
The recommended structure is also based on the competition and covers word count, headings, paragraphs, and images to make your content more comprehensive. When you come down to terms, you'll see a list of all the keywords in your content and how often you've used them compared to the competition.
Since Surfer is keyword-based, it makes entity analysis optional. It also differentiates its entity suggestions from the regular keyword recommendations. So, it's important to look in the NLP tab for the entities that'll improve the search engine's understanding of your content. (And do not forget to confirm them for accuracy).
At the top of the editor, Surfer provides a possible content outline and brief built by their AI writer. This outline includes possible h1, h2s, and questions, while the brief lists competitor websites. Adding headings, keywords, questions, and images to your article will improve the content score in real time.
With InLinks, content optimization happens inside the content brief tool. So, to access the content editor and optimize existing content, create a brief. In the keyword field, add the topic you want to optimize your content for, choose the target market, and provide the URL of the existing article.

Using its natural language processing algorithm, the InLinks system will analyze your content to understand it and extract the named entities. It'll also analyze the SERPs for your topic, run keyword research, and topic gap analysis against the competition. After its analysis, the system will bring your content into the editor, where you can improve it.
On the right side of the editor, you'll see your content score, word count, and readability score alongside the entities you need to optimize your page for higher rankings. Remember, InLinks is an entity SEO tool, so its recommendations are based on entities with semantic relationships. Since the system doesn't differentiate between keywords and entities like Surfer, you can rest assured that you'll be optimizing for Google's semantic web.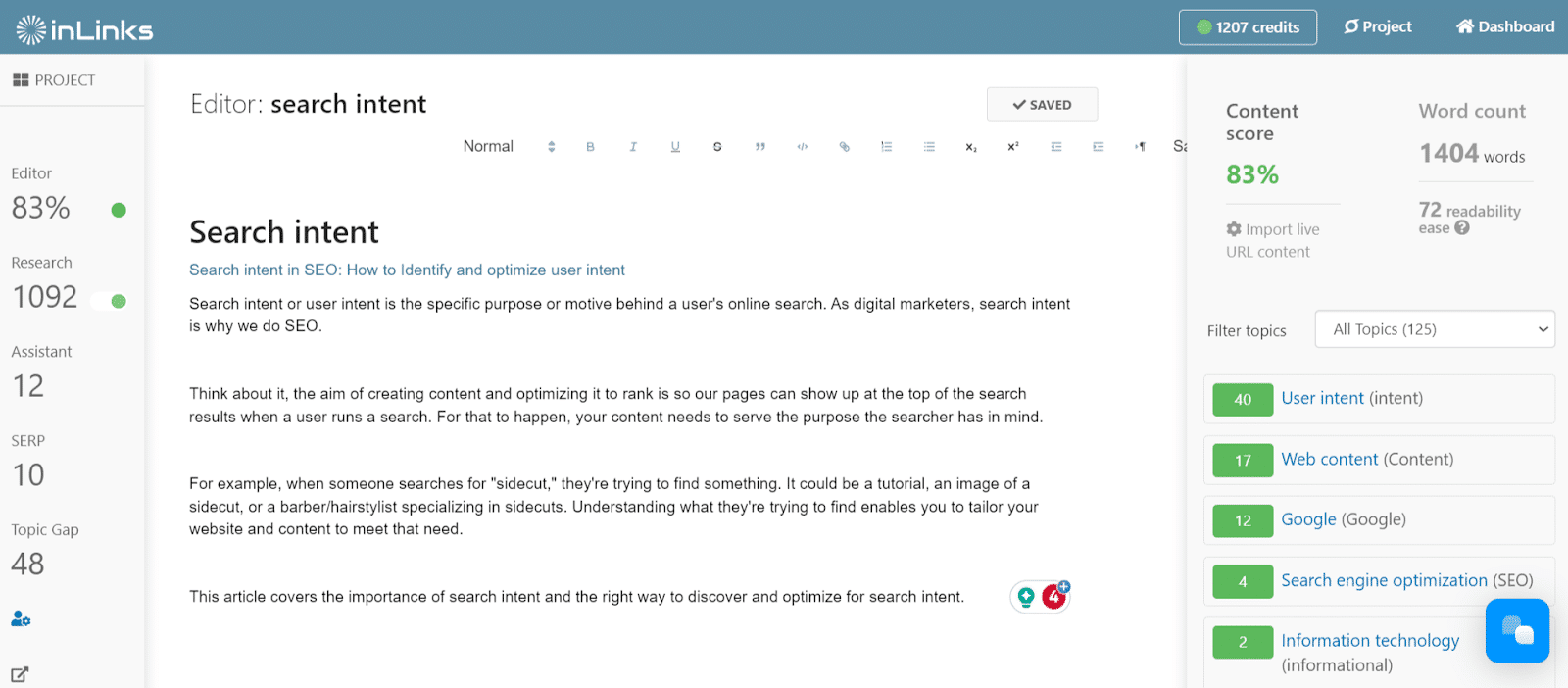 The number next to every entity signifies how often you've used such an entity in your content. Synonyms and related words are also included in every entity count.
If your content scores poorly (below 80), start improving it by adding relevant entities from the list in their correct context. I mean, it's not enough to simply add a word from the list; but you need to talk about it in the right context for your topic and in a way Google understands.
If you need help understanding an entity before including it in your content, click on the entity. InLinks will show you its Wikipedia meaning, related terms, synonyms, and how your competitors are using it. The competitor sections help with ideation so you know where/how to include the entity in your content.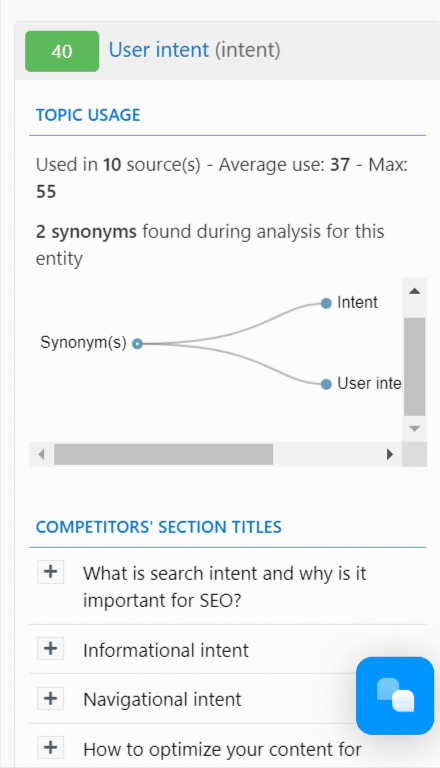 Click the + sign to bring a competitor's section title into the editor.
Like Surfer, InLinks provides a possible content structure/outline with headings to ensure your content is as comprehensive as possible. So, navigate to the AI assistant tab from the left panel to see content section ideas you can add. Click Add to Ideas to bring a section into your editor or Edit Structure to tweak a section before adding it.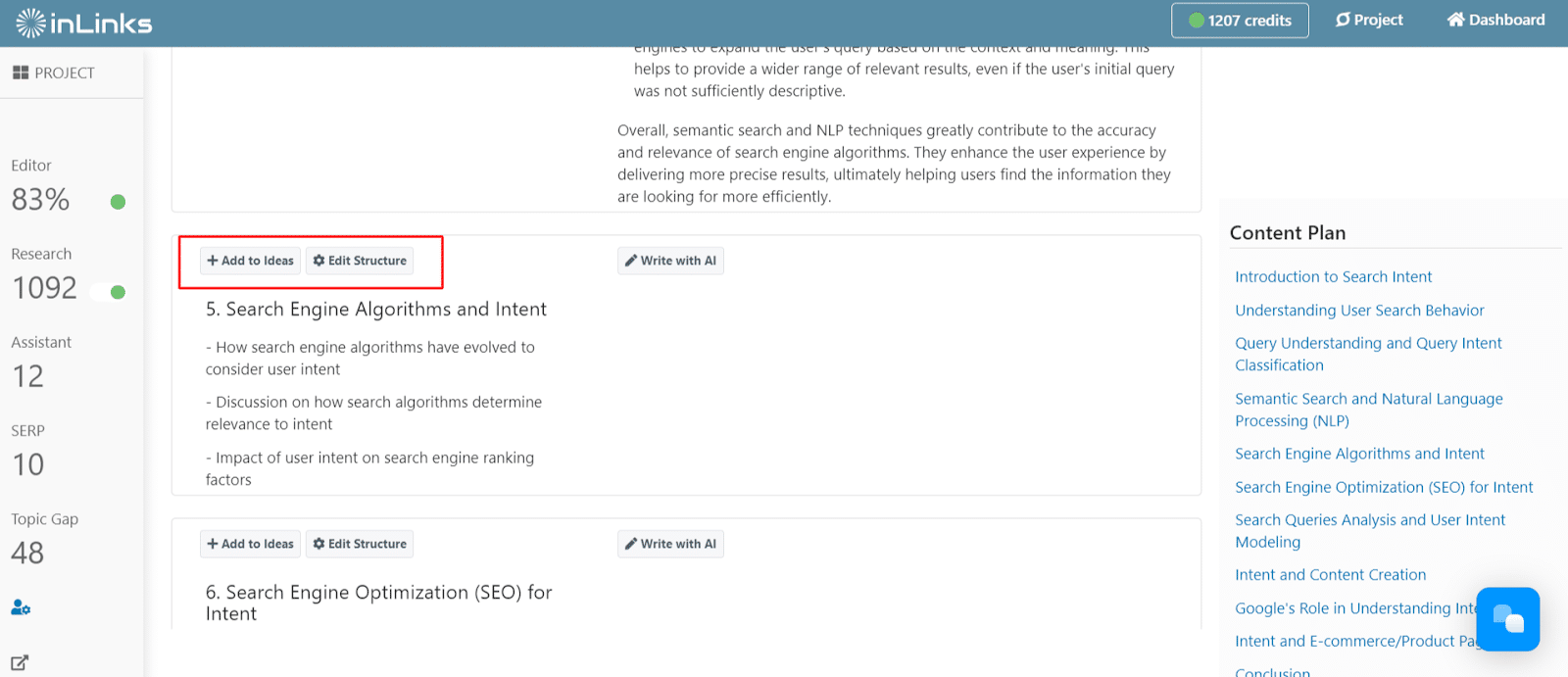 Your content score will improve in real time as you add sections and entities. We recommend aiming for an 80% content score or above when optimizing.
Quick tip: Before working in the editor, navigate to the Topic Gap tab to visualize your current optimization level. You'll see a summary of your important entities compared to the competition, the entities detected by Google, your topic coverage, and key recommendations.
💡—Quick Tip: Before working in the editor, navigate to the Topic Gap tab to visualize your current optimization level. You'll see a summary of your important entities compared to the competition, the entities detected by Google, your topic coverage, and key recommendations.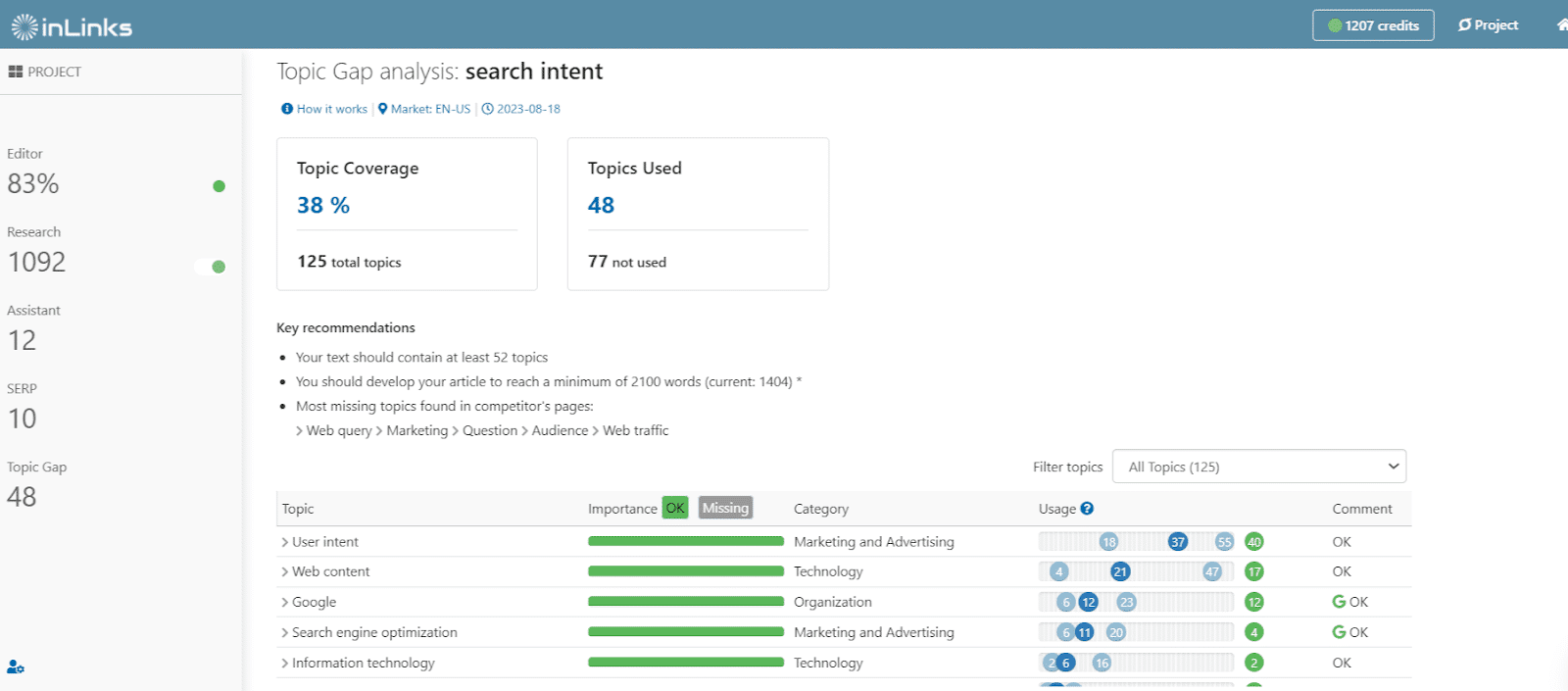 Keyword Research
A critical part of content optimization is targeting the right keywords. Both InLinks and Surfer SEO provide keyword research tools to give you all the insights you need to create successful content.
In Surfer, select the keyword research tool in your dashboard. Then, add the seed keyword you want to start with, select your target country, and click "create keyword research."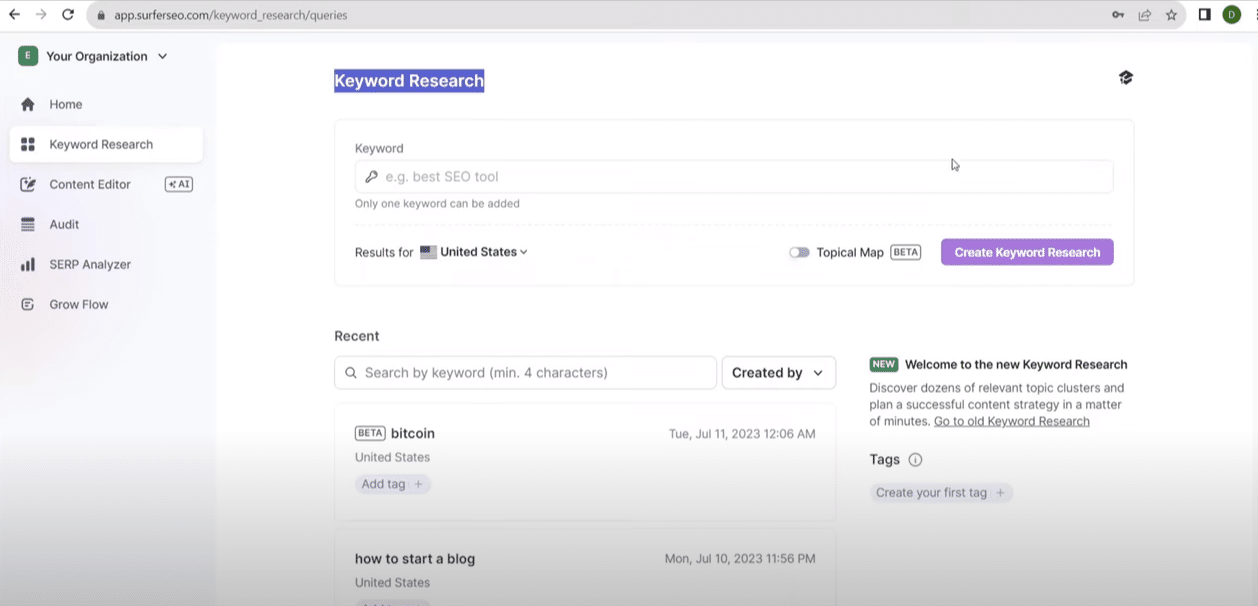 Image via David Utke on YouTube
Surfer will return keyword variations clustered into content idea cards on the next screen. The topic ideas are grouped by the traditional search intent —informational, commercial, etc. They also show estimated search volume and keyword difficulty data. Selecting a cluster card will open the content editor so you can start creating and optimizing content immediately.
Keyword research on InLinks is more comprehensive. Again, it happens inside the content brief tool. So, go to Create a New Brief, add your seed keyword and target market, and leave the URL field blank.
As the NLP algorithm analyzes your keyword, it'll tap into the SERPs, Google's knowledge graph, and AutoSuggest to extract keyword ideas, questions, and user intent data. Once the analysis is complete, navigate to the Keyword Research tab.
You'll notice that InLinks groups keyword ideas into topic clusters you can use to create comprehensive standalone content. Each topic cluster comes with several keyword variations, volume, relevance, and a priority score.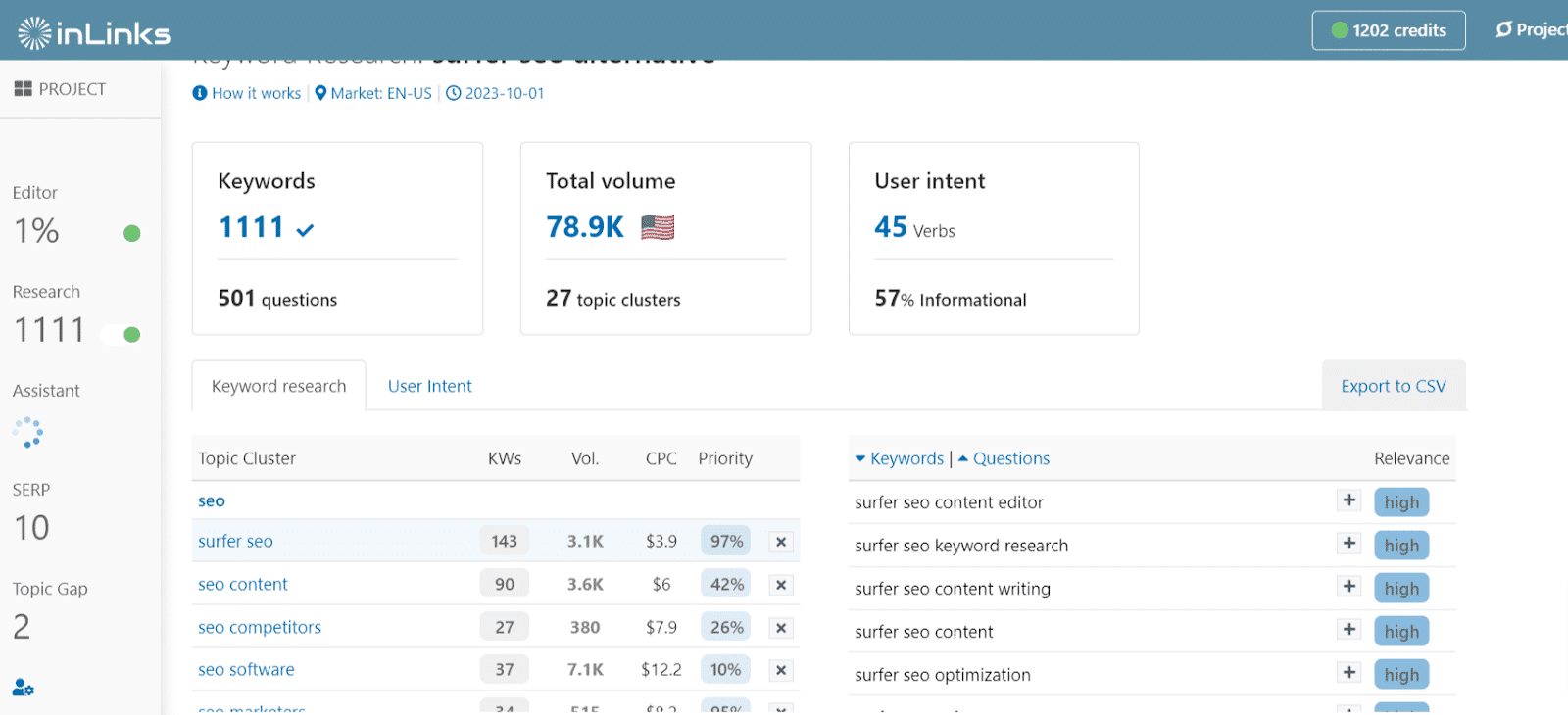 Click on a cluster to open the search query variations, and questions pulled directly from Google's AutoSuggest. The User Intent tab beside Keyword Research shows you the exact expectations users have when searching for your keyword.
So, in addition to telling you the keyword you want to target is informational, InLinks will also show you the searcher's goal, which could be "to plan," "to create," "to learn," etc. This detailed data helps you to align your content to match user intent better.
If you click on the + sign beside any keyword or question, it'll paste into the content editor as part of your outline or brief.
Content Audit
Surfer SEO and InLinks provide content audit features to help you identify and fix crucial on-page SEO elements preventing existing content from performing as expected.
With Surfer, the content audit is an add-on feature, meaning you need to purchase it separately after buying a Surfer subscription plan. However, the audit reports pack detailed insights and suggestions for re-optimizing content.
Its interface looks a lot like the keyword research tool. Just enter the URL of the page you want to audit, add your keyword (s), and select Create Audit.

Next, the tool will compile a comprehensive report showing content score, internal link recommendations for the URL, terms (keywords) to use in your content, word count, missing common backlinks (compared to the competition), and even technical elements like page speed.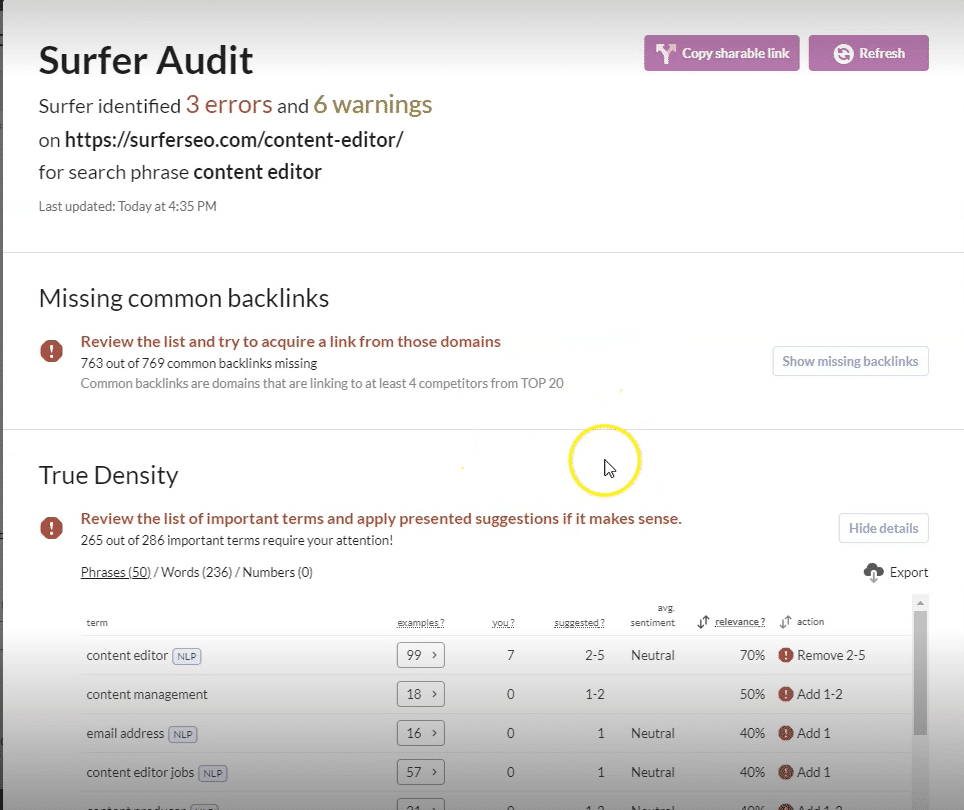 However, you'll find most of the information from Surfer's audit tool in the content editor when you import an existing URL (without buying the audit add-on).
For InLinks, the content audit lives within each project you create. So, when you bring content pages into an InLinks project and assign them to a target topic, you can quickly audit the content to see step-by-step SEO recommendations (similar to what you get in the content editor).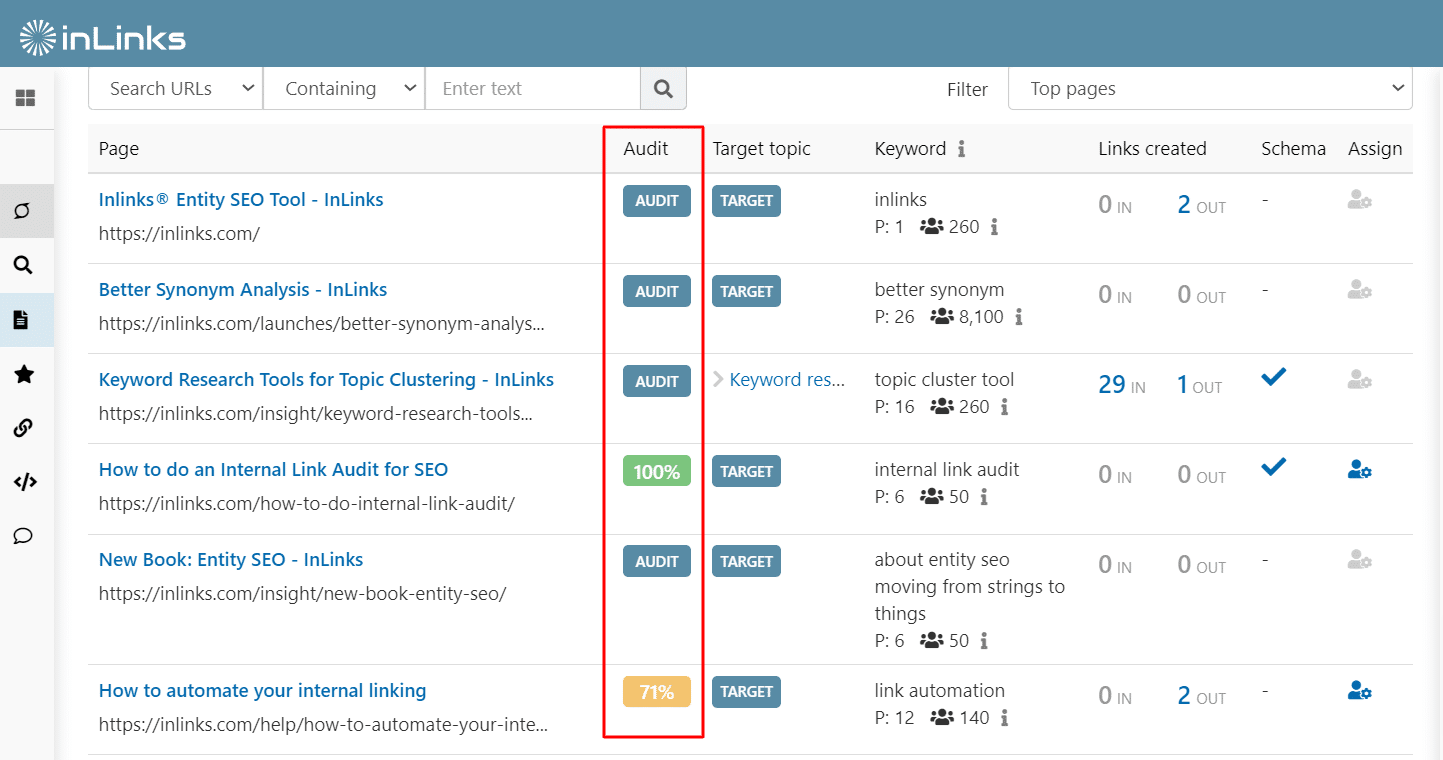 Once you click Audit, you'll need to enter the keyword you want to audit the page for.

Then, the NLP algorithm will run its analysis and display suggestions for improving the content editor. Again, you can look through the Topic Gap Analysis tab and AI Writing Assistant to see recommended content structures for adding more depth to your content.
To share the audit with a writer, simply select the Assign to a Writer button in the left panel. The writer will be able to work within the InLinks system and improve the content with SEO suggestions. To show a client an audit report from InLinks, select Read Only Brief at the bottom left to generate a link summarizing all the SEO recommendations.
SERP Analyzer
The SERP analyzer from InLinks and Surfer provides a bird's eye view of the competitive landscape for your target keyword.
In Surfer, after you provide a keyword, you'll be able to see the top 10 competitors at a glance, their content structure, word count, and SERP position. You can dig into data points like domain score to get a rough idea of your competitor's backlink profile just to be sure you want to compete against them.
Things like questions that appear in the SERPs, content scores for top-ranked pages, meta description characters, and even page load time are included. It's a pretty detailed report and, honestly, a little overwhelming (for the average user) with how granular it gets. Unfortunately, this tool is not available in the monthly Surfer subscription. You have to buy it separately.
InLinks' SERP analyzer gives you the exact dose of competitor data you need to measure your content and improve its quality. You'll find SERP analysis inside the content brief you've already generated for your keyword. So, navigate to the SERP Analysis tab to see your top 10 competitors, average word count for your topic, readability ease, and search engine understanding score.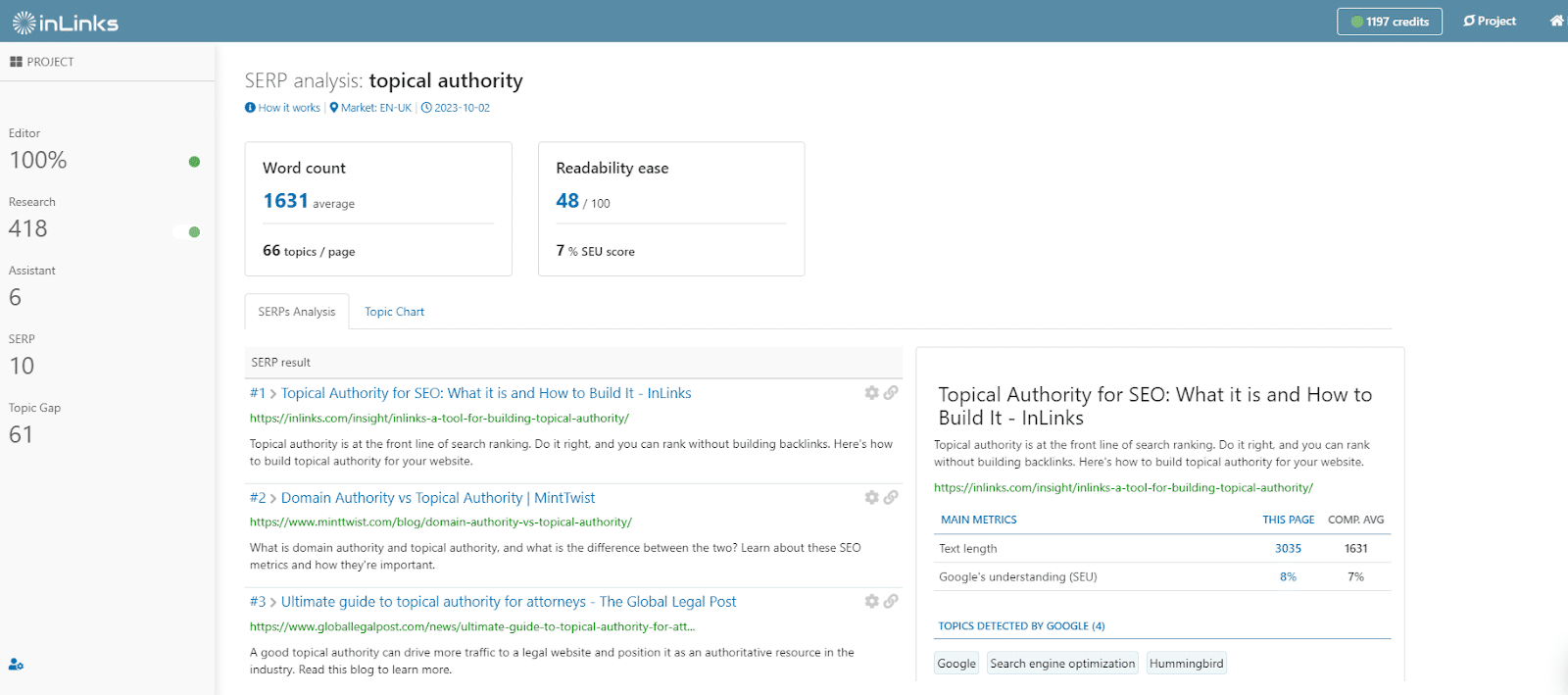 If you click the Gear ⚙️ icon, you can edit the list of competitors to bring in other websites you prefer to analyze. InLinks will show you the content sections, word count, and important entities for every competitor.
You can send competitor sections to the editor and use them to bulk up your article by clicking the + sign. To quickly read through competing content, just click the Link 🔗Icon to open the page on your browser. The entities detected by Google quickly tell you why those pages rank well, so it's worth adding them to your content to maximize its performance.
AI Writer
Finally, InLinks and Surfer have an AI writing tool that helps with the heavy lifting.
Surfer's AI writer is actually Jasper AI, and it lives inside the editor. Note: It's not free to use. Every article you write with the AI writer costs $29.
You can use the AI writer at the beginning stages of content optimization.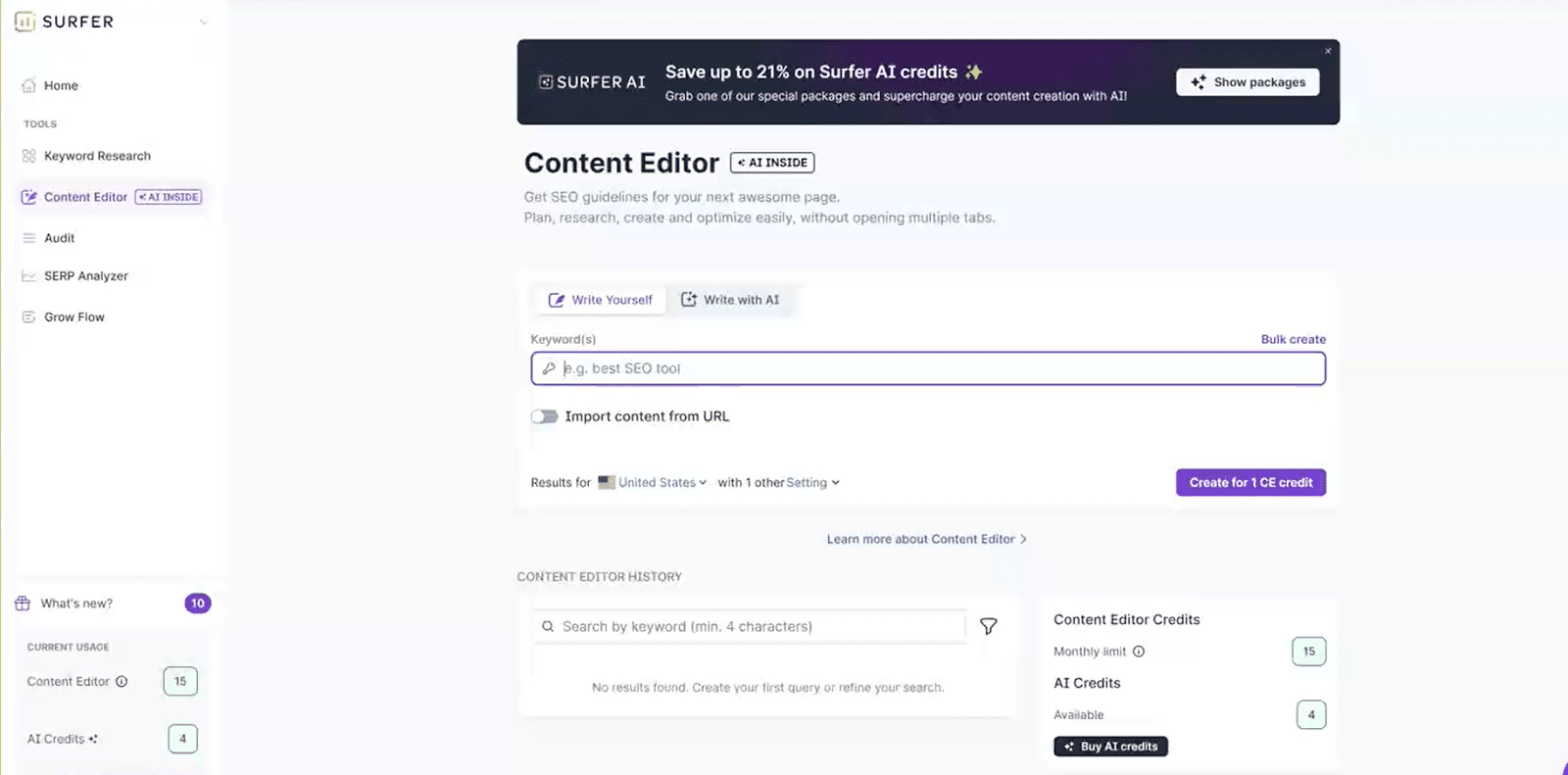 Simply provide your keyword, select "Write with AI," and then "Create for one AI credit." The tool will analyze your keyword to find NLP entities first. You can set the tone of voice and the competitors you want the AI tool to reference before clicking "Create Outline."
Surfer will generate an outline with possible sections and write a complete and optimized article with headings. Just a heads up – step away and do something else while the AI tool works in the background because it takes a very long time to generate the content ( in our test, ~ 25 minutes!).
The InLinks AI writer lives inside the AI writing assistant tab (where you have the content structure). Instead of writing an entire article from scratch, the AI writer serves as a creative assistant to fill in the gaps where necessary. Although you can write the whole piece with AI, InLinks encourages you to do it in halves, so you have more control over the final output.
Next to any content section, click Write with AI, and the system will use that section as the prompt for generating relevant content.

Remember, you can edit the content structure before writing with AI. And after writing, you're free to regenerate the output if it's unsatisfactory. Click Add to Editor to bring the AI content into the WYSIWYG editor. The content will be formatted with headings and paragraphs and optimized with the on-page recommendations.
While the content quality is great, and you can use it as is, it's always better to edit, refine, and add a human touch to AI content before publishing.
Other InLinks Features for Content Optimization
Beyond the on-page SEO recommendations, InLinks provides automatic internal linking and schema markup to improve the search engine's understanding of content. This enhanced understanding can improve your ranking and earn you prominent search positions like rich results.
Internal Links and Schema
After you hit publish on already optimized content, add that new page to an InLinks project and associate it with a target topic. InLinks will automatically build internal links to and from relevant related pages. It'll also add the correct webpage and FAQ schema markup in the recommended JSON-LD format.
Surfer SEO doesn't create schema markup. Although it provides internal linking suggestions in its audit report, it doesn't build the links. This means you have to manually look through every page to uncover opportunities for internal linking. InLinks eliminates this manual effort with its automated link-building.
And now, with the new RSS page discovery, InLinks can read new pages of content to discover their most important topics and then build internal links and schema without you bringing them into a project or doing topic associations manually. Inlinks makes this decision based on its understanding of the pages you've added previously.
Surfer SEO vs. InLinks Plans and Pricing
When it comes to pricing, Surfer SEO and InLinks are on two opposite sides of the scale.
Surfer SEO offers four plans – essential, advanced, max, and enterprise. There's no free plan or free trial for test-running the tool. The essential starts at $89/month, and according to Surfer, it's ideal for individuals and small teams with low content needs. You can write 15 articles in the editor or import 15 existing content monthly at that price point. You can also run up to 100 keyword searches daily.
However, the AI writer, content audit, and SERP analysis features are not included. They cost an extra $29 (per AI article), $49 (per 100 audits monthly), and $29 (per 100 SERP analysis daily), respectively. As you can see, the price quickly adds up.
The max plan for power users starts at $299/month, and while it includes the audit and SERPs analysis, the AI writer still comes at an extra cost.
InLinks, on the other hand, is more affordable. It offers four plans – free, freelancer, agency, and enterprise. The free plan gives you 25 monthly credits and access to all the content optimization tools.
The freelancer plan starts at $49/month for 100 content pages. The agency plan costs $196/month for up to 430 pages. Of course, these prices scale as your website grows. However, there are no add-ons or extra costs, and you can access the full suite of SEO tools at even the lowest (free) plan.
Key Differences Between Surfer SEO and InLinks
Surfer SEO operates only at the page level, whereas InLinks works at the site level.
Surfer SEO offers more on-page fields to optimize, such as image alt text, while InLinks injects schema and internal links to the site.
Surfer SEO optimizes for keywords on a single page. InLinks optimizes for entities and can also connect topics between pages.
Surfer SEO does not offer a free trial, while InLinks provides a free plan with access to all features.
For large businesses, Surfer SEO's Business tier has a cap on the number of queries for most features. InLinks' Enterprise tier includes full access to all features for an unlimited number of pages.
Surfer SEO vs. InLinks: Which Should You Choose?
If you're looking for a powerful and affordable SEO content tool to enhance your content efforts, you already know your answer. InLinks delivers the best of both worlds — excellent optimizations before/ after you hit publish at affordable prices.
With InLinks, you'll deploy superior quality content at scale, rank high on the SERPs, and retain your rankings without breaking the bank.
Create a free account today to start optimizing your content for better rankings.