Surfer SEO Review: How Does It Compare to InLinks?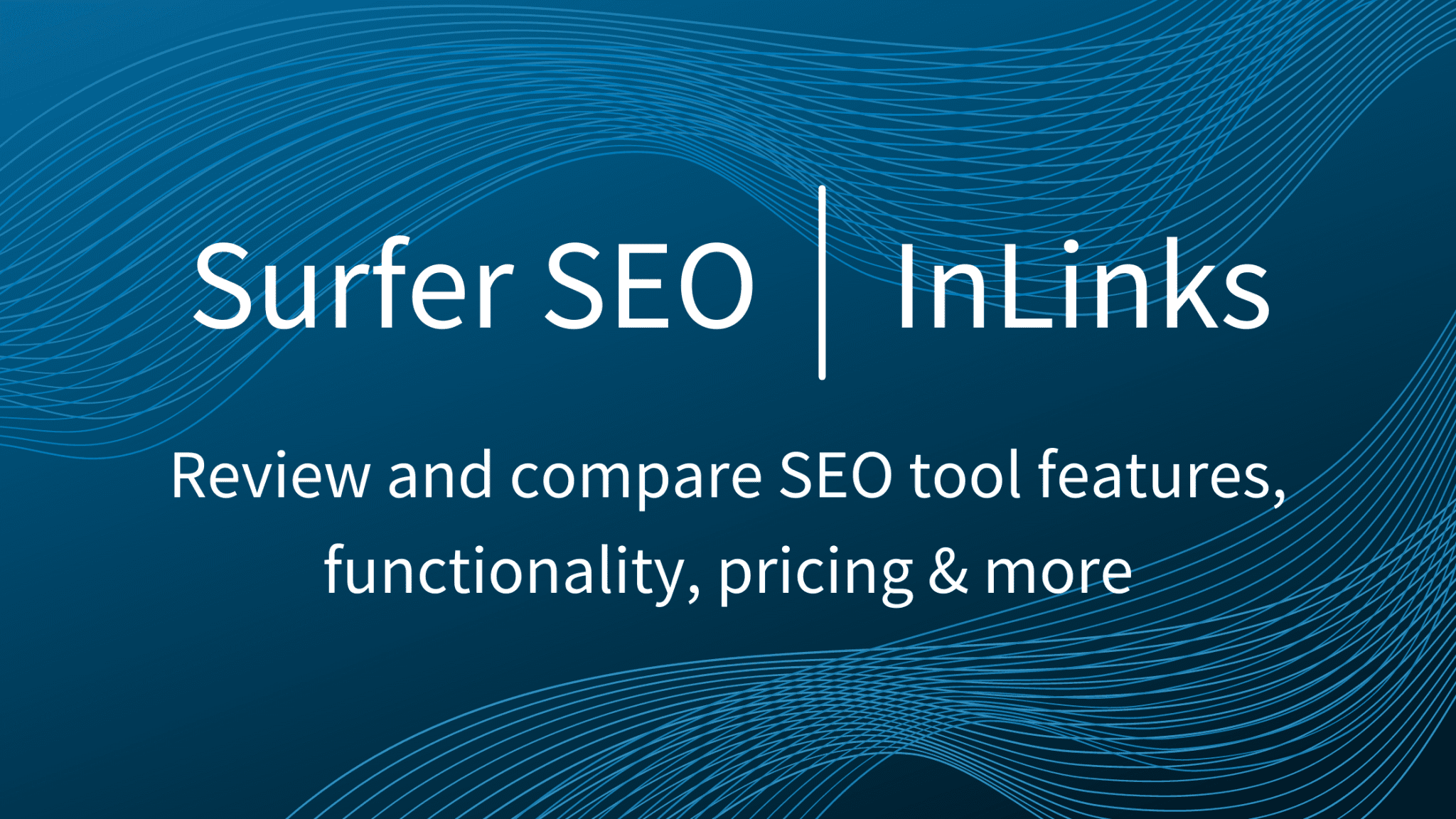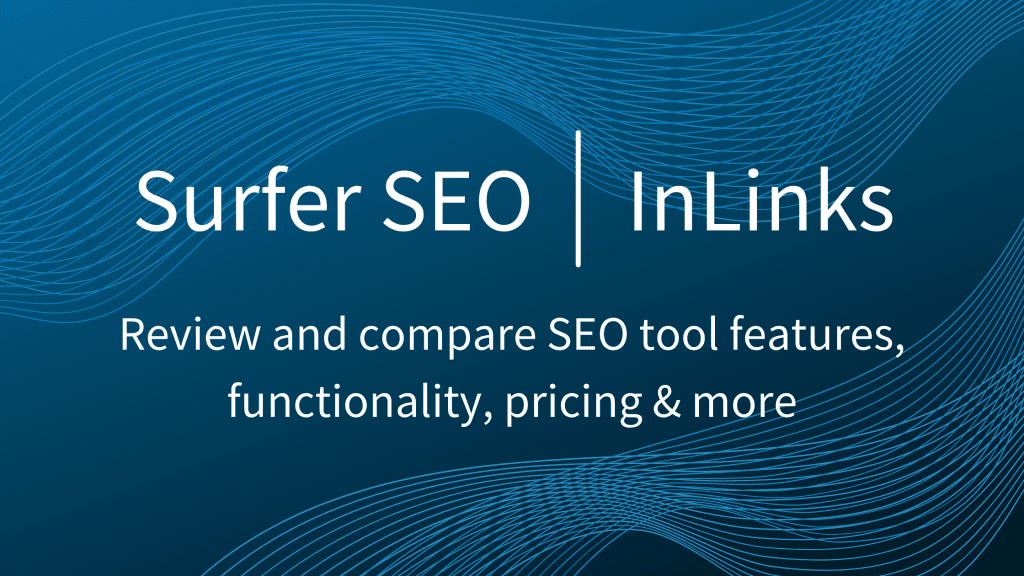 If you're on the hunt for an SEO tool to aid in better optimizing your content for search, you've no doubt heard of Surfer SEO.
Surfer SEO is designed to optimize on-page content for higher rankings in search. SEO has evolved a great deal from the days of simply using the right keywords and getting backlinks in order to achieve top rankings. As Google's algorithms have become increasingly complex and sophisticated, the way we optimize content has had to keep pace.
Today, marketers have a choice of hundreds of SEO tools. Which one provides the competitive analysis, business intelligence, and search optimization recommendations you need to succeed in the SERPs?
Let's compare two top on-page optimization tools: Surfer SEO and InLinks.
What is Surfer SEO?
Surfer SEO is used by digital marketing professionals in SEO copywriting to reverse-engineer the top 50 search results for any given keyword. It analyzes those search results based on over 500 potentially impactful search ranking factors and recommends optimizations to help outrank competitors.
What is InLinks?
InLinks, created by SEO veterans Fred Laurent & Dixon Jones, is the first full suite entity-based Semantic SEO tool on the market. Using its proprietary semantic analyzer and knowledge graph, InLinks simplifies content research by retrieving all entities found within a piece of content, recommending on-page optimizations, and automatically generating and applying internal links and schema markup to improve the search ranking of any blog post, article, or webpage.
How Is NLP Changing The Way We Do On-Page SEO in 2021?
The days of cramming keywords onto the page to boost SEO are gone. Google now uses Natural Language Processing (NLP) algorithms to convert webpages into "named entities." Entities are then connected to related indexes of data to provide a more robust response to each search, as Google anticipates context to provide the most relevant result for the user.
They do this by converting webpages into machine-readable concepts and content, then analyzing that content using machine learning to "analyze syntax, extract entities and evaluate the sentiment of a webpage."
Understanding how Google returns search results enables SEOs to format their web content to optimize placement in SERPs.
What Features Does Surfer SEO Have?
Surfer SEO uses content analysis algorithms to optimize on-page web content for users and for Google searches. Here are some of its key features:
SERP Analyzer
Surfer SEO audits a URL using 500 points of comparison across 50 pages to generate recommendations on which keywords, content and phrases may have the greatest impact, regardless of language or geographic location. It also provides trend analysis based on correlations.
Content Editor
The Surfer SEO Content Editor uses AI to analyse the content, tone, headings, market and to provide instant feedback for content and structure. It makes recommendations for on-page optimizations in page copy, subheadings, image alt text, etc.
Keyword Research
SEO Surfer enables users to find keywords that generate positive search results in both phrases and questions, including search volume and relevance based on SERP analysis.
What Features Does InLinks SEO Have?
InLinks SEO focuses on semantic search optimization and mirrors Google's Knowledge Graphs in order to recommend content optimizations, automate internal linking, and generate schema markup. Rather than focusing on individual keywords, InLinks looks at the "entity" that the keyword represents, providing an underlying context that is independent of the actual word.
Content Optimization
The InLinks content optimization tool analyzes search results using its semantic analyzer, building a knowledge graph of competitor insights to inform the optimization of new or existing content. InLinks focuses on context and wider connections rather than keywords, which provides more in-depth information and complete results.
Topic Maps
Topic maps allow users to see which content is being picked up on your page, and just as importantly, where there are gaps that can be filled. It can generate a topic map for any keyword, which provides a visual map of how important each topic is, and where you might be missing out. It also ranks the missing information so you can optimize your efforts.
Internal Linking & Semantic Schema
Schema markup can help Google better understand the content on a webpage. InLinks' autogenerated semantic schema connects the dots from the words used in your content to their corresponding machine-readable entities and can be used alongside other schema markups.
InLinks automates internal linking to save SEOs time while improving optimization. Both internal links and schema are injected to the client site using a .js file, making it easier to manage these functions across multiple sites.
How to Optimize Existing Content with Surfer SEO
Surfer SEO analyzes the top 50 search results for any keyword, then reverse engineers that information using 500 data points. You receive information about which keywords are most successful at the moment, allowing you to make better content decisions that immediately improve your search results and rankings. By looking at what is working best for the top-performing sites, you can make data-driven content decisions, including secondary keywords and related topics rather than keyword guesstimates.
How to Optimize Existing Content with InLinks
InLinks analyzes existing and competitor content, taking synonyms into account and incorporating its understanding of semantic relevance—the context of each entity—into its optimization recommendations. Users can better optimize for keyword density as well as BERT and RankBrain while accessing definitions, contextually related topics, keywords, and real questions people are asking in order to strengthen and add authority to content. Insights are compiled in a sandbox editor where users can reevaluate content and immediately see the potential impact of optimizations expressed in an SEO Score and other metrics.
How to Create New Content With Surfer SEO
Surfer SEO has a Content Planner tool that allows you to decide which topics will drive the most traffic to your site, based on specific keywords. It provides primary and secondary topic clusters based on competitor results, as well as how to use internal links to boost your ranking. You can organize your content around topic clusters for maximum impact.
How to Create New Content With InLinks
Use the Content Optimization tool to discover not only the highest-ranking topics but also sub-topics, links and questions about the topic that people are asking. The information is sub-divided by industry and synonym so that you can target the right information to the right user. (a cookie will mean very different things to a baker and a coding expert, for example.)
Compare Surfer SEO & InLinks Plans & Pricing
Surfer SEO offers Basic, Pro, and Business level subscriptions based on the volume of queries per day or month in each component of the tool. At the time of publication, a 7-day trial is available for $1.
InLinks offers Free, Pro, and Enterprise level subscriptions based on the volume of pages analyzed/optimized per month. All features are available at every subscription level. Pro starts at $39 a month or your local equivalent.
Key Differences Between Surfer SEO and InLinks
Surfer SEO operates at the page level, whereas InLinks also works at the site level.
Surfer SEO offers more on-page fields to optimize, such as image alt text, while InLinks injects schema and internal links to the site.
Surfer SEO optimizes for keywords on a single page; InLinks optimizes for entities and can also connect topics between pages.
Surfer SEO offers a $1 limited-time trial, while InLinks provides a free tier with access to all features.
For large businesses, Surfer SEO's Business tier has a cap on the number of queries for most features; InLinks' Enterprise tier includes full access to all features for an unlimited number of pages.
https://inlinks.com/wp-content/uploads/2022/10/White-png-300x60-1.png
0
0
Miranda
https://inlinks.com/wp-content/uploads/2022/10/White-png-300x60-1.png
Miranda
2021-02-01 12:56:27
2022-02-23 09:40:39
Surfer SEO Review: How Does It Compare to InLinks?